Fantasy Premier League Gameweek 34: Double gameweek windfall for three clubs
Which players should you pick for Fantasy Premier League Gameweek 34? Follow our expert advice.
The following Fantasy Premier League advice is tailored toward players ofTogga's Perfect XI. It's a weekly game in which every Premier League player is eligible to be selected into a 4-4-2 formation. There is no salary cap, no squad restrictions and you pick a fresh XI every week.
There are only six weeks of Premier League action remaining. However, several clubs have more than six matches left to play. Three–Arsenal, Manchester United and Southampton–have eight. That means teams will have two matches during a single week of FPL action. These double-game weeks (DGW) provide a huge boost in value to their players. A reasonable person may even stack their entire XI with nothing but DGW players from Crystal Palace, Middlesbrough and Manchester United. But for those who want full analysis, we've also provided picks from the other 16 teams in action (West Brom does not have a match this week). 
Selecting the Perfect XI each week isn't an easy task and even the best-laid plans can use a Plan B, so we've provided alternatives for each position. Those designated (d) are differentials–players we expect will be owned by fewer than 5% of FPL managers this week. Togga has added "Own %" to its app so differentials are based on players' ownership percentage at the time of writing. You can check for updates when you set your squad.
Goalkeeper
Victor Valdes (at Bournemouth; vs. Sunderland)
Key Stats: Both the Cherries and Black Cats sit in the bottom five and are squarely in the relegation fight. The Middlesbrough shot-stopper blanked Bournemouth in the reverse fixture back in Gameweek 10, needing just two saves. This pick would feel stronger if Valdes had not allowed four goals against Hull City in Gameweek 31, but with two matches here he's a good play. Keep an eye on his rib injury, as it forced him to miss the Gameweek 33 home loss to Arsenal, where he was replaced by U.S. goalkeeper Brad Guzan.
Plan B: Petr Cech (d; vs. Leicester); Tom Heaton (vs. Manchester United); Lee Grant (d; at Swansea)
Wayne Hennessey looked like a lock for this column a couple of weeks ago, but Crystal Palace faces Liverpool and Tottenham in its two matches, and both sides are in form. Hennessey will have plenty of opportunity to earn saves, but the goals conceded and likely lack of clean sheets make him a questionable selection. With relatively few fantasy-friendly matchups, this weekend may be about damage limitation, and Cech, Heaton and Grant all possess the skill to keep a match close.
The difficulty in assessing Mourinho and his job at Manchester United in Year 1
Defenders
Antonio Valencia (at Burnley; at Man City); Patrick van Aanholt (at Liverpool; vs. Spurs); Jan Vertonghen (d; at Palace); Leighton Baines (d; at West Ham)
Key Stats: Everton's defense has been spectacular the last few weeks, as Phil Jagielka has scored in three on the spin. Baines's performance against Burnley was exceptional as well. The England international made two successful crosses, seven key passes and recorded an assist. The seven key passes were, by far, the most he's recorded in a match this season and Baines once more looks like a key part of the Toffees' attack.
Plan B: George Friend (at Bournemouth; vs. Sunderland); Gary Cahill (d; vs. Southampton); Jose Holebas (d; at Hull); Luke Shaw (d; at Burnley; at Man City)
Chelsea needs to get its season back on track and the visiting Saints may pay the price. Cahill has been selected here on the strength of his weekly performances, but if Marcos Alonso misses the match through injury, then Nathan Ake could get the nod. If he does, he is an instant add and start. Before being recalled from Bournemouth, Ake had scored double digits in five of eight matches, including a season-high 25.75 at Stoke and 14.75–with a goal–against Southampton.
After White Hart Lane: Tottenham's new stadium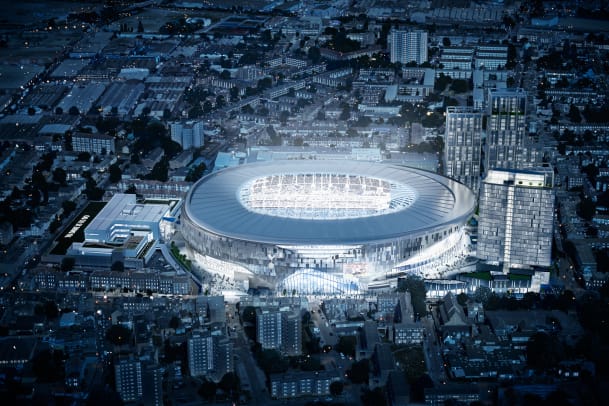 Midfielders
Wilfried Zaha (at Liverpool; vs. Tottenham); Ander Herrera (d; at Burnley; at Manchester City); Stewart Downing (d; at Bournemouth; vs. Sunderland); Xherdan Shaqiri (d; at Swansea)
Key Stats: Downing is now 32 and far beyond his career-best seven goals, nine assists posted back in 2010-11; however, he has played 90 minutes in five straight and could be a differential despite the DGW. In Gameweek 33 the winger attempted 10 crosses, connecting on two, to go with two key passes and an assist. He has now made eight key passes in his last three matches, his best streak since posting eight from Gameweeks 4-6. DGW differentials are rare, and there is plenty of opportunity for an FPL manager willing to fade bigger names.
Plan B: Paul Pogba (at Burnley; at Manchester City); Yohan Cabaye (at Liverpool; vs. Tottenham); Gylfi Sigurdsson (d; vs. Stoke); Christian Eriksen (d; at Crystal Palace)
There will be someone in your private league who decides to start four DGW midfielders, and maybe more than one from Manchester United. This could easily backfire, with Jose Mourinho frequently rotating his squad as he balances EPL and Europa League commitments, as United plays its second leg against Anderlecht on Thursday. There is no question Pogba or Henrikh Mhkitaryan deserve a place in your XI with their the possible upside; but there is a real concern they do not get the chance to play in both matches.
Those who dared to shape Zlatan: The key influences in Ibrahimovic's career
Forwards
Christian Benteke (at Liverpool; vs. Spurs); Alvaro Negredo (at Bournemouth; vs. Sunderland)
Key Stats: Negredo has scored a goal in two of his last three league appearances, but it his performance earlier this season against the Cherries and Black Cats that makes this a prime play. In Gameweek 2 he had two assists and three key passes in an away win over Sunderland–notching 22.5 points. In Gameweek 10 home vs. Bournemouth it was an assist, two key passes and six aerial duels won in a 2-0 victory, which netted Negredo 15 points. He's on form and facing teams he's proven he can beat.
Plan B: Zlatan Ibrahimovic (at Burnley; at Manchester City); Harry Kane (d; at Crystal Palace); Roberto Firmino (d; vs. Crystal Palace); Romelu Lukaku (d; at West Ham)
(UPDATE: Following publication, Ibrahimovic was injured in Manchester United's Europa League match vs. Anderlecht. Stay tuned to his status before setting your lineups.)
Big-name forwards are being faded by the masses in early squad selection. While Kane, Firmino and Lukaku will all likely be over 5% by kickoff Saturday, the lure of DGW has seen their selection drop below normal levels. Firmino, in particular, should be owned this weekend. The Liverpool forward has a goal or an assist in six straight appearances, and no forward tops his 21-point average over the last three gameweeks. Skill, form and opportunity combine to make him a dynamic FPL asset.