In Christian Pulisic, we're witnessing the continued emergence of the USA's real deal
At 18, Christian Pulisic has emerged as the U.S. men's national team's undeniable centerpiece–and one whose ceiling keeps growing after his latest World Cup qualifying exploits.
COMMERCE CITY, Colo. — We came into the game wondering if Clint Dempsey would break the all-time U.S. men's goals record. We left it wondering if Christian Pulisic might someday blast that record into oblivion.
The 18-year-old Pulisic did it again on Thursday, scoring both goals in the U.S.'s 2-0 World Cup qualifying win here over Trinidad and Tobago. If you're keeping score at home, that meant Pulisic now has seven goals in his 15 U.S. appearances. And they haven't been small-time goals, either. His two on Thursday were absolutely necessary after over 50 minutes of scoreless soccer had frustrated a U.S. team that badly needed three points at home.
Strap yourself in, folks. We're experiencing one of the most exhilarating moments that can happen in sports: The emergence of the real thing, a young talent that gives you goosebumps when he's gliding with the ball. A talent that makes you wonder if his future even has any limits. In an interview this week with Catalunya Radio's Monica Terribas, Pep Guardiola said he still makes appointment viewing times to watch Lionel Messi, the same way he got up at 4 a.m. to watch Michael Jordan during his NBA days. Guardiola does that, he said, because he wonders if those giants' feats are unrepeatable by any other human, now or in the future.
Let's be very clear here: Pulisic is not Messi or Jordan. But the young American has become appointment viewing, and not just for U.S. soccer fans but for general American sports fans as well. You never know what Pulisic might do next. On Thursday, he changed the game, instinctively running onto a pass from DeAndre Yedlin for his first goal and blasting a near-post shot with his trusted right foot past goalkeeper Jan-Michael Williams for his second.
Christian Pulisic's USA rise continues with heroic double vs. Trinidad & Tobago
This isn't totally surprising for anyone who has seen Pulisic play for Borussia Dortmund in the Champions League and Bundesliga. But if March's U.S qualifiers were any indication, the mainstream U.S. sports audience notices Pulisic the most when he performs magic in a U.S. jersey.
"He's having fun," said U.S. coach Bruce Arena after Thursday's game. "I think he's a natural for the game. He sees the game very well and has good instincts on getting in good spots—especially his running off the ball, which is exceptional. As he gets a little bit better and more experienced, I think his ability to be a playmaker and a better passer of the ball in the last half of the field will improve. But he's certainly an exceptional talent."
• LYTTLETON: Pulisic takes his place among world's rising young talents
Added U.S. goalkeeper Tim Howard: "I just think he's ahead of his time. He gets the ball, he's super comfortable on it. He's never, ever panicking. He gets inside the box, he stands his defender up and the world is his oyster. He's special. These guys don't come around very often, so you have to enjoy it and savor it. We certainly are. We're going to continue to lean on him as he grows."
Unfortunately for Pulisic, the Trinidadians leaned on him, too. Just 90 seconds into the game, Khaleem Hyland crunched Pulisic and was whistled for a foul that should have been a yellow card. It was a tone-setting moment reminiscent of the thuggery Pulisic endured in his last World Cup qualifier in Panama in March, when the opponents targeted him with brute force from the start and the referee didn't do nearly enough to stop it.
Christian Pulisic weathers storms, adds to success in first full Dortmund season
In the months after the Panama game, Pulisic had grown angry about what happened that night in what was an eye-opening welcome to CONCACAF. The abuse from Trinidad wouldn't grow to the level it had with Panama, but referee Óscar Moncada of Honduras did little to protect Pulisic by issuing yellow cards. On three separate occasions in the first half, Pulisic grew frustrated with the referee about physical play, and that didn't include his "are-you-kidding?" moment when Moncada called advantage for a foul on Fabian Johnson just outside the box that was basically the opposite of advantage and robbed the U.S. of a dangerous free kick opportunity.
"I get fouled all the time," Pulisic said afterward. "I'm not thinking about it too much. I'm just trying to stay focused."
Added Howard: "Look, if I were any team that played us, I'd certainly target him. I'm not sure he'll win a streetfight, but he'll always get stuck into a tackle. He's a big boy playing in the Bundesliga, so he knows what it's about. But he's not afraid, and that's huge for us."
Christian Pulisic: Budding career of USA, Borussia Dortmund's rising star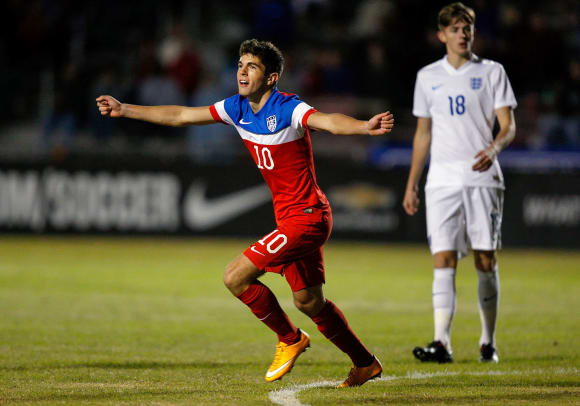 "He's played in some pretty big games, and he's a big boy now," Arena said. "To be honest with you, we're not playing in an age-group competition. No one cares how old you are or anything like that. He's got to deal with it, and he's been fine. I think he made out O.K. tonight."
He did, and if you think this has become old-hat for Pulisic, think again. There was real wonder in his voice on Thursday when he was asked what kind of joy he felt upon scoring two more goals for the United States.
"It's not just scoring goals," he said. "Just being out there, it's like a dream of mine to wear the USA crest and be playing with the players that I am for the country. It's amazing, and the fact these goals are coming is a little bonus. I still can't believe every time I get to go out on the field. I'm just thankful."
The confidence that Pulisic plays with is contagious. And every once in a while you can hear that confidence in his words. After the game, Pulisic told Fox Sports's Jenny Taft about Sunday's game at archrival Mexico: "We're going to come out with a win there too."
Visions of Joe Namath in Super Bowl III? Well, maybe not quite. But Pulisic was still buoyant about the U.S.'s chances for revenge of last November's home loss to Mexico.
"Mexico is a good team, and they're not easy to beat at home," he said. "So it's going to take a lot, but with the guys we have and the confidence we have, I think there's no reason we can't do it."
Christian Pulisic plays in the Azteca for the first time in a U.S. shirt on Sunday at 8:30 p.m. ET. You'd be wise to make it appointment viewing.