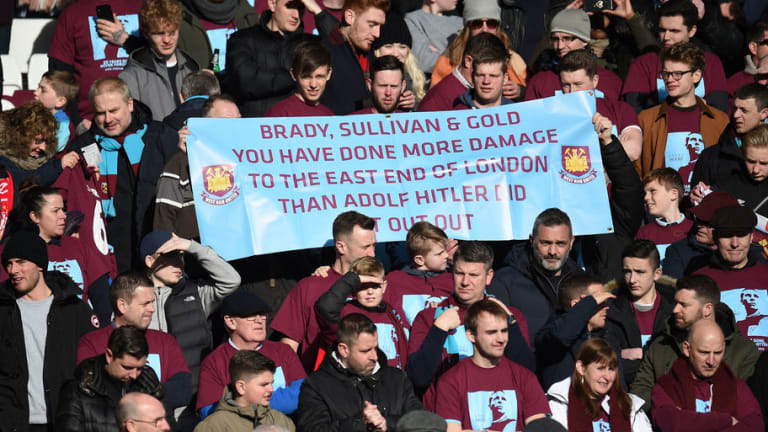 West Ham Fans Criticised on Twitter for Adolf Hitler Banner Held Up During 4-1 Liverpool Loss
A group of West Ham United fans held up a bizarre banner comparing their owner's running of the club to Adolf Hitler's bombing of London during World War Two.
Around 20,000 people were killed by German bombs across Luftwaffe bombs across London during the war, as the Blitz decimated large areas of the British capital. Naturally, the small minority of Hammers fans who felt the clueless comparison was appropriate have been met with distain from Twitter users, with many condemning the fans for their ill-judged message:
The game also saw controversial behaviour from a small section of Liverpool supporters, who targeted West Ham defender Patrice Evra - booing the Frenchman and chanting the name of former striker Luiz Suárez. The pair were involved in a high-profile spat in 2011, when Suárez was convicted of racially abusing the former Manchester United man.
On the pitch, Liverpool cruised to a 4-1 victory over David Moyes' side, with goals from Emre Can, Mohamed Salah, Roberto Firmino and Sadio Mané securing the win for the Reds. Jürgen Klopp's side are now second in the Premier League, but remain 15 points behind league leaders Manchester City, who are romping to the title under Pep Guardiola.
Meanwhile, Reds fans praised their midfielder Alex Oxlade-Chamberlain for his performance in the win, claiming that the England international was finally starting to show signs of fulfilling his potential at Anfield. After a rocky start to his Liverpool career, the 24-year-old now appears to have found his feet under the guidance of Klopp, and will be looking to secure his place at next summer's World Cup.