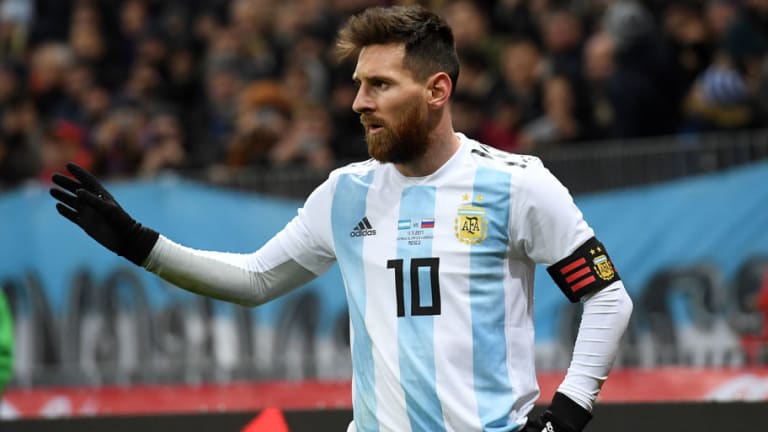 World Cup Countdown: 12 Weeks to Go - Pele 1970 vs Messi 2018 & the Importance of the Trequartista
What makes the Brazil team of 1970 perhaps the greatest side of all time? The individual brilliance within their team? The cohesiveness within their playing style? Perhaps, but the fact that Mario Zagallo's men broke the mould of a regimented, outdated style of play by being innovative with their positions stands out above all. 
In a time where most teams deployed a rigid 4-4-2 formation with little fluidity about it, the Seleção started out with a 4-2-4 shape in which their players were afforded the freedom to manoeuvre within the system. 
Their success was down to a number of key features within their play: overlapping fullbacks invading the space made by inverted wingers cutting infield (see Carlos Alberto's goal in the final), deep lying central midfielders covering the fullback's vacated space, and most importantly, Pele's role.
The Trequartista role, as its more commonly known, is basically the term for an advanced playmaker, or a deeper lying forward. Throughout their 1970 World Cup expedition, Brazil's number 10 began most games sitting just behind Tostao in a centre forward position, before straying all over the pitch. 
Pele would often find himself picking the ball up in a defensive midfield position almost, where he would then drive up through the centre of the pitch, in doing so linking up the play between midfield and attack. 
What many people may not know about Pele's exploits in Mexico that summer is the fact that he actually finished top of the ranking for assists with five to his name. This emphasises that, despite his four goals, Brazil's number 10 was not just a goalscorer, but a creator aswell; in many ways similar to the way Lionel Messi plays the game today. 
Not similarly to Messi, however, is the success on the international stage that Pele led his country to with his performances as a trequartista. Argentina's number 10 has helped the Albiceleste to four finals - the 2014 World Cup and the Copa America on three occasions - but is yet to end his nation's 25-year wait for a trophy. 
Many have scrutinised Messi for this, claiming that if he is to be mentioned in the same breath as the likes of Pele and Maradona then he needs to lead his country to silverware. While Argentina's failure isn't solely down to Messi, the lack of trophies internationally for the Barcelona man is a constant point of reference, and one that seems to be affecting him. 
More recently, after losing the Copa America on penalties to Chile back in 2016, Messi retaliated by announcing his retirement from international football. While he has since reversed that decision, the sole fact that he even made that call speaks volumes about his frustration. 
On the other hand, the 30-year-old is literally doing all he can to transpire his failures into success. Messi scored four goals and assisted once as Argentina made the World Cup final in 2014, as well as earning the Golden Ball after the eventual loss to Germany. 
It does feel as though its only a matter of time before Messi finally wins an international accolade. However, one can also feel that the five time Ballon d'Or winner is running out of patience. 
Messi's role in this Argentina team is vastly similar to that of Pele's during Brazil's trophy-laden period in the 60s. In what is a similar set up to the Selecao's formation from 1970, Messi sits in a deep role behind Gonzalo Higuain and is afforded license to roam wherever he pleases.  
He can be seen conserving his energy by strolling around the middle of the pitch, before bursting into life upon receiving the ball or picking out a inch perfect through ball for a teammate. 
The trequartista role that he occupies has been crucial to Barcelona's huge success over the years, and even though he is performing just as well for Argentina, the results at club level are just simply not transpiring over to the international stage. 
Given the talent around him in the form of Higuain, Angel Di Maria, Paulo Dybala, Mauro Icardi and Sergio Aguero, you would expect the Albiceleste to have enough firepower in attack for Messi to supply from a trequartista role. 
As aforementioned, it does feel like last chance saloon for Messi to make an impact for his country. 
As long as he remains trophy-less for Argentina, the Albiceleste supporters refuse to regard him as a God-like figure as they do with Maradona.  
"He made all those fans happy but not us. We want him to win for us. If he's the best player in the world for Barcelona but never delivers for us, it's the same as nothing," said one Argentina fan. It is now or never for Messi in the blue and white stripes.