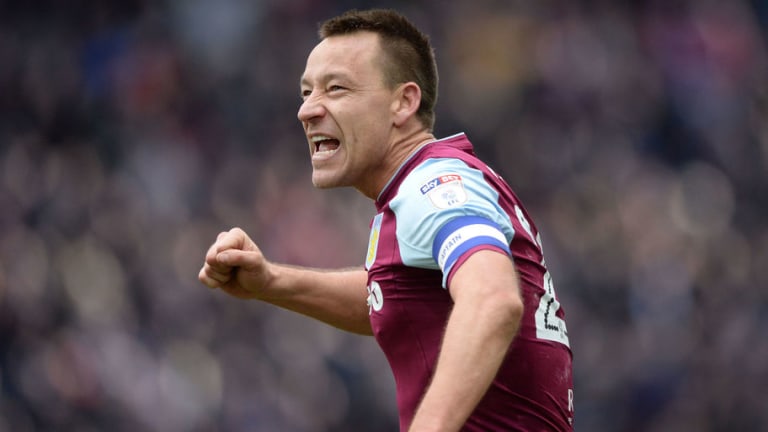 John Terry 'Indicates' Desire to Play in Premier League Again With Aston Villa
Former Chelsea defender John Terry has 'indicated' that he would stay at Aston Villa if the club get promoted to the Premier League.
Steve Round, Aston Villa's director of football, delivered the good news to Villa fans at a Supporters' Trust meeting (via Birmingham Mail) last week.
Terry, formerly captain of England, rejected offers from across the globe to join Steve Bruce's Villa last summer after his 22-year association with Chelsea came to an end.
The Villa captain has made 29 appearances this season, despite spending two months out with a broken metatarsal. He is viewed as a fan favourite in the West Midlands, with Round also describing the 36-year-old defender as the 'ultimate pro'.
Due to Financial Fair Play, Terry would have to take a cut on his £70,000-a-week deal if he is to stay at Villa Park beyond the summer. Despite Round's recent claims, it has previously been suggested that Terry will not consider his future until the summer.
This time last year it did not seem likely that Terry would return to the Premier League, as he confessed that he would have struggled with the mental effects of playing against Chelsea.
"I thank them for their offers – for me it was just the mental side of playing against Chelsea was too much to get over," he said during a press conference shortly after his move to the Championship club, as quoted by Sky Sports.
"I had 22 years at the football club, 22 unbelievable years. I'm very proud of that but this is a new chapter in my life and my career.
"I wish Chelsea well next season and will be watching out but my thoughts are 100 per cent here and the ambition is to get us back to the Premier League."
Asked about the prospect of Villa and Chelsea being in the same league before too long, Terry admitted that it's a possibility and it is what he and his Aston Villa colleagues are hoping to achieve.
"That's the ideal situation," he said. "If, in a year's time, we're sitting here and Aston Villa are playing in the Premier League then I've done my job and everyone else has done theirs.
"We can cross that bridge, hopefully, when we come to it. First and foremost we've got a big and important year ahead of us."