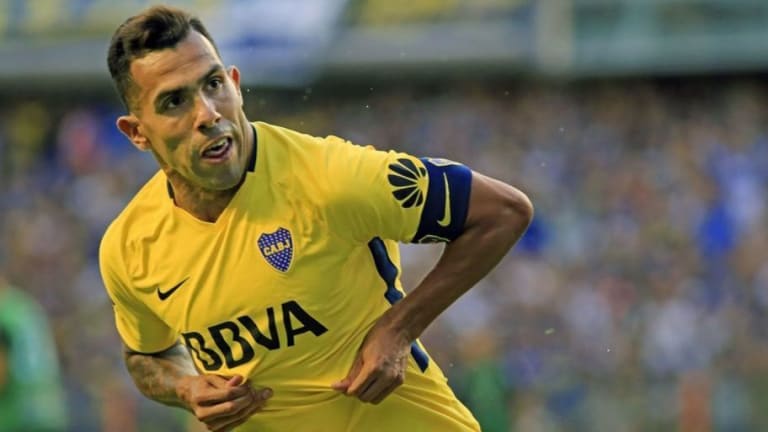 Carlos Tevez Slams 'False Rumours' Over Calf Injury Sustained in Apparent Prison Football Game
Carlos Tevez has angrily rejected claims that he suffered a calf injury during a recent kick about whilst visiting a family member in prison.
The veteran striker hit out at the 'b******t' rumours that he picked up another injury as he kicked a football around with half brother Juan Alberto Martinez and his fellow inmates at Bouwer's prison on Wednesday.
Quoted by TyC Sports, the ex-Manchester United and West Ham attacker explained that he had sustained the problem during a gym session as he looked to dampen the flames of the speculation that linked him to the haphazard injury.
Tevez remarked: "Doing strength work at the gym last Wednesday morning, on the machine I felt a great pain in my calf.
"I do not know why some people do not believe me. If I had not been injured at the gym, I would not be so stupid to say I was injured here. But as I'm telling you, they begin to speculate about golf or jail. Sometimes they do not know if they talk bulls*** or not, but I always tell the truth.
"I will not be such an idiot to expose myself to go to jail. That they talk so much bulls*** hurts and makes me stronger, because I have to keep evolving. It's time to shut up and deliver everything on the field."
(You may also be interested in Carlos Tevez Set for Spell on Sidelines After Sustaining Injury During Bizarre Prison Football Match)

Tevez is back in his Argentinian homeland after his contract with Chinese Super League side Shanghai Shenhua was torn up over allegations that he was never fit enough to feature for their first team.
The 34-year-old rejoined former side Boca Juniors in January and has bagged three goals in his first eight appearances for the Buenos Aires-based outfit.
Tevez still retains hope of being called up to Jorge Sampaoli's national team ahead of this summer's World Cup in Russia, but the chances of him turning out for one final international tournament look bleak at best.
The likes of Paulo Dybala, Gonzalo Higuain and Mauro Icardi stand in his way, and not all of those may yet go to the World Cup themselves according to media reports.