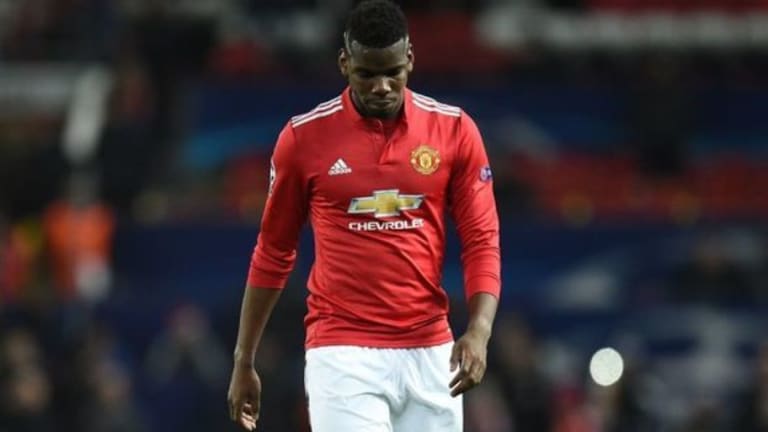 Jose Mourinho Insists Paul Pogba Must Take Responsibility for Downturn in Form
Manchester United boss Jose Mourinho has stated Paul Pogba must accept the blame for his recent downturn in form, insisting he has done all he can.
The Red Devils' record signing is facing a third successive game from the substitutes' bench when his side take on Swansea City in the Premier League on Saturday after being overlooked against both Sevilla in the Champions League and Brighton & Hove Albion in the FA Cup. 
The Portuguese manager is said to be infuriated by the Frenchman's lack of focus on the pitch, with the 55-year-old believing his midfielder focuses too much on his vast social profile as well as other projects. 
And when quizzed by the Mirror on Pogba's predicament ahead of the visit of the Swans, Mourinho claimed it was down to the player to find the solution. 
"Ask him", he said. "Ask him when you get a chance when he thinks about it."
Pushed on how the former Chelsea and Real Madrid boss believes he can get the best out of the player, Mourinho was equally terse with his reply. 
"I work", said the United manager. "It's the only thing I can do. I cannot do anything else."
The 55-year-old was even afforded the opportunity to pass some of the blame onto Pogba's duo of injury-ridden seasons; however, tellingly chose not to.
"It's nothing to do with his injury", said Mourinho. "His recovery was good. This season and also last season [he had a bad injury]. But I think he's very fine after the injury.
(You may also like: Report Claims Paul Pogba's Man Utd Teammates Have Urged Him to Focus Less on Social Media)
"It was a difficult injury, it was an injury that other players, other clubs, other medical assessments - they end in surgery. His option - with the medical opinions - was not to go to the surgery table and his recovery was really, really good.
"So I think he is more than fine in relation to his recovery from the injury which is an area sometimes where you have a recurrence. In his case, not at all."
But Pogba is not the only player who has been seemingly cast aside by Mourinho this season, with Luke Shaw questioning the Portuguese man over his perceived mistreatment. 
However, despite their reported spat, the 55-year-old remained confident when asked whether the Englishman would stay at United past this summer.
"I think so", Mourinho replied. "But I always say the door is open for everyone, so no problem for him, but I think so. He's selected [against Swansea]. He's in the 18."