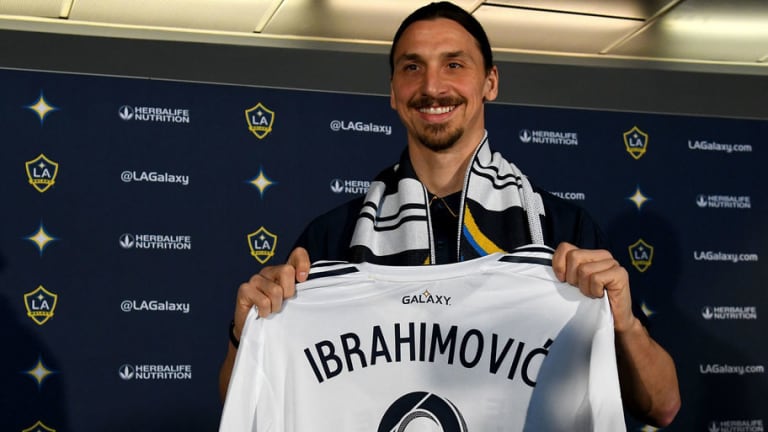 Zlatan Ibrahimovic Reveals He Almost Rejected Man Utd to Join LA Galaxy 2 Years Ago
Zlatan Ibrahimovic has revealed that he came close to rejecting Manchester United two years ago as he originally favoured a move stateside to LA Galaxy.
The Sweden international finally got his wish when he joined the Major League Soccer outfit last week following the mutual termination of his contract with United, where he could make his debut on Saturday against Los Angeles FC.
The 36-year-old joined United on a free transfer in 2016 following his four-year stint with Paris Saint-Germain, but the striker admitted it could have panned out differently during his first press conference for Galaxy.
"This thing was supposed to happen a couple of years ago," Ibrahimovic said, as quoted by the Mirror. 
"My head was here. I wanted to come here. It didn't happen but destiny said I would come here. Los Angeles called and I answered. I come here to win. I know I will win."
Ibrahimovic scored 29 goals in 53 appearances during his time at Old Trafford as his time with the club was ultimately brought to an end following a lengthy recovery from a knee injury sustained last season.
Despite having made only seven appearances this term after struggling to return to full fitness, the striker insisted he still has plenty to offer in the US. 
He added: "The lion is hungry. I was born old. I will die young. Don't worry about my age. I went to England in a wheelchair. I conquered England in three months. I come here to be one of those guys who gives a boost to the competition."
Ibrahimovic has now joined the likes of Frank Lampard, David Beckham and Steven Gerrard who have featured in both leagues throughout their respective illustrious careers.