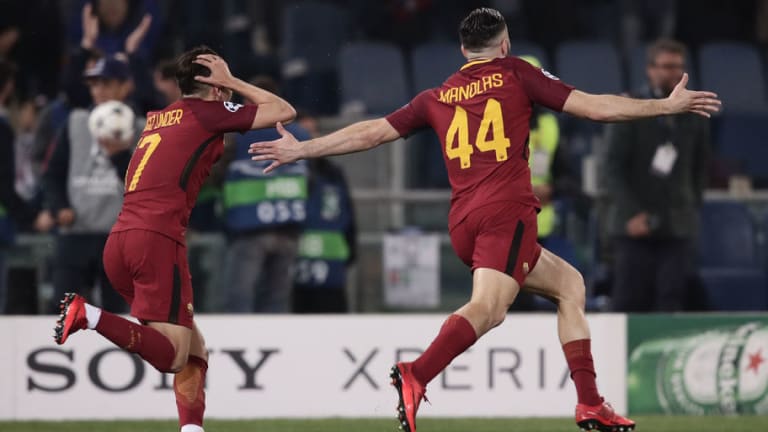 Publish date:
Twitter Melts Down as Liverpool Beat City & Roma Shock the World by Dumping Barcelona Out of UCL
We all focused on the wrong game.
Some of us were anticipating Manchester City had the comeback of their lives in them on Tuesday night, as they hosted Liverpool in the last eight of the Champions League - having been trailing 3-0 from the first leg at Anfield. But as the Reds managed to swerve past Pep Guardiola's side and move into the last four, it was out in Italy where we got our drama.
Roma, yes AS Roma, knocked Barcelona out of the Champions League.
Here's how the night went down on Twitter, through the eyes of a poor man alone in his work office and his dilemma over which game to actually watch in order to catch a miracle...
Scene: Manchester. Through a TV screen at 90min HQ.
Pep Guardiola had to go for it. And while he sprung a surprise by not naming Sergio Aguero in the starting lineup, he named (basically) all of his other attacking options in advanced roles. 
No wing backs, nah, Pep didn't feel like it. This was as gung-ho as you could go - the type of gung-ho you could only ever imagine playing on Football Manager 2018.
There was, however, no place for Vinnie Kompany - despite his goal in Saturday's Manchester derby (which City lost, obv.)
The decision did not please one famous Manchester face...
Then, the absolutely inevitable happened. The Lolerpool moment. The indicator that another Crystanbul collapse was on the cards. City scored through Gabriel Jesus within two minutes, and this tie was well and truly on.
City were on one. They dominated possession in the first half an hour, and they were well and truly back in the tie. If there was one team who were capable of shipping 3+ goals in a short space of time, it was the visitors, and if there was one team capable of scoring 3+ goals in a short space of time, it was the hosts.
I mean, Liverpool barely touched the ball...
But time ticked on. And Liverpool, for all of their bus parking, didn't really give up too many major chances. That was until the 40th minute, when Bernardo Silva banged one against the post. Leroy Sane then had a goal disallowed seconds later for offside...though it appeared he ACTUALLY WASN'T?!
Nevertheless, Liverpool did make it through the half having only shipped one goal.
Pep, clearly incensed by the official's refusal to play any added time in the first half (and perhaps the disallowed goal, after it came off James Milner), actually ended up getting sent to the stands for the remainder of the fixture of being a little too colourful with his protests.
He told the poor ref to "shut up", apparently.
Imagine Jose Mourinho had've done that? He'd have got a stadium ban!
Half time editor's note: I've seen that bloody Juan Mata ESPN advert about 174 times during this BT Sport broadcast.
Former referee Chris Foy gave us his expert analysis on the disallowed goal at the start of the second period. And when we say expert, we mean, got his words completely jumbled up and it was hilarious.
The goal stood have should. The goal stood have should.
But then, as Liverpool actually managed to get a hold of the ball, they went and scored a goal that did stand. Sadio Mane managed to penetrate the home defence, and who was there? Mohamed Salah. 
Liverpool fans proceeded to lose their minds, as you'd expect...
To be fair, probably should have mentioned by this point that Roma were actually doing all of the bits in their second leg tie at home to Barcelona. 
Scene: Rome. Still through a TV screen at 90min HQ.
As we touched on at the start, the Giallorossi were trailing 4-1 from the first leg, and the hosts needed to beat the Spanish league leaders 3-0 to go through. They went 1-0 up through Edin Dzeko, but then Daniele De Rossi's penalty made it very interesting. 2-0, half an hour to go, could it happen?
It's getting really difficult to prioritise, here. Liverpool killed the game with their equaliser, but having switched over to the Roma/Barca game, which was still in the balance, Bobby Firmino went and scored to seal the game.
There's no time for that, though, because BLOODY HELL ROMA JUST SCORED AND THEY'RE GOING THROUGH AS IT STANDS AGAINST BARCELONA!!!
YEP, WE REALLY ALL FOLLOWED THE WRONG COMEBACK!
Barcelona were toothless, and even while Lionel Messi stood on the pitch, they were absolutely powerless to stop this Roman machine.
To put this in perspective, Barcelona had conceded three goals ALL SEASON in the Champions League. But they shipped three in one game in Rome, and they, like Liverpool, find themselves in the last four of the Champions League. 
They're so going to face off in the Mo Salah derby in the semi-finals, aren't they?