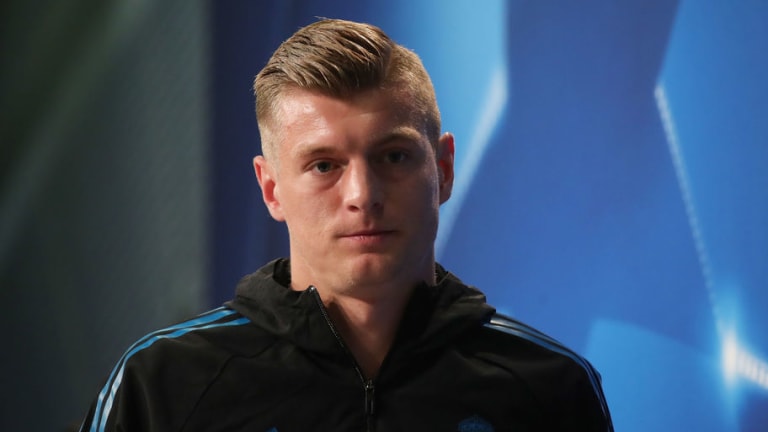 Publish date:
'Special Powers': Toni Kroos Reveals Why Real Always Perform in Europe Ahead of Bayern Clash
Toni Kroos has explained why Real Madrid always seem to perform in the Champions League regardless of who the opposing team is.
The playmaker spoke to UEFA's official site ahead of his side's semi final clash with Bayern Munich at the Allianz Arena, and likened Zinedine Zidane's men to superheroes as he claimed that the competition just makes him and his teammates step their game up.
Real could become the first club in 45 years to win three successive European Cups if they lift the trophy at the season's end, and Kroos stated that he and his fellow Real stars were ready to perform when it mattered most.
He said: "This competition is the hardest to win, maybe that unleashes special powers in us. Emotions always play a part, especially on Champions League nights at the Estadio Santiago Bernabeu. You can see that in our performances.
"A lot of the players have played in plenty of big games and we can stay calm in difficult situations because we know we can beat everybody. Even when we aren't winning, we can change a game. We've experienced lots of situations so we don't get anxious."
Kroos takes on the team that he used to ply his trade for over the two-legged tie, and revealed that it would be a special moment to lock horns with the Bundesliga champions once more.
He continued: "Of course it's special when you play against a team you represented for six or seven years. I'll see a lot of players I used to play with, or who I still play with in the national team.
"I played under Jupp Heynckes myself for a long time and I know he's a top coach. When he came back, he changed the feeling of the whole team. Since he arrived, they've played much better so I think they're harder to beat than last year but we'll see."
(You may also be interested in Jupp Heynckes Admits James Rodriguez Was 'a Little Depressed' Following Real Madrid Departure)

Kroos also backed manager Zidane to continue leading Real on past the end of this term, despite the possibility of Los Blancos ending trophy-less come the final game of the season.
He added: "Everyone knows what a player he was and the character he is. The team's morale with him is great and that is really important.
"He experienced everything as a world-class midfielder, which is why we accept what he says and try to implement it. He doesn't need to use a loudspeaker, we all listen to him."