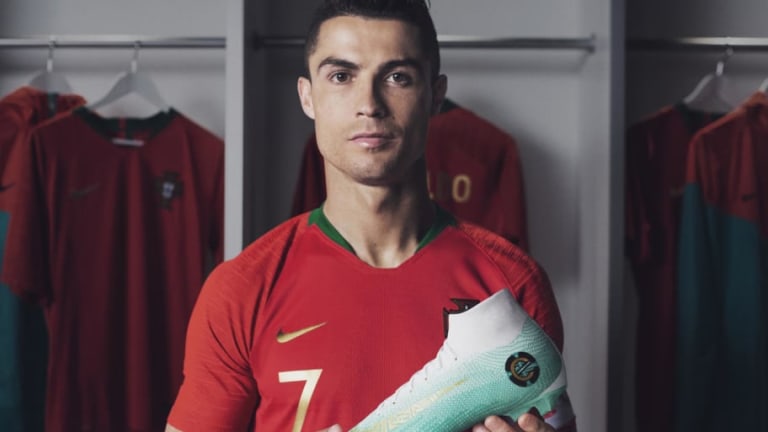 Nike Commemorate Cristiano Ronaldo's Landmark Portugal Stat With Incredible Edicao Especial Boot
Nike have once again collaborated with their biggest sponsored athlete Cristiano Ronaldo to create a new boot marking his 154 appearances for Portugal. An incredible achievement, and his influence on the rest of the Portugal team is epitomised by his start to this summer's World Cup, and now he has a fresh pair of wheels to commemorate it.
In his opening three games in this year's tournament, the Real Madrid forward has notched an impressive four goals - including a hat-trick against Spain on their opening night. Ronaldo's brilliance and work ethic cannot be questioned, and Nike have rewarded the Real Madrid forward with a new pair of boots.

Enter the Nike Mercurial Superfly Elite CR7 Chapter 6 Edicado Especial. Quite a mouthful.
An improved version of his Chapter 6 Mercurials, the Edicao Especial is essentially the same, but the removal of the middle sole plate in the latest version allows for maximum effect to Ronaldo's already blistering pace.
With a golden chrome sole plate, the colourway on the boots fades from turquoise to white as it reaches the sock, with a golden trademark Nike swoosh to finish.
In Ronaldo's 154 games for his national side, the Portuguese legend has now scored more goals at international level than any other European player in history. As well as Ronaldo's personal use of the boots, a further 154 pairs will be made available to the public.
That tells us all two things: these boots will likely be expensive, and in extremely limited supply; so if you want to get your hands on a pair of these, you've either got to be lightning fast with your order, or know someone at the top of Nike's food chain.

Also, start saving now. They certainly look worth it.