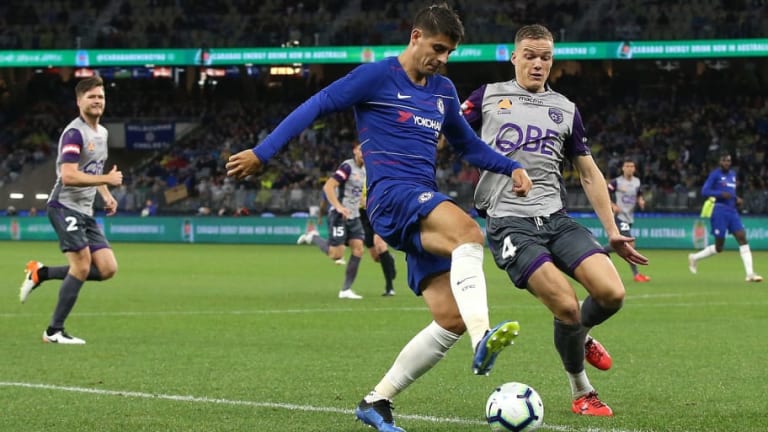 Chelsea Demand £62m as AC Milan Begin Negotiations Over Alvaro Morata Signature
Chelsea are reportedly demanding that AC Milan stump up £62m if they want to take Alvaro Morata to San Siro this summer. The Spanish striker is keen to move back to Italy to be with his wife, after a disappointing campaign in England, but Chelsea won't let him go easily.
Morata's debut season in the Premier League started off brightly, but after a long run of poor form, the former Real Madrid forward ended the season with only 11 goals in 31 games, and all parties are keen on his departure.
But it may be easier said than done if The Sun is to be believed. According to the tabloid, Milan are interested in Morata, but it would take even more than what Chelsea paid for him 12 months ago.
The Blues want £62m, having shelled out £57m last year, and negotiations with Il Rossoneri opened on Wednesday. The two sides are still far apart in their valuations of the 25-year-old following a series of phone calls between the clubs.
Morata, after two very successful years with Juventus, wants to move back to Italy and return to his wife, who is now pregnant.
Should the Blues successfully sell Morata, they will turn to either Gonzalo Higuaín or Radamel Falcao as a replacement, according to the report.
Higuaín enjoyed a very successful season with Maurizio Sarri back at Napoli two years ago. In 35 games the Argentina international notched 36 goals, and it seems the Italian manager Is looking to rekindle that kind of form.
As for Falcao, his woes in the Premier League are well known during his two year stint in England, but after a couple of years of top form with Monaco, perhaps another stab at the league would prove successful.