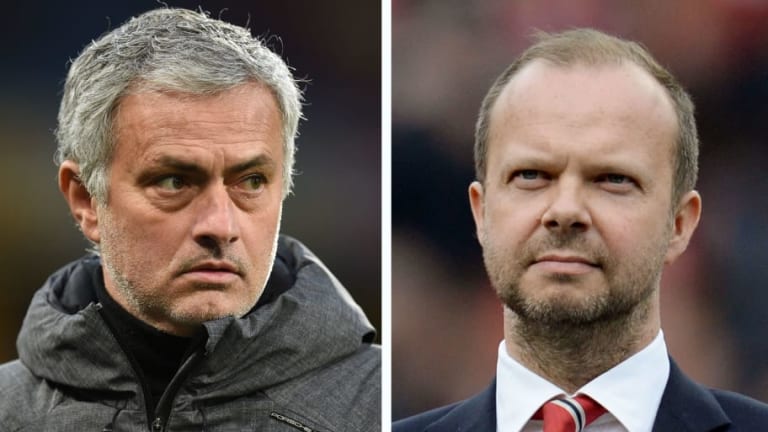 Friends of Man Utd Chief Ed Woodward Deny Rumours of Rift With Manager Jose Mourinho
Manchester United have denied the existence of a rumoured rift between manager Jose Mourinho and executive vice-chairman Ed Woodward, with a source telling The Guardian that the relationship between the Old Trafford heavyweights is 'stronger than ever'.
Mourinho has appeared frustrated with a lack of transfer activity over the summer and an increasing numbers of fans are blaming Woodward for the club's poor start to the season as a result.
It had been suggested that Woodward vetoed a number of Mourinho's identified transfer targets and that the attempts to tie unsettled forward Anthony Martial to a new long-term contract are against Mourinho's wishes.
Meanwhile, it was alleged following the 3-0 home loss at the hands of Tottenham on Monday that Mourinho could potentially be just one more defeat away from being sacked.
The Guardian, however, notes that Woodward's friends are insistent that the relationship has not been negatively impacted by dismal back-to-back defeats and claim there is 'no imminent threat' to the Portuguese coach's job.
It has also been said that Mourinho signs off texts to his boss with 'kisses to the children' in reference to Woodward's three-year-old twins as evidence of their close bond.
Former United defender turned pundit Gary Neville was highly critical of Woodward's handling of the situation after the Brighton defeat, suggesting he should never have sanctioned a contract extension for Mourinho last season if he wasn't going to fully back him in the transfer market.
"If Ed Woodward was going to doubt Jose Mourinho, the time to doubt him was at the point whereby he should have said, 'I'm not going to give you a new contract' last January," Neville said on Sky Sports the day after the defensive collapse on the south coast.
"The minute that he gave Jose Mourinho a contract extension, which some would say was unnecessary part way through a season, but believing in a manager, showing the faith, he had to then buy him the centre-backs."
A report from the Daily Mail explains that Woodward's friends, presumably the same ones who have also passed information to The Guardian, believe that Neville's comments have not been rather unhelpful as they have simply served to promote the idea of a rift.
Neville was also critical of Woodward after the Brighton game for not standing to shake the hand of Seagulls chairman Tony Bloom, labelling it 'dissent'. The Guradian cites a source close to Woodward stating that he remained sat down so as not to interrupt the jubilant celebrations.