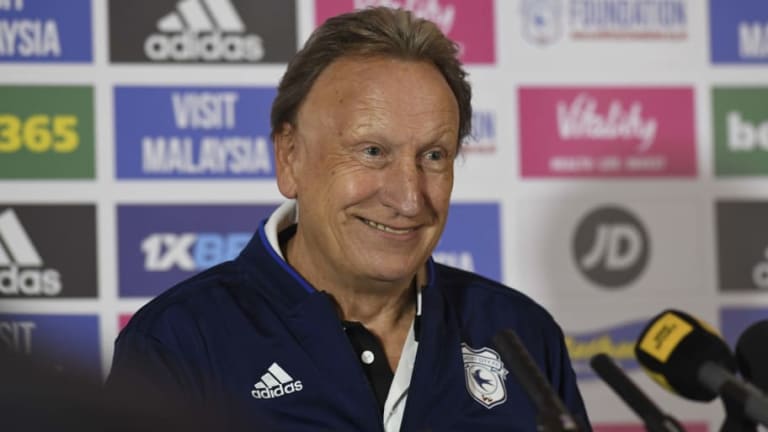 Neil Warnock Says Cardiff Striker Must 'Get the Hunger Back' to Reclaim Place in Bluebirds Side
Cardiff City manager Neil Warnock has challenged striker Kenneth Zohore to work harder in order to reclaim his place in the starting lineup for his team.
The 24-year-old was Warnock's first choice striker in the Championship last season, and his nine goals helped the Bluebirds secure promotion to the Premier League. However, he has started only two games this season and has not scored a goal since April.
Warnock was asked about Zohore's situation ahead of his side's clash with Burnley on Sunday. He is quoted by the BBC as saying: "He's got to get the hunger back.
"There's only one person who can do that. We can only do so much. What's that saying about taking a horse to water?
"He's in the running. He's in the 18, but he has got to do more in training, which would make my job a lot easier."
Zohore's starts this season have come in goalless draws with both Newcastle and Huddersfield, giving Cardiff their only two points of the season. They have suffered defeats at the hands of Bournemouth, Arsenal, Chelsea and Manchester City, and Warnock admitted the fixture list had been tough to his side.
He said: "It hasn't been too kind to us, the fixture list. It is a little bit cruel on us but we've got to hang in there."
Cardiff currently sit 19th in the Premier League, and will be keen to register their first victory of the season against Burnley this weekend. 
When asked whether the match is a 'must-win' for his side, Warnock replied: "I think there will be a few more of those over the next few weeks, a few more 'must-win' games!
"It isn't a must-win game but it is a game that's really, really important to us, with the games coming up - Tottenham and Liverpool away and a home game in between against Fulham.
"It's a very difficult period and that's why I think the importance of the game, you can't put it under the carpet."