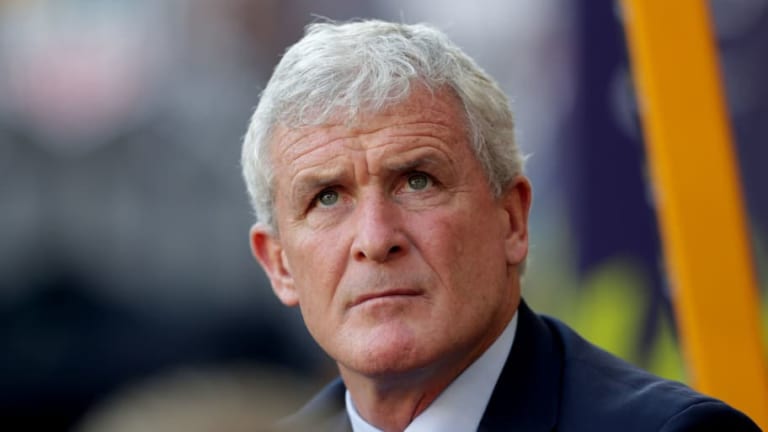 Southampton Manager Mark Hughes Insists Saints 'Deserved More' After Late Defeat at Wolves
Southampton manager Mark Hughes believes his side deserved more for their efforts in the 2-0 defeat at Wolves on Saturday after the Saints fell to two late goals from the hosts.
Ivan Cavaleiro and Jonny both scored in the final 15 minutes to seal the win for Wolves as Southampton continued their recent poor form, with the Saints now with just one win in their first seven Premier League games.
Speaking to Sky Sports after the game, Hughes claimed his side looked more likely to score earlier on but admitted they conceded in poor fashion.
He said: "Whenever they had a bit of momentum in the game, I thought we nipped that in the bud and, for the most part, certainly from 50 minutes until their opening goal, we were the team looking most likely to score.
"Unfortunately, we were the ones who conceded, poorly in my view, we had a couple of occasions where we could have done better in one v one situations out wide when the opposition player didn't have a great deal of room to operate but still has been able to get away from our player and get a ball across the box.
"As a consequence, we've lost two goals. It's a difficult one to take because we had more possession, we've had more shots on goal, we haven't just come here and waited for Wolves to pick us off, we've played a huge part in a decent game but in the end they have the rewards for their efforts and we haven't."
Hughes did also acknowledge Southampton didn't show enough nous in either box after drawing a blank in front of goal for second consecutive week and conceding their fifth goal in the same time span.
He added: "I felt sure that if we'd scored the opening goal, it would have been very difficult for Wolves and we might have been in the situation where we could pick them off and get a second one.
"As it was, 2-0 is quite unkind to us because I didn't think Wolves had done enough to have the margin of victory that they had but in the end, we haven't been able to capitalise when we were in the ascendancy."