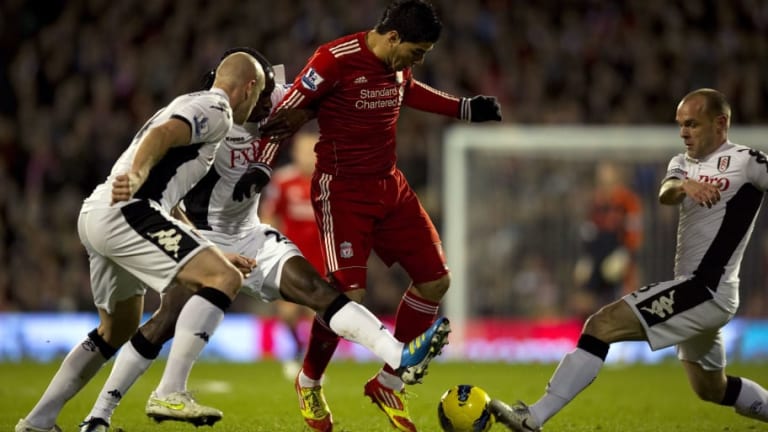 Danny Murphy Reveals How He 'Lost it' With Luis Suarez During a Premier League Match
Former Liverpool midfielder Danny Murphy has revealed how a dive by Luis Suarez caused him to 'lose it' during a Premier League clash back in 2011.
Murphy recounted the story while discussing James Maddison's dive during Leicester's away game at Brighton at the weekend, which saw the young England star receive plenty of criticism after being dismissed for a second yellow.
Murphy brought up the incident involving Suarez, which occurred in a game at Craven Cottage during Murphy's time at Fulham, prior to the Uruguayan's move from Liverpool to Barcelona in 2014.
Murphy told talkSPORT host Jim White on Monday: "I love Suarez, I think he's an amazing footballer and I had the pleasure of playing up against him and seeing his talent first-hand.
"But I was on a yellow in a Fulham vs Liverpool game and he went over a bit easily on one particular occasion, and I was not best pleased.
"While he was crumbled on the floor it was one of those rare moments where I got a bit aggressive and lost it.
"I think for about a millisecond he was a bit worried that I might do something bad – I wasn't going to, I was just so angry.
"I was thinking I might get a second yellow and a red – luckily the ref let me off!"
Murphy went on to reveal that he also 'wanted to smack' Manchester City's David Silva during another Premier League match, after the Spanish star supposedly told him that simulation was part of the game following the awarding of a contentious penalty.