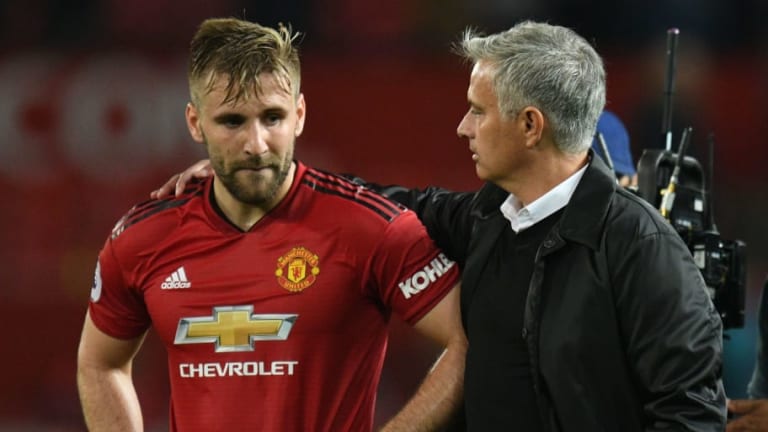 Luke Shaw Admits Players Need 'Thick Skin' to Play Under Man Utd Boss Jose Mourinho
Manchester United defender Luke Shaw has admitted that is important to have a 'thick skin' to play under manager Jose Mourinho. It comes after the boss questioned the 'heart' his team showed in the disappointing 0-0 draw against Crystal Palace on Saturday.
Shaw didn't play in that game due to suspension, but the left-back has been singled out for public criticism by his manager on a handful of occasions in the past.
Most recently, Mourinho was the subject of critical headlines after giving an interview in Spanish in which he suggested that Shaw, Anthony Martial, Jesse Lingard and Marcus Rashford are still maturing and, for now, lack a certain something needed to compete at the highest level.
His words were later twisted by poor translations that appeared in the English press, Sport Witness explained soon after, making it therefore sound like a verbal attack on individual players.
Shaw is happy to accept that criticism comes with the territory of playing for a club like United under a manager like Mourinho. He even 'enjoys' the challenge. And, with regard to last week's interview, he is also well aware that the Portuguese wasn't addressing him or the others directly.
"You need a thick skin, of course, playing for the manager," Shaw is quoted as saying by the Daily Mail as he spoke at a press conference ahead of this week's must win Champions League clash with Swiss side Young Boys.
"But 100 per cent this club, it's the biggest club in the world and we as players need to take what's said on board and I keep saying it but we need to fight for the team, the manager and the fans and the club," the England left-back added.
"What he said the other day [about maturity], that was more a generational thing, I don't think it was really aimed as much at us as individuals. He's talking about nowadays' generation, as opposed to when he was a bit younger.
"I've kind of enjoyed it. It was a very big challenge for me with some of the things he's said in the past, especially in the last year or two years."
From looking likely to leave Old Trafford at various points over the last couple of years, Shaw has bounced back to establish himself as starting left-back this season. He was named United Player of the Month for August and September and recently signed a new long-term contract.