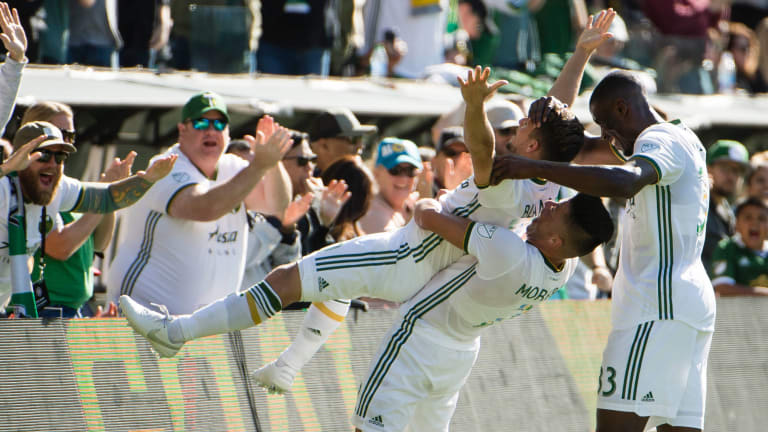 MLS Decision Day: LAFC, Vela Set Records; Portland, Dallas Get In
The final MLS playoff berths were sorted, while LAFC completed its assault on the league record book.
MLS Decision Day has come and gone, and the playoff picture is finally set after a 34-game romp to the postseason.
The Portland Timbers and FC Dallas took care of business at home to clinch the final playoff berths, while there's a new single-season goal king after a hat trick from Carlos Vela.
With the final details being sorted, the playoff picture is as follows:
In the Eastern Conference, NYCFC has the top-seed and a first-round bye. In the second round, it will play the winner of the 4-5 matchup between Toronto FC and D.C. United. On the other half of the conference bracket, No. 2 Atlanta United will face No. 7 New England Revolution in a rematch of their Decision Day showdown at Mercedes-Benz Stadium, while the winner will face the winner of the clash between No. 3 Philadelphia Union and No. 6 New York Red Bulls.
In the Western Conference, LAFC sits comfortably atop the table with the Supporters' Shield. It awaits the winner of the 4-5 match between Minnesota United and the LA Galaxy. On the other half, No. 2 Seattle will host No. 7 FC Dallas, while No. 3 Real Salt Lake will take on No. 6 Portland.
Here's a closer look at the key happenings from a loaded MLS Decision Day:
LAFC, Vela rewrite the record book
LAFC didn't have much to play for aside from setting records, and it made sure to do just that in a 3-1 win over the Colorado Rapids.
With the victory, LAFC set a new single-season standard with 72 points, breaking the mark of 71 set by the New York Red Bulls a season ago. Its goal-differential of +48 is also now the new league standard. And then there's Vela. The Mexican magician removed all suspense of whether he'd break Josef Martinez's single-season goal record with a clinical hat trick. 
The new mark is now 34 goals, and it's one that anybody will be hard-pressed to break going forward. Of course, that's what was said after Martinez's 31-goal season in 2018, but the efficiency and consistency with which Vela scored won't be easy to replicate.
The Rapids, meanwhile, fell short on a day when they needed everything to go their way. Even had they won, they wouldn't have made the playoffs, but what they were able to accomplish down the stretch under manager Robin Fraser should give the club hope of a better 2020. 
Portland, Dallas secure final berths
The final berths in the West belong to the Portland Timbers and FC Dallas. Both sides knew that if they won, they'd be in, and they handled the San Jose Earthquakes and Sporting Kansas City, respectively, to make good on that fate.
The Timbers played with Diego Valeri, who is in the middle of a contract spat with the club, but appeared to miss out due to injury. Nevertheless, the Timbers blew a one-goal lead before Dairon Asprilla (he always seems to come through around this time of year, doesn't he?) and Sebastian Blanco punched the team's ticket in front of a grateful crowd at Providence Park. 
FC Dallas, meanwhile, ran rampant over a hapless Sporting KC, winning 6-0 to remove all drama. Its reward is a trip to Seattle, where it just drew the Sounders 0-0 a couple of weeks ago.
As for the teams on the receiving ends of those beatdowns: San Jose lost its final six games of the season to come up just short of a postseason berth and now faces an offseason of potential chaos. Manager Matias Almeyda reportedly has interest from Monterrey, though the Earthquakes are adamant he won't be going anywhere. Chris Wondolowski, who scored the 159th goal of his MLS career Sunday to add to the all-time league record, is out of contract. Those are two major decisions that will heavily impact the club's 2020.
And for Sporting KC, it's so odd how the wheels fell off for this team, something you wouldn't have expected from a Peter Vermes-led side. Prioritizing the signing of a lead striker would figure to be the top priority, but unexpected holes popped up all over the team and its aging core, and there may be more than just a quick fix required this winter.
Rooney may never play in D.C. again
D.C. United was unable to overcome nine-man FC Cincinnati at Audi Field on Sunday, flubbing its way to a 0-0 draw that ensured it will start its playoff run on the road. Given that Wayne Rooney was suspended for the match due to card accumulation and that he's bound for Derby County this winter, it's possible he may have already played his final match in the nation's capital.
Of course, this this silver lining of sorts for D.C. fans:
That shutout streak, which stands at five matches, will be put to the test by a Toronto FC team that is only hosting their first-round match thanks to the goals-scored tiebreaker. It's no wonder that goalscoring (or lack thereof) wound up defining D.C.'s Decision Day.
Altidore injured at critical time again
Jozy Altidore's career has been littered with poorly timed injuries, most notably his pulling up lame in the opening game of the 2014 World Cup vs. Ghana. But other knocks have kept him from appearing in big spots for both club and country, and the injury bug may have struck again in the second half of Toronto FC's win over the Columbus Crew.
Altidore figured to play a key role for Gregg Berhalter's USMNT in the upcoming Concacaf Nations League matches vs. Canada and Cuba. Now, that would appear to be in jeopardy, and if his injury is a multi-week situation, he could miss TFC's playoff opener vs. D.C as well.
Another collapse vs. Houston costs LA
What is it about the LA Galaxy and Decision Day gaffes vs. the Houston Dynamo? For the second straight season, the Galaxy coughed up a lead vs. the Dynamo and suffered the consequences. This time, they weren't as dire as in 2018, when the club blew a 2-0 lead, fell 3-2 and missed the playoffs. But the 4-2 defeat on Sunday means the club will have to go on the road to Minnesota for the first round.
The Loons lost just once at their new home all season, as opposed to 10 times on the road. That could factor in heavily for a Galaxy side where just making the playoffs is not good enough. There will be the temptation to look ahead to a second-round clash vs. LAFC, but Zlatan & Co. have their work cut out for them in the first round.
Farewell to two USMNT all-time greats
That's all for Tim Howard and DaMarcus Beasley. The two U.S. legends have officially completed their playoff careers, with neither advancing to the postseason. It's surely not the way they wanted to go out, but more MLS accolades would do little to add to their Hall-of-Fame-caliber careers.
Cheers to two of the best Americans to ever do it, both at home and abroad.