Sports Illustrated's Innovation of the Year: Virtual reality
Sports Illustrated's Innovation of the Year is virtual reality. 
This story appears in the Dec. 21, 2015, issue of Sports Illustrated. To subscribe, click here.
In many ways Arizona Cardinals quarterback Carson Palmer is old-fashioned. He handwrites his notes, describes himself as "archaic" and uses a three-ring binder playbook instead of a tablet. So it meant a lot when, after weeks of fighting it last summer, the 35-year-old veteran of 12 NFL seasons got on board with the year's biggest game-changer, virtual reality. "I thought, There is no way this can change the way I play quarterback," Palmer (left) told The MMQB last month, "but I am all in."
• JENKINS: SI tabs Stephen Curry as 2015 NBA Player of the Year
Virtual reality is revolutionizing practice and game prep, especially in football. STRIVR, a VR company that works with at least seven NFL teams and 13 college programs, sets up a 360-degree camera during seven-on-seven drills and then stitches together the footage. Later, players and coaches can put on headsets and be transported to the field, where a turn of the head can show them everything from the direction a cornerback is leaning to the quarterback's footwork.
Innovation of the Year: Virtual Reality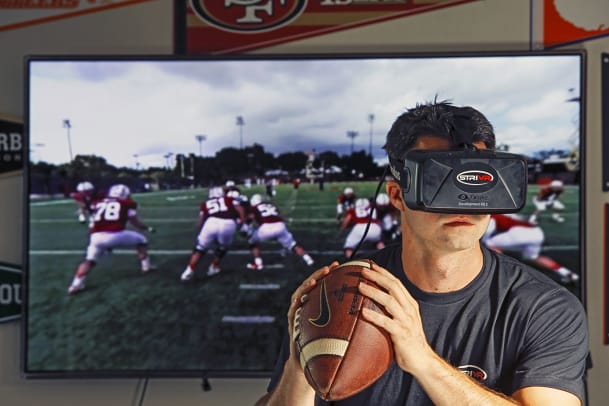 Another VR company, Headcase, aims to give prospective student-athletes and their families a sense of university life, filming the banter in the locker room, the run through the tunnel and the celebrations on the sideline. Fans are getting in on the action as well. In October the Warriors' season opener against the Pelicans became the first sporting event to be streamed live in virtual reality, and three days after Daniel Jacobs TKO'd Peter Quillin, Showtime made the match available for VR download.
VR: It's getting real.