Top 10 Men's Tennis Players of All Time
Top 10 Men's Tennis Players of All Time
Ivan Lendl
As Rafael Nadal celebrates his first U.S. Open title, SI's Richard Deitsch ranks the 10 greatest men's tennis players of all time. One of the most dominant players of the '80s, Ivan Lendl won 10 Grand Slams and appeared in 19 Grand Slam single finals, a record broken by Roger Federer in 2009. Over the course of his 16-year career, Lendl compiled a 1,071-239 record with 144 career titles.
John McEnroe
Known as much for his on-court behavior as his actual performance, John McEnroe remains one of the most controversial players of all time. He won seven Grand Slams singles titles, nine doubles titles and one mixed doubles in his 16-year career. He currently serves as analyst with his brother, Patrick.
Bill Tilden
Bill Tilden was the games best player during the 1920s, winning seven U.S. men's singles championships, three Wimbledon singles championships and two professional titles. "Big Bill," who lost part of a finger in 1922, was known for his cannonball serve and leaves a legacy as one of the most cerebral players of all time.
Andre Agassi
With his long hair and flamboyant style, Andre Agassi stormed onto the professional tennis scene at 16. He won eight Grand Slam singles tournaments in 15 Grand Slam final appearances and is the only male to win the "Career Super Slam" (winning all four Grand Slams, the Olympic singles gold medal and the ATP World Tour Finals). He is married to Steffi Graf, owner of 22 Grand Slam singles titles.
Pancho Gonzalez
Pancho Gonzalez taught himself to play and became one of the game's biggest stars in the '50s and early '60s. He also underwent tremendous adversity, often facing racism in a predominantly Caucasian sport. He may be best remembered for taking part in 1969 during Wimbledon, when he beat 25-year-old Charles Pasarell (22-24, 1-6, 16-14, 6-3, and 11-9) in a 112-game match that lasted 5 hours, 12 minutes.
Bjorn Borg
Bjorn Borg dominated the game in the late '70s, winning four straight French Open titles and five straight titles at Wimbledon. Though he only played for 10 years, Borg won 11 Grand Slams and is one of four players in the Open Era to win both Wimbledon and the French Open in the same year and the only player to do so for three straight years.
Rafael Nadal
The defending U.S. Open champion has established himself as not only one of the best players of today, but one of the all-time greats. Since making his debut at 15, the 24-year-old Nadal has already won a Career Grand Slam and has 11 Slams total along with an Olympic gold medal.
Rod Laver
The Australian native ruled professional tennis during the '60s and is the only player to have twice won all four Grand Slam singles titles in the same year -- first as an amateur in 1962 and second as a professional in 1969. Rod Laver won 11 Slams total over the course of his 20-year career.
Pete Sampras
Pete Sampras burst onto the scene in 1990, defeating Andre Agassi, Ivan Lendl and John McEnroe on his way to becoming the youngest man to win the U.S. Open. Sampras would go on to win 14 Grand Slams, including an impressive seven Wimbledon titles in eight years.
Roger Federer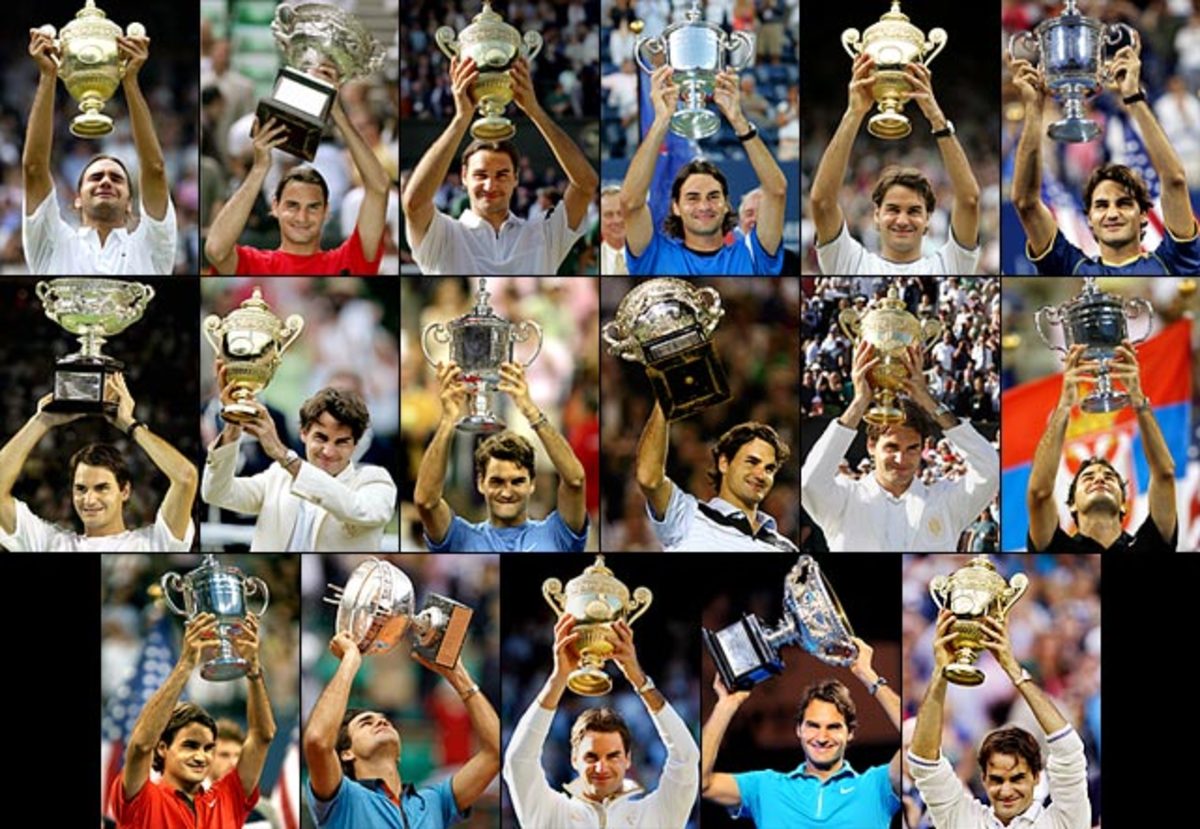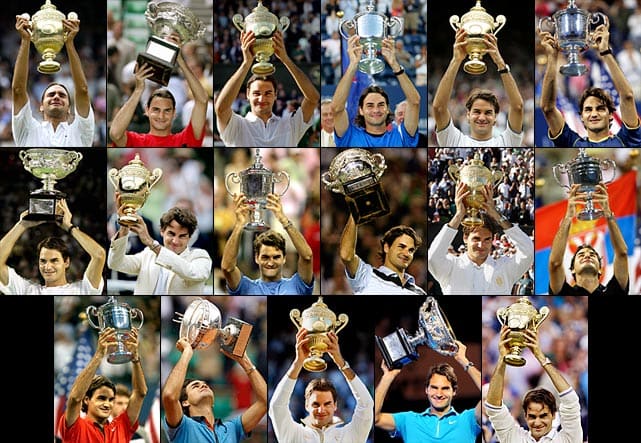 Roger Federer has dominated the men's game like none other, holding the No. 1 rank for a record 237 straight weeks from 2004 to 2008. He has won a record 17 Grand Slams, including five straight U.S. Open titles (2004-08) and Wimbledon Championships (2003-07). After another win at Wimbledon 2012, finds him back at the No. 1 ranking at 30 years old.