Serena completes epic journey with 4th U.S. Open championship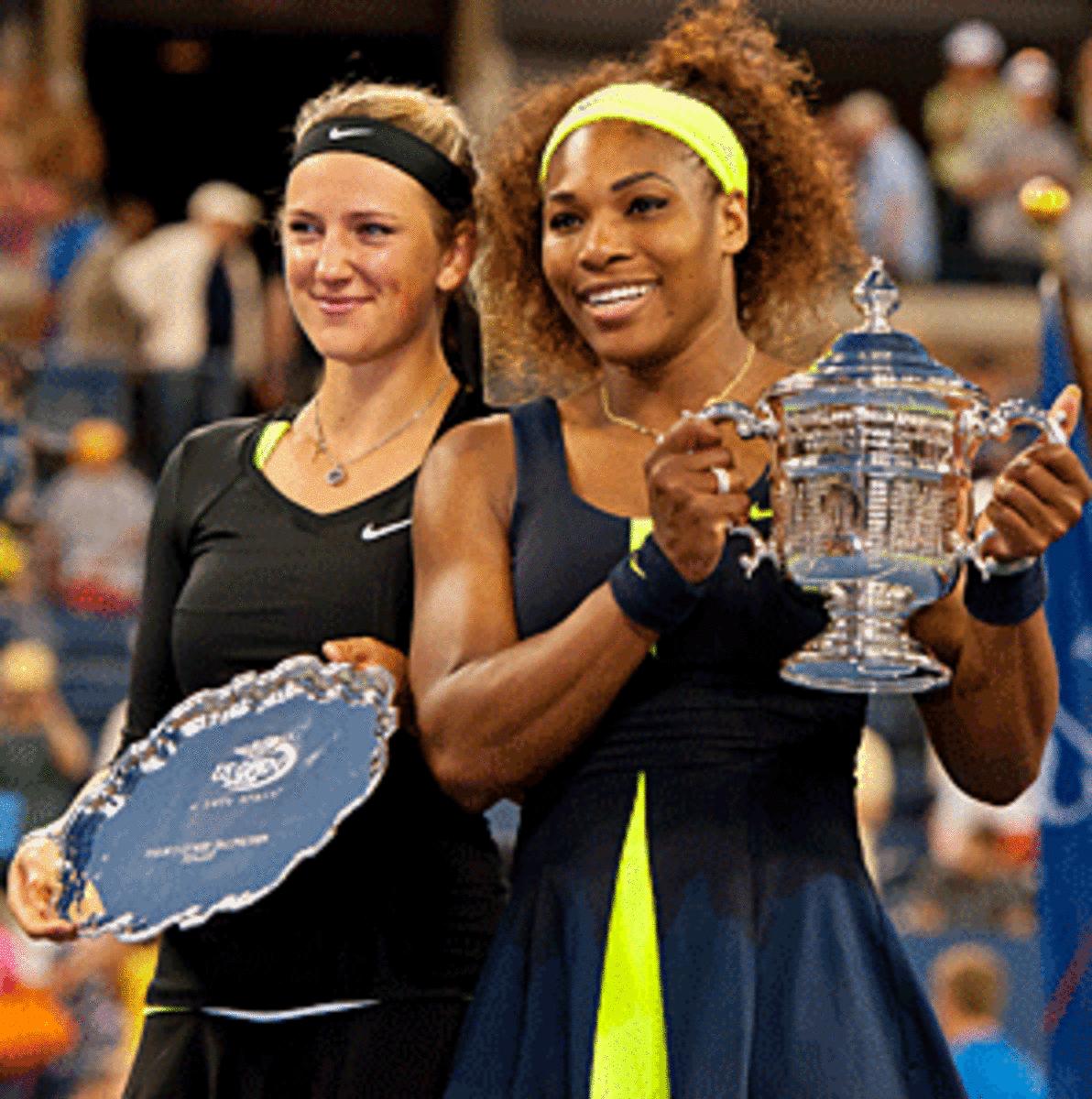 NEW YORK -- Before this U.S. Open began, she spoke of how she was scared of the tournament, the place itself, how she'd rather play Wimbledon or Australia. But that wasn't right, exactly: If Serena Williams is being honest, it's a certain chemistry, the incendiary blending of New York and herself, that she fears. The two goad each other like gasoline and fire, and it's only when they meet that the word "match" takes on double meaning. Even with just one more to play, she was still praying for peace.
"Hey, it's not done yet," Williams said Friday night, after a routine, semifinal win over Sara Errani. "I did grunt once today, and I thought, God, I hope I don't lose the point. It's weird. My goal this year was not to get in any fights, but something happens then, oh, I try to count to ten. Hopefully I can make it."
She made it. In beating Victoria Azarenka, 6-2, 2-6, 7-5 Sunday in a superb and stirring 2012 U.S. Open final, the best in 17 years, Williams didn't just stake an irrefutable claim for de facto player of the year or seal, with the Wimbledon and Olympic titles also in hand, the best summer by a woman in a decade. By keeping calm, by not exploding at calls as she did in her appearances in 2009 and '11, by only glaring when nabbed for a foot-fault in the second set Sunday, Williams, 30, also completed the final delicate step of her two-year comeback to the top of women's tennis and, perhaps just as important, felt at home at last at the Grand Slam that has long fed her darkest impulses.
"Not losing her cool and going crazy and getting thrown out: I think it was more important than winning because how many times has it happened here?" said Oracene Price, Serena's mother and coach, just after her daughter had walked off the court Sunday with her 15th Grand Slam singles title. "It's much more important that she has a stable mind. It had to be clear. You can't lose control."
And it wasn't just Serena who seemed different. The Williams family could feel it: In the 23,771 screaming New York fans who, just before the third set, filled Ashe Stadium Sunday evening with the tumbling din that Andre Agassi describes as a cross between "a jet engine and giant heartbeat"; in the random chants of "Go girl!" and "Let's go, Ser-e-na!", as she then mounted her final comeback from down, 3-5, 30-all. The place, as much as the player, was willing her to win.
"They were, I'll say, but when they're 'rooting-for' you you're kind of wondering what's going on," Price said. "Because you don't trust it. You're thinking, Is this for real?"
If that seems like an odd sentiment concerning the last great American player in pro tennis, one who just won her fourth Open and 15th overall Grand Slam title, it is. Serena and her sister, Venus, came to New York this year with a combined five Open singles titles -- as well as two in doubles -- and most would call their status as national icons a given. Yet after a wild, second-round loss this year during which fans chanted "Let's go, Ven-us!" even during play, Venus stunningly called it, "the first time I've ever played here that the crowd has been behind me like that. Today I felt American for the first time at the U.S. Open."
And after beating Errani Friday, Serena mentioned her upcoming final with Azarenka to the crowd but felt the need to remind them: "But I'm American, guys... Last one standing.... Go USA!" It sounded strange.
Then again, when has anything about the Williams sisters -- especially at Flushing Meadow -- been anything but? Fifteen years on, theirs remains a narrative unrivaled by any in sports, one rarely defined by mere wins and losses. Themes ranging from race to sibling rivalry to body image to family grievance, domestic trouble, violent crime, female empowerment and class have bubbled below -- and above -- the surface wherever they play, and somehow seem to erupt in New York.
Venus's debut run in 1997 was marred by her dad's racial invective, and her three other finals appearances divided loyalties because they were contested against American Lindsay Davenport or Venus's sister. Meanwhile, even in finals against opponents like Martina Hingis or Jelena Jankovic -- and especially comeback mom Kim Clijsters in 2009 -- Serena felt the same coolness that her sister did.
"Definitely," Serena said Friday. "Because we'd play against Clijsters or whoever else, and all these people weren't ready for us to win or they were rooting against us. It was always strange to me.
"You never know what the reasons: Because we're black in a white sport? I don't know. But we're the first African-Americans to really dominate in this sport and you can't expect everything to be perfect and Whoo-whoo! -- like, everyone to be so accepting so fast. Maybe things have to grow."
It didn't help, of course, that in her '09 semifinal against Clijsters -- the feel-good story of that tennis year -- Serena blew up at a lineswoman for a match-point foot fault call, threatening to shove "this f---ing ball down your f---ing throat." Her next appearance in Flushing Meadow, in 2011, ended in a loss in the final to Sam Stosur; early in the third set Williams launched an ugly tirade on the chair umpire after being assessed a point penalty for screaming after cracking a forehand. Oddly, it was at that moment, for the first time, that she felt the Open crowd swing fully to her defense.
"Venus and I have been carrying the torch by ourselves for so long, maybe it was just time," Serena said. "But last year I felt so much support, especially when I got that horrible call. And every single time this year, even in doubles, it was overwhelming the amount of support. I love it."
Still that doesn't mean that, even now, she fully trusts the event -- the chair umpires, the line judges, the USTA officials in charge -- to treat her fairly. In 2004, after all, Serena lost her quarterfinal largely because of a clearly-botched, third-set overrule -- an injustice that sped the arrival of the Hawk-Eye instant-replay system -- and, no, she's hasn't forgotten. Indeed, for Serena paranoia is a mindset that the Open has justified for some 15 years; no other major makes her more rawly aggressive, or prompts a blacker worldview. "It was like stabbing myself," she said last week about watching old losses. "Very painful. It's like cutting yourself to me." And it only complicates matters that, in New York most of all, she hardly trusts herself, either.
"A lot of funny things happen to me at this Open," Serena said. "I think about it a lot when I'm not at the tournament. But every time I step on the court, not once has it crossed my mind: Don't grunt too loud, in fear of getting a point penalty -- even though I don't grunt that loud. Don't step on the line -- even though I don't foot-fault. Don't hit the balls too close to the lines -- in case they call it out. Like in Cincinnati, I thought, Serena, don't go crazy this year...
"But once I got here, every match, it just disappears -- which is good."
Indeed, at least for one day Sunday, all seemed forgiven if not forgotten, a bitter era perhaps giving way to better. Azarenka pushed Williams to the brink with patience, pinpoint serving and go-for-broke shotmaking on rally after rally, but as both the tension and standard rose, Serena never came close to losing control. She actually was mulling her runner-up speech in the third set, and even after ripping a vintage forehand up the line to get to 4-5, walked to her chair shrugging, resignation written across her face.
But then Azarenka gave Williams another shot at life, tightening up on her delivery, spraying groundstroke -- and once she gagged on the chance to serve for the match, evening the set at 5-all, the momentum shifted for good. "In the back of my mind I had that coming," Azarenka said. "Maybe that was a bit of hesitation for me. I have to say, Serena produced some amazing tennis."
And afterward, on court, the spirit between the two was nothing but warm: Azarenka, eyes still filled with tears, spoke of how honored she was to stand next "to such a great champion", while Serena rubbed her on the shoulder. "Absolutely I admire her," Azarenka said.
It was, all in all, heartwarming end to a Grand Slam year that, in all truth, had begun with so little promise. Coming into 2012, women's tennis seemed stalled in a desultory era marked by one-off champions and no compelling rivalries; like the game of then No. 1 Caroline Wozniacki, the tour was a nice, numbing exercise devoid of verve, drama or bite. Venus had just been diagnosed with an auto-immune disease, and Serena's Open meltdowns were still fresh.
When the 22-year old Azarenka blitzed the tour's one marketing juggernaut, Maria Sharapova, in the '12 Australian Open final, the literally star-crossed women's game seemed like it couldn't get out of its own way. Established names kept falling short, and here came another callow basher, a la Jelena Jankovic or Dinara Safina, surely fated to follow their path. Except Azarenka didn't.
Instead, the Belarus émigré who hit the U.S. at 16 and polished her English with a steady diet of Friends ("My first American TV series: I watched it from the first one to the last -- and in repeat," she says. Joey, the charming dope, was never her favorite; she likes the needling jab. "No," she says. "Chandler is."), went on a hardcourt tear. Azarenka won 26 straight matches last Spring, the tour's best start in 15 years, all the while radiating aggression, haughtiness, an ambition that has only grown.
"Definitely I don't want it to stop," she said after ousting Stosur, the defending champ, in the highest quality match of the Open, a three-set epic in the quarterfinals that ended 7-5 in the third-set tiebreaker. "I really want it bad. I'm going to do absolutely everything I have -- you know, give it all here."
Meanwhile, the instant Azarenka found her strokes, and roll, slowed by the clay season, the tour's two other relentless wills finally got themselves back in harness. Sharapova, at 25, upgraded her movement enough to win Roland Garros and complete the career Grand Slam, and then Williams capped a two-year run through a wilderness of health problems, including a pulmonary embolism and near-death scare, by winning her 14th major singles title at Wimbledon. And -- just like that -- everything changed: As the men's game has shown, three driven and great players is all you need to create heat. After seven straight majors with different winners, this year's U.S. Open would do what U.S. Opens should -- crown the year's best on the court, not some computer, with matches that make the sport proud.
Odd. The Open was plagued by the usual distractions this year: Rain, oppressive humidity, gusts that pretzeled the flight of the ball, a hairdo named Redfoo. But even Sharapova's celebrity was overwhelmed by the tennis; neither her remark that she had gotten tested to find out she was "fine, not pregnant", nor confirmation that her engagement to basketball player Sasha Vujacic was off, proved as intriguing as Sharapova's showdown with Azarenka in the semis. Azarenka had reportedly called Maria a "b----" in Rome in 2010, after all, and the two had bumped shoulders this year on a changeover in Stuttgart; the two cool, leggy, Eastern bashers are too similar to occupy the same real estate for long.
Yet no such nonsense surfaced when they met Friday in Ashe Stadium: The heat was crushing, the level of play -- by the second set -- too good, the stakes too high. It's fashionable, of course, to bash both women for the high-pitched wails attending each stroke. But by the third set, that psyche-bending place where both Sharapova and Azarenka had been unbeatable all year, what once seemed like self-indulgent caterwauling gained an unlikely heft. Someone, something, had to give, and in this summer's sudden new context, as Sharapova, down 1-2 and serving in the third, saved three break points to hold off Azarenka's grinding attack, each screeching forehand grated less. Last year's noise was this year's thunder: It sounded, despite the millions made by both, like true need.
"I never had a problem," with Sharapova, Azarenka said after her, 3-6, 6-2, 6-4 win. "Or, what you mean by rivalry. I feel it's a great competition. There are a few girls, we kind of feel in the same competition, the same level, and we push each other to be better. Which is everything you can ask for: When somebody is pushing you to get better. It's basic."
Something in this year's season -- as well as a few well-timed words from handlers and her coach, Sam Sumyk -- has also sanded down some of Azarenka's intensity, her rougher edges with the public. She danced on court after her wins in Flushing Meadow, and laughed, on the eve of her showdown in the final, about her 1-9 record against Serena. "I try to enjoy my moment," Azarenka said. "When I'm on the court, I feel like I'm in paradise. I'm in that most comfortable place I can be. Why not enjoy it?"
It is, for the women's tour at last, the right question. Azarenka will remain No. 1 for now, but after nearly four years of surgery, rehab and grinding, Sharapova briefly reached that perch again this summer and feels recharged. "I'm so lucky that I get to play this sport, that I love playing it still, and that I feel like I have a lot in me," Sharapova said after Friday's loss. "I was out of the sport and I got to do many things, but there's nothing like being in that moment....I'm so happy I'm not in any other career. I wouldn't trade this for anything."
Williams, too, describes herself as "really content and excited about my future." The 2012 Open, it turned out, sent an unexpected tremor through tennis, what with the retirements of Andy Roddick and Kim Clijsters, and the disturbing absence of Rafael Nadal and withdrawal of Mardy Fish because of health issues. But at 30, Serena isn't thinking retirement. Believe it or not, the champion best known for a lack of career focus, her combustible nature, is looking to provide tennis with a bit of stability.
"Not me: No chance," Williams said. "I mean it. With Andy gone and Kim leaving, it made me feel like I need to stay. For the game. For this generation. I'm healthy. I'm fine. I'm playing pretty good. Why not?"
It's a good question. As Williams' walked off the court with the trophy Sunday night, one of her favorite songs, "Fame" kicked in over the speakers at Ashe. She has it piped in for her stadium walk-on, sings it every chance she can at karaoke, because she loves the lyrics most of all. And as the music blared Serena began to dance, vamp, pose and stride, all while mouthing every line in perfect time.
...You ain't seen the best of me yet
Give me time I'll make you forget the rest
I got more in me
And you can set it free
I can catch the moon in my hands
Don't you know who I am?....
The Open, the city, the trophy were all hers. Why not, indeed?