Eugenie Bouchard beats Simona Halep to reach Wimbledon final
LONDON -- No. 13 Eugenie Bouchard defeated No. 3 Simona Halep 7-6 (5), 6-2 at Wimbledon on Thursday to reach her first Grand Slam final.
With her first victory over a top-five player, the 20-year-old Bouchard will climb to at least No. 7 on Monday, the highest-ever ranking for a Canadian. She will play 2011 champion Petra Kvitova in Saturday's final.
Two years ago, Bouchard won the Wimbledon junior tournament. Her rise into the game's elite over the last 12 months has made her one to watch in the WTA's next generation.
"I never say I'm surprised because I put in a lot of hard work and it's been years in the making for me," Bouchard told the BBC after the match. "I expect good results and I always want more."
The highly anticipated semifinal match between the tour's two winningest players at the majors this year took a hit early in the first set when Halep turned her left ankle and required the trainer. Her movement wasn't severely hampered afterward, but the 22-year-old Romanian said she had trouble pushing off and lacked bite on her first serve.
Still, Halep led the first-set tiebreaker 4-2, positioning herself in position to steal the set despite being outplayed. But Bouchard rallied to avoid losing a set for the first time in six matches here. Bouchard rolled in the second set, troubled only when she tried to close out the match. She finally did so on her sixth match point.
"I'm just happy I kept my focus and didn't get distracted and played well in the last game," Bouchard said. "I'm really excited. I can't wait to play [in the final]. I'm just going to go for it."
Game by game analysis of the match below:
Second set
11:44 a.m. ET | Eugenie Bouchard defeats Simona Halep 7-6 (5), 6-2 to advance to her first Wimbledon final.
Halep already saved three match points and now she's saved two more. Bouchard, up 40-15, has a backhand down the line open for the winner and she sprays it. On her next match point, she double-faults. Yes, even the ice-cold Bouchard can get nervous when serving to close the biggest win of her career. 
But Halep lets her off the hook. Two bad errors from Halep and it's match point No. 6 for Bouchard. This time she leaves no doubt. Beautiful wide serve and it's a winner to close out her first victory over a top-five player. The only woman to make the semifinals of the first three Slams this year, Bouchard is through to her first Wimbledon final only two years after winning the junior title.
11:38 a.m. ET | Halep holds, trails *5-2.
Bouchard holds and then earns two match points on Halep's serve. Halep serves an ace to save one but Bouchard complains to chair umpire Kader Nouni that she wants the point replayed because she wasn't ready. Nouni isn't having it, but the Canadian can't let it go. When play resumes, Halep saves her second match point and then saves another and eventually holds. 
Bouchard will now serve for the final. 
11:25 a.m. ET | Bouchard breaks again, leads *4-1.
Not a whole lot of belief on Halep's side of the net anymore. Bouchard holds easily and Halep gets broken again. Just playing flat, clearly disappointed in how that first set ended. Despite being outplayed, she had her chance to steal that set and couldn't do it. 
11:19 a.m. ET | Bouchard breaks, leads *2-1.
The pair exchange holds, but Halep has a letdown on her second service game of the set. She falls behind and gives up two break points, double-faulting on the second.
Say this about Bouchard: If she wins this match, no one will scoff at the quality of her competition at Wimbledon. She's had the toughest road to the semis, with her opponents' average rank at No. 32, and she's the only one of the four semifinalists who has had to play a top-five player. In fact, this could be her first top-five win. 
First set
11:10 a.m. ET | Eugenie Bouchard takes the tiebreaker 7-5 to win the first set. 
​Poor start to the breaker for both women, who exchange five straight mini breaks. Every point ending on an error. With Halep serving at 3-2, there's a stoppage of play as a fan in the lower bowl is in need of medical attention. The players take a seat. 
Play resumes and Halep throws in a good body serve and Bouchard can't get out of the way. Halep leads 4-2.
Bouchard gets the mini break right back with a net-cord winner. Bouchard then holds with a well-played point that gets Halep on the run until she nets a backhand. Bouchard holds again to go ahead 5-4.
Bouchard gets a second serve, and instead of hammering a return, she takes a little off to get the ball in and then takes control of the rally with heavy corner-to-corner hitting. She now has two set points at 6-4.
Halep saves one set point with a great running forehand down the line. 6-5.
With set point on her serve, Bouchard sends in a second serve that Halep rolls in way too short. The Canadian takes control from there and finishes it off with a forehand winner. 
First set to Genie Bouchard, who rallies from 2-4 down in the tiebreaker. She was the aggressor and better player throughout that tight, nervy set. 
Here are the first-set stats, which show that Bouchard's aggressive style win out. That's to be expected on grass, and the surface -- as well as a slightly hampered Halep -- may be the difference in this match. 
10:58 a.m. ET | Halep holds, tied 6-6*.
Chance for Bouchard at 0-30, but Halep holds with a fantastic backhand winner. Best point of the match on that game point. We're going to a tiebreak. 
10:53 a.m. ET | Bouchard holds, leads 6-5*.
Credit to Halep, who continues to hold despite generally being outplayed. She holds at 30 as Bouchard goes too big on a weak second serve and misses. Bouchard's game plan is to go big, but sometimes you wonder whether that's the right play. 
First sign of nerves from Bouchard. She opens her service game with two bad unforced errors. No racket speed through the ball and the footwork was heavy. Halep bails her out with a poor backhand miss of her own, and Bouchard puts in a great serve to get back to 30-all. Big forehand from Bouchard lands smack on the baseline and Halep shanks it. Bouchard holds. 
This hasn't been a great match so far. Far too many points ending on errors.
10:45 a.m. ET | Bouchard holds, leads 5-4*.
There's just a slight lack of conviction through Halep's shots. At 15-love, she has a drive to put away but takes a little off it. She places it into the open court, but Bouchard gets there easily and surprises Halep with a heavy forehand and Halep chunks the volley well long. Bouchard earns a break point by painting the line with a forehand. Halep gets back to deuce, but another break point for Bouchard when Halep seems to get her feet stuck and is all out of sorts on a backhand, yanking it wide. 
Halep bounces back with a beautiful inside-out backhand winner. That was a stunner. The Romanian grinds out another hold to stay even. 
Bouchard holds at love. Continues to hit mercilessly.
10:38 a.m. ET | Bouchard holds, leads 4-3*.
Big hold for Halep, who survives a deuce game. It feels like she's behind in nearly every rally, though, and it's Bouchard who is dictating, either with aggressive hitting or errors. Eight unforced errors already from Bouchard. 
Bouchard holds at 15. The more I watch Bouchard, the more I can't help but shake the idea that she plays tennis like a hockey player. Her strokes look like slap shots and she has great hands, making last-second adjustments even when her body is out of position, and still getting her weight behind her shots.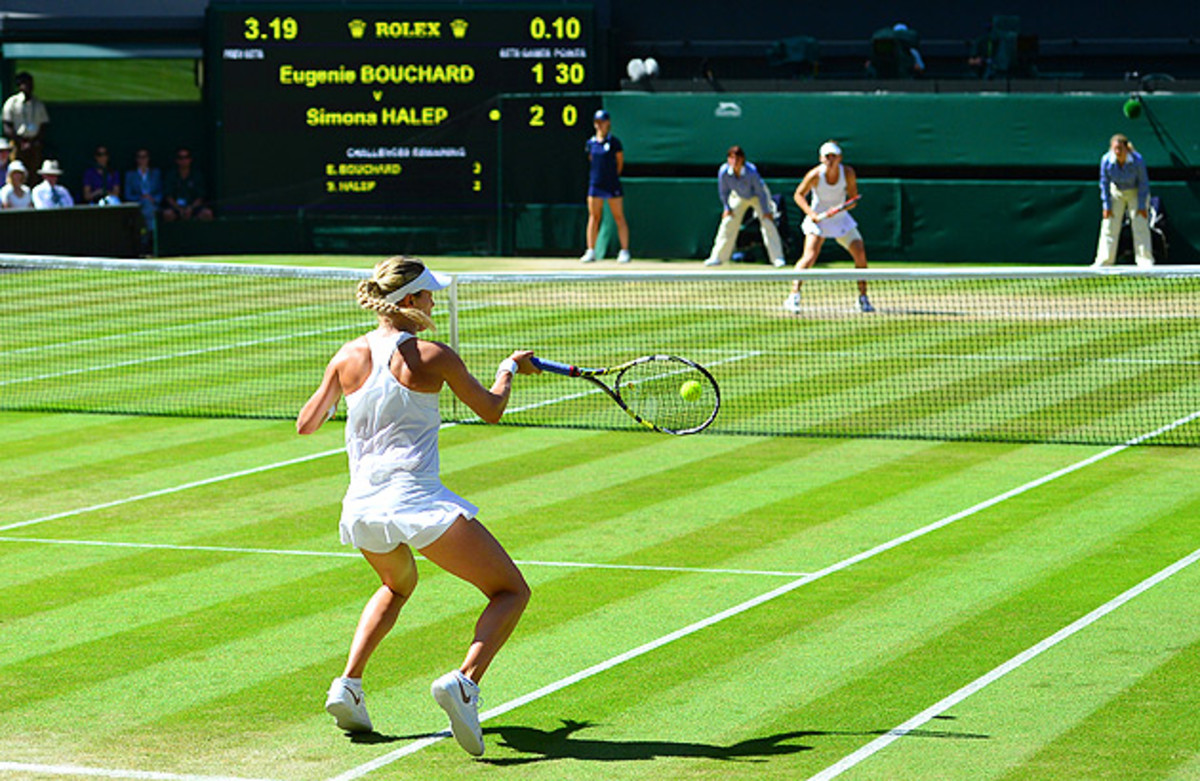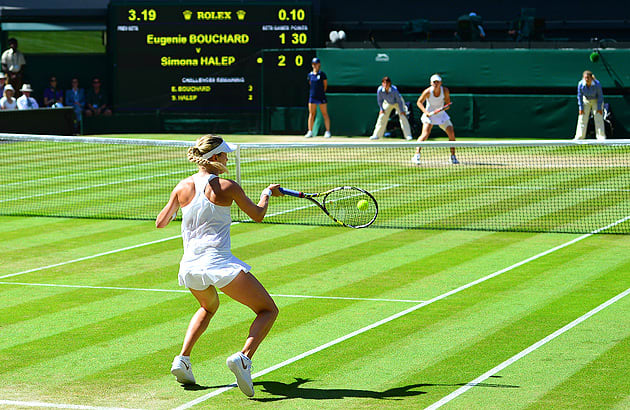 10:28 a.m. ET | Bouchard breaks back and holds, leads 3-2*.
Break points for Bouchard to get the break back and she needs just one. She breaks at 15 with a great, deep return and then opens up the court to send Halep on the run. 
Halep appears to have jammed her left ankle in that last point. She slipped while hitting through a backhand and she immediately walks to her chair -- gingerly -- and the trainer is out to take a look. Halep takes an official medical timeout and the trainer is taping up her ankle. Bad news for Halep, who doesn't have the natural power to hunt for winners if she's limited. Her movement is her game. 
On the restart, Bouchard falls behind 0-30 but wins the next four points. No major signs of any compromised movement from Halep, but she's definitely being careful. It will be a such a shame if that injury takes the air out of what should be a very competitive and tightly contested match.  
10:18 a.m. ET | Halep breaks, leads *2-1.
Bouchard serves first and has a clean hold at 15. Halep throws in her first double-fault in her first service game but she holds at 30.
Bouchard falls into a 0-30 hole in the third game and gets broken. A few too many unforced errors to start for the Canadian, who is trying to be the aggressor. She sails a forehand long to give Halep first blood in the match.  
Pre-match
Wimbledon women's semis preview: Simona Halep vs. Eugenie Bouchard
No. 3 Simona Halep will play No. 13 Eugenie Bouchard in the second women's semifinal at Wimbledon on Thursday. ESPN will televise the match.
Halep, who reached the French Open final last month, is the highest seed remaining after No. 1 Serena Williams and No. 2 Li Na both owed out in the third round. Bouchard is the only WTA player to make the semifinals of the first three Grand Slam tournaments this season. She is the first woman to accomplish the feat since Dinara Safina in 2009.
The two young stars (Halep is 22, and Bouchard is 20) have met once, at Indian Wells in March, when Halep won 6-2, 1-6, 6-4.
Bouchard is no stranger to winning on the grass at the All England Club, as she was the junior champion in 2012.
If Halep reaches the final, she will supplant Li as the second-ranked player, and she will move to No. 1 in the yearlong race for eight spots at the WTA Championships in October. If Bouchard wins, she will become Canada's first Slam finalist and climb to No. 7, surpassing former No. 8 Carling Bassett-Seguso as the highest-ranked player from her country.
The winner will play 2011 champion Petra Kvitova for the title on Saturday.