#TBT: Asian men's tennis star, Thailand's Paradorn Srichaphan
When you think of Asian men's tennis, three names immediately come to mind. There's Michael Chang, who became the first player of Asian-descent to win a Slam in 1989. There's Kei Nishikori, who became the first Asian-born man to make a Slam final at the U.S. Open this year. But in between Chang and Nishikori, there is Paradorn Srichaphan.
#TBT: 2007 Wimbledon match sets Ivanovic, Vaidisova on opposite paths
The Thai superstar became the first Asian-born man to break into the ATP Top 10 when he rose to a career-high No. 9 in May of 2003. His on-court success and hyper-aggressive "grip and rip" game created legions of supporters and helped fan the flames of excitement and interest in tennis in Asia. A right wrist injury effectively ended his career in 2007 and he retired three years later after suffering a horrible motorcycle accident that broke both his hands and severely injured his knee. But his impact on tennis in Asia, particularly Southeast Asia, continues.
Srichapan was born in Khon Kaen, Thailand, and under the tutelage of his father, he turned pro in 1997. While Asian tennis is typically known for producing smaller players who rely on their speed and defense, Srichaphan broke the mold with his 6-foot-1 frame and incredibly strong and flexible physique. He never saw a ball he didn't want to crush. He served big, hammered the ball off the forehand side and ripped his one-handed backhand for winners. In stark contrast to his peaceful, humble personality, his game was thoroughly aggressive. You couldn't find a nicer guy on tour.
Srichapan cracking a backhand past James Blake:
Srichaphan's breakout year came in 2002. He began the season ranked outside the top 100 and proceeded to make four ATP finals, winning two of them. He finished the season ranked No. 21 and earned the ATP's Most Improved and the Stefan Edberg Sportsmanship Award for his well-liked personality. After his 2002 season, Srichaphan's profile soared. "I'm not just representing Thailand, my country,'' he said in August 2003. ''But I feel that I representing all the Asian country, especially in Asian tennis.''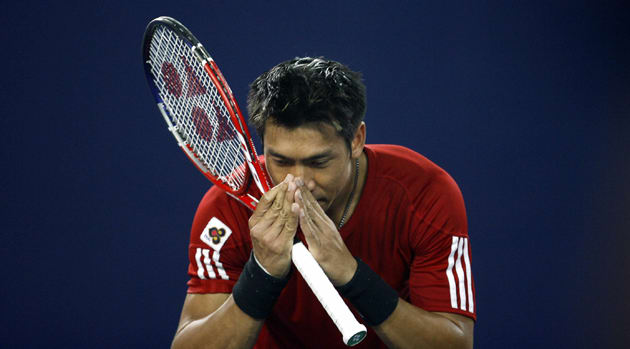 "Paradorn Fever" immediately swept through Asia. In 2003 Time Magazine Asia put him on the cover, labeled as an "Asian Hero." He was given an audience with the King of Thailand, an honor usually reserved for heads of state, and was issued a red diplomatic passport after being named a cultural ambassador by the Thailand Tourism Authority. Later that year -- the same year his idol, Chang, hung up his racket -- Srichaphan cracked the top ten, where he would stay for ten weeks. Later that year the inaugural Thailand Open kicked off in Bangkok, where it would be played for 10 years. 
​Though he never made it past the fourth round of a Slam, two of the most notable wins of his career came on the hallowed grass at the All England Club. In 2002, he stunned third seed Andre Agassi at Wimbledon in straight sets in the second round. Ranked No. 67, Srichaphan needed just an hour and 50 minutes to end Agassi's tournament, posting a 6-4, 7-6 (5), 6-2 win to advance to the third round of a major for the first time in his career. A year later he defeated Rafael Nadal at a Slam, beating the 17-year-old, No. 76-ranked Spaniard, 6-4, 6-4, 6-2 in the third round. 
​He would win five ATP titles in his career and post wins over the likes of Andy Roddick, MaratSafin and David Nalbandian. After undergoing wrist surgery in 2007, Srichaphan finally announced his formal retirement in 2010, where he bid farewell to fans in a ceremony at the Thailand Open. Though his post-career endeavors have included opening a restaurant, selling herbal remedies and even an acting stint, he continues to stay involved in the sport. Srichaphan​ serves as Thailand's Davis Cup captain and he opened a tennis academy in KhonKaen. Just last month he was in Nanjing, China, for the Youth Olympics as an Athlete Role Model.
Here's a tribute to Srichaphan in three spectacular Hot Shots: 
He was flexible:
[youtube:http://youtu.be/KMPTMQTtO-I​]
Really flexible:
And incredibly fast:
More Srichaphan snapshots
[FULL SIZE]
#TBT: Paradorn Srichaphan