Caroline Wozniacki outlasts Maria Sharapova at the WTA Finals
SINGAPORE -- Defense and consistency led both Caroline Wozniacki and Agnieszka Radwanska to upset wins at the WTA Finals, adding even more intrigue to the White Group. No. 9 Wozniacki outlasted a patchy Maria Sharapova and beat her 7-6 (4), 6-7 (5), 6-2 in a grueling three hours and 13 minutes. No. 6 Radwanska kept the upset mojo going and handily beat No. 3 Petra Kvitova 6-2, 6-3. 
For the second straight meeting, Wozniacki's consistency and fitness wore down Sharapova. Their matchup is a pure fight of offense vs. defense, and historically Sharapova has gotten the better of it. But the Russian credited Wozniacki's ability to score her last two exhausting three-set wins and her defensive improvements. In the fourth round of the U.S. Open, Wozniacki won 6-4, 2-6, 6-2 in two hours and 37 minutes on a hot and humid day in New York. In indoor conditions on Tuesday night, Wozniacki handed Sharapova her first loss of the year in matches lasting more than three hours (Sharapova was 3-0). 
Watch List: WTA Finals begin, Federer to play Swiss Indoors in hometown
"I kept thinking to myself out there in the third set, If you're going to get tired now, how are you going to get through this marathon," Wozniacki said, referring to her plans to run the New York City Marathon in November. "You better keep going. I did, and I felt pretty good out there. I felt I could still keep going for a while."
"Physically it was an incredibly tough match," Sharapova said. "In the end, I think I just went for a little too much and maybe just didn't commit enough, didn't move forward enough, held back a little bit." Currently ranked No. 2, Sharapova has an outside chance of finishing the season at No. 1 for the first time in her career, ahead of Serena Williams. Today's loss means she will need to win her next two round robin matches against Petra Kvitova and Agnieszka Radwanska to keep her chance alive. 
Asia Tennis Travels: Dumpling Palooza 2014 in Shanghai
"She was the more consistent one," Sharapova said. The Russian finished the match hitting 76 unforced errors to 43 winners. Wozniacki hit 14 winners to 35 unforced errors, a messy sheet by her standards. But Wozniacki, who turned her season around to become the winningest player since June, continues to take more risk a look for opportunities for winners. That additional pressure means it's not simple batting practice for Sharapova. If she doesn't keep the ball deep enough Wozniacki can thread the needle. Sharapova fought back from 0-3 in the first set to serve for it at 5-4 but played a poor service game to get broken. She then led 4-2 in the tiebreaker before losing five straight points to drop the set. 
"Felt like I had opportunities in the first set," Sharapova said. "I didn't commit to finishing it off when I was serving for it and when I was up in the tiebreaker. Turned into a much tougher match than I feel like it should have been. But I feel like I did that. I can only blame myself for that." After winning the China Open two weeks ago with her best serving display of the season, Sharapova struggled once again in her service games. She hit 15 double-faults in the match and was broken seven times.
The Elite Eight tell all on the eve of the 2014 WTA Finals in Singapore
The second set was a mirror image of the first. This time it was Wozniacki who served for the match at 5-4 and Sharapova played a fantastic return game to break. She raced to a 3-0 lead in the tiebreaker and closed it out 7-5 to force a third set after over two-and-a-half hours. Wozniacki scored the early break to lead 2-0. The turning point then set came with Wozniacki serving at 4-2, 15-30. Earning a short mid-court forehand in the middle of the court, Sharapova didn't close quickly enough on the ball and ended up firing it wide to let Wozniacki off the hook. On the whole, the Dane won the last four games of the final frame to seal the win.
"She's always been one of the most physically challenging players to play against," Sharapova said. "She gets many balls back and makes you hit an extra ball. I think she's doing that better. She's improved her strength in doing that. There is a little more when she's on the defense. Not just the ball up in the air, but she has something on it. She gets herself back in position."
One issue that came up during the match was the lighting over the court at the Singapore Indoor Stadium. Wozniacki in particular voiced her concerns about some of the lighting fixtures during the match. During the second set a point was interrupted when the stage lights of the otherwise darkened arena turned on for no reason. Wozniacki then talked to the umpire and tournament supervisor to get some irregular light fixtures over the top of the court turned off.
The Evolution of Tennis Fashion: Caroline Wozniacki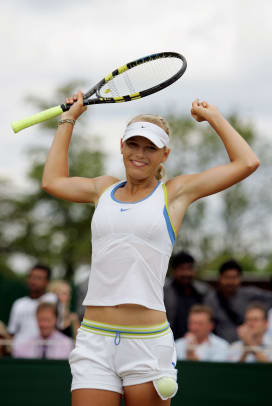 Sharapova said afterwards that it has been an issue in practice. "I feel like the lights have been an issue the whole week leading up to the tournament," she said. "Every day it was a different light out on the stadium for practice.​ First day I practiced, I think it was Monday last week, it was dark in the middle of the court and light on the sides, and then the lights went out. That happened for a couple of days. They ended up putting enough lights on the center [of the court] but not enough on the sides. I still feel like there is not enough lights on the sides of the court actually. When you're running for a forehand you're actually in a shadow, and then you get back in the court and you're in the light."
Defense prevailed over offense again in the second match, as Radwanska needed less than 90 minutes to knock off Kvitova. Both Sharapova and Kvitova were the in-form players coming into the tournament after wins in Beijing and Wuhan, respectively, and little was expected of Radwanska. Since winning the Rogers Cup in Montreal, Canada, this summer, the Pole has been mired in a slump, going 6-5 since. But Radwanska, who has never made it out of group play at the WTA Finals, played solid tennis. And on a night when Kvitova was well off her game -- she hit 42 unforced errors in just 17 games -- it was good enough for Radwanska to notch just her second win over Kvitova in seven matches.
"From the beginning I was feeling good on court. I think I did everything well tonight, especially I think I was really good on my serve. I think that was the key in that match," said Radwanska, who was wearing butterflies on her dress for the first time.
Radwanska hot shot:
Kvitova gave credit to her opponent after the match, but said the late start had an effect on her. "I made a lot of easy errors and Aga played well," she said. "Normally I'm sleeping in this time, so it's really difficult to play. I felt a little bit tired all the match...but that's how it is. Aga made me play more rallies than I probably want."
Tuesdays results set up a must win-match between Sharapova and Kvitova on Thursday.