Serena Williams holds back the clock with history-making moments, career
A historical look at Serena Williams's accomplishments in comparision to some of tennis' greats, including Steffi Graf, Margaret Court, Martina Navratilova and more.
No athlete can defeat time but Serena Williams is waging a historically worthy challenge.
In winning her sixth Wimbledon championship last week at the All England Club, the nearly 34-year-old Williams became the oldest Grand Slam women's champion of the Open era and also registered her eighth Slam title since turning 30.
Saturday's victory brought Williams her 21st major title—third best all time—and her second Serena Slam, the distinction of holding all four major singles titles simultaneously. Should she prevail at the U.S. Open in September, she will become only the fourth woman to win a calendar Grand Slam and the first since 19-year-old Steffi Graf accomplished the feat in 1988.  
No room for body image criticism in Serena Williams' Grand Slam chase
As Williams prepares for a possible rendezvous with destiny in New York, tennis fans—indeed fans of any sport—should take time to appreciate the majestic length and breadth of one of most sustained careers of excellence in the history of athletics.
Serena Williams won her first Grand Slam title at the 1999 U.S. Open when she was still 17, defeating Martina Hingis, then the world's No. 1 player. During that same year, John Elway played his last football game, Tom Brady was a senior at Michigan, LeBron James was becoming a high school basketball sensation and Bryce Harper would turn 7.
Over the past 16 years Williams has produced six wins on the grass of Wimbledon, a half-dozen apiece on the hard courts of Melbourne Park in Australia and the Billie Jean King National Tennis Center in New York and three more on the clay of Roland Garros in Paris.
No women's player has been so good for so long as Williams. Margaret Court's record 24 Grand Slam titles spanned 13 years. Chris Evert, Martina Navratilova and Steffi Graf won their majors over 12 while Billie Jean King's 12 Slam championships took place over nine. Only Helen Wills, perhaps the greatest female player of the pre-World War II era, comes close to Williams, winning 19 Grand Slam events over 15 years (1923-38).
Court, King, Evert and Navratilova combined to win eight major crowns after reaching the age of 30, the same number as Williams has registered. In their 30s, Wills took one title while Graf didn't win any. Among players male or female, only Big Bill Tilden back in the 1920s played to Williams's level in later years, winning five Slam championships in his 30s.
Williams was a phenom who kept getting better on the women's pro tour, an exhausting enterprise that sometimes devours its young. Hingis (five) and Tracy Austin (two) won multiple Grand Slam titles as teenagers but neither won another major championship after turning 20. A teenage Andrea Jaeger reached the finals of the French Open and Wimbledon but a bad shoulder dashed her career. Jennifer Capriati had two careers, reaching the Wimbledon and U.S. Open finals at 15 but not actually winning Grand Slam events until her mid-20s.
Monica Seles grabbed eight Grand Slam crowns as a teenager before her career was derailed by a twisted German fan who knifed her in the back during a tournament in Hamburg. Seles won only one Slam title after the incident.
Serena continues dominance with sixth Wimbledon, 21st Slam title
Even in men's tennis, where players tend to stick around longer, Williams's longevity stands out. Bjorn Borg and John McEnroe dominated early in their careers but neither won a Grand Slam title after turning 26. At 29, does Rafael Nadal still possess the skills—and health—to add to his Slam total of 14? Roger Federer, although still competitive in Grand Slam events, has won only one of his record 17 majors since turning 30.
Only Ken Rosewall, who captured Australian Opens 19 years apart (1953-72) reigned at or near the top longer than Williams, but the venerable Aussie never won Wimbledon and only once won as many as two Slams in a single year. 
Yet, as Al McGuire would say, it hasn't always been seashells and balloons for Williams. She has battled injuries, illness, depression, weight problems and occasional McEnroe-esque blowups with officials. Her WTA ranking plunged to 139 in 2006 and to an unfathomable 169 as recently as 2011.
She has never displayed the same consistency as Navratilova, who reached 19 straight Grand Slam semifinals in 1983-88, or Evert, who qualified for 96 percent of her Slam quarterfinals in 1971-89. Williams's best is six straight semis in 2002-03, the years of her first Serena Slam. Eleven times she has exited a major tournament in the third round or earlier.
During her career, Williams has seen Hingis, Lindsay Davenport, Justine Henin, Jelena Jankovic, Caroline Wozniacki and Victoria Azarenka all top the WTA standings at year's end.
How Serena compares to Steffi Graf as she chases 22 Slam titles record
But when Williams is on her game—serving aces, running the court and returning hard-hit balls with even more ferocity—she's extremely difficult to beat, particularly in the final of major tournaments. Her record in Grand Slam championship matches is a stunning 21-4, far superior to Navratilova's 18-14, Evert's 18-16, King's 12-6 or even Graf's 22-9. Only Australia's Court, who played the majority of her career before the Open era and won 19 of her 24 Slam titles on grass, comes close to Williams at 24-5. (In the pre-Open era, Wills' 19-3 ranks highest.)
And Williams is tough, winning nine three-set matches during her 2015 Slam run.
Some observers say if Williams completes the Grand Slam, she will deserve consideration as the best female athlete ever. This argument forgets Babe Didrikson, who won two gold medals in track at field at the 1932 Los Angeles Olympics, and later won three U.S. Women's Opens in golf, the last in 1954, two years before she died of cancer. Didrikson also might have been the nation's best female basketball player. Six times she was voted Associated Press' Female Athlete of the Year.
Of course, if Babe Didrikson is the only superior name that sports can throw at Serena Williams, her legacy stands at Himalayan levels.
In New York, history awaits.
GALLERY: CLASSIC PHOTOS OF SERENA
Classic Photos of Serena Williams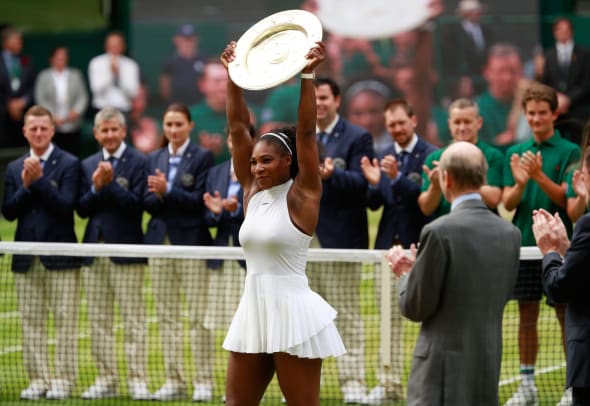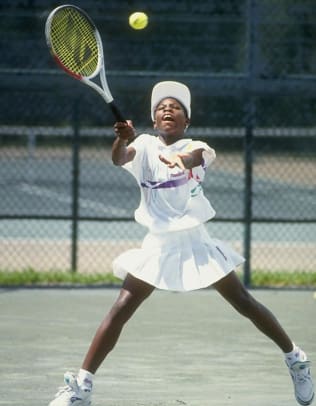 ​