Australian Open Day 8: Raonic upsets Wawrinka; Azarenka, Murray advance
Milos Raonic upsets Stan Wawrinka, Victoria Azarenka celebrates Denver Broncos win and more from Australian Open Day 8.
​Catch up on all of the action, news and results from Day 8 at the 2016 Australian Open on Monday that you may have missed while you were sleeping.
Raonic upsets No. 4-seed, '14 champ Wawrinka
No. 13-seed Milos Raonic fought off a comeback from No. 4-seed Stan Wawrinka on Monday, defeating the Swiss 6–4, 6–3, 5–7, 4–6, 6-3 in three hours and 44 minutes. Raonic had not beaten Wawrinka in their four previous meetings but the 25-year-old played with confidence and remained focused, hitting 82 winners, 24 aces and winning 54 of 83 points at the net to take down the 2014 Australian Open champion.
Top seeds, Germany, Isner lead 2016 Australian Open midterm grades
​Raonic remains undefeated for the 2016 season after winning his first tournament of the season in Brisbane, defeating Federer in the final. The Canadian is into the Australian Open quarterfinals for the second year in a row and will face No. 23-seed Gael Monfils, who beat Andrey Kuznetsov 7­–5, 3–6, 6–3, 7–6(4) to advance to his first quarterfinal in Melbourne.
In the second set of the match, Monfils flung his body to pull off an incredible acrobatic shot—one that also resulted in a 10-minute injury timeout. Watch the shot below:
[youtube=https://www.youtube.com/watch?v=IcWtX1UvIks]
Here's another great rally from the match:
[tweet=https://twitter.com/AustralianOpen/status/690963002942738433]
Azarenka advances, celebrates Broncos win
Victoria Azarenka has a renewed focus and attitude in 2016 and it's paying off on the court. The No. 14-seed and two-time Australian Open champion advanced to the quarterfinals with a 6–2, 6–4 win over Barbora Strycova on Monday. Azarenka has not dropped a set this year, winning the title in Brisbane and four matches in Melbourne, all in straight sets.
Aussie Open quarterfinals preview: Serena-Sharapova rivalry resumes
"I was more focused on staying focused because she's a type of player that throws you a lot off your rhythm," Azarenka said of her match against Strycova. "I was just trying to focus more on execution and be aggressive and follow my game plan from the first point to the last….There are things I could have done better I think always. That's the perfectionist in me. But overall, pretty solid."
After the match during her on-court interview, Azarenka was more concerned with the outcome of another sports contest: the Denver Broncos vs. New England Patriots AFC championship game. Watch the clip below:
[youtube=https://www.youtube.com/watch?v=6cbkD0vwi6E]
"I was emotional the whole morning about it," Azarenka said about the NFL playoff matchup. "I turned on TV while I was having breakfast and I just couldn't look over there because—you know, I'm a huge sports fan, so when I'm a fan of somebody, I'm a die hard."
[tweet=https://twitter.com/TheCauldron/status/691464503616090112]
Azarenka also hit the dab again after her win, as did Carolina Panthers' Cam Newton during his team's win over the Arizona Cardinals. The next stop for Newton and the Panthers is Super Bowl 50, against the Broncos. So who will Azarenka root for in the Super Bowl?
"I'm sitting this one out," she said. "Let the best team win. This was my dream final, to be honest, and so I can't wait to actually see them both. I think it's Cam's dream, you know, and Peyton, you know, so deep in his career it's definitely a dream again. It's going to be awesome."
Azarenka will play No. 7-seed Angelique Kerber in the quarterfinals after the German beat fellow countrywoman Annika Beck 6–4, 6–0.
Ferrer advances to quarterfinals without dropping a set
No. 8-seed David Ferrer has not dropped a set in Melbourne, defeating No. 10-seed John Isner 6–4, 6–4, 7–5 to advance to his sixth Australian Open round of eight. Going into the match, Isner hadn't faced a break point throughout the entire tournament, but Ferrer pressured the American's booming serve from the start of the match, converting on three of six break point opportunities.
2016 Australian Open Daily Data Visualizations
​"A guy like that is not going to play a poor match in the Round of 16 of a Slam. I'm never going to beat him if I don't play very well. It's as simple as that. So credit to him," Isner said after the match. "It's definitely not a bad tournament. I would have liked to have gone further. Unfortunately it's where I've sort of….proven I can be 10 to 15 in the world. Haven't quite proven I can go further than that, to be dead honest with you. That's what's disappointing."
Isner had 18 aces on the match but Ferrer only lost eight of his service points to seal the straight-set victory in two hours and four minutes. He'll next face Andy Murray, who defeated Australian Bernard Tomic 6–4, 6–4, 7–6(4) in the first night match on Rod Laver. Murray is through to his seventh consecutive Australian Open quarterfinal with the win over 16th-seeded Tomic.
Konta makes British history with win
Johanna Konta is into her first Grand Slam quarterfinal after beating No. 21-seed Ekaterina Makarova 4–6, 6–4, 8–6 on Monday night in Melbourne. With the win, Konta is the first British woman to make a major quarterfinal in 32 years.
Australian Open Day 7: Sharapova, Djokovic, Radwanska survive
A year ago, Konta came into the tournament ranked No. 144 in the world and lost in straight sets in the qualifying rounds. This year, the 24-year-old came in ranked World No. 47 and defeated Venus Williams, Saisai Zheng, Denisa Allertova and Makarova to advance to the final eight.
"I'm just incredibly happy and humbled with the way I was able to compete today," Konta said after the match. "The fact that it is the Australian Open and it was fourth round, that's pretty cool. But, yeah, no, just given the situation, given the toughness of the match, of my opponent, I'm just really happy with how I was able to handle things and to keep trekking on."
Makarova was a quarterfinalist in Melbourne for the past five years before losing to Konta on Monday.
[tweet=https://twitter.com/stu_fraser/status/691581651311153154]
Zhang's dream run continues
Lleyton Hewitt's career ends at Australian Open but legacy lives on
Chinese qualifier Shuai Zhang's unprecedented run at the Australian Open is not over. The 27-year-old is into the quarterfinals after upsetting No. 15-seed Madison Keys 3–6, 6–3, 6–3.
No. 15-seed Madison Keys came out firing, taking the first set in 32 minutes. But Zhang, the only qualifier to reach the fourth round, fought back in the second set against the injured American. Keys took a medical time out in the second set and got her left thigh wrapped, but the injury continued to cause more trouble as the match wore on. In the final set, Keys was visibly struggling and in tears, but fought through until Zhang finally closed it out on her second match point.
The No. 133-ranked Zhang had not won a Grand Slam match in 14 tries prior to her first round win over No. 2-seed Simona Halep. Her Cinderella story continues against Konta on Wednesday. 
Snapshots from Day 8
Australian Open Day 8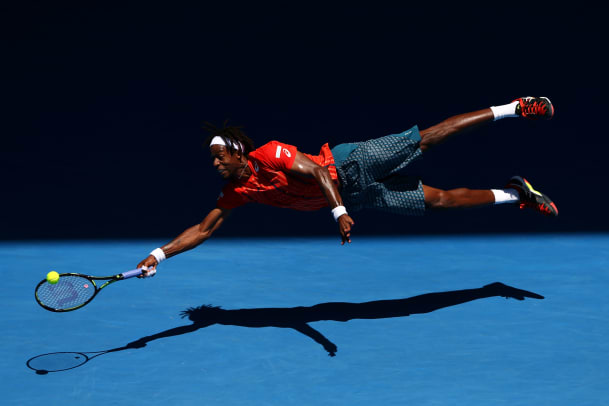 This post will be updated.