No. 1 Djokovic, No. 2 Murray to cross paths once again at Australian Open
Andy Murray looks to win his first Australian Open title against Novak Djokovic in the men's final on Sunday in Melbourne. 
Andy Murray and Novak Djokovic were born one week apart in May 1987. They've grown up together, sharing a similar path to professional tennis and developing a similar style of play.
Now, more than ten years into their careers, their paths will intersect once again, in Melbourne, in the 2016 Australian Open final. Murray will look to win his first title down under against a familiar opponent in Novak Djokovic, who has denied him three Australian Open titles in his career.
Angelique Kerber stuns Serena Williams to win 2016 Australian Open
"There's very few players that will have made five Australian Open finals, so I have to be proud of that achievement," Murray said. "Obviously when you get to the final you're disappointed if you don't win. But, I've obviously played very good tennis here."
Only three other men besides Murray have made five Australian Open finals—Stefan Edberg, Roger Federer and Djokovic—and Sunday's match will be a rematch of last year's final, where Djokovic prevailed 7–6(5), 6–7(4), 6–3 6–0, and the 31st meeting between the two 28-year-olds. The Serb dominates their head-to-head 21–9 and holds a 6–2 record against Murray in Grand Slam matches. Though Djokovic has won 10 of their last 11 matches, Murray did get a victory in the Rogers Cup final in Montreal in August. 
"We've played obviously a lot in the last couple of years. Last year here is a good match for me to look at because the tennis, in my opinion, wasn't miles apart. It was a very close match for three sets," Murray said. "The most important thing for me is to sustain my level for long enough, not just for one set here or there, a few games here or there. I need to do it, you know, for a very long period if I want to get the win. That's my challenge on Sunday."
Australian Open semifinals: Djokovic vs. Federer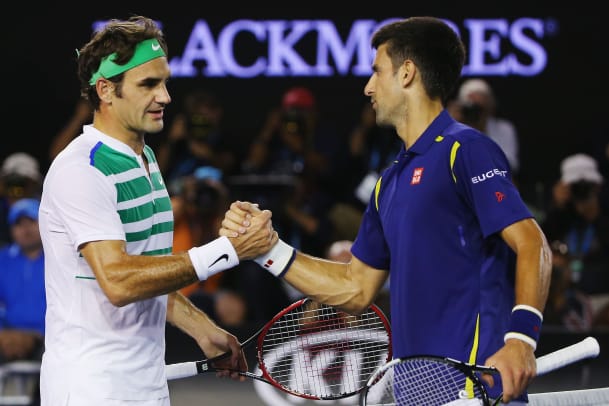 ​After a playing more than four hours on Friday night to beat Milos Raonic 4–6, 7–5, 6–7(4), 6–4, 6–2 in the semifinals, Murray will have to bounce back in just 48 hours to play in the final. Djokovic will have had an extra day after his four-sets victory over Federer on Thursday, which could be an advantage for the No. 1 seed.
"I'm expecting a battle with Andy, as it always is. Very physically demanding match. Lots of rallies, exchanges," Djokovic said. "It's no secret we know how we play against each other. It's two games that are very much alike, so it's basically who's going to outplay who from the baseline.
"I think both of us will try to serve high percentage of first serves and not allow the other player attack the second serve too many times. Yeah, a lot about tactics and a lot about how of course you handle your emotions of the greatness of that occasion of playing for the Grand Slam title."
Watch: Roger Federer, Novak Djokovic in intense eight-stroke rally
The Serb has won 34 of his past 35 Grand Slam matches and is looking to match Rod Laver and Bjorn Borg with 11 major titles.
"It's a possibility for me to make history, which is of course another great imperative for me for tomorrow's match," Djokovic said ahead of the final. "These are the kind of matches that you work for. These are the kind of occasions that define you as a tennis player. I'll try to do my best obviously and get my hands on that trophy again."
Djokovic has won four out of the last six majors and already has one ATP title in 2016 (Doha) after winning 11 titles in 2015. But despite Djokovic's near-perfect form and his head-to-head history against Murray, the Scot is confident in his ability to win his maiden title in Melbourne.
"I have a very good shot on Sunday if I play my best tennis," Murray said. "The previous disappointments—it's one tennis match. Doesn't matter what's happened in the past really. It's about what happens on Sunday. People like to read into what's happened in the past, but Stan [Wawrinka] beat Rafa [Nadal] in the final here. I don't know, I don't think he'd ever won against him in like 13 attempts. When he beat Novak here, the same thing, as well.

"There's no reason it's not possible for me to win."
Australian Open semifinals: Murray vs. Raonic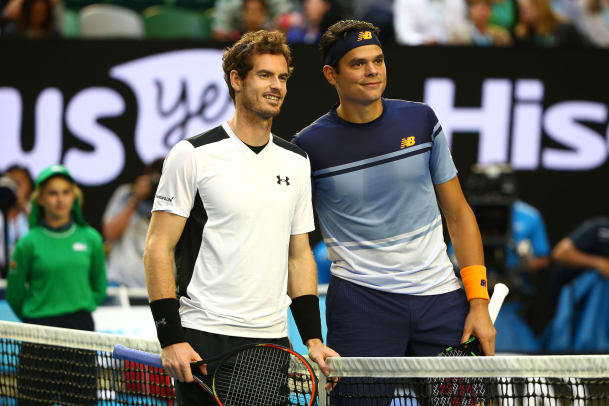 Djokovic said he understands Murray's "desire and will to win" since he's had a similar experience in specific tournaments, like the French Open, where he's lost to players, like Nadal, who were dominating there.
"I understand the kind of desire and will to win that is present. Of course I don't underestimate him," Djokovic said. "It's a challenge that I'm going to face, I must accept, and hopefully I'll be able to give my best….If you want to win Grand Slam titles and be the best in the world, you have to win against best players in the world. Going to be ready for that."