U.S. Open 2016 preview roundtable: Predictions, top storylines
SI's tennis experts and writers highlight their storylines to watch, plus make picks and predictions for the 2016 U.S. Open.
As the players gear up for the start of the 2016 U.S. Open on Monday, Aug. 29, SI.com tennis experts and writers Jon Wertheim, Richard Deitsch, Elizabeth Newman, Stanley Kay and Jamie Lisanti discuss this year's top storylines and predict the winners. 
What are you most looking forward to in the draw? What storylines should we be watching?
Jon Wertheim:  How's Serena? She won the previous Major, but was clearly in distress at Olympics. Speaking of Rio, can Monica Puig and Juan Martin del Potro and even Rafa Nadal build on their triumphs? And how will Madison Keys—now squarely in the top 10—deal with her disappointment? Speaking of disappointment, can Novak Djokovic re-establish himself?
Also, the comprehensive reign of the Big Four (Federer, Nadal Djokovic and Murray) is almost unfathomable. Stat of the day: since the 2005 Australian Open, one of tennis' Four Horsemen has won 42-of-46 Major titles, three-of-three Olympic gold medals and 94-of-106 Masters Series titles. Can someone else break through?
Elizabeth Newman: On the men's side, Novak Djokovic. Summer has not been kind to the Djoker. After his stunning loss to Sam Querrey in the third round of Wimbledon, Djokovic's hopes of claiming an Olympic gold medal went up in smoke in Rio in the first round against Juan Martin del Potro. When Djokovic is on his game, as he was last year when he finished the season 82-6 and with three Grand Slam titles, he is nearly unbeatable. However, he has looked rattled against lesser opponents and has lost that same consistency this year. With Andy Murray puffing out his chest as summer's top dog, it will be interesting to see if Djokovic can regain form and find championship glory again. For the women, Venus Williams. Despite her first round losses in singles and women's doubles in Rio, Venus still managed to win silver in mixed doubles with partner Rajeev Ram. In last year's Open, she battled her way to the quarterfinals before losing to Serena. At 36 we all know the swan song is near, but wouldn't it be great if she could end it à la Pete Sampras and go out as a champion? 
U.S. Open preview: Top storylines to follow heading into the final Grand Slam
​Stanley Kay: The women's draw is going to be fascinating. There are some really good players on the women's side that are unseeded: Caroline Wozniacki, Lucie Safarova, Eugenie Bouchard and gold medalist Monica Puig are among a number of quality players who aren't seeded. So we could see some epic first-round clashes. Don't be surprised to see a lot of upsets—perhaps only in the most technical sense of the word—early on in the tournament.
On the men's side, four words: Juan. Martin. Del. Potro. Who's unlucky enough to land a first-round match with him?
Jamie Lisanti: I'm interested to see where Monica Puig gets placed in the draw. The hype is real, but an unlucky first round match-up could mean an early exit for the 22-year-old. Same goes for some of her fellow wildcards: Johanna Konta, Eugenie Bouchard, Ekaterina Makarova and Kristina Mladenovic are all dangerous with a good draw.
Dominic Thiem is another player I'm looking forward to watching at the U.S. Open. After racking up the wins and tearing through the first part of the season, tenth-ranked Thiem has slowed down a bit since losing in the second round at Wimbledon. It will be interesting to see if he's rested and recovered or still feeling the effects of his match play this season.
One more storyline: At an event in New York City on Wednesday, Roger Federer was discussing the Olympics when he offered this little tidbit: He was surprised to win a gold medal in doubles in Beijing in 2008, but he went on to win the U.S. Open title that year. Federer said he wishes the same success this year for Rafael Nadal, who won gold in doubles in Rio with partner Marc Lopez. We're with you, Rog. Here's to hoping Nadal pulls off the doubles gold-U.S. Open twosome this year. 
Beyond the favorites: Six players who could make a run at the 2016 U.S. Open
Richard Deitsch: Five things:
1. The (minor) struggles of Serena Williams versus the all-surface emergence of Angelique Kerber. With Kerber winning the Australian final over Williams and Williams beating Kerber in the Wimbledon final, a potential final would be for Player of the Year honor.
2. How Novak Djokovic responds to his opening-round Olympic loss—and the summer emergence of Andy Murray. Djokovic is 51-5 this year and won in Australia and France but Murray has been the IT player on the ATP Tour, including a Wimbledon win and an Olympic gold. They are heavy favorites to reach the finals.
3. Dangerous floaters: It's crazy how many good players are unseeded this year including Juan Martin del Porto, Caroline Wozniacki—a finalist in 2009 and 2014—Eugenie Bouchard and Olympic gold medalist Monica Puig.
4. One more legit U.S. Open run for Venus: Venus Williams, a two-time U.S. Open champion, is the No. 6 seed, her highest Open seed in years. A spot in the finals is not impossible with some breaks in the draw.
5. Rafa.
Name your 2016 U.S. Open dark horses.
Wertheim: If del Potro (the colt) qualifies as a dark horse, sign us up. No? He doesn't? If a 30-year-old player on the cusp of re-entering the top 10 can be a dark horse, I like me some Gael Monfils. He's a bit banged up but has turned in a terrific summer, playing with a level-headedness that hasn't always been in evidence. Other names: Pablo Cuevas. An improving Grigor Dimitrov. Lucas Pouille. We're also eager to see how the younger Americans—Taylor Fritz, Frances Tiafoe, Michael Mmoh, Reilly Opelka—acquit themselves.
On the women's side, the Monica Puig bandwagon is spilling over. Karolina Pliskova is coming off the Cincy title. And last year Jo Konta was outside the top 100; this year she's on the cusp of the top 10.
Newman: For the women, Petra Kvitova. The two-time Wimbledon winner (2011, '14) and bronze medalist in Rio finally looks healthy. If she can maintain her powerful left-handed groundstrokes and big game she will be tough to beat. For the men, Marin Cilic. Remember when Cilic won the Open in 2014? No? Me either. Still, Cilic comes to Flushing Meadows fresh off of a straight sets win over Andy Murray in Cincinnati for his first Masters 1000 victory and a spot back in the Top 10 (No. 9). Who knows, a little confidence and a U.S. Open Honey Deuce cocktail could see him victorious again on Arthur Ashe Stadium.
Deitsch: Juan Martin del Potro might be the most dangerous wild card in the history of the U.S. Open. He won the tournament in 2009 and is coming off a silver medal in Rio. He'll have the crowd with him for most matches. Karolina Pliskova is coming off a win in Cincinnati and has big strokes. Don't be surprised if she knocks off a player ranked ahead of her.
44 insider tips for attending the 2016 U.S. Open in New York
Kay: Roger Federer won't be at the 2016 U.S. Open—but how about Baby Fed? Gregor Dimitrov hasn't made it past the third round of a Slam since the 2015 Australian Open, but in the last month he seems to have found his game. After a quarterfinal appearance at the Rogers Cup and a first-round loss at Rio 2016, he played great tennis in Cincinnati, beating Gilles Simon, Feliciano Lopez, Stan Wawrinka and a revitalized Steve Johnson before falling to eventual champion Marin Cilic in a three-set semifinal.
On the women's side, Madison Keys is peaking at the right time—though her neck is a concern. Another big question: Can Monica Puig keep her gold-mentum going? If she hits her signature two-handed backhand as well as she did in Rio….watch out.
Lisanti: Don't be surprised if Venus Williams makes another deep run. Last year, she lost to her sister in the quarterfinals, and despite a poor showing in Rio, I think Venus will rise to the occasion in New York. (And we don't say this because she's this week's guest on the Beyond the Baseline podcast.)
Never count out Svetlana Kuznetsova to make the second week. (We never do.) Another Grand Slam champion we can't forget about: Marin Cilic. I also like the chances of Madison Keys and Dominika Cibulkova making a deep run. Strictly based on his wildcard position in the draw, I think it's safe to call Juan Martin del Potro a dark horse. Other names to remember: Borna Coric, Steve Johnson, Elina Svitolina, CoCo Vandeweghe.
Name one off-beat or off-court story you will be following.
Wertheim: After years if complaints, the USTA can show off its home renovations—which include a retractable roof and new Grandstand. Also, it may be a non-issue (as Brexit was at Wimbledon) but I'm curious about the intersection if presidential politics with this global sporting event.                     
Kay: Considering Roger Federer's huge popularity at the U.S. Open, I'm curious what his absence is going to feel like. He's just injured, not dead, so leave the all-black at home, folks—unless it's all-black adorned with an "RF" logo, of course. The tournament field has no shortage of home favorites, particularly with Serena Williams, so I don't expect the atmosphere to be any less festive. But still: It's undeniable that Federer leaves a huge void.
Once a U.S. Open Cinderella story, Melanie Oudin details her journey back to health
Lisanti: The absence of Roger Federer and Maria Sharapova (for very different reasons) will surely be felt. Add Victoria Azarenka to that list, and throw Tomas Berdych in there too. These are big names in the game who are second-week staples and crowd-favorites at the majors. With a slew of youngsters on the rise, will the U.S. Open fans find a new player to get behind? I'm also curious to see how many Federer fans still show up decked out in RF gear, with RF signs and posters. Will Federer himself even make an appearance? Also, I'm always interested in the U.S. Open's food choices—is any item ever going to dethrone the Pat LaFrieda steak sandwich from the No. 1 ranking?
Deitsch: This probably doesn't fit under this category but, heck, I need a place to say it. I'm super-curious to see how 19-year-old Sascha Zverev, the youngest player in the ATP's top 50, fares at this year's Open. This guy has future champion written all over him. He's the youngest player in the top 30 (he's currently at No. 29) since Novak Djokovic when he was ranked No. 28 in July of 2006.
Newman: Speaking of Arthur Ashe Stadium… Will it finally raise the roof? I mean, wouldn't it be kind of funny if, after two years of blueprints, construction and $150 million, there was not a drop of rain for this year's tournament?
U.S. Open 2015 Top 100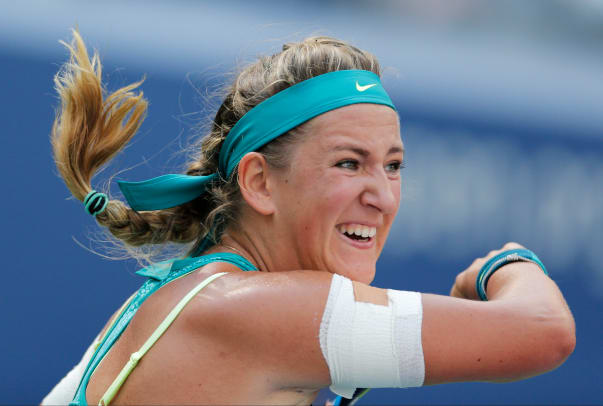 Make at least one bold prediction for the tournament.
Wertheim: The reigning women's champion will not repeat.
Kay: With Arthur Ashe Stadium's $150 million retractable roof complete, it won't rain at all during tournament play. (As of writing, it's supposed to rain on Monday. But I'm trusting my gut, not all that meteorological hogwash.)
Also: Neither Novak Djokovic nor Andy Murray will make the men's final. And despite her excellent summer, Angie Kerber will fall victim to a deep field and exit relatively early.
Victoria Azarenka: Why watching the Rio Olympics has motivated me more than ever
Lisanti: The winners of the last major (Serena and Murray, at Wimbledon) will not win the U.S. Open titles. Instead, two first-timers will raise the trophies.
Newman: Serena Williams will NOT make it to the quarterfinals. Gasp, did I really type that? Injuries (shoulder), age (soon to be 35) and a bit of lethargy since her victory at Wimbledon in July has me wondering if Serena has enough in the tank to go for No. 23. 
Deitsch: Stan Wawrinka will not make it to the second week.
Who will win the men's title?
Wertheim: Novak Djokovic.
Kay: Djokovic or Murray? Neither. Milos Raonic will become the first Canadian to win the U.S. Open.
Newman: Andy Murray. Sorry Djoker, but I'm staying with the hot racket on this one.
Lisanti: Milos Raonic.
Deitsch: Andy Murray.
For 2016, the U.S. Open adds more than a retractable roof
Who will win the women's title?
Wertheim: Madison Keys.
Kay: I'm picking Garbine Muguruza to break out of her summer semi-slump and win her second Slam of the year. After winning the French Open, she had a pretty subpar summer, exiting tournaments in the first round (Mallorca), second round (Wimbledon) and third round (Rio). But hear me out: She made the semis at Cincinnati last week! Pliskova steam-rolled her when she got there, but I still like the way she bounced back in Cincy after a previous defeat, courtesy of Monica Puig in Rio. Muguruza has never advanced past the second round at the U.S. Open, but she's due to seriously challenge for the title.
Newman: Angelique Kerber. Why not end the summer with her second Grand Slam trophy and the world's No. 1 ranking? 
Lisanti: Simona Halep.
Deitsch: Serena Williams.