Mailbag: Scheduling problems, the physicality of the game and more
Discussion on the problems with tennis' yearly and Grand Slam tournament schedule, how the physicality of the game has changed and more.
Hello everyone. Reilly Opelka is the next guest on Thursday's SI/Tennis Channel podcast. Onto some quick Q/A….
Have a question or comment for Jon? Email him at jon_wertheim@yahoo.com or tweet him @jon_wertheim.
Hey Jon, an amazing weekend at the Australian Open and a wonderful men's final. I'm wondering what your take is on these young up-and-comers that I used to hear about—I think one guy is from Serbia and one guy is from Scotland. What can you tell us about them?
—Tim Johnson, New York City
• Names ring a faint bell. The guy from Scotland? He played a terrific fall—in fact, he probably overplayed a terrific fall—to finish No. 1. In Australia, he ran into a highly unconventional opponent, missed his spots, and lost unexpectedly. We expect him to be fine after some time off.
Q&A: Roger Federer talks about Nadal, that win in Melbourne and partying till dawn
​
To me—and to many of you based on your questions—the great mystery in tennis is the Serbian guy. He has apparently been experiencing some recent shoulder pain. But it's also clear that the personal issues he had referenced in 2016, have really undermined his career. In June, we all thought that he had a real shot at THE Grand Slam. His points lead in the ATP world rankings resembled China's points lead in the population world rankings. As we wrote before Wimbledon, "He was Google to everyone else's Bing." Since then? Zero majors. A string of losses, some mystifying. A loss of mirth. A coaching change. Private issues are, by definition, private. And—from Andre Agassi to Serena Williams—the best players often have had their blue periods.
But this drop-off —not just in results but in aura and joy and an overall sense of engagement and sort of de-prioritization of tennis—is really striking. You hope he finds his mojo soon. We'll know more after Indian Wells, the next time he's expected back on court.
Jon, tennis has scheduling problems on many levels which must be addressed for the sake of fairness. Take the Australian Open for example. This is simply no rational reason to give one player an extra day of rest like Federer had over Nadal leading up the finals. Fundamental equity demands even playing terms for both, especially given the grueling nature of tennis today. So much is on the line. That's within a tournament, now let's look at tournament scheduling. Let's be honest, Davis Cup scheduling is a farce. Not a scintilla of thought goes into the timing of Davis Cup matches with the ATP tour as evidenced by the upcoming Davis Cup match between Spain and Croatia right after Oz. Then, moving onto the ATP tour, we don't have a Masters 1000 tourney (which are very intense for the players) for over a month after Oz and then we get two Indian Wells and Miami in consecutive weeks. Why? Makes no sense. Not fair to players and fans. I could go on, but you get the picture. Are the players powerless to have some say in these scheduling issues? Can you shed some light on the dynamic here?
—Martin, Bedford Hills, N.Y.
• Ah, tennis' fraught relationship with time. Going even more micro you could ask why there isn't even a consistent amount of permitted time between points in the majors versus tour events. (There's a five second difference between the ATP and Grand Slams—though "start time" is subjective and enforcement is sporadic.) Going more macro, you could ask how the hell two players (Federer and Serena, of course) both older than the 2017 Hall of Fame players (Roddick and Clijsters) are still winning majors.
Anyway to your question, I'm not as outraged by the Australian Open semis as many of you. "Super Saturday"' at the U.S. Open—which mandated NO day of rest between semis and finals—was untenable. But I like that there are night matches for all 14 sessions in Australia. If that means one men's semifinalist gets three days rest and the other gets two, I'm okay with that on balance.
The Davis Cup is in dire need of salvaging. We all know that. Dave Haggerty ran for the ITF presidency on the grounds that he was going to reform the competition. We eagerly await change. And, as we wrote last week, if the ITF doesn't act, market forces will.
Overall, I don't mind the erratic schedule otherwise. It gives tennis some quirk. Start the year with a major? Sure, it captures our attention early. Bunch two big-ticket events into March? Why not? Only three weeks between the French and Wimbledon? Fine. Sometimes a little whimsy and unconventional thinking doesn't hurt.
Why Federer-Nadal was just what we needed
​Sir, has no one commented on the history between Nadal and Ljubicic? After their five set 2006 French Open final, Ljubicic said that Nadal was committing time violations, and that he hoped Federer would win the final. As a Federer supporter, I am happy with the result, but consider the backstory interesting. 
—Russell Greenidge  Brownsville, Tx.
• Full disclosure, I had forgotten about this. Money quotes: "It's ridiculous how much time he takes between points," said Ljubicic. "I would love to see Roger winning, everyone in the locker room would."
For the record, Nadal leads the head-to-head 7-2.
From your article wrapping up the Australian Open:"The sport has never been more physical." 
Tell that to the champions of days gone by, who often played up to five sets of singles, doubles and three of mixed most days in tournaments of the past. And they did it without coaching teams, fitness gurus, psychologists, sports scientists, protein shakes, Powerade, chairs to sit down on between games, time-outs, medical assistance, tie-break sets, towels every point, regular rests to fit TV ad breaks, private jets, current racquet and shoe technologies, etc etc etc.
—Graham T.
• And on changeovers they only drank bilge water….out of leather canteens! And the players with imperfect eyesight had to strap binoculars to their foreheads! And they walked miles just to get the court! Up hill both ways! And after matches, if they wanted romance, not of this swiping left and right on the pocket telephone; they had to talk to people! And they liked it!
Seriously, without denigrating prior generations, the sport is physical today to an unprecedented degree. Just fire up YouTube. The difference between, say tennis in the 1980s and tennis today is like the football era of leather helmets versus Tom Brady and Julio Jones. A stat that I am fond of throwing out—in part because I am so fond of the person involved—but Tracy Austin reportedly weighed 98 lbs. when she first won the U.S. Open. Can you imagine that today? From the sheer size of the players, to the string technology, to the sheer force and pace of the shots coming off the rackets, the physical demands today are unprecedented.
I do think that Graham raises a good point about modern amenities. When we talk about longevity in sports—and this can be extended to Tom Brady and David Ortiz and Usain Bolt—we sometimes overlook the role of available resources. When athletes can employs "teams" and fly privately and exchange their lousy plasma for platelet-rich blood, it stands to reason that careers will elongate. On a related note….
Post-Australian Open Mailbag: Ljubicic's role in Federer's win over Nadal and more
​As a big fan of both Roger Federer and Tom Brady, the past two weekends have been an incredible box of agony and ecstasy. Both these guys were already legendary and GOAT candidates in their respective sports but their recent wins, especially HOW they won them has put them on top.  
It's very difficult to compare a team sport to an individual sport, so I won't even try. What both guys did at their ages was phenomenal. The smile on my face isn't coming off for a very long time!  
—Colleen
• I am sucker for an inter-sport comparison. But what strikes me about tennis: the binary, unforgiving nature. Athletes in team sport can transition to new roles. The surrounding personnel can change. "Brady doesn't like pressure" we often hear. So the Patriots can rebuild their line and change the play-calling to accommodate and address this. Brady slows down a step? Fine, don't make him roll out. It's not just football. Dwayne Wade is getting on in years? Okay, we'll reduce his minutes, move him off the ball and permit him to go easy on the rebounding.
In tennis, players win or lose. There's no downshifting, no "managing mileage," no camouflaging deficiencies.
There doesn't seem to be a comments facility on your Mailbag page so I am sending you a comment. Does anyone seriously think that the Australian Open is going to schedule matches to suit European and American television, as opposed to suiting the thousands of people who are attending and the millions watching locally?
Europe and America are not the centre of the universe.
—Regards, Carley
• You go where the money is. This happens all the time. UFC fights in Europe start at 3 a.m. locally. Why? Because most the pay-per-view buys come from the U.S. At the U.S. Open, you'll often have European players given the days slots. Why? Because when Eurosport and the BBC (in a past life) pay rights fees, they don't want their choice players taking the court at 3:00 a.m. Basel/Belgrade/Barcelona time.
Healthy and confident Nadal hoping for resurgent season
​I see that Federer is now 169 career wins behind Connors, 1256-1087. Federer could reach him in three seasons (counting this one) if he could average just under 57 wins per year. What do you think? If I were the gambling sort, I would bet that he will.
—Jim Yrkoski. Silver Creek, Neb.
• I'd probably pass on that bet. Tennis has become so majors-centric that a 35-year-old has to enter an awful lot of garden-variety events to even have a shot. I also think this is one of those metrics that does not translate particularly well among eras. It was a lot easier to rack up wins when the sport was less physical and you didn't have to cross oceans from one tournament to the next.
I thought you might enjoy this little factoid. Besides the 2017 Aussie Open, the only other time that Federer, Nadal, and the Williams sisters all made it to the same Grand Slam finals? 2008 Wimbledon. And the tables were turned, with Venus and Rafa winning!
—Steve Snyder, Duluth, M.N.
• Well played.
While glancing through the various draws on the ATP Web Site, I came across this name of a gentleman playing in the doubles of the Budapest Challenger: Gergely Kisgyorgy. According to the ATP Website, he is also 40 years old (wild card entrant). I am not sure of the proper Magyar pronunciation of the name, but an initial English phonetic pronunciation is...interesting.
—J. Diersing
• Never mind the name. How about a guy in the 40-and-over crowd still out there?
Player fined $7K for hitting umpire with ball in Davis Cup
​Question... do the lower rated players get to change locker rooms when they are the only ones left playing at the end?
—@marjoriekane
• I am told that they stay for the fortnight.
Pretty sure the only player I've heard of in the Quito qualifying draw is Alejandro Falla, and surely he's the only player in the draw to hold a two sets to love lead vs. Federer in a grand slam tournament.
—James B.
• Not to be outdone, our man Sergiy Stakhovsky was last seen playing an ATP Challenger in Quimper, France.
In your last Mailbag you wondered about quantitative analysis of the Federer-Nadal final. Here was a great one, by Jeff Sackmann.
—John, New York
• This was excellent, thanks.
Top 100 moments from the 2017 Australian Open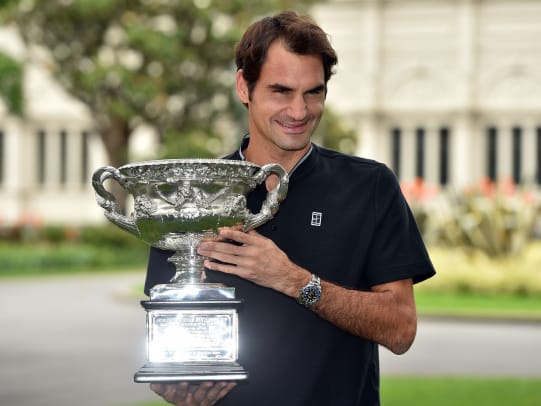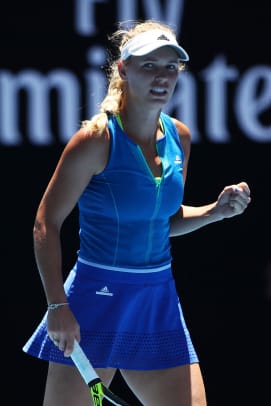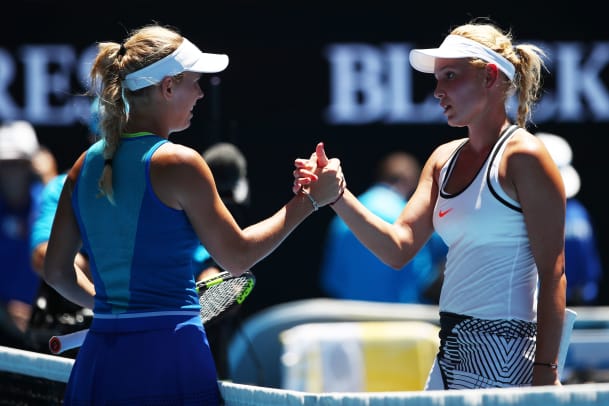 Shots, Miscellany
• Roger Federer video hagiography:
• Congrats to Joel Drucker whose new work Don't Bet On It is available via Amazon Singles next week.
• Milos Raonic's advice to Milos Raonic:
[youtube:https://www.youtube.com/watch?v=4pMzXG2S-L4]
• Nice to see Juan Martin del Potro back in action in Delray next week.
• The second annual Kunal Patel SF(KPSF) Open, is running this week at Bay Club SF Tennis. The memorial tournament honors the late tennis enthusiast and Bay Club member whose life was tragically cut short in 2014 at the age of 27 and has joined the ATP Challenger Tour as a $100k event, hosting an international pool of players inside the top 200 rankings as the largest professional tournament currently hosted inside the city of San Francisco.
• From our friends at ESPN: The 18th major Championship in Roger Federer's career, Sunday at the Australian Open, garnered the largest total audience for the event—an average of 1,133,000 viewers—since 2004, a year before the move to an overnight (3 a.m. ET) time slot in 2005. The audience was more than double the average for last year (up 107% from 547,000), Novak Djokovic defeating Andy Murray. The historic matchup of the Williams Sisters in the early hours of Saturday—Serena Williams defeating her sister Venus for an Open Era record 23rd major title—drew a total audience of 953,000 viewers, up 37% from last year's match between Serena and Angelique Kerber. It was the largest audience for the event since it moved to an overnight time slot in 2009. The TV audience of 926,000 (based on a 0.6 rating) was 36% larger than the 2016 audience. The audience on WatchESPN was up 59%—27,000 vs. 17,000.
 • Pat M. has LLS: Franko Skugor and Michael Phelps.
HAVE A GOOD WEEK, EVERYONE!