The Photographer in the Green Shirt
John Iacono became known for his sartorial choice.
Full Frame is Sports Illustrated's exclusive newsletter for subscribers. Coming to your inbox weekly, it highlights the stories and personalities behind some of SI's photography.
To get the best of SI in your inbox every weekday, sign up here. To see even more from SI's photographers, follow @sifullframe on Instagram. If you missed our story on photographing a ping-pong hustler, you can find it here.
It's not often a photographer gets recognized at a sporting event they're covering. But John Iacono says he heard someone shout something that he knew was a reference to him while he covered a boxing match in Las Vegas.
"Hey!" the mystery yeller said. "You're the guy with the green shirt."
Yes, for some of his storied photographing career, Iacono sported a green shirt that became a sort of trademarked look.
The story behind the green shirt, though, isn't anything too special, he says.
A staple ringside at many of the biggest bouts of the second half of the 20th century, Iacono says that his daughter once asked him what color shirt he was wearing so she could see him on television.
Well, it just so happened to be March 17, St. Patrick's Day, and Iacono sported a green shirt.
You can sometimes play a game of Where's Waldo? when you look at shots of fights from the 1990s. Can you spot Iacono ringside in these pictures?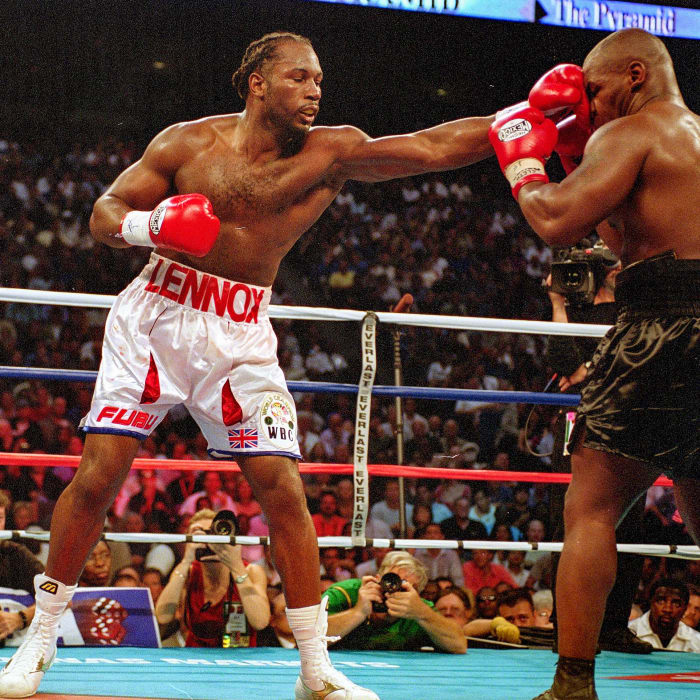 Iacono first became interested in photography as a child, he says. And, according to the Dec. 15, 1986 Letter From the Publisher in SI, he began taking photography lessons as a 13-year-old at the Henry Street Settlement on Manhattan's Lower East Side.
Iacono says that the classes he took served as the starting point for other photographers, too, including Neil Leifer, who also worked for SI. Iacono and Leifer became fast friends, and they were actually each other's best men when they each married.
It was also Leifer who Iacono says helped him get the chance to photograph a fight that was entirely fake. Leifer was a friend of actor Sylvester Stallone and photographed some fights in Rocky III. Liefer couldn't make one scene, so Iacono wound up taking photos of Rocky fighting Hulk Hogan's character, Thunderlips.
Iacono captured some of boxing's biggest moments and stars for SI over the years, including George Foreman (and his baby tiger). He also found himself in the thick of some of the sport's darker moments.
On July 11, 1996, Iacono was ringside for Andrew Golota's bout against Riddick Bowe at Madison Square Garden, a fight that infamously turned into chaos.
"… Golota, well on his way to a stunning upset of Riddick Bowe in the biggest fight of his life, interpreted the rules of boxing in his unique fashion, nailing Bowe at least six times below the belt. Golota was disqualified, sparking a riot that lasted half an hour and injured 22 people," Tim Crothers wrote about the fight and ensuing brawl in the Aug. 19, 1996 issue of SI.
In the midst of the chaos, Iacono says he felt a fist go into the side of his head.
"I heard George Foreman yelling, 'He punched the guy in the green shirt in the face!' " Iacono recalls. He had a loud ringing in his ear and says he has hearing loss from the incident. He does not know who hit him.
Along with photographing boxing, Iacono was called on to capture many other sports, including the Olympics. In 1988 in South Korea, Iacono flew from Seoul to New York and back to follow Canadian sprinter Ben Johnson after he was stripped of his gold medal in the men's 100 meters.
Boxing, though, was always one of his first loves, he says. He remembers as a kid sitting between his uncles as they listened to Rocky Marciano fights on the radio.
"I turned to them and said, 'One day I'm going to be ringside taking pictures of those people.' "
Have questions, comments, or feedback about Sports Illustrated's newsletters? Send a note to josh.rosenblat@si.com.