A behind-the-scenes look at Jabari Parker's decision to attend Duke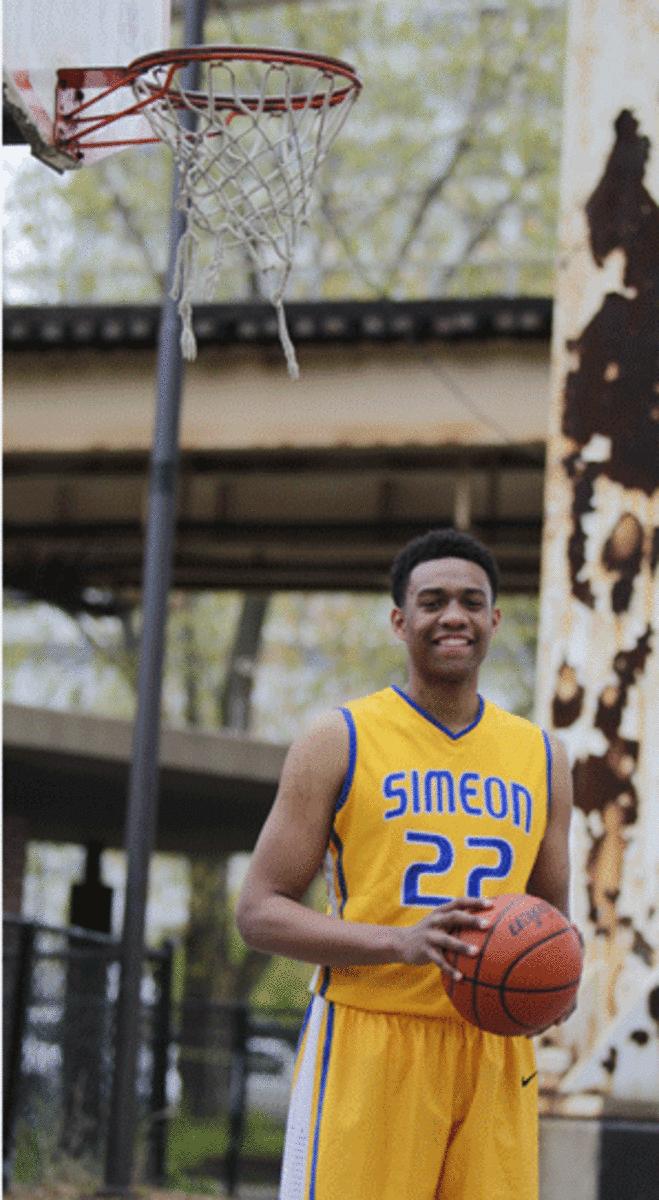 On Thursday afternoon Jabari Parker, one of the top basketball players in the country out of Simeon High in Chicago, announced on national television that he will attend Duke. Parker agonized over the decision for months and he still wasn't completely sure what he was going to do a day before the announcement. But after a furious final push from recruiters this week, Parker was at peace with his decision by last night. Before going to bed at 12:15 this morning he affirmed his choice with his brother Christian and his parents. But he didn't inform any of the coaches at his five schools.
In May Sports Illustrated profiled Parker, a devout Mormon, and put him on the cover. Parker has been under an intense microscope ever since, and over the last several months offered SI a behind-the-scenes look at his recruitment.
*****
It started with a tweet at 4:29 p.m. on July 11 when Parker announced his 10 finalists: "UK, Stanford, Michigan State, Kansas, Florida, Duke, BYU, Georgetown, DePaul, UNC. No order." Through Parker didn't indicate a frontrunner, speculation was rampant that Kentucky had the inside track.
Anthony Davis and Derrick Rose, the two biggest talents to come out of Chicago in recent years, had both played one season under John Calipari. Both then jumped to the NBA and were the No. 1 pick in the draft. Parker knows and respects both players, and Calipari had made it clear that he wanted Parker badly. When Jabari's father, Sonny, called Calipari to congratulate him after winning the NCAA championship last spring, Calipari said: "I want to coach Jabari."
But the question was, what did Jabari want? He ended up having a lot more time to consider the question than he had anticipated. In June Parker fractured his foot while playing for USA Basketball in the Under-17 World Championship tournament. It put him out of action until a couple weeks ago.
"In one respect, my injury helped me a lot," said Parker. "Being sidelined gave me the opportunity to think through my decision and weigh my options more carefully. It also humbled me more and forced me to reexamine my priorities."
During the summer, Parker also changed his phone number after the NCAA announced new rules enabling coaches to make unlimited calls and text messages to high school seniors. Parker's parents informed recruiters that they would have to go through them if they wanted access to Jabari. Off the court and insulated from outside influences, Parker began charting an unusual course in selecting a school. The decision was going to boil down to character and credibility.
"I decided I wanted to play for someone I admired, someone that could help me reach my basketball goals and my long-term goals," Parker said. "I was looking for someone I could look up to, someone that could teach me the game, as well as what's most important in life."
*****
By the end of the summer, Parker had trimmed his list of schools to eight, scratching Kentucky and Georgetown. Coaches from the remaining schools began making in-home visits at the start of the school year. Tom Izzo and Billy Donovan both spent more than three hours in Parker's home. By the time they left, Parker was enthusiastic about the prospect of playing for either of them. So were his parents.
"Coach Izzo is like us," Sonny Parker said. "He's blue collar and his demeanor is reflected in the way he coaches. He has a great rapport with his players and they work very hard for him."
Donovan had a different appeal -- experience as a collegiate and NBA player. "He has played the game at every level," Sonny said. "It gives him the ability to relate to young players in a unique way. And he's a proven winner."
Krzyzewski made his in-home visit on Sept. 21. That marked a turning point in Jabari's decision-making process. Krzyzewski was the only one who spent much of his visit on his feet. "He was so animated," said Jabari's mother, Lola. "There were moments when he was so passionate that he couldn't sit down."
That was especially the case when Krzyzewski broke down Duke's offense for Jabari. For each play, Coach K demonstrated precisely the proper position of Jabari's feet and hands, as well as the direction and angle of Jabari's body. He repeated this when going through Duke's defenses. Parker felt like he was at a clinic.
Krzyzewski also talked about coaching the Olympic team. Parker was familiar with the fact that Olympians LeBron James and Kobe Bryant have both indicated that if they'd gone to college they would have chosen Duke. But it was something Krzyzewski said at the end of his visit that impacted Parker the most. "Jabari, a good name is better than anything you can achieve in this life," he told him.
After Krzyzewski's visit, Jabari's older brother, Christian, tried to help Jabari narrow his decision.
"If there was one coach you could play for, who would it be?" he said.
"Coach Wooden," Jabari said.
"Well he's no longer here. So who is your second choice?"
"There is only person now that is close to him. Coach K."
*****
At the conclusion of the in-home visits, Parker trimmed his list of schools to five: Duke, Michigan State, Florida, Stanford and BYU. The first three were no surprise. But Stanford and BYU raised some eyebrows. Stanford had two draws, starting with coach Johnny Dawkins. Parker respects Dawkins, relates to him and loves his approach to the game. Stanford's academic reputation was the other plus. A national honor society student with a 3.7 GPA, Parker is serious about obtaining a degree and he'd like it to come from a prestigious university.
In the case of BYU, it was widely assumed that Parker's Mormon faith was the primary pull. But that was a non-factor. BYU was on the list for one reason -- assistant coach Mark Pope. A former captain of Kentucky's 1996 national championship team who played in the NBA, Pope immediately bonded with Parker. It got to a point where Parker felt close enough to play practical jokes on Pope during unofficial visits to BYU.
"Pope is one of my favorite coaches in the country," Jabari said. "He was the reason I was interested in BYU."
In October, Parker set up official campus visits to the five schools. Before making the first trip to Michigan State, Parker and his brother Christian made two lists. One had the five schools. The other had Jabari's top five priorities in selecting a school: Coach, Academics, Environment (social), Basketball (team chemistry and style of play) and Spirituality.
Then Jabari selected the schools that best fit his priorities:
Coach: Duke Academics: Duke/Stanford Basketball: Michigan State Environment: Duke Spirituality: Undecided
Leaning heavily toward Duke, Parker set out on his official campus visits. The trips to Michigan State and Florida complicated things. The minute he arrived in East Lansing, Parker felt like he was among family. A tight bunch, Michigan State players welcomed Parker and assured him that he would love Izzo's tough, aggressive style of play. Meantime, Izzo and his staff took Jabari to a Mormon Church service held at a local congregation near campus. It was about the same size as his congregation in Chicago and Parker felt right at home. The more time Parker spent around Izzo the more he knew he'd love to play for him.
"I thought it was great that Coach Izzo went to church with me," Parker said. "Pretty unique."
Florida's Donovan didn't take Parker to church, but one of his assistants did. However, Parker got a lot of one-on-one time with Donovan while on the Florida campus and he learned a lot more about his priorities as a father and a husband. "He's a great family man," Parker said. "The way he is with his children really got my attention."
Earlier this year, Parker's father was diagnosed with a kidney ailment and has been undergoing dialysis three times a week. When the Parkers visited Duke, Krzyzewski made arrangements for Sonny to visit a dialysis center on campus -- not exactly a typical stop on a recruiting trip. Jabari is very close to his parents and his father's heath situation could limit Sonny's ability to travel to Jabari's games, a factor that had weighed so heavily on Jabari's mind that at one point he seriously considered just playing in Chicago.
"They really did their homework," Jabari said of Duke. "It meant a lot to me that they took my dad to a dialysis center. They knew how important this was to me and my family."
Krzyzewski is also pretty familiar with the Mormon faith. In addition to previously coaching LDS student-athletes in the past, Krzyzewski's team physician is a Mormon who holds a leadership position in one of the congregations in Durham. He and Krzyzewski have worked together for 15 years.
On Thanksgiving weekend, Parker made his official visit to BYU. It was the only visit where his brother Christian, who attends the school, accompanied him. By the time Parker arrived in Provo he had decided that Michigan State, Florida and Duke were equally capable of providing the spiritual connection he needed.
Accustomed to being the only Mormon in a very large urban high school, Parker felt at home at each of the campus congregations he visited and he liked the fact that his coaches made a point to connect him with local Mormons. It enabled him to fill in the final category on his chart -- Spirituality: Duke/Michigan State/Florida.
Yet, while attending a game at BYU, Parker visualized what it would be like to wear a Cougar uniform. "Being at that game was one of the best experiences I have had at a college game," Parker said. "It was like a dream. I was sitting in the stands and the crowd was shouting my name and I wasn't even playing."
Parker loved BYU's up-tempo offense, too. "I love the way they get the ball up," he said. "There would be lots of shot attempts there."
But Parker kept going back to his two lists. In the final analysis, every time he stacked the schools up against his five priorities, the answer was Duke.
"I would love to be on the same campus with Jabari and have it just like when we were growing up," Christian said. "But Jabari needs to be where he can best develop his basketball talent. For him, choosing a school is a long-term investment. And there's no place like Duke."
Lola and Sonny Parker made a point not to push Jabari toward a particular school or coach. "We've raised Jabari to make choices," Lola said. "Sonny has played this game and he could easily put his foot down and tell Jabari what he ought to do. But Sonny hasn't done that. We've just repeatedly told Jabari to make the right choice for him."
In early December, when Christian came home from college, Jabari told him that he wanted to go to Duke. A week ago he informed his parents and his high school coach, Robert Smith, that he would make his announcement on Thursday. That touched off a final push from Duke, Michigan State, Florida and BYU. Jabari and his parents fielded more than 100 telephone calls and text messages in a four-day span. Pope flew in from Utah to visit Parker at home on Sunday. Donovan came in on Monday. Krzyzewski spent Tuesday evening at Parker's house. The last thing Krzyzewski said to Parker was, "I believe in you, Jabari." And Izzo met with Parker at his high school on Wednesday.
The decision on which school to attend has been gut-wrenching for Parker. He felt a strong connection to all five of his final schools and didn't want to disappoint four of the coaches. After Krzyzewski left Parker's house on Tuesday, Jabari and Christian had a heart-to-heart. Christian then quoted a verse from Matthew 7:16: "By their fruits ye shall know them." Jabari paused and felt at peace with his decision when Christian said, "Coach K can show you the fruit."\n