Pride of New Orleans: The youth and promise of Leonard Fournette
NEW ORLEANS -- Leonard Fournette III is wearing clothes that don't quite fit. They're the right size, mostly, though his biceps are too snug in his sleeves, like grapefruits squeezed into canisters of tennis balls. But that's not the issue here. Something else about Fournette's wardrobe just feels off.
He's wearing the St. Augustine High class uniform -- a white button-down shirt and a tie, with a black pullover emblazoned with the interlocking school logo -- and perhaps that's what's so peculiar. This get-up is for children. At 6-foot-1 and 224 pounds, Fournette looks like a man.
It's a Wednesday in mid-February and he's sitting on a bench in front of the gymnasium, his back pressed to a faded yellow-brick wall. Lunch period at St. Aug has just begun, and students in grades 6-12 are spilling noisily across the blacktop. Fournette tries to blend in, but can't. After all, blending in has been virtually impossible for years.
Fournette, 19, was the top-rated recruit in the class of 2014, according to ESPN and 247Sports.com. He is the most highly touted LSU signee of all-time and has drawn comparisons to Adrian Peterson for his size, speed and athleticism. Peterson even watched clips of the running back at the Minnesota Vikings' training facility last fall before uttering one word: Wow.
Expectations for Fournette have been lofty since he was a pre-teen. Now, he's ready to live up to them. "Heisman candidate, All-American, national title," he says, pausing between each to achieve his desired effect. He wants to accomplish goals a true freshman never has, feats that would transform him from a high school phenom into a superstar. His normally subtle demeanor becomes animated when imagining the possibilities.
He isn't thinking about any of that now, though. He's watching an impromptu rap battle and laughing with his friends. He's soaking in these last moments of childhood, fleeting occasions for an icon in New Orleans.
Fournette will arrive on LSU's campus in June. The Tigers will open their season against Wisconsin at Reliant Stadium in Houston on Aug. 30.
For now, it's a sunny, mildly breezy afternoon. Fournette is clinging to the calm.
*****
The best high school sports stories take on a somewhat mythical quality, where truth is blurred by hyperbole, and narratives slowly morph into legend. For Leonard Fournette III, that started in the fall of 2009, when he was in eighth grade.
It was around then that Fournette met Eddie Compass, a 26-year veteran of the New Orleans Police Department who served as the police chief during Hurricane Katrina. In September 2005, Compass was one of many public officials in the city to resign in the chaotic aftermath of the storm. A few years later, a St. Augustine booster invited him to the all-boys parochial school as the strength and conditioning coach.
"I had never seen a kid so coordinated and so strong at that age in my life," says Compass. "And I said, 'Oh my God. This kid is something extraordinary.'"

-- Eddie Compass
Compass was skeptical, but visited St. Aug to assess the situation. He put Fournette through a series of drills and accepted the job shortly thereafter.
"I had never seen a kid so coordinated and so strong at that age in my life," says Compass. "And I said, 'Oh my God. This kid is something extraordinary.'"
One of Compass' introductory exercises is an incremental push-up routine. Players do a push-up, take a step and drop down to do two more. Then they take a step and do three. Then four. Then five. All the way to 10 and back. The drill consists of 110 push-ups in total, an amount that exhausts most high school athletes.
Not Fournette. On his first attempt, he coolly pumped out the entire set. "I would say 98 percent of the kids I give that drill to the first time, they can't even get to 10, let alone going up and going down," says Compass. "He did the whole 110. First time."
Over the coming months, the hype surrounding Fournette swelled.
There was the time in 2009 he was set to play for Goretti Playground in the New Orleans Recreation Department Commission football league. Parents petitioned that his participation was unfair; he was too big, too fast, too strong. There was the first game he was called up to play on the freshman team that same fall. According to David Johnson, an assistant at Tulane who was Fournette's head coach at St. Augustine from '09-'11, the opponent filed a complaint; it claimed Fournette, then 14, was a senior improperly playing down.
Then there was Fournette's first varsity game against West Jefferson High on Sept. 4, 2010, a debut that has evolved into its own origin story of sorts. He rushed for 283 yards and three touchdowns in a 59-56 loss.
"I throw the ball a lot, that's my M.O.," says Johnson. "Our two-minute offense was iso. I just turned around handed the ball to him and let him run and put a fullback in front of him. And we scored at least three or four different times [that season] with under a minute [to go]. Just handing the ball to him two or three times we'd go 70, 80 yards. He was that dominant."
Fournette ran for 1,735 yards and 22 touchdowns as a freshman. He raced for 1,957 yards and 19 scores as a sophomore. His strength allowed him to bowl over defenders, and his vision helped him elude them. Still, it was his speed for a power back -- he placed first at the 2013 Class 4A regional track meet by running the 100-meter dash in 10.68 seconds -- that truly set him apart.
Scholarship offers poured in. Coaches flocked from Alabama, Texas and every other program that contends for major-conference and national titles. Fournette even adopted his own rallying cry, Buga, which stands for Being United Generates Attitude. LSU coach Les Milesgave Buga Nation his stamp of approval on Dec. 18, two weeks before Fournette announced his commitment.
| | | |
| --- | --- | --- |
| Year | Rushing yards | Rushing tds |
| 2010 | 1,735 | 22 |
| 2011 | 1,957 | 19 |
| 2012 | 2,135 | 31 |
| 2013 | 1,792 | 16 |
"The buzz that was surrounding him, with him having so much success at an early age, was that he was a man amongst boys," says Cyril Crutchfield, who became Fournette's head coach at St. Augustine in February 2011 after Johnson left for Tulane. "He was a polished young man from the very first game that he stepped on to the scene. And that's usually unheard of."
Fournette finished his high school career with 7,619 rushing yards and 88 rushing touchdowns, winning Gatorade Louisiana Football Player of the Year honors in 2012 and '13.
Success came at a cost. His mailbox was flooded with upwards of 50 letters per day. He was forced to change his cellphone number because schools were contacting him so often. Frank Wilson, a St. Aug alumnus who now serves as LSU's recruiting coordinator, describes Fournette's courtship as "electric" -- and it wasn't just college programs that were intrigued. When St. Aug played Edna Karr High last September, Wilson stood on the sidelines next to the New Orleans Saints coaching staff.
Before Fournette verbally committed to the Tigers at the Under Armour All-America Game on Jan. 2, ESPN's Dari Nowkhah asked him to reflect on the recruiting process. "I hate it," Fournette said.
That's because Fournette wasn't only a man among boys. Away from the gridiron, he was still growing up.
*****
Leonard Fournette III was born at Mercy-Baptist Medical Center on Jan. 18, 1995. The third of four children between Leonard Jr. and Lory Fournette, he was always uncommonly big. When Leonard III was five or six, Lory remembers him towering over classmates at an elementary school graduation ceremony. By the time he was nine, his toes poked up against the front of his size-10 shoes.
Like many kids, Leonard III was also relentlessly energetic. He couldn't sit still, to the point where teachers summoned his father to class every day to help calm him down. Leonard III bounced around multiple grade schools before enrolling at St. Augustine in 2008. "At one point, his pediatrician did say he had ADH[D] and wanted to put him on some type of medication, but we wouldn't allow that to be," says Lory. "My husband and I decided that he was just a regular kid, a boy. That he would actually grow out of it."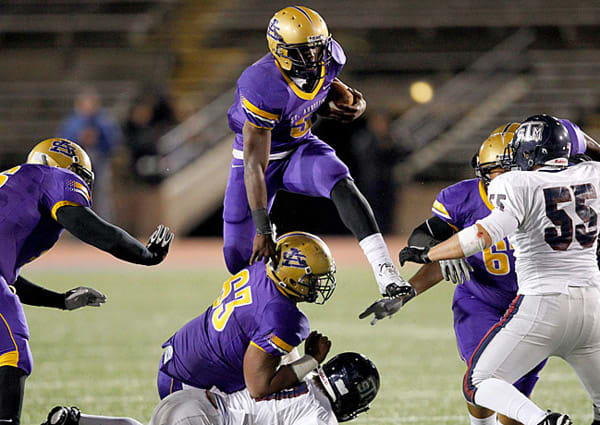 Leonard III mellowed as he got older. His relationships with family members changed. And as aggressive as he turned on the field, he became equally calm off it.
Take his ties to his siblings. He competed with his two older sisters, Latae and Lanata, but especially with his younger brother of two years, Lanard. They challenged each other at sports, video games and eating contests, but they went beyond that as well. Once, Leonard III had to be rushed to the hospital for stitches after a milk-crate slinging match resulted in a busted lip.
In high school, Leonard III grew increasingly protective. He looked out for Latae and Lanata. He kept on Lanard about his grades. On the football field, St. Aug would line up in two-back formation -- both Fournette brothers in the backfield -- and Leonard III would signal in plays for Lanard, a tactic that generated multiple touchdowns.
"He'll go tell coach, 'Hey, put my little brother in. Let my little brother run the ball,'" says Leonard Jr. "I'm talking about tight games. He wanted Lanard to have the glory. He really wanted him to shine, just like him."
Leonard III was also shaped by the death of his grandmother, Lorraine Tyler, in January 2010. Tyler was extremely tight with her grandchildren. When the kids attended Kipp McDonogh 15 in the French Quarter, they went to her house every day after classes were over. She regularly hosted family functions, with as many as 40 to 50 people showing up at a given time, celebrating holidays, birthdays and more.
When Tyler died, it took its emotional toll on Leonard III. But it also taught him the value of keeping those important to him close. "She taught him oneness, family," Lory says. "Family is more important than anything."
Most significant was the influence of his parents. Lory, a former administrative assistant, and Leonard Jr., a courier for Sun Electric, raised their kids to stay grounded. They met as Lory was walking home from the Academy of the Holy Angels one day in 1983, and they married several years later.
But Leonard Jr. also got mixed up in the wrong crowd. He witnessed the pitfalls that come with hanging around the wrong people. It only furthered his efforts to distance his children from them. "[Leonard Jr.] is very open and candid to some of the mistakes he's made," says Wilson. "And he's shared it with his boys and daughters and raised them not to make those same mistakes."
According to a report obtained from the New Orleans Police Department, Leonard Jr. was shot on Nov. 4, 2004. Reasons and circumstances surrounding the shooting remain unclear, but two men in a white Dodge Durango drove up behind Leonard Jr. at around 10:45 p.m. The passenger rolled down the window, pointed a handgun and fired five shots. Two hit Leonard Jr. in the stomach.
"I wasn't even able to walk yet," Leonard Jr. says. "I had got shot up. And I come to the game on my crutches. Straight out the hospital."

-- Leonard Fournette Jr.
He was hospitalized for a night. The next day, he still attended Leonard III's park ball game. "I wasn't even able to walk yet," Leonard Jr. says. "He was on the nine- or ten-year-old team then. I had got shot up. And I come to the game on my crutches. Straight out the hospital."
For Leonard III, the takeaway was clear. "He saw his dad deviate away from sports and saw that type of world that it put his dad in, and I don't think he wanted to do that," says Compass. "His dad always tells him that in the world of violence there's no win. There's no winning in that world. It's either jail or death. I think that hit home because Leonard doesn't really hang with the wrong kind of people."
Looking at Leonard III today, it's easy to be enthralled with his potential. He's a running back built like a superhero. A teenager destined for greatness.
But Leonard III is more. He's the kid who stayed local. And where he's going has a lot to do with where he has been. "He always tell me his thing is not to live up to being the next Adrian Peterson," says Lanard. "It's being the next Leonard Fournette."
*****
New Orleans has a reputation that far outstretches its city limits, big and bright, resilient and festive. It's an area where the most unassuming restaurants serve the best food, and where street performers play music that's regularly better than concert quality. Patrons at local shops won't just provide directions, they'll offer to take people to their destination. Camaraderie and spirit are intertwined with the fabric of the region.
Those qualities are present in Leonard Fournette III, too. He gets the city because he's experienced every part of it -- the good, the bad and everything in between.
There was Hurricane Katrina. It ripped through New Orleans when he was 10, at an age when he could hardly comprehend the devastation. The Fournettes had already moved all over the Seventh Ward -- "We lived on Elysian Fields, we lived on St. Anthony, we lived on Frenchman, we lived on South Dupre," says Lory -- but were forced to take up residence on the I-10 bridge above the Circle Food Store for five days and four nights. The family relocated numerous times over the subsequent few months -- making stops at Baton Rouge, Corpus Christi, Texas, and Portland, Texas -- before returning to New Orleans in 2006.
"It was something as a young kid that I think that probably made me stronger than what I am today," Leonard III says of the storm. "Living on the bridge. Seeing dead people in the water. Just going to stores trying to survive, stealing food. It kind of makes you stronger than what you really were."
Fournette has also seen how the city can snatch life away. Particularly in the years following Katrina, New Orleans became exceedingly dangerous. Its murder rate in 2006 was the highest in the nation, and though the number of homicides has declined in recent years, its murder rate in '13 was still 42 per 100,000 residents, almost four times the national average for cities of an equivalent size.
People Fournette knew were shot, including his cousin. The family moved across the Twin Span Bridge to Slidell, La., when he was in sixth grade, but violence remained nearby.
Arizona Cardinals cornerback Tyrann Mathieu grew up in the Central City section of New Orleans. He played for St. Augustine when Fournette was in eighth grade. Like many inner-city schools, St. Aug practices in public parks, and Mathieu remembers seeing fights, police chases and attempted drive-by shootings there during his junior and senior seasons.
"I know one time a car went by," says Mathieu. "They shot the gun out of the window about three or four times. Coach just told everybody to get on the ground. We were on the ground for about five minutes until that whole scene kinda disappeared. That's the effect of having to walk to the playground in the hood."
BenJarvus Green-Ellis, a 2003 St. Aug alumnus who is now a running back for the Cincinnati Bengals, echoes a similar sentiment. New Orleans develops some precocious athletes. Often, they stray from the proper paths. "That's the most humbling part about being from New Orleans," says Green-Ellis. "If this don't work out or you don't go to school, it just don't work out. That's the part that hurts the most."
"Some of the worst thugs in the world, they know they're not gonna fool with Leonard," says Compass. "He's like a person that's revered and admired as much as people admire the president."

-- Eddie Compass
Then again, most kids are not Fournette. Most don't become local celebrities before they're old enough to drive. While the streets of New Orleans are littered with cautionary tales, they also can fiercely protect their own.
"It's a situation with Leonard where you're talking with some of the worst thugs in the world, they know they're not gonna fool with Leonard," says Compass. "He's like a person that's revered and admired as much as people admire the president. On this scale, in that world, he's looked at in that type of regard."
Compass can recall only two other players from the area who were ever treated comparably, though he says neither was beloved citywide like Leonard III. One was Hollis Price, the guard who carried St. Aug to a class 5A state basketball championship before leading Oklahoma to the 2002 Final Four. The other was Marshall Faulk, the Hall of Fame tailback who is frequently compared to Fournette.
Faulk grew up in the Desire Projects in the Ninth Ward. He blossomed into a star at Carver High before going to San Diego State and, ultimately, the NFL. He says he first became aware that the city was protecting him in 10th grade, a revelation that came as both a responsibility and a relief.
"It's one of those things where you become an asset to the city to where people doing good and bad wanna make sure that you do great," says Faulk, now an analyst for the NFL Network. "The politicians, the police officers, the teachers, all the people that you consider doing great for the city, they want to lift you up. Now, the people within your hood, the street guys, the guys committing crimes, doing bad, they look at you and say, 'Hey, you're not supposed to be around here. Get away from here.' So regardless of what it is, they're protecting the asset, the city's asset. And that's what [Fournette] is right now. He's an asset to the city."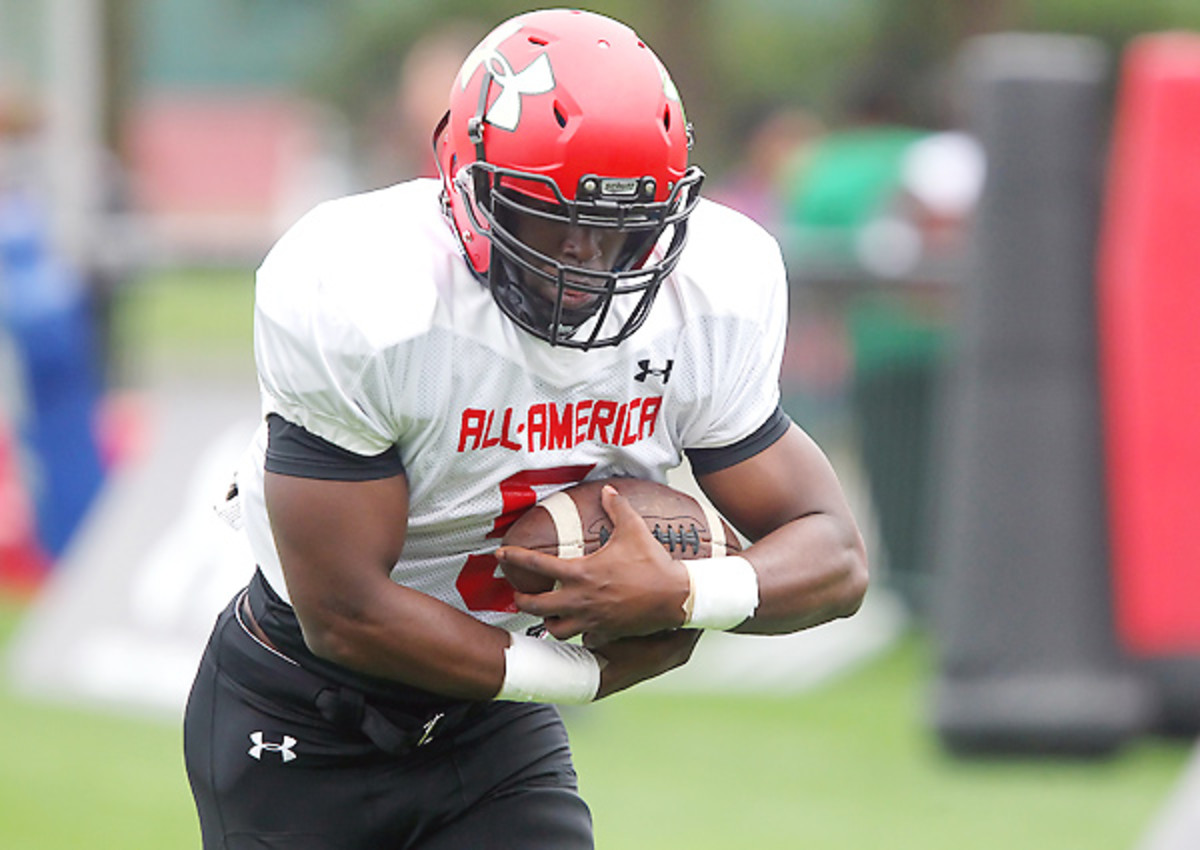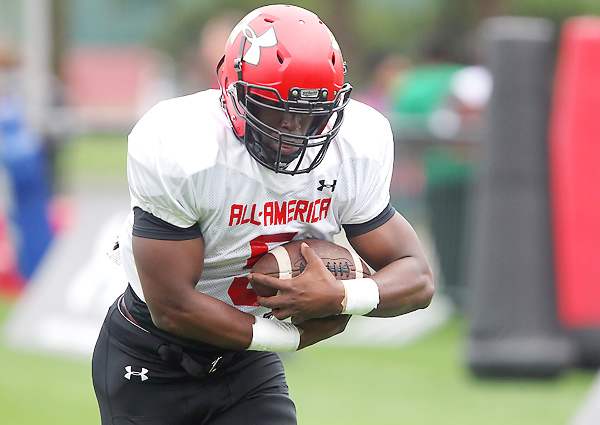 Faulk has never met Fournette, but he's followed him from afar. He's watched the clips. He's heard the stories. Faulk knows about Fournette because everyone knows about Fournette, the kid who, like him, may have done more for New Orleans than he consciously realizes.
Compass says Fournette would spend 20 to 30 minutes after practice talking to underprivileged kids at Pontchartrain Park. He says people at local diners offer to buy his meals simply because he trains Fournette. He points to a moment on Dec. 16, 2013, when Fournette deferred the Greater New Orleans Quarterback Club's Prep Player of the Year Award to East Jefferson High quarterback Eugene Wells, who had led his team to a state championship two days earlier.
"Everywhere I go people know who I am," Fournette says plainly. Yet to those around him, his reality is anything but typical.
"He's kind of like galvanized us," says Compass. "He's shown the best of New Orleans. They always talk about New Orleans, the murder capital of the world. All the criminals, all the thugs, all the young men who are doing bad. I think, in a small way, Leonard has counterbalanced all the negative."
*****
The pinnacle of Leonard Fournette III's high school career came on Oct. 4, 2013, when St. Augustine played John Curtis High on ESPN2. Curtis is a perennial prep powerhouse; last season's team won the school's 26th state title and reached the championship game for an 18th consecutive year.
With St. Aug trailing 21-13 early in the fourth quarter, Fournette bulldozed into the end zone from one yard out. He converted the two-point try moments later, taking a sweep right, pausing for a beat and -- despite being boxed in at the six-yard line -- planting his foot and exploding across the width of the field.
Then, down 28-21 in the waning minutes, Fournette corralled a touch pass and went 27 yards for a score. He finished with 255 rushing yards and two touchdowns in a 29-28 victory, a performance that wowed legendary coach J.T. Curtis, who has won more than 500 career games since taking over the nationally renowned John Curtis program in 1969.
| | |
| --- | --- |
| Date | opponent |
| Aug. 30 | Wisconsin |
| Sept. 6 | Sam Houston State |
| Sept. 13 | Louisiana-Monroe |
| Sept. 20 | Mississippi State |
| Sept. 27 | New Mexico State |
| Oct. 4 | at Auburn |
| Oct. 11 | at Florida |
| Oct. 18 | Kentucky |
| Oct. 25 | Ole Miss |
| Nov. 8 | Alabama |
| Nov. 15 | at Arkansas |
| Nov. 27 | at Texas A&M |
"He made two or three plays in that game that just separated him from other people that I've played against in the past," says Curtis. "And I've played against some very good backs. But the cuts that he made, the way he caught the ball and the way he was able to run with power -- it became obvious why he was, if not the best back in the country, certainly you could count 'em on one or two fingers."
It wasn't only those in attendance who were impressed. SEC coaches gawked. Lil' Wayne gave him a shout-out on Twitter. Peyton Manning, part of New Orleans' first family of football, gushed about Fournette in an interview with the Denver Post. "He's an impressive linebacker -- and, oh by the way, he's also the top-rated running back, as well," said Manning. "He's some kind of athlete. And I haven't had a chance to meet him, but watching the game that he had against John Curtis, one of the best programs in the country, that kind of told me everything I needed to know about how good of a player he is."
Fournette isn't on the verge of stardom. He's at that point already.
All of this creates an impossible standard, both on and off the field. Fournette enters an imperfect situation -- LSU had just two scholarship tailbacks, Terrence Magee and Kenny Hilliard, on its depth chart this spring -- and will be asked to be perfect. He drove to Baton Rouge to learn the offense on Sundays last month, and while Wilson is quick to temper expectations -- "He doesn't have to carry LSU as a freshman," he says -- Fournette's highlights fuel fantasies of immediate glory. In a story that ran in The Times-Picayune in December, one major college coach said Fournette could play for the Saints. Right now.
But that's the paradox here. Fournette's goals only amplify his hype. In an era when rare talents are endlessly scrutinized, from Jadeveon Clowney to Andrew Wiggins to Johnny Manziel, Fournette is under no illusions.
"Every time he gets something, it seems like it just feeds him to work harder," says Green-Ellis, who returns to St. Aug every summer to teach in its alumni football camp. "He reminds me of a LeBron James-type kid. Every time they get an award, they seem to come back and work harder."
Mathieu goes one step further. "He can come out of school as the top running back," says Mathieu. "He can go to LSU. Be a Heisman finalist, even win the Heisman. I know that's my expectations for him. He just has it, man. It ain't something that you can really describe."
*****
Leonard Fournette III is now wearing a T-shirt and shorts. He's running a set of 200-meter sprints at track practice after school, and the man-among-boys moniker has never been more fitting. Flanked by his fellow students, he is colossal -- a skyscraper in the suburbs, a semi speeding down the freeway, his legs and arms pumping as he propels toward his destination.
It's a sight to behold. It evokes phrases like blue-chip and five-star, descriptors better suited for stocks or notebooks than for ultra-talented high school seniors. It also makes it easy to overlook: There's more to Fournette's story than just his athletic gifts.
Compass has one other anecdote that he likes to tell about Fournette: One on a couch, mostly in silence, which could have occurred in any living room across the country.
It's a sight to behold. It evokes phrases like blue-chip and five-star, descriptors better suited for stocks or notebooks than for ultra-talented high school seniors.
Fournette and Compass watched a documentary together on Marcus Dupree, the mythical running back from Philadelphia, Miss., who rushed for 1,144 yards and 13 touchdowns during his freshman season at Oklahoma in 1982. Dupree was all that Fournette was -- the biggest, the strongest, the best -- before, as quickly as everything came together, Dupree's once-promising career fell apart.
"I remember the 30 for 30 they had on Marcus Dupree," says Compass. "And I said, 'Leonard, I want you to look at this very closely. 'Cause you're not gonna make these mistakes. Nobody is bigger than the game. Nobody is bigger than the team. And nobody is too good where they don't have to work hard.'"
Fournette is 19. He's on his way. He has seen more than most ever will, and achieved more than most dare to dream, but he still has plenty left to learn. He is trying to be everything -- a son and a brother and a man and an icon -- often all at the same time, a desire to make his supporters proud, and a product of a city that sometimes elevates athletes above everyone else.
One day, he may be the greatest running back to ever come from New Orleans, possibly from the entire state of Louisiana. But he's also still a kid. To see him is to instantly forget.
"Leonard Fournette is the greatest high school running back I've ever seen," says Compass. "No disrespect to Marshall, because Marshall was incredible. But I've seen Leroy Hoard, I've seen Burnell Quinn, I've seen Reggie Dupard, I've seen Marshall. I haven't seen anybody that has the agility, strength and power of Leonard Fournette."