Brandon Ashley all business in his return for No. 2 Arizona
TUCSON, Ariz. -- This fall Arizona's Brandon Ashley thought about changing his major. The junior forward explored going from general studies into business, although admittedly not for the same reasons that most kids on campus would.
"For anybody that has aspirations of making it to the next level," Ashley said, "understanding the business side of everything [is important]. Even if I don't go to the NBA. Even if I do go overseas. Or even if I somehow don't play basketball anymore, I still want to be a part of the game. Rather than picking a career where I won't really be able to do anything, I'd like to pick something that will allow me to stay around the game of basketball for the rest of my life."
Ashley chooses his words carefully. And in the newly renovated film room inside the McKale Center, those words from the soft-spoken former five-star recruit run the risk of being swallowed up by the sound of hammers and drills as workers put the finishing touches on the $30 million project that includes an all-new locker room, players' lounge, kitchen, 150 more seats and improved lighting in the arena.
The Arizona basketball team, despite reaching the Elite Eight last season and being picked No. 2 in SI's preseason top 25, is also currently under construction.
• Read all of SI.com's 2014-15 college basketball preview content
"No question I believe in our team," Wildcats coach Sean Miller said. "We have a lot of good things. But if you judge us on where we are in early November, we're a work in progress. We have to keep getting better."
After losing key contributors Nick Johnson and Aaron Gordon (who combined to use almost half the team's possessions last year, according to KenPom) to the NBA, the Wildcats have to craft a new identity. They must blend returning talents like Ashley, junior center Kaleb Tarczewski and senior point guard T.J. McConnell with a stellar freshman class that includes swingman Stanley Johnson, a McDonald's All-American, and four four-star recruits: point guard Parker Jackson-Cartwright, center Dusan Ristic, forward Craig Victor and guard Kadeem Allen, last year's junior college player of the year. Miller will have to figure how to divvy up minutes and, most importantly, find new leaders.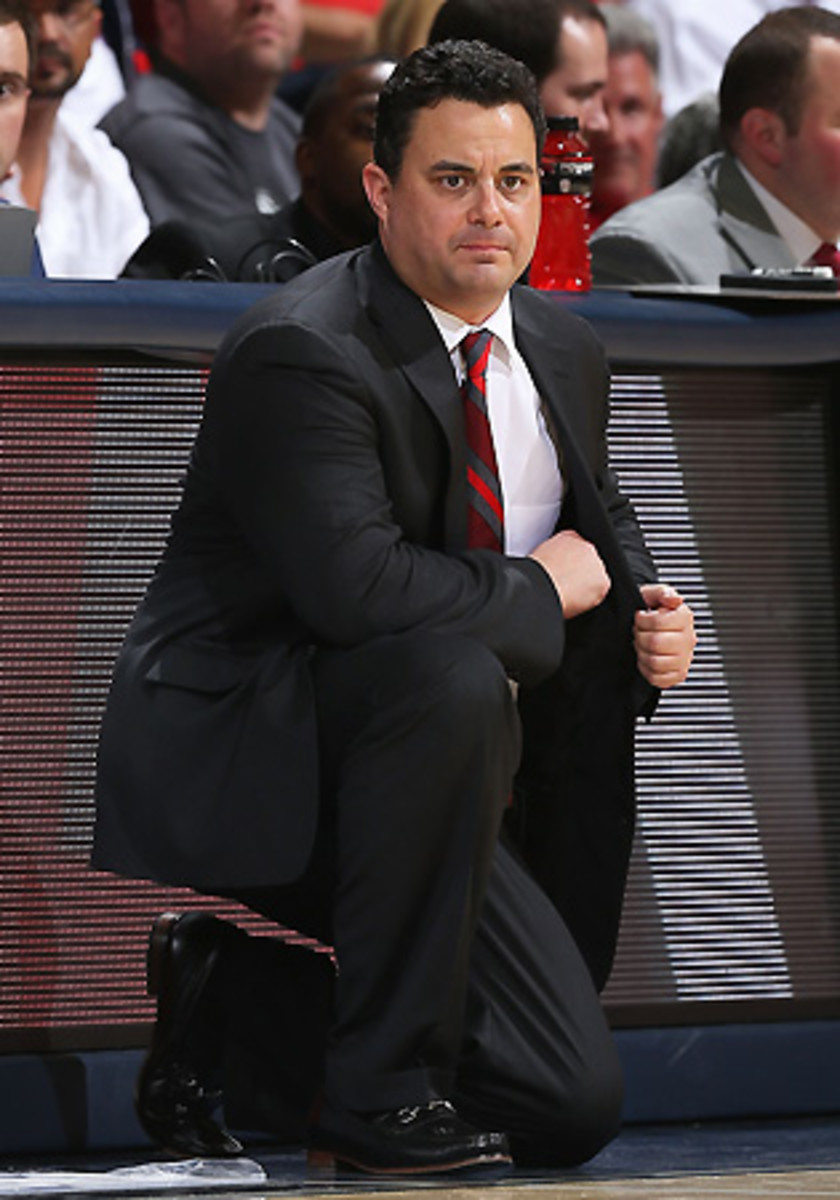 The latter task starts with Ashley, who was a potential first-round draft pick before tearing a ligament in his foot against Cal last Feb. 1.  He was forced to watch the final two months of the season from the bench. But the time away gave him new insight and made him, as he called it, "an extension of the coaching staff.", relaying messages to the players and helping himself become a more vocal leader.
"He's more vocal now than he ever was before," says Miller. "He looks at that as being part of his role on this year's team and maybe something he's earned as an older player. He can be the voice of reason. He can inspire his teammates. We hear him more often now than we used to."
The 6-foot-9 Ashley also saw the game slow down for him, and he started noticing the importance of taking time on the offensive end to establish position rather than bullrushing or trying to get around a defender.
"Once in a while you have that kid who, although he's working towards his own development and rehab, he really does continue to stay locked into the team," Miller said. "To Brandon's credit, he really did that, which I think helped him along and I believe gave him a different perspective moving forward. I would tell him last year there could come a time in his life later or even as soon as this year where he would reflect and say, 'I'm kind of glad in a real unique way that it happened to me because I'm better off because of it.' As long as he is healthy, I do think it added to his maturity and he does have a hunger inside of him."
• No. 2 Arizona Scouting Report: Top scorers, projected Pac-12 conference race
As he often does, Ashley, a San Francisco native, turned to his family for guidance as he tried not only to get back on the court but also get better for the future. He's extremely close to his mother Lasheem Clark -- who sneaked in a question at Pac-12 media day (she made sure he was taking his vitamins) -- and to his sisters, Brieanna, Breyan and Brya. Brieanna, the oldest, played at San Jose State and came back from three separate ACL injuries before the fourth one ended her career.
"With how hard she worked to get back and how hard she wanted to play," Ashley said, "that was really an inspiration for me. It made my transition and my recovery a lot easier."
The Arizona coaching staff made sure Ashley was healthy before the season. They weren't taking any chances in his rehab, and he is expected to be in the starting lineup for the Wildcats' season opener on Friday against Mount St. Mary's. He had seven points and three rebounds in the team's exhibition against Cal Poly Pomona on Nov. 9., and Miller insists he won't be on any sort of minutes restriction.
SI's 2014-15 preseason Top 25 in college basketball
In fact, everyone associated with the Arizona program expects Ashley to be even better than he was last year before the injury, when he averaged 11.5 points and 5.8 rebounds on 52.2 percent shooting while playing 27.7 minutes per game. Miller says Ashley has the potential to be "an all-conference performer" and that his even keel is a true asset to the Wildcats.
For Ashley, the biggest thing is that he's back on the court playing the game he believes he was always meant to play.
"Obviously I don't want to be the same exact player I was last year," Ashley said. "I don't think the injury is going to hold me back. I put in a lot of work this summer so I can see myself growing over the course of this year. I expect that."
If that growth occurs, don't be surprised if he is leading a Final Four contender once again. As for Ashley, if he does begin taking those business classes, he'll soon be putting them to good use.