Hoop Thoughts: On opening weekend, a 30-second shot clock, more
For a long time, I was one of many observers who lamented the desultory way in which college basketball rolled out its new seasons. The year would usually start out with a thoroughly uninteresting game or two early in the week, then trickle their way towards the weekend without much notice. During a time of year when it is hard to grab the sports-loving public's attention away from football, this seemed like a very unwise way for college hoops to market itself.
Well, the sport has gotten wiser. A few years ago, the rules were amended to dictate that games could not begin before the second Friday in November. This is helpful because a) it ensures that a ton of games are scheduled to begin at the same time and b) those games are played on a day when there is very little football going on. Throw in the proliferation of cable networks that need live programming, and you have what we had last Friday -- a bonanza of ranked teams playing in the same two- to four-hour window.
It was a lot of fun, but it was also a lot to watch. I kept my eyes on as many games as I could, but beginning on Saturday morning, I downloaded and rewatched a bunch of games so I could really lock in on what happened. What follows is my quick take on 11 games from college basketball's opening weekend. After endless preview prattle, it was refreshing to have some live action to chew on. And there are going to be a lot more games to feast on this week. 
Here, then, are my Hoop Thoughts on ...
Duke 113, Presbyterian 44
Sure, Duke wasn't going up against the '86 Celtics, but this was still the third-largest margin of victory in school history. At a time when college basketball is marred by stagnant offense, the Blue Devils were a joy to watch. They had 30 assists on 42 made field goals, and they were 16-for-31 from three-point range. The competition is going to get a lot fiercer, but scoring points is not going to be a problem for this bunch.
Defense, of course, is another matter. This was Duke's bugaboo last year, and it did the Devils in when they went up against an older, bigger Mercer team in the NCAA tournament. Duke only has 10 scholarship players, but they will all contribute, and this program has more athletes than it has had in the recent past. Mike Krzyzewski obviously believes his players can play better D because he had them picking up their man-to-man fullcourt for most of the game.
Much of the preseason conversation about Duke also centered on the question of whom Krzyzewski would start in the backcourt -- freshman Tyus Jones, or senior Quinn Cook. His answer: Both. During the last two seasons, Cook has shot 38 percent from three-point range, so he has no problems moving off the ball. Yet, in Krzyzewski's motion offense, positions don't matter. Both these kids can make plays, for themselves and their teammates. They showed it while combining for 12 assists and just one turnover.
As for freshman center Jahlil Okafor, he showed why he is the favorite for national player of the year. Okafor was sturdy and efficient while going for 19 points (9-for-10 field goals) and six assists in 23 minutes. There are two aspects to his game that stood out to me. The first is his passing. He's not going to put it on the deck and drop dimes like a point guard, but Okafor's exquisite feel allowed him to recognize double teams and find open men. Unlike most freshmen big men, he knows how to make the easy plays.
• MORE CBB: Introducing freshman Duke star Jahlil Okafor
The second is his demeanor. Okafor rarely gets flustered or changes his facial expression. He's going to need that equanimity to deal with all the pounding he's going to face this season. It has been a long time since we've had a player come into college basketball who is a) this big, b) this good and c) this willing to embrace being a member of that endangered species called "true center." Enjoy him while we have him, Hoopheads, because we won't have him long. 
Connecticut 66, Bryant 53
Don't let the final score fool you. The champs got quite a scare in Gampel. They were leading 45-43 with just fewer than 10 minutes to play when Kevin Ollie got a technical foul for arguing with the refs. They managed to pull away down the stretch thanks mostly to Ryan Boatright's 24-points, 8-rebound, 5-assist, 4-steal performance, but Boatright also had some help from his friends. Terrence Samuel fed Kentan Facey for a key dunk, Sam Cassell Jr. buried a three-pointer in the left corner, and Amida Brimah initiated some transition opportunities by shutting off the basket on defense. It wasn't pretty, but it was a nice team win. 
• MORE CBB: Read all of SI's preseason content
Could Boatright be headed for a Kemba/Shabazz type of season? Why not? But whereas Kemba had Shabazz and Shabazz had Boatright, it is not yet clear who will play Robin to Boatright's Batman. N.C. State transfer Rodney Purvis is the leading candidate, but he was underwhelming in the preseason, and he did not play against Bryant because he was serving a one-game suspension for participating in unsanctioned competition. Cassell and freshman Daniel Hamilton had a few nice moments, but they're a long way from being consistent. Junior Omar Calhoun, who had a disappointing sophomore season, was unavailable because of a sprained ligament in his right knee.
So yes, there are a lot of unknowns with this team, but there's also a lot of potential. Which is about what we were saying about UConn this time last year.
Florida 68, William & Mary 45 
I've often wondered why Jon Horford, a 6-foot-10 senior forward, transferred from Michigan to Florida. Horford is a Michigan native, and the Wolverines are in desperate need of frontcourt bodies. My question was answered in the opening minute, when Horford pulled up from the left wing and drained a three-pointer. It was the first three-pointer of Horford's career. Horford attempted another three later in the game and missed, but clearly he feels more liberated in Florida's offense.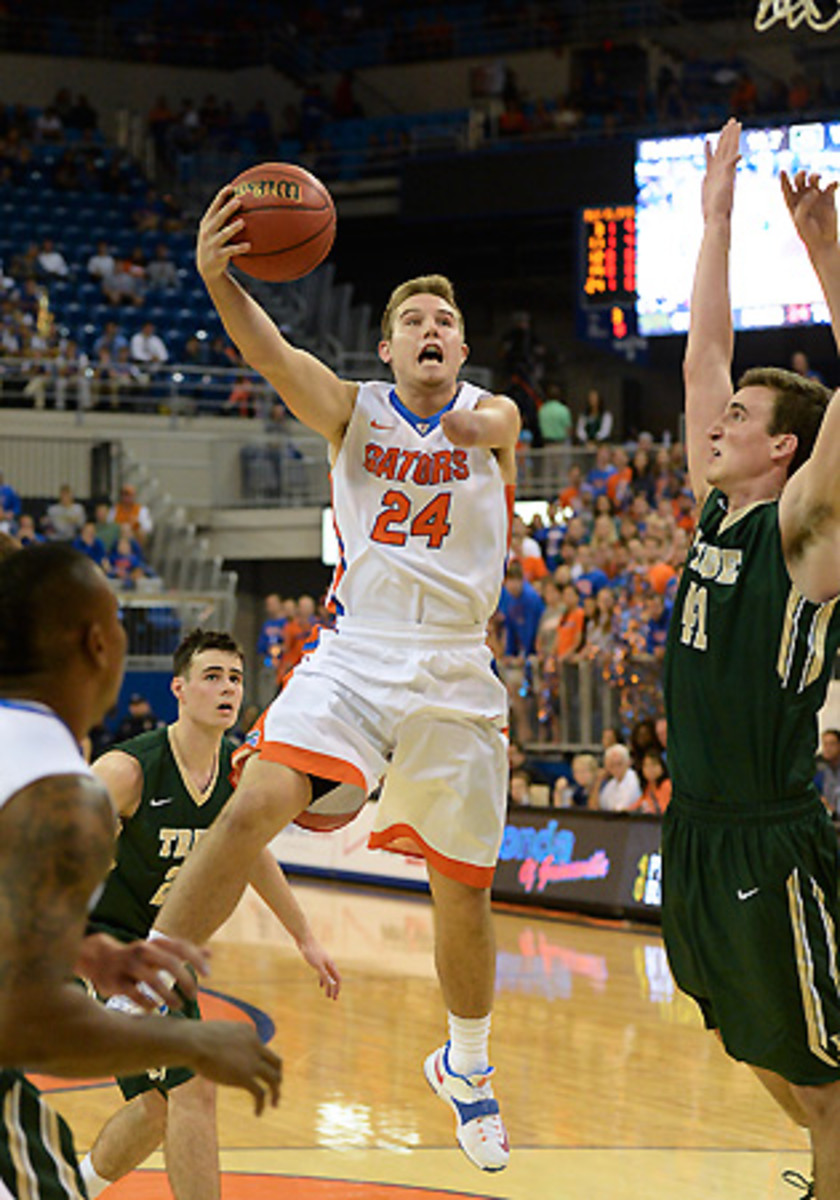 Horford finished with 11 points, which was a big help for a Gators team that was playing with just seven scholarship players. One of those players, Dorian Finney-Smith, injured his left, non-shooting hand but came back to finish the game. (Florida later revealed that Finney-Smith suffered a hairline fracture but it's not clear if he'll miss any games.) Michael Frazier II was his same, sweet-shooting self, but I really liked what I saw from Eli Carter, the 6-2 transfer from Rutgers who has been hampered by injuries in the past. Carter was 2-for-3 from behind the arc and had five rebounds in 26 minutes. Kasey Hill, meanwhile, was a total no-show. That's not a good sign. 
The Gators got a lot of buckets in transition, but they looked much less cohesive in the halfcourt. That's mostly because, unlike last year, the guards don't have anyone whom they can throw the ball to in the post, so the offense had very little inside-out action. That could change when sophomore forward Chris Walker finishes serving his two-game suspension for violating team rules and Duke transfer Alex Murphy becomes eligible next month, but post play is not going to be this team's strength.
As a postscript, the highlight of the game arrived in the final two minutes, when Florida walk-on guard Zach Hodskins, who was born without a lower left arm and hand, got into the game and missed his only shot attempt. By that point, most of the 10,000-plus fans in attendance had left, but Hodskins still got the loudest ovation of the night. It was a real nice moment. 
North Carolina 76, N.C. Central 60 
This was a weird game. The Tar Heels scored the first 11 points, and though the Eagles cut the deficit to three late in the first half, North Carolina was never in any real danger of losing the game. It's hard to tell these things from the broadcast, but it just seemed like there was very little energy in the building, on the court or in the stands. Even the ESPN announcers were speaking in hushed tones at times, as if they didn't want the players to overhear what they were saying. 
In addition, Tar Heels junior guard Marcus Paige, who was named to the AP's preseason All-America team, was in a slumber. He only attempted eight shots, making two, and was so unaggressive as a playmaker he tallied just two assists. N.C. Central coach LeVelle Moton used a lot of zone, and he even employed a box-and-one on Paige for long stretches, but Paige is at his best when he's on the attack. He'll have better nights, I'm sure. 
SI's 2014-15 preseason Top 25 in college basketball
Still, there was plenty to like about this Tar Heels team. Start with their unconventional lineup. When we think of the term "four around one," we usually think in terms of four perimeter players around a center, but North Carolina flips that script by playing Paige alongside a quartet of forwards. That includes heralded freshman Justin Jackson, a silky 6-8 swingman who slipped into gaps and scored with ease. 
For my money, the most valuable player on this team is 6-5 junior swingman J.P. Tokoto, who came off the bench to contribute 10 points, 5 rebounds and 4 assists in 24 minutes. Tokoto is the best passer on this team, and he could be the best passing forward in college basketball. He demonstrated that even more so on Sunday, when he tallied 10 assists and one turnover in a win over Robert Morris. I spy a Glue Guy! 
Finally, I learned by watching this game that Nate Britt, North Carolina's 5-11 sophomore guard, made a huge change in the offseason. He has always shot left-handed, but he is now shooting with his right -- except on the foul line, where he will continue to shoot with his left hand. I guess that's not a bad idea considering Britt only made three three-pointers all of last season. He was 2-for-5 in this game. Still, I wonder if at some point he will want to go back to shooting the way he did before. 
Michigan State 64, Navy 59
Yes, the Spartans won the game, but there wasn't much else to like. Aside from senior guard Travis Trice's career-high 25 points, the Spartans were impotent on offense, especially in the halfcourt. Their big men could not get established in the post. Denzel Valentine, their most versatile wing, was a no-show (2-for-10 on field goals). The Spartans only managed eight offensive rebounds, which was the same number that Navy got despite a significant height disadvantage.
And get this: Michigan State did not attempt a single free throw during the entire first half. Not one! With three minutes to play, they had attempted a total of two foul shots for the game. Suffice to say, that is not Tom Izzo basketball.
• BIG TEN PREVIEW: Wisconsin way out in front
Here's another one: Navy lost four starters from a team that won nine games last season. Their lone returnee, 6-6 senior forward Worth Smith, played 14 minutes before dislocating his kneecap during the first half. Without him, the Midshipmen outscored Michigan State by 2 in the second half.
Of course, this was only the first game, so it's fair to say that Michigan State is not as bad as it looked. But I'm not sure this team is as going to be as good as people think, either. The offense will come in time, especially after Cleveland State transfer Bryn Forbes (5 points on 1-for-8 shooting) finds his rhythm, but I don't see this as one of Izzo's better defensive teams. The Spartans weren't mentally ready to play grind-it-out basketball in the opener, but they're going to have to find a way to make that their identity if they want to get back to the NCAA tournament. 
Louisville 81, Minnesota 68 (Puerto Rico)
It's hard to say what was more entertaining, watching Motrezl Harrell hang a career-high 30 points, or seeing all those ESPN announcers shvitzing in a sweltering airplane hangar. Harrell barely broke a sweat in leading the Cardinals to victory. It wasn't just the number of points but the way he scored them: midrange jumpers, deft slashes to the rim, and even a trio of made threes. He was also 9-for-10 from the foul line. Harrell is a great example of a player who could have turned pro but will benefit immensely from his return.
Louisville's starting five is as solid as they come, but Rick Pitino knows he has to develop his bench. That's why he gave 6-10 freshman forward Chinanu Onuaku the start over Mangok Mathiang, a 6-10 sophomore who played extensively last season. But Onuaku only played eight minutes because of foul trouble. At some point, Pitino is going to try to get Anas Mahmoud, a highly skilled 7-foot Egyptian, into his rotation, but at 200 pounds, Mahmoud was not ready for this type of game. Remember his name, though.
• ACC PREVIEW: How will Louisville transition into the conference?
As for Minnesota, I think this is an NCAA tournament team. The Gophers were hapless against the Louisville press (18 turnovers -- tsk tsk!), but this is one of the oldest teams in the country. Among their top six players you will find one junior, three seniors and two redshirt seniors. (I'm also a fan of 6-8 freshman Josh Martin, although he only played four minutes.) The Gophers showed their maturity by not losing their poise when they got down 20 midway in the second half. Instead, Minnesota cut Louisville's lead to 8 before wilting down the stretch. That's a good sign moving forward. 
As for the vaunted Pitino v. Pitino face-off, there was much talk about this before the game, but when the buzzer sounded the two men engaged in a quick, professional handshake. If I didn't know better, I'd say it was darn near a blow-by. I know Richard loves his dad dearly, but he is still his father's son, which means he really hates losing. 
Kansas 69, UC Santa Barbara 59 
This game was close for a while (KU led by 3 with 12-and-a-half to play), but you never got the sense the Jayhawks were going to lose. It was a little surprising that none of Bill Self's freshmen started the game, but a few of them made nice contributions. The most prominent was point guard Devonte Graham, who came into the game after Frank Mason picked up two quick fouls. Self must have liked what he saw, because Graham started the second half. Graham definitely looked like a freshman at times (he has that freshman tendency to drive with nowhere to go), but he finished with 14 points, 4 rebounds and 3 assists in 26 minutes. Graham is more talented than Mason, but I expect Self will play them together a lot.
As for the other frosh, Cliff Alexander came off the bench and played just 12 minutes. Kelly Oubre played four. That just shows you how difficult it is to go from high school to college. But the player to watch out for the other freshman guard, Sviatoslav Mykhailiuk. If you look at his stat line, you wouldn't be impressed: 16 minutes, 1-for-5 shooting, 4 rebounds, 3 assists. But you won't find too many players in college basketball with his set of tools. At 6-foot-8, Mykhailiuk can shoot and pass over smaller defenders, and he looked mighty comfortable in dishing three nifty assists. Track this young man's progress, people. Come January, come February, Kansas could have itself one very special player.
Incidentally, UCSB has one of the country's better midmajor players in 6-8, 265-pound senior Alan Williams. He finished with 13 rebounds and 22 points, but eight of those came in garbage time. I don't think Williams is an NBA player (too short for a center, and he plays below the rim), but he will make money playing somewhere, and he'll have the Gauchos poised to compete for a Big West title.
Gonzaga 104, Sacramento State 58 
Yes, again, I know it's early, but I'm telling you that Gonzaga has a chance to be a special team.
First and foremost, Kevin Pangos looks like a different player -- or should I say, he looks like the same old Kevin Pangos. He struggled through last season with turf toe, but an offseason of rest and rehab has rejuvenated his game. Pangos was quick off the dribble and he showed his old shooting touch, making 6-of-7 from the floor to finish with 16 points. 
Both ballyhooed transfers were in the starting lineup and quickly demonstrated why. Kyle Wiltjer, a 6-10 junior who transferred from Kentucky, has always had a nice shooting touch, but he showed some stupid range while draining 3 of his 5 attempts from treyland. He also looked more confident asserting himself in the post. And Byron Wesley, a senior guard who came from USC, made efficient use of his 6-4, 206-pound frame. He bullied his way into the lane en route to scoring 12 points, and he played clamp-down defense. I believe Wesley and Gary Bell Jr., could provide Mark Few with the best defensive guard tandem he has had in Spokane.
• WINN: Domantas Sabonis' journey to Gonzaga
I had seen Wiltjer and Wesley play for their former teams, so I was more excited to get my first gander at Domantas Sabonis, the 6-10 Lithuanian freshman. Man, did he look good. He did not start, but Few inserted him into the game about two minutes in. Sabonis showed a variety of moves, scoring on hook shots over both shoulders. He was very deft at handling and passing. Sabonis and Przemek Karnowski are going to be hard to stop playing a high-low game. During his 20 minutes of action, Sabonis had 14 points (on 6-for-9 shooting) and added 8 rebounds, 2 assists, 1 steal and 1 block. And that was his first college game. 
Arizona 78, Mount St. Mary's 55 
First and foremost, this was our first chance to see Brandon Ashley in action since he suffered that season-ending foot injury last February. I'm happy to report that Ashley has not lost a step. If anything, he has gained one. He hustled, he dove on the floor, and he showed great energy while scoring a career-high 21 points. Often times, an injury forces a player to appreciate the game even more. That appears to be the case here. 
As for highly touted freshman forward Stanley Johnson, he did start, but only because sophomore forward Rondae Hollis-Jefferson had suffered a minor injury. (Hollis-Jefferson came off the bench to score 15 points in 21 minutes.) Johnson looked good but he was far from great. In 24 minutes of play, he missed all four of his three-point attempts, but he did grab six rebounds. Johnson's best asset is his size, and when he wants to bull his way to the rim, he can be hard to stop. Then again, maybe it was opening night nerves, because Johnson made 2-for-3 from behind the arc in Sunday's win over Cal State-Northridge. 
• PAC-12 PREVIEW: Every team is chasing Arizona
Generally speaking, though, outside shooting is going to be an issue for this team. They can survive that, but they cannot survive poor free throw shooting. That was a huge problem last season, although much of that was attributable to the since-departed Aaron Gordon. The Wildcats made just 12-for-25 from the foul line in this one, and they weren't much better (22-35) on Sunday. Obviously, every team has a lot it can improve on between now and the NCAA tournament. For Arizona, getting better from the stripe is priority number one. 
Kansas State 98, Southern Utah 68 
When Kansas State hired Bruce Weber three years ago, I thought it was an odd fit. Turns out, this is a much better place for Weber than Illinois. Instead of navigating the recruiting scene in Chicago and having to deal with spoiled high school stars, Weber can make do with diamonds in the rough and transfers. Marcus Foster, his 6-3 sophomore guard, is a prime example. He was one of the nation's biggest surprises last season, and he looks like he is beginning his sophomore campaign with much more confidence. Foster looked big, explosive and efficient while scoring 13 points in 19 minutes. Foster is going to have a huge year, and it wouldn't surprise me to see him in the first round of the NBA draft next June. 
I was also curious to see how two of Weber's newcomers would look. Stephen Hurt, who transferred from NorthwestFlorida State Junior College, sure looks big. His offensive moves are slow, but he's pretty coordinated and he uses his size well. Hurt started the game and made all four of his field goal attempts. Not bad.
Justin Edwards, the 6-4 transfer from Maine, was not as impressive. He was never a great three-point shooter, so I wasn't surprised he missed both of his attempts from behind the arc, but I liked that Edwards drove aggressively and shot 8 free throws (making 5). Sophomore guard Nigel Johnson also came out firing and scored a career-high 18 points. 
Keeping in mind once again that Kansas State was playing a truly bad team (this was Southern Utah's 28th loss in its last 30 games), the Wildcats looked more entertaining than they have in the past. Watching this game fortified my belief that the Big 12 is the second-best conference in the country this season, behind the ACC. 
Now this was a wild game. For most of the night, the Volunteers were undermanned and overwhelmed. And yet, they showed a lot of fight in the second half, when they cut a 20-point deficit to eight with five minutes to play. From there, Tennessee finally gave way to VCU's end-to-end attrition. When Josh Richardson picked up his fifth foul with about four minutes left, the Vols were out of ammo. But at least they made it a game. 
Overall, though, the story was VCU, which put on a dominating performance despite being without its two primary lead guards. Briante Weber, who is on pace to become the NCAA's alltime steals leader this season, was serving a one-game suspension for violating team rules, and sophomore guard JeQuan Lewis left the game in the first half after suffering a nasty head injury. (Lewis watched the second half from the Rams' bench.) That left 6-6 senior Treveon Graham in the uncomfortable position of running the offense, and that put things out of sorts at times. But a stellar first-half shooting performance by junior guard Melvin Johnson (20 of his 23 points before intermission) and the endless depth of the Rams proved to be the difference. 
If there is one fly in this ointment, it is VCU's lack of size. Shaka Smart started a four-guard lineup, and the one "big" was 6-6 sophomore Mo Alie-Cox. That won't matter when VCU can force the opponent into throwing the ball all over the gym (Tennessee had 19 turnovers, including 14 in the first half), but a team with veteran guards and a legitimate post presence could be tough to manage. 
Read more: The future of the 30-second shot clock, Seth's top 25 and more
[pagebreak]
The 30-second shot clock experiment
Two things occurred over the past few weeks that added momentum to the idea of shortening college basketball's shot clock from 35 seconds to 30. 
First, although it was hardly remarked upon, the Atlantic 10 and the ACC experimented with a 30-second shot clock during their exhibition games. This change had very little effect. According to KPI Sports, in games using the 30-second clock the number of possessions per team actually dropped by 3.9 percent compared to the same period last season, and possessions were actually a little bit longer. 
Second, the NCAA men's basketball committee held its fall meeting in Indianapolis. While the main items on the agenda were preparing for the upcoming season and selecting future Final Four sites (what happened to New Orleans, by the way?), the members also briefly discussed proposing that a 30-second clock be put in place permanently and across the board for next season. Though the committee members did not spend much time on this, they have discussed it at length in the past. It is not the traditional role of the basketball committee to get directly involved with the work of the NCAA's rules committee, but things are changing on this front -- and that's a good thing.
• MORE FROM SETH DAVIS: Video previews of every top 25 team
"We're not expecting to exchange roles with the rules committee, but this is an evolution for us to be part of a bigger process to oversee the greater good of the game," the current chairman, Oklahoma athletic director Joe Castiglione, told me by phone Sunday night. When I asked Castiglione if it were safe to say that his committee is supportive of the 30-second clock, he replied, "I think that's very fair to say. We feel like the rule changes that have been made prior to last season to create more freedom of movement have been very positive. We've also discussed widening the lane, but there's more support now to adjust the shot clock. I think that change is likely to happen after this season." 
As the data from the exhibition games shows, going to a 30-second clock is not going to magically speed up the game. But it is a step in the right direction, and I'm glad college basketball is finally ready to move forward.
Five games I'm psyched to see this week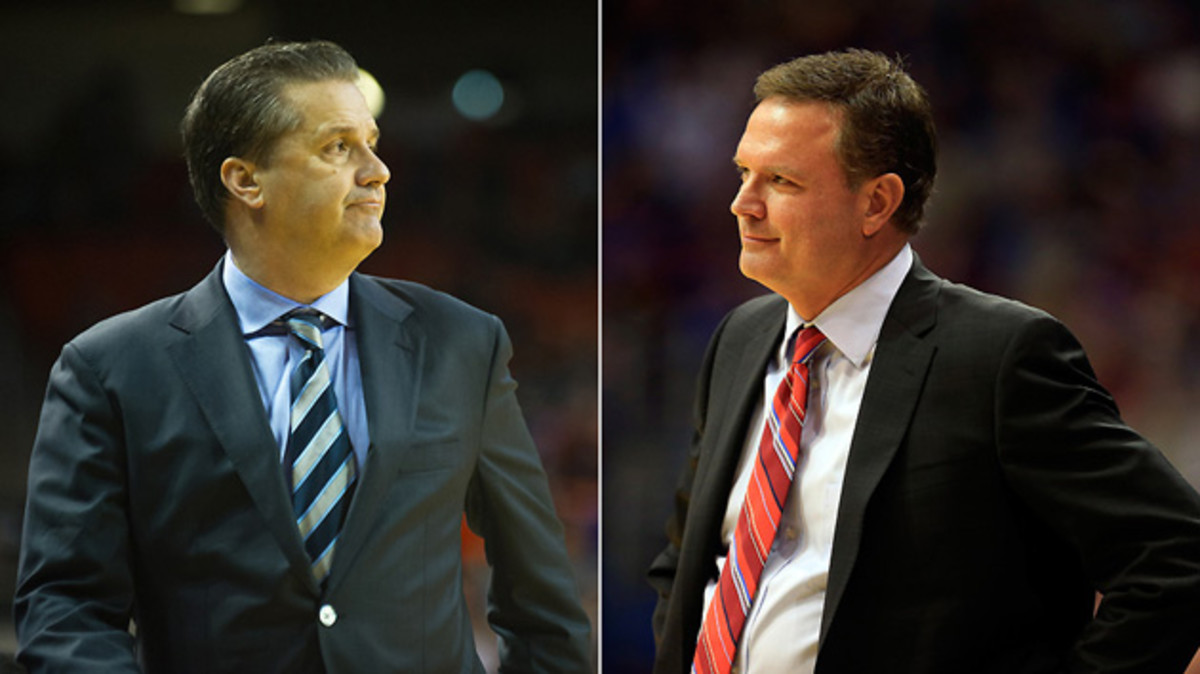 SMU at Gonzaga, Monday, 11 p.m., ESPN 
Larry Brown's season got off to a bad start before it even started. First, his prized freshman, Emmanuel Mudiay, bolted for China. Then, last week, his best big man, 6-9 senior forward Markus Kennedy, was declared academically ineligible for at least the first semester. That's not a good look heading into a road game against a veteran team with a deep frontcourt.
Prediction: Gonzaga 79, SMU 69 
Utah at San Diego State, Tuesday, 4 p.m.
The Utes are everyone's favorite up-and-coming program right now, but they have not been defended the way they will be at Viejas. It will be some time before the Aztecs' point guard situation shakes out, but in the short term Steve Fisher might be better served going with the experienced senior Aqeel Quinn over freshman Trey Kell. 
Prediction: San Diego State 65, Utah 59 
Duke vs. Michigan State, Indianapolis, Tuesday, 7 p.m. 
I'm sure the Spartans will play with more gusto than they did against Navy, but Duke simply has too many weapons. It will be interesting to see how the Spartans handle Duke's fullcourt pressure.
Prediction: Duke 78, Michigan State 65 
Kentucky vs. Kansas, Indianapolis, Tuesday, 9 p.m., ESPN
Twitter was a-twitter on Sunday afternoon while the top-ranked Cats were given an unexpected challenge from Buffalo. They ended up winning by 19. Yawn. Kansas, on the other hand, is not real big inside, which is bad news in this one. 
Kentucky 80, Kansas 69 
Texas vs. Iowa, New York City, Thursday, 7 p.m., ESPN2 
Texas freshman forward Myles Turner is off to a nice start to his college career. In the Longhorns' first two wins, he totaled 25 points (10-15 fg) and 13 rebounds. It will be fun watching him set foot on a big stage for the first time. 
Prediction: Texas 82, Iowa 74 
This week's AP ballot
(Last week's rank on my ballot in parentheses)
1. Kentucky (1)
2. Arizona (2)
3. Wisconsin (3)
4. Duke (4)
5. Kansas (5)
6. Texas (6)
7. North Carolina (7)
8. Wichita State (8)
9. Gonzaga (9)
10. Villanova (10)
11. Florida (11)
12. Louisville (12)
13. VCU (13)
14. San Diego State (14)
15. Virginia (15)
16. Michigan (16)
17. UConn (17)
18. Michigan State (18)
19. Iowa State (19)
20. Utah (21)
21. Louisiana Tech (22)
22. Oklahoma (23)
23. Nebraska (24)
24. UTEP (25)
25. Ohio State (NR)
Dropped out: Harvard (20)
As you can see, I made almost no changes from my preseason rankings. I could have shuffled things up on the basis of my "eye test" like college football's selection does, but I think that is a dangerous game to play. I've never liked moving a team down my ballot simply because it did not win by a big enough margin. Besides, you can't compare a single college basketball game to a single college football game. Teams play three times as many games in this sport.
The one team that did get bumped is Harvard, which lost to Holy Cross on Sunday. Holy Cross is not a bad team (four starters returning from a team that finished third in the Patriot League), but a top 25 team can't lose that game and expect to still be ranked. The harder question is whether the Crimson can play their way back into the rankings. They have a very good nonconference schedule that includes a road game at Virginia on Dec. 21. So the answer is yes, but it won't be easy.
Ohio State was the benefactor of Harvard's stumble. I'm not as big on Ohio State as most people, but we'll find out just how good the Buckeyes are on Dec. 2, when they play at Louisville. They also face North Carolina on Dec. 20 in Chicago for the inaugural CBS Sports Classic. I didn't see much of freshman swingman D'Angelo Russell in high school, but he had a nice debut by scoring a team-high 16 points in the Buckeyes' opening win over UMass-Lowell. It's a down year in the Big Ten, so Ohio State has a good chance to stay on my ballot for a while.