Karnowski blossoming into Gonzaga's next standout foreign big man
The line of standout foreign big men at Gonzaga now includes Przemek Karnowski and Domantas Sabonis.
SPOKANE, Wash. -- Przemek Karnowski stared at the map of the United States, puzzled. Spokane was supposed to be here, in Washington, and the 17-year-old basketball prospect from Torun, Poland, couldn't find it. Confused, Karnowski called Gonzaga assistant Tommy Lloyd.
Lloyd informed Karnowski that Gonzaga University is in Washington State, on the West Coast.  
"I had been looking for Spokane in Washington, D.C," says Karnowski, whose first name is pronounced Schimmick.
It was an honest mistake -- and an ironic one, considering Gonzaga's history of success with international big men. Four years later, Karnowski is now a 7-foot-1, 288-pound junior center for the 10th-ranked Bulldogs, and he can laugh at his own ignorance when recounting the story. One of the most successful programs in the nation over the past 15 years – only Duke and Kansas have won more games since the start of the 1998-99 season -- Gonzaga has long since solidified itself as a premier mid-major. The Bulldogs have done so, in part, with great backcourt play, a staple of all top programs. But guards, Lloyd says, are only as effective as the post players they throw the ball to.
"We've always had good guards, but we've also always had bigs who were at an All-American type level," Lloyd says. "That's usually the difference between top 25 programs and programs trying to get there: Established post presence."
• WINN: The epic, international recruiting story of the Sabonis family
When Lloyd accepted an assistant coach's job at Gonzaga in 2001, head coach Mark Few told him he needed to find his own niche for bringing in recruits. A native of Kelso, Wash., Lloyd grew up with a steady stream of exchange students going in and out of his house, giving him a comfort and familiarity with different cultures, particularly European ones. He doesn't speak any other languages, but he quickly immersed himself in international travel, hunting for players.
"It's become pretty fruitful for us," Lloyd says. "Now, we focus on them and we're committed to building around them. We treat them as our McDonald's All-Americans."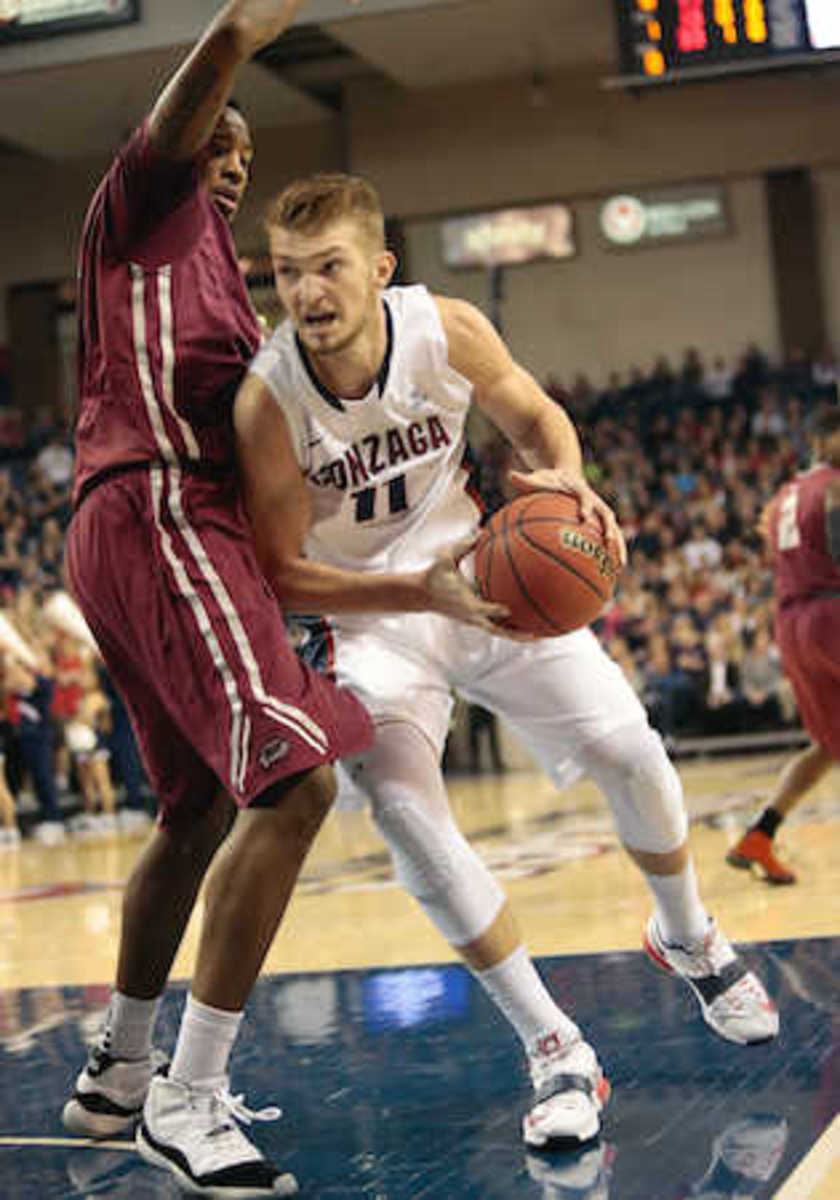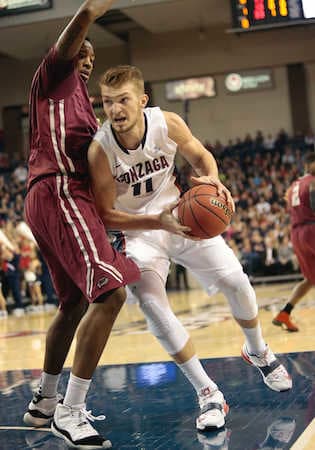 Among the standout foreign imports Lloyd has helped bring to Gonzaga are Brazil's J.P. Batista, Germany's Elias Harris, Canada's Kelly Olynyk and Robert Sacre, and France's Ronny Turiaf, as well as Karnowski and this year's highly-touted freshman, 6-10 forward Domantas Sabonis, a Lithuanian and the son of Trail Blazers legend Arvydas Sabonis.
All of those players are big men, and they have helped Gonzaga level the playing field against schools like Arizona, Duke, Kentucky and North Carolina that routinely snatch up the best domestic post players.
"There are so few big men, and while there's not a ton more in Europe, we've been able to tap into them," Lloyd says. "But it's not like you go over there and there are 7-footers on every street corner in Paris." 
Lloyd's first major foreign recruit was Turiaf, a 6-10 center who grew up in Martinique, France, and attended high school in Paris. Now a member of the Minnesota Timberwolves, Turiaf was a three-time All-West Coast Conference selection and the WCC player of the year as a senior in 2005. Perhaps more important, he started the pipeline of talented, and sometimes underrecruited, international players to Gonzaga.
"Ronny made it tangible for kids over there," Lloyd says. "It gave them a real, direct example of someone who was similar to them: A big guy not from the States who has a European style of play and who had success here.
"We can tell them, 'Hey, these guys have been our leading scorers, our go-to guys. We're committed to making it work."
With Turiaf, who had never heard of Gonzaga or Spokane until Lloyd started recruiting him, Lloyd had to provide an all-around education, detailing both the basketball program and the town. Thirteen years later, his pitch is the same, even though top European players are often familiar with the Bulldogs. He sells Spokane's small town feel, which makes it easy for players to build relationships and is thus crucial for kids thousands of miles from home.
• CBB POWER RANKINGS: Gonzaga lands at No. 6
Recruiting is all about opportunity cost, and Gonzaga has discovered that putting time, resources and money into Europe often yields success. Lloyd says European big men often bring a more complete skill set to the Zags, though they sometimes aren't prepared for the style of play.
"Things that are fouls over in Europe are not fouls here," Sabonis says, laughing. "They light you fight a little more on the block. You have to be much more physical here."
But the players' maturity works to their advantage: If they're a good player at a young age, they often move up and face much older competition. If Lloyd watches a 16-year-old prospect score in double figures on a team full of 25- to 30-year-olds, that player's game will probably translate well to college basketball. Lloyd discovered Karnowski in 2010 at the U-17 World Championships. He had gone there to recruit Kevin Pangos, now Gonzaga's senior leader at point guard, and noticed Karnowski, who averaged 14.5 points and 11.0 rebounds in the tournament.
That head start helped secure Karnowski's commitment over Cal in May 2012. But despite that international experience, Karnowski had much to learn upon arriving in Spokane that fall.
"Before every drill, I would ask about 100 questions," Karnowski says. "Even before warmups."
Karnowski caught on quickly, averaging 5.4 points and 2.6 rebounds in a reserve role as a freshman. He moved into the starting lineup as a sophomore and averaged 10.4 points and 7.1 rebounds while leading the Zags with 62 blocked shots. As a junior, he's averaging 9.0 points and 5.8 rebounds for the Bulldogs, who are off to a 4-0 start.
The trick for Gonzaga's coaches, says Lloyd, is getting Karnowski to believe in himself. "I don't know if he always understands how good he is, which is pretty unique," Lloyd says. "Usually it's the opposite for kids. We just have to keep developing his confidence."
Hoop Thoughts: Thanksgiving week tournaments, Coach K Q&A, more
Meanwhile, Sabonis, the team's latest significant import, oozes confidence. He is leading the Zags with 14.0 points and 7.5 rebounds per game, and though he is lauded for his toughness, he has also displayed a feathery touch around the basket and deceptive athleticism. Late in Gonzaga's 72-56 win over SMU on Nov. 17, freshman point guard Josh Perkins found Sabonis off a pick and roll and lobbed the ball toward the hoop. Sabonis' timing was off when he jumped for the pass, a miscue that would lead most players to merely tip in the ball. Instead, Sabonis recovered in midair, and slammed it down with one hand.
The lineage of impactful Bulldog big men being continued by Karnowski and Sabonis actually goes back further than Turiaf and further than Llyod. It dates to a homegrown product, Casey Calvary, a native of Tacoma, Wash., who started on the 1999 team that made it all the way to the Elite Eight and established Gonzaga as a mid-major powerhouse. Calvary is now retired and lives in Spokane, and he sometimes works out with Karnowski, refusing to back down despite being five inches shorter and 14 years older.
"He competes every single time," Karnowski says. "He wouldn't take any breaks. I would score one basket and he would get so mad, he would score the next five. I had to take it seriously."
As Karnowski has gotten better on the court, he has also grown more comfortable off it. He still misses his parents and Polish food like schnitzel -- a boneless meat coated with flour, beaten eggs and breadcrumbs -- but now, even after he's made the 27-hour journey back to his native country, he finds himself missing Spokane.
Back in 2010, when Gonzaga first started recruiting him and before he even knew where his future home was located, Karnowski would often stay up until 2 or 3 a.m., studying the Bulldogs on video with his father, Bonifacy, a basketball coach back in Poland. His biggest takeaways then are the same he tries to pass on to other young Europeans now.
"This is a great place for international players," he says. "And it has a great history of great big men."