Hoop Thoughts: Lessons from the Bahamas, charge troubles and more
Seth Davis' Hoop Thoughts breaks down the lessons learned for Battle 4 Atlantis teams, including Wisconsin, Oklahoma, Florida and UCLA, and reveals Seth's AP Top 25 ballot.
NASSAU, The Bahamas -- Now this really beats working for a living.
Last week, for the fourth straight year, I had the pleasure of bringing my family to Paradise Island, which has become the epicenter of the college basketball world during Thanksgiving week. The Battle 4 Atlantis was once again the premiere early season tournament. The eight-team field included five teams that were either ranked or had been ranked at some point this season.
For three days, I sat courtside in the Imperial Ballroom, where I served as a color commentator for AXS TV, the Mark Cuban-owned cable network that normally specializes in music specials and MMA events. While ESPN broadcast the afternoon doubleheaders on the championship side of the bracket, we handled the evening sessions on the consolation side. The setting was spectacular, but the hoops was even better.
It was, of course, no surprise that the Wisconsin Badgers emerged as champions. But the real value in these events is the way they provide teams and coaches with a valuable opportunity to learn their respective strengths and weaknesses. That enables them to put together a plan to improve heading into conference play. After watching 12 games in three days and talking to all the coaches, I got a pretty good handle on the things everybody learned, good and bad, during their week in the Bahamas. Now it's time for my fellow Hoop Thinkers to learn them as well.
First place: Wisconsin (3-0)
Defeated. UAB, 72-43; Def. Georgetown, 68-65; Def. Oklahoma, 69-56
The good: Just what the Badgers needed to find out: They have yet another big man who can shoot from deep.
At 6-foot-9 and 220 pounds, senior forward Duje Dukan is ready to step into the pantheon of Bo Ryan players who developed slowly, waited their turn and then took advantage when the opportunity to play presented itself. In Wisconsin's three wins, Dukan averaged 27 minutes and 10.6 points while sinking 6 of his 11 three-point attempts. He was especially valuable in the championship game against Oklahoma, giving the Badgers 33 minutes, 13 points and six rebounds off the bench while Frank Kaminsky sat most of the first half with foul trouble.
• MORE CBB: Wisconsin shows it can be great when Kaminsky isn't
Wisconsin also got help from its other primary reserve, Bronson Koenig, the 6-3 sophomore guard who chipped in 14 points against the Hoyas while helping the Badgers overcome a nine-point deficit midway through the second half. Sophomore forward Vitto Brown did not get a lot of minutes in the Bahamas, but coach Bo Ryan told me on Friday night that he expects Brown to be a bigger part of the action moving forward.
The Badgers aren't real deep, but with this lineup they don't have to be. They are efficient and cohesive. The play from the bench guys also makes them resilient.
The bad: True, there aren't many players in college basketball like Georgetown center Joshua Smith, a 6-10, 350-pound behemoth with soft hands and light feet. Still, it was striking to watch the Badgers -- and Kaminsky in particular -- struggle against the stronger, quicker Hoyas. Kaminsky was out of it the whole game, shooting 1-for-8 from the field and finishing with six points in 37 minutes. Wisconsin's guards also had a hard time containing Georgetown's D'Vauntes Smith-Rivera, who torched the Badgers for 29 points while making 5-of-6 from three-point range. The game was a stark reminder that while Wisconsin's system is hard to beat, the Badgers are capable of getting "out-talented" if they go up against a quicker, more physical team that can make jump shots.
When I asked Ryan what his biggest concern was coming out of the Bahams, he cited his team's turnovers. The Badgers coughed it up 35 times in three games here. That might not seem like a lot, but given that they led the nation last season in fewest turnovers at 8.1 per game, that is more than Ryan would like to see. Kaminsky had the most with eight. "That's uncharacteristic of us, but it's also due to the defensive pressure faced," Ryan said. The pressure is only going to get tougher, so the Badgers need to take better care of the ball.
Second place: Oklahoma (2-1)
Def. UCLA, 75-65; Def. Butler, 59-46; Lost to Wisconsin, 69-56
The good: Sorry to sound (smell?) like the skunk at the garden party, but the Sooners' runner-up performance was not quite as sweet as it seems at first blush. Yes, they beat UCLA, but the Bruins were throttled in far more convincing fashion by North Carolina. Yes, they handled Butler, but the Bulldogs were hung over from their upset win over UNC the day before. And yes, they led Wisconsin by a point at the half, but that was largely because Frank Kaminsky was limited to just six first-half minutes because of foul trouble. Once the Tank was in the game fulltime, the Sooners were badly overmatched.
Still, for a team to finish second at such a prestigious tournament after blowing a lead and losing at Creighton the week before is definitely encouraging. Sooners coach Lon Kruger told me that his emphasis has been on instilling a defense-centric identity, and his team responded well. Oklahoma held UCLA and Butler under 40 percent shooting from the field, and it won the battle of the boards in two of the three games. Best of all, Oklahoma held huge advantages from the foul line in all three games -- including a 17-6 advantage in made free throws against Wisconsin. Overall, Oklahoma was a remarkable 57-for-71 (80.2 percent) from the stripe.
The bad: I got a chance to spend some time with Oklahoma junior guard Buddy Hield, and he is just a terrific young man. Hield is a native of the Bahamas who exudes the loving spirit of the islands. On Wednesday night, he invited the entire team to an uncle's house, where they were treated to an enormous native meal cooked by Buddy's mom.
Given that it was such a big week for Hield, we can give him the benefit of the doubt that he was trying too hard to impress his friends and relatives. Because for the most part, his shooting was abysmal. Though he did go on a personal 10-0 run in the second half of the win over UCLA, it took Hield 19 shots to score his 24 points in that game. In the other two, he was a combined 4-for-19 from the field (3-for-15 from three). In fact, as a team Oklahoma shot a combined 17-for-75 from behind the arc. Are the Sooners really that bad a long-range shooting team? Or were they simply off?
Finally, it was alarming that Oklahoma committed 21 turnovers against a Wisconsin team that does not play disruptive defense. Ditto for Butler, which forced Oklahoma to commit 16 turnovers. Now that Kruger has spent so much time focusing on defense, I expect he will head back to Norman and start drilling his guys on their halfcourt offense again. Oklahoma should be better at that aspect of the game than it showed in the Bahamas.
Third place: Butler (2-1)
Def. North Carolina, 74-66; Lost to Oklahoma, 59-46; Def. Georgetown, 64-58
The good: Wisconsin may have captured the championship, but there's no question who the big winner was at the Battle 4 Atlantis.
Interim coach Chris Holtmann takes over Butler's turnaround mission
Butler had a disastrous 2013-14, finishing ninth in its first season in the Big East. It was also the program's first year without Brad Stevens. His replacement, Brandon Miller, is on a medical leave of absence. With Miller's top assistant, Chris Holtmann, taking the reins, the Bulldogs won their first three games of the season, but that was against light competition. There was no way of knowing how the team would fare against a quality field. "I've been thinking in practice that we have a chance to compete against NCAA tournament teams, but you don't know that until you face them," Holtmann said.
So the best thing Holtmann learned about his team is that it not only can compete against good teams, it can beat them. The Butler Way was in full effect in the Bahamas. Using patience, toughness and precision, the Bulldogs controlled their game against North Carolina from start to finish, and they fended off a plucky Georgetown squad in the third-place game. Their toughness was especially evident against the Tar Heels, when the Bulldogs beasted their way to 29 offensive rebounds, which led to 15 more field goal attempts than North Carolina had.
The return to the culture that produced two appearances in the NCAA championship game is largely owed to Roosevelt Jones, the 6-4 junior guard who missed all of last season with a hand injury. Jones still has the ugliest shooting form in the country, but his contributions will never be reflected on a stat sheet. Holtmann told me that Jones is so intense that he often has to settle him down in practice. "He brings an edge every day," Holtmann said. "I talked to Brad [Stevens] last week, and he said, 'He just raises the level of the room.' Rose is the reason we have some of our nastiness back."
The bad:Kellen Dunham is normally an elite shooter, but he went 3-for-17 (1-for-10 from three) in the win over North Carolina. The next day, Holtmann showed him clips of his shots to underscore the point that Dunham needs to show more patience when his shots aren't falling.
After garnering such an emotionally uplifting upset of the Tar Heels, it's understandable that the Bulldogs wouldn't come out with the same edge just a day later. Oklahoma pounced, and the game was never close. The loss revealed that this team is not talented enough to coast against any opponent, much less one as good as Oklahoma. "There has to be an edge to how we play," Holtmann said. "If we're not really locked in and dialed in, we'll lose games against teams that people don't think we should lose to." That's a hard thing to sustain over the course of a long season.
As a postscript, the situation with Miller is coming to a decision point in early January. That's when his federally mandated 12-week medical leave will expire. (Out of respect for Miller's privacy, no one at the school is revealing the reason for his leave.) At that point, if Miller is unable to return, then athletic director Barry Collier will have to decide on a plan moving forward. He can pretty much do whatever he wants, including giving Miller more time off (paid or unpaid). But if Miller doesn't return to the program, I would not be surprised to see the job being given permanently to Holtmann, who was hired by Miller last year after spending three years as the head coach at Gardner-Webb. Butler's culture has always been to promote from within, and although it is a small sample size, it appears Holtmann is qualified to take over this storied program. Hopefully, though, Miller will be ready to return in January and Collier won't have to make that choice.
Fourth place: Georgetown (1-2)
Def. Florida, 66-65 (OT); Lost to Wisconsin, 68-65; Lost to Butler, 64-58
The good: It's such a fickle game. The Hoyas almost lost to a struggling Florida team, and they almost knocked off a Final Four favorite in Wisconsin. Yet, they left the Atlantis with a 1-2 record. When I asked John Thompson III after the loss to Butler to tell me some of the good things he learned about his trip during this tournament, he had a hard time setting aside his frustration. "It's really hard," he said, "because we lost two."
A minute later, however, Thompson was speaking in cautiously optimistic tones about the play of his four freshmen. L.J. Peak, a 6-5 guard, came to the Atlantis as the team's leading scorer, and 6-8 forward Paul White made some critical contributions off the bench. In the waning seconds of overtime against Florida, White made a terrific decision in the open court by finding D'Vauntes Smith-Rivera, who nailed the game-winning shot. But the best development of the week was the play of much-heralded 6-9 forward Isaac Copeland in the loss to Butler. Copeland played his most extensive time of the season (24 minutes) and he chipped in 16 points on 7-for-10 shooting. "We threw him out there and he looked good, so he stayed out there," Thompson said. "He finally looked relaxed. Maybe the clouds opened up for him a little bit."
The bad: Much of the conversation about Georgetown is going to center around Joshua Smith, because there is no one else in college basketball like him. When Smith is in the game, he is tough to deal with. But is he dependable? Against Butler, both he and his frontcourt mate, 6-9 senior Mikael Hopkins, were "in a funk," as Thompson put it. That's why Georgetown lost.
As for Smith-Rivera, he was absolutely stellar against Wisconsin, with his aforementioned 29 points coming in 37 minutes and 11-of-18 shooting from the field overall. But as good as he was against the Badgers, he was that bad in the other two games, missing all nine of his three-point attempts. It is a little unsettling to see a team depend so much on a single player. Smith-Rivera has some broad shoulders, but as good as he is, he can't carry this load by himself.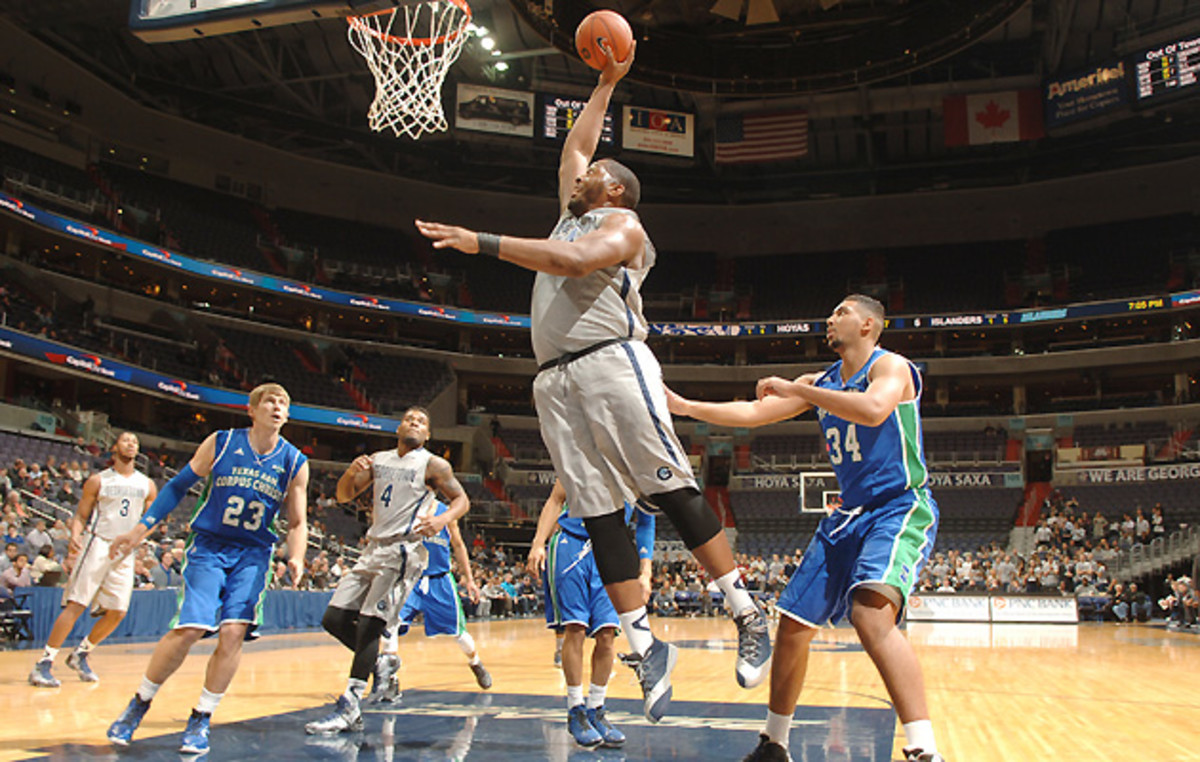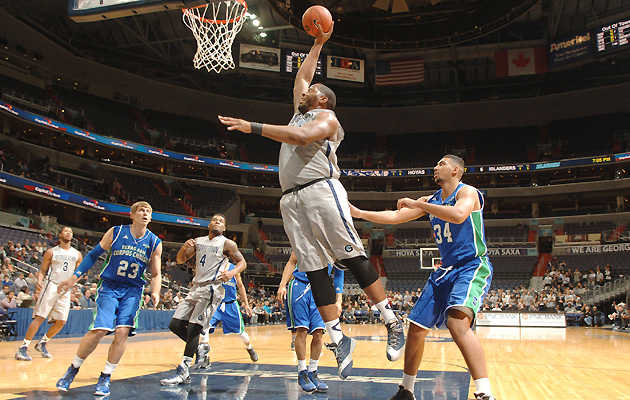 Fifth place: North Carolina (2-1)
Lost to Butler, 74-66; Def. UCLA, 78-56; Def. Florida, 75-64
The good: Coaches love to say their teams can learn just as much in a win as a loss, but I disagree. If the Tar Heels had managed to come back and defeat Butler, they would not have appreciated just how important it is to compete no matter what team you're playing.
UNC coach Sylvia Hatchell relishes return to bench after cancer battle
North Carolina played Butler on the first game of the first day, and it was apparent that the players believed that simply by rolling out of bed and putting on that special uniform, they could beat an undermanned opponent. How else to explain that a team with just one player taller than 6-8 collected 29 offensive rebounds against one of the nation's longest, deepest and most athletic frontcourts? Butler outhustled North Carolina from tip to buzzer. With about eight minutes to go, the Bulldogs led by 14 points, and the Tar Heels never really threatened from there.
The North Carolina team that took the floor 29 hours later against UCLA was a totally different squad. Roy Williams shook up his starting lineup, and his players got the message. The Tar Heels harassed the Bruins all over the floor, forcing them to commit 23 turnovers and holding them to 1-for-14 shooting from three-point range. Sophomore forward Isaiah Hicks took advantage of being promoted to the starting lineup by repeatedly banging bodies and diving on the floor en route to finishing with 10 points and three rebounds in 17 minutes of action. UCLA had just nine offensive rebounds. The Tar Heels came out with that same sense of purpose on Friday against Florida. That game was not as close as the 11-point margin would indicate.
If these players didn't know it before, they know it now: You're only as good as your effort. The Tar Heels can lose to just about any opponent if they take that team lightly. They'll lose more games this season, but I doubt it will be for that same reason.
The bad: This is an unconventional lineup. You've heard of the phrase "four around one" to describe a lineup of four guards around one center. North Carolina flips that script. The starting lineup features junior point guard Marcus Paige and four forwards. Freshman forward Justin Jackson kind of looks like a shooting guard, and he did hit a pair of three-pointers against the Gators, but he is also a shaky ballhandler. That means North Carolina is susceptible against pressure (the Heels turned the ball over 19 times each against Florida and Butler), and it makes them easy to defend in the halfcourt.
With this kind of roster, it is imperative that North Carolina becomes one of the best rebounding teams in the country. Right now, the Heels are ranked 16th in offensive rebound percentage, per kenpom.com, but they are 303rd in defensive rebound percentage. That is not good enough.
It's also evident that foul shooting has the potential to be a problem again this season. Last year, North Carolina was ranked 343rd in the country -- and that was with Paige ranking sixth nationally at 88 percent. Part of becoming a better free throw shooting team is getting your better shooters more opportunities, and as the tournament went on, North Carolina did a better job of that. After going 18-for-32 against Butler, the Heels were 14-for-19 against UCLA and 23-for-31 against Florida. That's encouraging, but this is still a concern moving forward.
Sixth place: Florida (1-2)
Lost to Georgetown, 66-65 (OT); Lost to North Carolina, 75-64; Def. UAB, 56-47
The good: There's no way to sugar coat this. The Gators are a really, really bad offensive team right now. It's hard to believe, but in their first six games this season, Florida has yet to score 70 points. Even against UAB, which was by far the least-talented team in the field, the Gators trailed by a point with fewer than four minutes to play before ending the game on a 10-0 run, mostly from the free throw line. These problems can only partly be attributed to injuries suffered earlier in the season by 6-8 junior Dorian Finney-Smith (wrist) and 6-2 junior Eli Carter (foot). Both of those guys played in the Bahamas, although Carter did not play against the Blazers.
Judging by his comments throughout the week, Billy Donovan seemed to take heart that his players are now well aware of just how much work they have to do. There's no more hiding for them, and while that can be a painful lesson, it is also a beneficial one.
Beyond that, after watching the Gators at such a close vantage point, I can't fault their effort. They didn't play well, but they did play hard. Even though they trailed North Carolina by 17 points midway through the first half and by 15 with eight minutes to go, the Gators fought back and cut the deficit to eight points in the final two minutes. It was also encouraging to see sophomore guard Kasey Hill's confidence grow as the week went on. Hill has made just one three-pointer all season, but he is starting to figure out where his midrange sweet spots are. He also drove the ball much more aggressively in the North Carolina game, when he went 10-for-12 from the foul line. Hill is Florida's most important player, so the more efficient and confident he plays, the better this team will be.
The bad: My guess is that the Gators' injury issues are going to linger a while. Finney-Smith has two hairline fractures on his left, non-shooting hand. Carter has a badly sprained foot. Those are the types of maladies that only get better through extensive rest, but Florida cannot afford that right now. The problem is that when those two guys have played, they haven't been very productive. Finney-Smith, after scoring 16 against Georgetown, scored 10 points combined against UAB and UNC, while Carter shot a combined 2-for-16 in the two games he played in.
Moreover, it's apparent that 6-10 sophomore forward Chris Walker is nowhere near ready to be an impact offensive player. If Walker dedicates himself to rebounding, shot blocking and scoring off putbacks, he can be an effective weapon. He's also a decent foul shooter. Also, it is beyond comprehension why Jon Horford, the 6-10 transfer who made a total of one three-pointer in three years at Michigan, suddenly fancies himself the second coming of Chandler Parsons. Horford took 10 three-pointers in the Bahamas and made just one. This team desperately needs Horford to establish himself on the block to get the offense going, but so far he seems unwilling to play that role.
Seventh place: UCLA (1-2)
Lost to Oklahoma, 75-65; lost to North Carolina, 78-56; Def. UAB
The good: This is a year of transition for UCLA, which lost four starters from last season's Sweet 16 team. Steve Alford is going to have to depend heavily on his freshmen, and each of them showed promise. Kevon Looney, whose 6-9, 220-pound frame and No. 5 jersey number reminds me of a young Lamar Odom, has an incredible knack for rebounding. He pulled down 15 boards (including seven offensive) in the loss to Oklahoma, and the team really missed him when he encountered foul trouble against North Carolina. Isaac Hamilton, a 6-4 guard, bounced back from an awful performance against the Tar Heels (0-for-6 shooting, one assist and seven turnovers in 31 minutes) to have his best game of the season the next day against UAB (21 points, 5-for-9 from three). And backup center Thomas Welsh had a breakout week, combining for 24 points and 18 rebounds in the three games. Welsh is 7-feet, 245 pounds, but he is not strong in his lower body, so he's going to get pushed around. However, he is very skilled. As his confidence grows, he's going to become a problem for opposing teams in the Pac-12.
The bad: When I asked Alford late on Friday night what he liked best about his players' performance in the Bahamas, he cited their character. I got what he was saying, but I have to say, they did not show much fight on Thursday against North Carolina. The young Bruins walked into a buzzsaw, and about the midway point of the second half, they flat-out quit. That is unacceptable.
Long-term, however, the biggest problem this team is going to have is a lack of depth on the perimeter. That issue was exacerbated in the fall when Jon Octeus, a 6-4 graduate transfer from Colorado State, was denied admission to UCLA. (He ended up at Purdue, where he is averaging 7.5 points and 3.5 assists in 23.8 minutes.) Sophomore Bryce Alford had committed just six turnovers (to 41 assists) coming into the Battle 4 Atlantis, but he had eight turnovers and only four free throw attempts in the two losses.
• CBB POWER RANKINGS: Kentucky, Wisconsin, Duke are 1-2-3
Hamilton, meanwhile, stunk up the joint against UNC, but he still played 31 minutes because Alford had nowhere else to turn. That's a scary place to be.
Finally, the Bruins shot 9-for-21 from the foul line against Oklahoma and 21-for-33 against North Carolina. On the season, they have made 66 percent, which ranks seventh in the Pac-12. For a team without a whole lot of margin for error, this could be a long-term problem.
Eighth place: UAB (0-3)
Lost to Wisconsin, 72-43; Lost to Florida, 56-47; Lost to UCLA, 88-76
Sunday roundup: Texas beats UConn at buzzer for latest impressive win
Nick Norton
Norton went back to the locker room, had his wound glued up and returned a few minutes later. He finished with a season-high 17 points to go with five assists and one turnover. His pluck was infectious, even though UAB was obviously out-manned in all three games. (Conference USA is the official host of the Battle 4 Atlantis, so the league automatically gets one entrant each year.) "He's the best shooter on our team, he's a big-time playmaker and he's tough as nails," UAB coach Jerod Haase said. "His problem is he doesn't look to shoot enough. He can't act like a freshman. We're trying to get all of our young guys to get out of their comfort zones."
The bad: Haase has a challenging rebuilding job ahead of him. After the Blazers lost all-conference guard Chad Frazier in the offseason (Frazier turned professional after he was arrested and charged with third-degree domestic violence), they were left with a roster that includes 10 freshmen and sophomores. A few of their players showed some potential -- Virginia Tech transfer Robert Brown had 16 points against Wisconsin, and 6-9 sophomore forward Tosin Mehinti can be a load on the block --but it was pretty clear that this group is at least a year away from being able to compete with the caliber of teams that were in this tournament.
Continue reading: Hoop Thoughts, games to watch and Seth's top 25
[pagebreak]
Other Hoop Thoughts
• Rutgers, a member of the Big Ten, scored 26 points in a basketball game on Saturday. That is not a typo.
• Looks like LSU's loss to Old Dominion two weeks ago wasn't so awful after all. The Monarchs beat VCU at home on Saturday to improve to 5-1. ODU won the game because it committed only 12 turnovers against VCU's Havoc. As I've always said, if you can take care of the ball against that press -- and that is a big if -- then VCU is just another good team.
• Apparently there are a lot of folks who think there are too many charges being called. Believe me, I feel ya. So let me offer a couple of thoughts.
First of all, by and large, I think the refs are calling the block/charge rule correctly as it is written. The problem lies in how it is written. Everybody seemed to like the change made last season requiring the defender to be set before the shooter goes into his upward motion. The rule was changed back because the rules committee deemed it to be too difficult to officiate. That is ridiculous. I mean, they only tried the rule for one season!
The reason it is so easy to draw charges in college basketball is because there are around 350 teams in Division I, and most coaches know their players are not as good as the ones who play at the top 40 schools. That's the bottom line.
I'm hoping that next year we go back to the old/new rule, which forces the defender to be set earlier than the rule currently requires. But the bigger change that I believe is coming is an increase in the size of the arc under the basket. Right now, the radius is three feet, but I believe that next season it will be increased to four feet, which is the where the NBA has it. If those two changes are made as I hope and believe they will be, then that will bring this controversial play into better balance.
Having said all that, I also vehemently disagree with the line of argument that there is basically no place for the charge call in college basketball. This is supposed to be a finesse game. No offensive player should be allowed to plow over a defender who is in solid guarding position. The block/charge rule needs to be changed, but not eliminated. Mend it, don't end it.
• So George Mason's Jalen Jenkins hit a 75-foot game-winner to beat Manattan on Saturday. (Watch the video below.) Incredible, right? Well, here's how the Associated Press' recap of the game began: "Jalen Jenkins sank a 3-pointer with one second left to give George Mason a 64-63 victory over Manhattan on Saturday." Strike up the bland!
• Keep your eye on Seton Hall, folks. The Pirates are off to a 5-0 start and not one of those wins came over a full-fledged cupcake. That includes Saturday's 58-54 win at home over George Washington, which made the NCAA tournament last year. We'll know whether the Pirates are legit a week from Tuesday when they play at Wichita State. But given the recent history of this program, Kevin Willard's team has every reason to be excited by this start to the season.
• Just an awful break (literally) for Maryland, which is losing its leading scorer, Dez Wells, for four weeks because of a fractured right wrist. Wells had 14 points, nine rebounds and four assists in the Terps' upset of Iowa State last week in Kansas City. I hope for Maryland's sake he's a fast healer.
• Speaking of which, it was a stroke of brilliance pairing Maryland and Virginia in the Big Ten/ACC Challenge. Whoever thought of that earned his paycheck that day.
• Not sure anyone had a better Thanksgiving than Ole Miss. The Rebels were still smarting from their season-opening loss at home to Charleston Southern, but they beat Creighton and Cincinnati to capture the Emerald Coast Classic in Florida. Andy Kennedy has himself a find in juco transfer Stefan Moody, a 5-10 Nate Robinson-type who lit up the Bearcats for 26 points.
• I was very impressed with St. Johns' near-comeback over Gonzaga in the NIT final at Madison Square Garden. The Johnnies fell short to a great team, but they showed some pluck in cutting a 15-point deficit to three with a minute left. Too bad there were so many fans there dressed as empty seats. Official attendance: 5,548.
MORE CBB: Gonzaga's secret to sustained success? Importing big men
• Ho, hum, another Thanksgiving week is done, and Ohio State never left Columbus. They hosted the Buckeye Classic featuring the likes of Sacred Heart, Campbell and James Madison. The Buckeye Classic will continue in December featuring ... wait for it ... Colgate, High Point and Morehead State. I give Thad Matta credit for signing up to play North Carolina in Chicago in the inaugural CBS Sports Classic on Dec. 20, but the Buckeyes' only true nonconference road game (at Louisville on Tuesday) was forced upon them by the conference because it is in the Big Ten-ACC Challenge. This is a big-time program, right? Can't they just step it up a little?
• I've said it before, I'll say it again. I see all these holiday tournaments where the coaches all dress in golf shirts and slacks, and I wonder why they don't just dress that way all the time. Wouldn't they rather be comfortable? When did coaching basketball become a fashion show?
• I have so much respect for college big men like North Carolina's Kennedy Meeks, Iowa State's Georges Niang and Texas' Cameron Ridley for acquiring discipline with respect to their eating habits and losing so much weight. I can only hope that Georgetown's Joshua Smith is able to find a way to do the same. There's a lotta money waiting for him if he does.
• Amazing win for Texas up at UConn, but the Longhorns need point guard Isaiah Taylor to get back in the worst way. There are more talented players on that roster, but no one who is nearly as valuable.
• Is it just me, or am I seeing a lot more missed dunks this season? Guys are more interested in getting style points than actual points.
• Now that Steve Wojciechowski has left Duke to coach Marquette, you'll notice he is playing a lot more zone. That's just where the world is heading.
• How about all those points scored in the Iron Bowl? Any chance college hoops can get the offense going like football has these last few years?
• I wish a team would just go all T-shirts already, a la Georgetown circa 1983. You gotta commit to it.
Five Games I'm Psyched to Watch This Week
Syracuse at Michigan, Tuesday, 7:30 p.m., ESPN
The Cuse looked pretty bad in losing by 14 points to Cal at Madison Square Garden. And although they bounced back with a three-point over Iowa the next night, they have had two really easy ones at home in Loyola and Holy Cross, which the Orange beat by a combined 67 points. Newfound confidence? Or a result of weak competition? I'm thinking it's more of the latter. Michigan is soft up front, but its three-man perimeter is about as good as you'll find, and the Crisler Center advantage should be enough to carry the day. Hail to the Beileins.
Michigan 76, Syracuse 67
Ohio State at Louisville, Tuesday, 9:30 p.m., ESPN
Louisville has been feasting on really weak teams, and if this game weren't being played at the KFC! Yum Center, I'd go with the Buckeyes. But as I noted above, Ohio State also has had an easy go of it thanks to a soft, home-cooked schedule. For once, the Buckeyes are the deeper team in a big game, but the Cardinals' starting five is just too strong.
Louisville 74, Ohio State 68
Duke at Wisconsin, Wednesday, 9:30 p.m., ESPN
I've already watched both these teams play three games in person, so I feel pretty qualified to judge how they will match up. And everywhere I look -- except location  -- tilts toward Duke. After seeing how Frank Kaminsky was banged around by Georgetown's Joshua Smith, I have to believe that Blue Devils freshman Jahlil Okafor will be effective as well. As is often the case, even when Wisconsin is controlling a game it doesn't put up a ton of quick points. The way to beat the Badgers is by taking care of the ball and making jump shots. Duke has lots of guys who can do that. If those shots are falling, and if Okafor stays out of foul trouble, then the Blue Devils should win.
Duke 78, Wisconsin 77 (OT)
Wichita State at Utah, Wednesday, 11 p.m., ESPN2
The Utes couldn't quite get their we-have-arrived moment at San Diego State two weeks ago, when Delon Wright shot 2-for-13 in a four-point loss, but I think they'll get it here. This will be the biggest game the Huntsman Center has hosted since Rick Majerus patrolled the sidelines, and it should be a wonderful environment. I'm a big Wichita State fan, but I don't think the Shockers have the pop in the paint that they did last season. That will cost them on the road.
Utah 72, Wichita State 70
Arkansas at Iowa State, Thursday, 9 p.m., ESPN2
I give Maryland a ton of credit for knocking off a good Iowa State team last week, but the reality is that the Cyclones shot 6-for-27 from three-point range. Georges Niang was 4-for-14, which has helped drive his field goal percentage down significantly from where it was last season. A little Hilton Coliseum magic is just what the doctor ordered. But Arkansas, led by the outstanding 6-11 sophomore forward Bobby Portis (15.2 ppg, 5.6 rpg), is not the road patsy it has been the last few years
Iowa State 80, Arkansas 76
This Week's AP Ballot
* (Last week's rank on my ballot in parentheses)
1. Kentucky (1)
2. Arizona (2)
3. Wisconsin (3)
4. Duke (4)
5. Kansas (5)
6. Gonzaga (6)
7. Louisville (7)
8. Texas (8)
9. Wichita State (10)
10. Virginia (11)
11. Villanova (12)
12. San Diego State (14)
13. North Carolina (9)
14. Michigan (15)
15. Ohio State (17)
16. Michigan State (19)
17. West Virginia (20)
18. UConn (21)
19. Utah (22)
20. Oklahoma (NR)
21. Maryland (NR)
22. Iowa State (16)
23. Butler (NR)
24. Washington (NR)
25. Northern Iowa (25)
Dropped out: VCU (13), Florida (18), UTEP (23), Rhode Island (24)
Once again, when I released my rankings on Twitter Sunday night, the most questions I received surrounded my decision to leave Kansas at No. 5 despite its shellacking at the hands of Kentucky two weeks ago. And yet, is it really that ridiculous? After all, my sixth-ranked team, Gonzaga, barely escaped unranked St. John's last week. Louisville's best win was on a neutral court over unranked Minnesota, which lost to St. John's last week. And did the Longhorns, which are without their starting point guard for the next few weeks, really look like world beaters in needing a last-second three-pointer to beat UConn?
Who knows? I still think Kansas is as talented as any team in the country besides Kentucky. It's young, inexperienced talent, but it is real, deep talent. And until somebody ranked below the Jayhawks beats them, I think I'll just keep 'em right where they're at.
Butler is back on the board for beating North Carolina and Georgetown last week. Since I saw the Bulldogs up close, I had a good chance to give them the eye test, and they passed with ease. That also helped buttress Oklahoma's case, since the Sooners dominated Butler the next day. And I figured I should reward Maryland for its undefeated record and win over Iowa State in Kansas City. I'm not sure how long the Terps can stay there, but they deserve it for now.
When I emailed my ballot to the AP on Sunday night, I designated the winner of the UTEP-Washington game to fill the slot at No. 24.
I am the only AP voter who had UTEP in my rankings last week. The Miners held on to beat Xavier in Anaheim to remain undefeated, although the bloom came off that rose on Sunday when the Musketeers lost to Long Beach State. Keep in mind that Long Beach State also has a win over Kansas State, so the fact that Washington also beat the 49ers in Anaheim went into my decision to put them in my ballot.
Northern Iowa still hangs on to my final spot with a perfect 7-0 record. The Panthers broke Stephen F. Austin's homecourt win streak two weeks ago. Are they really the 25th best team in the country? I have no idea. But as you all know, I'm a sentimental fool, and I like to reward midmajor programs for taking care of business. We'll get a good look at UNI when it travels to VCU on Dec. 13 and then plays Iowa a week later in Des Moines.
Fans have a tendency to overreact to a single win or loss, but I try not to fall into that trap. That's why I didn't rank Creighton after its two-point win at home over Oklahoma. The Bluejays justified my skepticism with that loss to Ole Miss, so they still don't have a number next to their name in this space.
I also took a lot of heat on Twitter for not ranking Miami. It was a very close call, but I just did not feel that a last-second shot to beat a struggling Florida team was by itself rank-worthy. The Hurricanes have two games this week against quality, albeit, unranked teams in Illinois and Green Bay. I'm not saying two wins would get them on my ballot, but I am definitely watching.
That game in Coral Gables is a big opportunity for Illinois as well. The Illini defeated Baylor in Las Vegas to move to 6-0, but Baylor is not a real good team right now, and this will be Illinois' first true road game. The Illini also have a huge game coming up next week against Villanova in Madison Square Garden. That's a great opportunity for Illinois to show its worth.
Another team I'm watching is Arkansas. The Razorbacks are 6-0 with a nice road win at SMU, but I want to see how they fare on Thursday night when they play at Iowa State. A win would guarantee Arkansas a spot on my ballot next week -- and how much more incentive does a team really need?