Rose Bowl Preview: No. 2 Oregon vs. No. 3 Florida State
Rose Bowl Preview: Can Marcus Mariota and Oregon get the best of Jameis Winston and Florida State?
LOS ANGELES -- The first College Football Playoff will kick off with a game that matches two Heisman Trophy-winning quarterbacks in the sport's most iconic setting. Las Vegas bookmakers don't think the game will match the hype -- Oregon is a nine-point favorite -- but Florida State still hasn't lost and a has shown a knack for winning close games. The spread is so wide because the Seminoles have won their last four games by an average of 3.5 points, while the Ducks have won by an average margin of 26 in the eight games they've played since left tackle Jake Fisher returned from a two-game absence due to injury. Still, Florida State has the best collection of athletes Oregon has faced all season, and the Ducks must recover from yet another injury to a critical player.
Points of interest
1. Clash of award-winning quarterbacks: This will be the third meeting between a pair of starting quarterbacks who own Heismans. Oregon's Marcus Mariota collected his hardware on Dec. 13, while Florida State's Jameis Winston won his while leading the Seminoles to a national title as a redshirt freshman last year.
Opposing coach's take: Sizing up Florida State before the Rose Bowl
The first meeting between two Heisman-winning quarterbacks came in the Orange Bowl following the 2004 season. USC's Matt Leinart, the '04 winner, led the Trojans to a 55-19 win over Oklahoma and '03 winner Jason White. Four years later in the same stadium, '07 winner Tim Tebow led Florida to a 24-14 win over '08 winner Sam Bradford's Oklahoma team in the BCS championship.
Mariota (38 touchdowns, 2 interceptions) had a far more efficient 2014 campaign than Winston (24 touchdowns, 17 interceptions), but Mariota also did something Winston has not done. He lost. Mariota was sacked five times in a 31-24 loss to Arizona on Oct. 2. On Thursday he'll face the fastest front seven he has seen all season. Meanwhile, Winston will have to find ways to throw over Oregon defensive linemen Arik Armstead (6-foot-8, 290 pounds) and DeForest Buckner (6-7, 290).
2. A secondary without Ifo: Winston and leading receiver Rashad Greene will not have to face Oregon's best cornerback. Ifo Ekpre-Olomu will miss the Rose Bowl after tearing an ACL in practice earlier this month. Senior Troy Hill will likely draw the assignments Ekpre-Olomu would have drawn, while redshirt freshman Chris Seisay and senior Dior Mathis will fill in on the other side.
Oregon's defense seeking to make statement against FSU in Rose Bowl
Because of the Ducks' defensive substitution patterns -- which occasionally resemble hockey line changes -- and because of the lopsided wins Oregon has racked up, the backups have played significant snaps. "I think the fact that we had [them in] at the end of some games, were able to put some guys in and get them some experience, that's always valuable," Oregon defensive coordinator Don Pellum said. "I think even more valuable is the time the guys have rotated in the beginning of those games, because they're different. That's the battle-tested part of it, and I think our system has helped us from that standpoint."
3. Seminoles at full strength: Florida State is less banged-up than it has been for most of the season. When the Seminoles faced Louisville on Oct. 30, they had three healthy linebackers. Winston injured his ankle in the same game, but he didn't miss any action. Tailback Karlos Williams suffered a concussion against Florida on Nov. 29 that kept him out of the ACC title game against Georgia Tech, but he plans to be back on Thursday. Against the Yellow Jackets, Florida State lost defensive tackle Eddie Goldman (ankle) and cornerback Ronald Darby (arm), but coach Jimbo Fisher said both should be ready for the Rose Bowl. In fact, Fisher isn't sure of the last time his team was this healthy. "I couldn't tell you," he said on Sunday. "I can't remember that far back. Maybe the first day of camp."
Burning question
Can the Ducks cover receiver Rashad Greene without Ifo Ekpre-Olomu? The physical Ekpre-Olomu might have been able to knock Greene off some of his typically perfect routes, which could have interfered with Greene's timing with Winston. Without the consensus All-America, however, the Ducks may need to utitlize more zone coverage to slow Greene. That could open up passes underneath to tight end Nick O'Leary or tailback Dalvin Cook.
Oregon's Road to the National Championship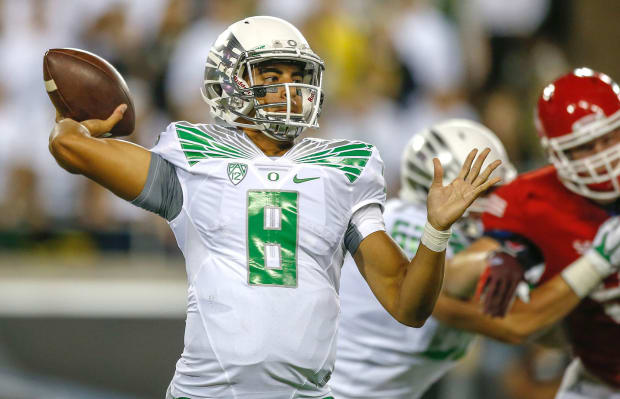 ​
X-factor
Florida State RB Dalvin Cook: Once Cook picked up the Seminoles' protection schemes and gave coaches confidence to play him more, the true freshman from Miami changed the offense with breakaway runs and reliable hands out of the backfield. Cook was at his best when Florida State was losing: With his team behind, Cook averaged 9.6 yards a carry. He's one of the biggest reasons Florida State has yet to trail at the end of a game this year. "Dalvin Cook is tremendous," Winston said. "We get that guy the ball 40 times a game, he'd have Melvin Gordon numbers."
• RICKMAN: After running into spotlight, Dalvin Cook is ready to lead
Statistically speaking
164: Florida State's offensive line starting five has 164 combined career starts, but the Seminoles starting left tackle (true freshman Rod Johnson) has four. Oregon has allowed 14 sacks in eight games after allowing 12 in the two-game stretch (at Washington State, Arizona) that left tackle Fisher missed because of an injury.
Final analysis 
If the 'Noles start slow and Winston throws an early interception or two, the Ducks could capitalize in a way that the earlier teams on Florida State's schedule could not. Oregon is explosive enough offensively to put the game out of the reach of even one of the Seminoles' trademark comebacks. However, if Florida State can keep the game close into the second half, its ability to make critical plays late in tight games will be a huge asset.
The pick
Florida State 31, Oregon 27
Florida State's Road to the College Football Playoff