Learn to Snap: How Florida State, Oregon fixed their offensive lines
Rose Bowl opponents Florida State and Oregon can both thank imaginative thinking from their respective offensive line coaches for getting the Seminoles and Ducks into the College Football Playoff.
LOS ANGELES -- Florida State and Oregon will meet in the Rose Bowl because each team's offensive line coach has an entrenched philosophy about training potential centers in case something goes wrong with the starter. Without those backup plans, neither team would have won enough games to make the College Football Playoff.
Florida State's Rick Trickett believes any lineman with NFL potential should train (at least a little) at center. "That gives you one more thing you can do that another guy maybe can't do," Trickett said. "It makes you more valuable." So after last season, Trickett asked Seminoles left tackle Cam Erving to practice snapping on occasion. Just in case. Meanwhile, Oregon's Steve Greatwood makes every offensive lineman who enters the program train at center. How long must the non-centers snap? "Until they prove to me they can't," Greatwood said.
Those contingencies came in handy this season as the Seminoles addressed midseason struggles at center and as the Ducks dealt with an injury to their steadiest lineman. Meanwhile, the overall shuffling by the line coaches for both teams helped keep their squads winning while also introducing a freshman tackle from each team who should be a future star.
Oregon's Road to the National Championship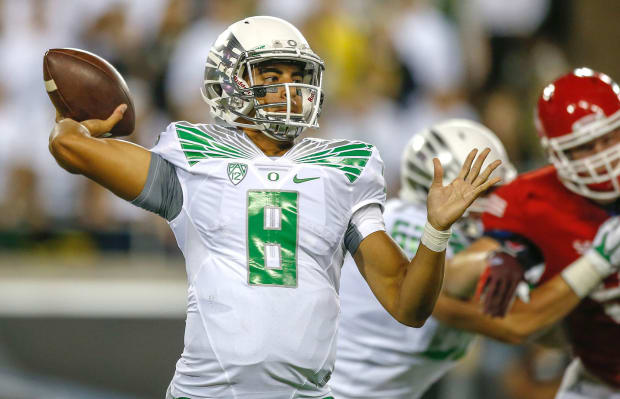 ​
Of the line coaches, Greatwood had to juggle more. Because of injuries across the line, he has started nine different combinations in 13 games. The parade of pain began with starting left tackle Tyler Johnstone's season-ending torn ACL in August and continued throughout the season. At various times, the Ducks lost tackle Andre Yruretagoyena, tackle Jake Fisher, tackle/guard Matt Pierson and center Hroniss Grasu. The injury to Fisher led to two games (Washington State and Arizona) in which the Ducks allowed 12 sacks of eventual Heisman Trophy winner Marcus Mariota. The injury to Grasu during the Utah game on Nov. 8 could have crippled the offense, but guard Hamani Stevens had been snapping at practice all along. Greatwood knew Stevens could take over without a significant dropoff.
Oregon keeps eye on title despite season plagued by major injuries
​Fisher's presence at left tackle has been a "calming influence," according to Greatwood, but the biggest surprise has been Pierson, a 6-foot-6 walk-on who came to Oregon in 2011 as a 240-pounder and has grown into a 285-pounder capable of playing three different positions. "It doesn't matter who we are," said Grasu, who hasn't promised he'll play against the Seminoles but appears to be preparing as if he will. "Coach Greatwood didn't care that Matt Pierson was a walk-on. He put him in at right tackle. He put him in at left tackle. He put him in at left guard."
Greatwood also didn't care that tackle Tyrell Crosby was a true freshman. Because of injuries, Greatwood had no choice but to start Crosby in seven games at either left or right tackle. "Every game, his confidence, his maturity level have just grown and grown," Greatwood said. "I really think he's going to be one of the dominant tackles in this conference, if not the country, by the time his career is over."
• SCHNELL: Oregon out to prove that it's more than just an offense
Trickett saw the same thing in 330-pound freshman Roderick Johnson. Johnson came to Tallahassee from suburban St. Louis ready to learn. "He's one of the smartest players I've got," Trickett said.
But was he ready to play? Trickett discovered he was when Johnson had to enter the Virginia game on Nov. 8 for a few snaps because of an injury to a starter. Johnson's readiness gave Trickett and Seminoles coach Jimbo Fisher an idea. Finding an adequate replacement for current New England Patriots center Bryan Stork had been an issue for the Seminoles all season, and Trickett feared 285-pound Ryan Hoefeld might struggle the following week against 315-pound Miami nose tackle Calvin Heurtelou. Erving, the winner of the 2013 ACC Jacobs Blocking Trophy, had been snapping well at practice. "In all my years of coaching, I've never had anybody bend over a ball and look more natural doing it than Cam did," Trickett said. Maybe, Trickett thought, Erving could play center and Johnson could replace him at left tackle.
Erving agreed quickly to the move. "Cam was good to go from the get-go," Trickett said. "Cam would do whatever. And in our room, it's team first. You might be an All-America tackle, but if you've got to play center, your ass is going to center." Johnson, meanwhile, showed no nerves as he moved into the starting left tackle spot. He knew something had changed when he arrived for the line's first meeting between the Virginia and Miami games and found himself seated alongside first-team left guard Josue Matias. "All right," Johnson remembered thinking, "here we go."
Johnson adjusted easily to the new role thanks to plenty of help. Because Erving still thinks like a left tackle, he consistently offers Johnson pointers. Meanwhile, third-year starter Matias routinely corrects Johnson on combo blocks and pass protection changes. "He helps me when I need help. I try helping when he needs help. But he knows everything," Johnson said. "When I make calls, he overrules them instantly. I just say, 'All right, Josue. Take the wheel.'" As for the actual blocking, Johnson is a natural. "If he gets his hands on you," Florida State defensive end Mario Edwards Jr. said, "you can pretty much cancel Christmas."
• STAPLES: It's Heisman QB vs. Heisman QB in the Rose Bowl
Meanwhile, Erving has adjusted quickly to center. He loves having help from Matias or right guard Tre' Jackson on nearly every snap. For a guy who often found himself on an island against the opponent's best rusher, that's a welcome respite. Shotgun snapping has proven most challenging not because of the motion itself but because of the change in view. "Sometimes you look down, then you come back up and you see something totally different," said Erving, who is accustomed to seeing the defensive line and linebackers move because a tackle never has to put his head between his legs.
Erving is happy to stay at center if it gives Florida State a chance to defend the national title. Greatwood and the Ducks will shuffle as many times as they must in order to play one more game. Unfortunately, only one reimagined line can keep playing past Thursday.