Roundtable: Who has the edge entering the national title game?
Who has the coaching edge, which player will be the x-factor and more matchups within the matchup that could determine the national championship when Oregon and Ohio State meet Monday.
The national championship can turn on the small things, whether it's one coaching decision, one matchup or one overlooked player. As Oregon prepares to face Ohio State, SI.com's college football staff discussed some details that could be critical.
Who has the coaching advantage?
Zac Ellis: It has to be Urban Meyer. Ohio State's coach has been there and done that with two national championships during his tenure at Florida. This year he lost two Heisman Trophy-caliber quarterbacks to injury and still reached the title game. Oh, and he beat SEC champ Alabama along the way. Mark Helfrich has Oregon on the verge of greatness, but Meyer is the more proven commodity.
Brian Hamilton: Meyer knows a lot about the Oregon offense because in many ways his offense is the Oregon offense, and his time spent learning its secrets from Chip Kelly cannot be underestimated. We can guess that Helfrich will not melt into a pile of goo because it is a big game. So, it's a question of strategic edge. Meyer's ability to convey the stress points of the Ducks' attack to his defensive staff provides that advantage.
Lindsay Schnell: All Urban, all the time. Haven't we learned our lesson about doubting him? He already has two rings, so he understands what it takes to win a national championship. He has proven to be adept at adjusting on the fly and coaching up a team even if it is missing important pieces. Experience matters at this level. Meyer has it.
Martin Rickman: Meyer, who has made a name for himself coaching in big games. Whether at Bowling Green, Utah, Florida or now Ohio State, Meyer always seems to bring a little extra to the sport's biggest stage. He is 8-2 in bowl games over his career. Oregon's Helfrich has done a great job, but the edge goes to the Buckeyes.
Ben Glicksman: It has to be Ohio State. Meyer has proven his prowess time and again, and this season could be his finest coaching job yet: He has taken a young team plagued by quarterback injuries and rattled off 12 consecutive wins. But this is far from a mismatch. I found this quote on Helfrich, from Florida State's Jimbo Fisher in FOX Sports' Bruce Feldman's recent story, particularly telling: "I don't see him trying to be Chip Kelly or Mike Bellotti or anything else. I see him trying to be Mark. That's why he is such a successful coach." Whatever Helfrich is doing is working. It would be unwise to overlook him again now.
Colin Becht: Ohio State, but not only because of Meyer. Yes, he is one of the top coaches in the country, but the most exceptional job on the Buckeyes' staff this year belongs to offensive coordinator Tom Herman. He has rolled with the punches of Ohio State's quarterback injuries and designed offenses to allow J.T. Barrett and Cardale Jones to succeed.
• STAPLES: Oregon's Helfrich deserves spot among FBS' best coaches
[pagebreak]
Which quarterback is under more pressure?
Ellis: Marcus Mariota. Few quarterbacks have achieved as much through two starts as Cardale Jones, who is 2-0 with a Big Ten title and a Sugar Bowl win. But what do we really know about him? He remains a huge wild card. We know plenty about Mariota, however, the Heisman winner who has more wins (35) in three seasons than any other Oregon passer. That's why he faces a brighter spotlight.
Hamilton: Given that Jones was doing cartwheels behind a teammate giving an interview on Tuesday, it's unclear whether the Ohio State quarterback has the faintest clue what pressure is. And while he has played better than anticipated through two starts and reset his personal bar, expectations on Jones pale in comparison to those on Mariota, the Heisman Trophy winner. The onus is on Mariota to deliver a championship; Jones' primary task is to not lose one.​
Schnell: Jones, no doubt. Mariota has already won the Heisman and sewn up a top-10 NFL draft spot. Jones is fighting to be the starter next year. (Heck, he might be fighting to be the backup.) His résumé is terrific, but brief. Everyone keeps waiting for him to play like the No. 3 quarterback -- he undoubtedly feels that pressure, too, and will want to continue to avoid it.
Rickman: Emotionally, it's Jones, who has been on one heck of a ride these past few weeks. But he is playing with house money. As the line from Clerks goes, he's "not even supposed to be here today." That puts the burden on Mariota, who has handled pressure-packed situations with ease all season. The Heisman winner has one more goal -- a national title -- to cap off an already incredible Oregon career.
Glicksman: Jones. Mariota will face greater expectations, though don't expect those to faze him; he has been in the spotlight all season and ran away with the Heisman vote. But this game has major implications for Jones' future, as Ohio State is set to have quite the quarterback controversy. Could Jones beat Wisconsin, Bama and Oregon and never start another game for the Buckeyes?
Becht: Even if Mariota produces a dud (unlikely given everything he has done in his career), it's hard to see his draft stock plummeting. Jones could potentially win a conference title, Sugar Bowl and national title and still lose the starting job if he doesn't prove he can do more than run and throw deep balls. With another year until he can graduate and transfer without having to sit out, he must show he is a better option than Barrett.
• ​SCHNELL: Invisible backup QB Jeff Lockie invaluable to Oregon
[pagebreak]
Which defense has the edge?
Ellis: Ohio State. Joey Bosa, Michael Bennett and crew did more than enough to prove themselves this season. They did the best job of any defense in limiting Wisconsin tailback Melvin Gordon, as he ran for just 76 yards (2.9 per carry) in a 59-0 blowout. Then Ohio State turned Alabama over three times and held the Crimson Tide to 2-of-13 on third-down conversions in the Sugar Bowl. Now the Buckeyes must prove they can be effective against Oregon's up-tempo attack.
Hamilton: Ohio State stifled Alabama, managing to hold its own or dominate in the trenches. But Oregon's offense may negate the playmaking of Bennett and Bosa, as fast as the rest of the Buckeyes may be. The Ducks will have to defend a few long balls without their best cornerback (Ifo Ekpre-Olomu), but they'll be more than familiar with whatever tempo Ohio State can muster. Oregon deserves credit for forcing roughly 983 Florida State turnovers in the Rose Bowl. The Buckeyes may be more talented, but familiarity and big-play ability puts the Ducks over the top.
Schnell: Ohio State has been statistically superior this season (the Buckeyes rank 17th in total defense, allowing 333.6 yards per game, compared to Oregon, which ranks 84th with 421.9 yards allowed per game), but no team has played better than Oregon over the last two games. The Ducks forced five turnovers in their Rose Bowl semifinal and are loaded with confidence.
Rickman: While Oregon posted an incredible team win over Florida State, Ohio State's ability to stop Alabama in the fourth quarter of the Sugar Bowl was equally impressive. Oregon has allowed fewer than 28 points in six straight games and will face a quarterback who could make a mistake or two. Mariota doesn't really do that. Both teams should score points, but if I trust anyone, it's the Ducks.
Glicksman: Ohio State. While the majority of the press this season has zeroed in on the Buckeyes' quarterbacks, defense has unquestionably been their greatest strength. The team ranks 18th nationally in yards per play allowed (4.86), sixth in turnovers gained (32) and eighth in sacks (43.0). Ohio State lost All-Big Ten tackle Noah Spence and still has a line with Bosa, Bennett and Adolphus Washington.
Becht: Ohio State is better by just about every defensive metric. The Buckeyes allow fewer yards per rushing attempt and passing attempt and get more sacks. Even if Oregon double-teams Bosa, it will still have to contain Washington and Bennett. The Ducks may be significantly better on defense than some of their past teams, but the Buckeyes are superior.
• HAMILTON: Ohio State DE Joey Bosa thrives on the edge
[pagebreak]
Which matchup will be the key to the game?
Ellis: Oregon's defensive line vs. Ezekiel Elliott. Elliott reeled off 230 rushing yards (11.5 per carry) against an Alabama defense that allowed fewer than 90 rushing yards per game this fall. In fact, his 85-yard touchdown run in the fourth quarter was the longest play from scrimmage against the Tide this year. Can Arik Armstead, DeForest Buckner and the Ducks' defensive line keep him in check?
Hamilton: Whoever has to tackle Elliott vs. Elliott. As Meyer stressed Tuesday at on-campus media day, the Buckeyes' offense is a power-run game from a spread formation. It is built to create a time of possession edge. If the powerful Elliott can get to the second level and break tackles, Ohio State can control the clock more than Oregon would prefer. If it doesn't take three or four hits to get Elliott to the ground, the Buckeyes won't be able to grind the Ducks into submission.
Schnell: Jones vs. the Oregon secondary. The Ducks are missing one of their best defenders in All-America cornerback Ekpre-Olomu (he tore his ACL before Christmas), but did well without him against Florida State, holding wide receiver Rashad Greene to six catches for 59 yards. Everyone keeps waiting for Jones to play like a third-stringer. Will it happen against this unit?
Rickman: The battle in the trenches. Ohio State's defensive line might be the best collective unit in the country. It'll square off against an Oregon offensive line that overcame injuries and fluctuations to be really consistent following a 31-24 loss to Arizona on Oct. 2. Can the Buckeyes pressure Mariota and stop the run? Or will the Ducks protect the pocket and keep their engine running?
Glicksman: The Ducks' offensive line vs. the Buckeyes' defensive line. I noted the power of Ohio State's pass rush, but Oregon's blockers have shined despite dealing with a rash of injuries. Tyler Johnstone, Haniteli Lousi, Jake Fisher, Andre Yruretagoyena, Matt Pierson and Hroniss Grasu all missed time in 2014. With a mostly healthy unit heading into Dallas, can that offensive line protect Mariota, who has only looked vulnerable when facing heavy pressure this year?
Becht: Elliott vs. Oregon's front seven. Although Jones has been impressive through his first two starts, Mariota is the quarterback to be relied upon to win the game. Jones will need some help, and Elliott could ease a lot of the pressure if he can consistently pick up yards on the ground. The running back gained 230 yards on Alabama's stingy run defense, so he should have no trouble against a much more generous Oregon unit that has allowed 4.1 yards per carry this season.
Oregon's Road to the National Championship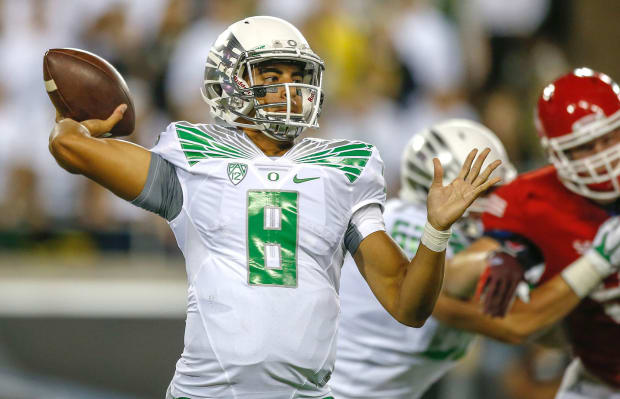 [pagebreak]
Which under-the-radar player could be key?
Ellis: Ohio State receiver Evan Spencer. Against Alabama he threw a touchdown pass on a tricky end-around play just before halftime. He also recovered a Crimson Tide onside kick in the fourth quarter. Spencer isn't a major threat in the passing game -- he caught more than one pass only three times this year -- but could make an impact against Oregon in other facets of the game.
Hamilton: How about two: Oregon's Charles Nelson and Ohio State's Jalin Marshall, the return specialists for both sides. Nelson averages 15.5 yards per punt return with two touchdowns, while Marshall has generated 12 yards per return with one score. If there is a special-teams touchdown, or even just a big play that creates impeccable field position, it could tilt the game. Neither side wants to give the other a short field at any point. Nelson and Marshall can upend that intention​.
Schnell: Oregon tailback Thomas Tyner. Among Oregon backs, most attention will go to true freshman Royce Freeman, a beast of a runner who led the Ducks with 96 rushing yards per game. Tyner has been plagued by injuries all season but looked like his healthy self in the semifinal, with 124 yards and two scores on 13 carries. He has terrific explosion through the gap and will be a major factor.
Rickman: Oregon receiver Darren Carrington, who saved his best play for season's end. The freshman wideout made eight receptions in November before exploding for 126 yards with a score in the Pac-12 title game. He followed that with seven catches for 165 yards with two scores in the Rose Bowl. Freeman, Tyner and Byron Marshall will grab headlines, but Carrington could be the key.
Glicksman: Carrington. The redshirt freshman was largely quiet this season before breaking out over the last two games. Particularly in the wake of Devon Allen's injury, Carrington should be one of Mariota's key targets and will likely be matched up with All-Big Ten cornerback Doran Grant.
Becht: Ohio State H-back Dontre Wilson. After breaking his foot against Michigan State, Wilson is set to return for the Buckeyes in the national championship. In an offense already filled with explosive players, Wilson adds one more threat Oregon will have to pay attention to -- and one the Ducks won't have seen much of on tape. He could be a similar sparkplug to Oregon's Tyner, who returned from injury to lead the Ducks' rushing attack against Florida State.
• ELLIS: 10 reasons to be excited for Oregon-Ohio State title game
Ohio State's Road to the National Championship
​