Never forget: Dean Smith was the best, and I was there at the start
Longtime SI college basketball writer Curry Kirkpatrick, a North Carolina alum, on the death of Dean Smith and the rivalry with Duke.
My favorite image of the man still remains: It is not of him calling for another Four Corners, or saluting another adoring crowd, or cutting down some more winning rope. It is a photograph of a quiet, wan and thoroughly exhausted Dean Smith propped up and grogged out against a brick wall deep within the catacombs of the Louisiana Superdome on a hazy spring night in 1982 -- his suit and tie a mess, his head bowed to the floor and blank stare brutally grim, his tongue and upper lip fighting each other to stay firm. One arm is at his side, his hand hidden, a cigarette for sure stuck in there somewhere.
A couple of North Carolina players, James Worthy and Jimmy Black, are in the middle of the photo with their senses equally hollowed out -- Worthy is sitting in a prayer pose with the strands of the Final Four net around his neck; Black appears deep in thought. Another man in the dank waiting area, UNC sports information director Rick Brewer, checks his watch -- like the others, he is trapped by the camera lens in a kind of emotional paralysis.
What time was it? It was about time. It was time to meet the media and -- on the very night Henry Fonda won his first Oscar -- discuss Smith's first national championship. The one his six previous teams that had reached the summit had not won; the one three or four teams that followed them, uninjured, might have won; the same title another team of Smith's would also win 11 long years later in the same building.
Eons before that nuanced New Orleans night; before he became a genius coach and teacher, one of sport's venerated forces of nature, even some kind of spiritual leader and humanitarian dream figure, and of course an absolute legend; before he became Dean Smith, he was an assistant nobody, appointed to save basketball at the University of North Carolina after a scandal that left the team on probation. It was 1961 and I was a freshman at Chapel Hill -- astounded like many others how this plain little guy with the needle nose and the twangy voice and the charisma of the Kansas plains (which is to say none) could possibly save anything.
It was just about a season later, though, while a reporter for the college newspaper, The Daily Tar Heel, that I began to figure it out. I was hanging out with the team on a road trip, "covering a game" in Lexington, Ky. A couple of nights before, the Heels had been blown out at Indiana and now were to face the No. 3-ranked Wildcats led by the most famous coach in all the land, Adolph Rupp, and starring the college game's young rock star, Cotton Nash.
It was right then that Smith unveiled his infamous delay offense with a little guard named Larry Brown controlling the ball and a jumping maniac named Billy Cunningham outplaying Nash. Carolina won by two points. Smith would call his strategy the "Four Corners," and it would inevitably effect the advent of the shot clock, changing the game forever. And -- sure enough, as Dean would tease me always -- the game film of this historic occasion would plainly show a UNC sophomore on press row who, instead of acting like a true journalist, was deliriously, not to mention inappropriately, jumping up and down.
SI Remembers: Writers and editors share their memories of Dean Smith
Not that there would ever be a close collaboration between the coach and me, once I arrived at Sports Illustrated in 1965 and spent a career covering the Tar Heels. The Duke folks always suspected I was a plant at SI, possibly embedded by Smith himself to jab their beloved Blue Devils at every opportunity. In truth, Dean was seldom a go-to quote, hardly some intimate advisor/explainer and never an inside source for me. He was, in fact, harder on me than any Dookaholic ever could be. He was convinced that, trying to be fair to opponents, I bent over backward the other way and criticized him and his teams far too much.
Why, when I got wind of some freshman kid named Jordan in 1981 and suggested to the magazine that we put him on the cover of the college basketball preview issue, Dean was livid. He refused to let the rookie even pose with the other four starters -- and the cover that ultimately appeared had Dean charting a play with only a quartet of upperclassmen. And NO stupid freshman. (Later, the enterprising cartoonist from the DTH sent me a 'toon of little Jordan sneaking into the picture.)
Then there was that other Carolina freshman, in the season of 1986-87. (As you may know, Dean had this thing about first year guys.) J.R. Reid had torn up the ACC so much that season that the Sports Illustrated cover as March dawned screamed "J.R." with the subhed "North Carolina's Main Man: Freshman J.R. Reid." The photo featured the massive Reid dunking over some fool's bewildered head. Naturally, Smith blamed the Carolina guy at the magazine and, this time, he went public.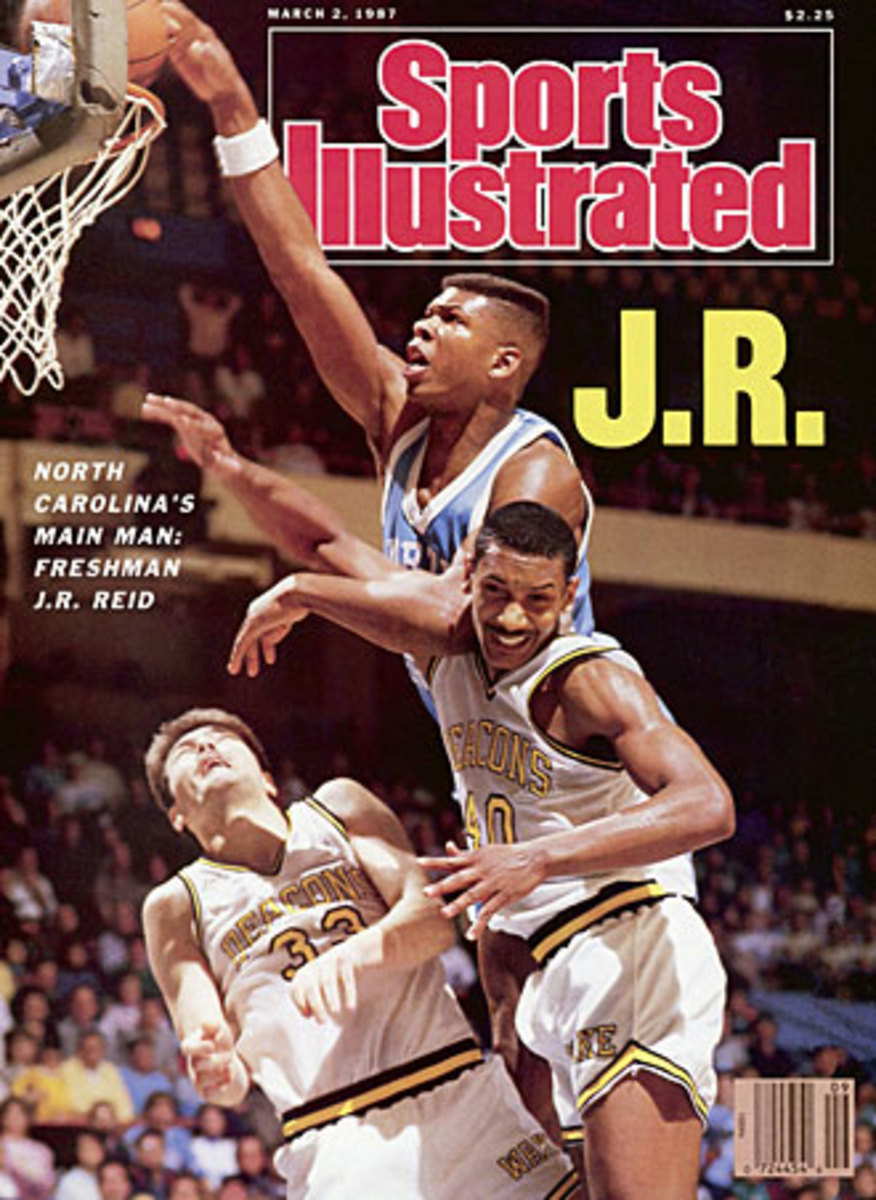 At a press conference at the New Jersey Meadowlands, where the top-seeded Tar Heels had arrived for the Sweet 16, and in front of approximately 5000 reporters -- at least it seemed that many to a weekly magazine guy who was embarrassingly unprepared for what was about to happen -- Smith stared directly at me and angrily let rip:
"Curry, you know J.R. is NOT North Carolina's 'Main Man'. A freshman is NEVER North Carolina's main man. Being a North Carolina graduate, you know BETTER than that."
I am paraphrasing of course, because my long -term memory deserted me that night for, uh, forever. I do recall that I was unable to come up with some witty rejoinder like "Uh, yo, sir. Beloved Iconic Figure In Basketball History. I am a lowly writer. I  have nothing to do with the cover billings." So, too, disappeared every other form of human faculty. Instead, I merely shrunk into my seat and faded into the kind of oblivion that so many of Smith's opposition forces have experienced over the years.
SI Vault: Long Ago He Won The Big One: Dean Smith's best victory
Truth be told, however, I could never write a fully objective piece about this wise, humble and marvelous man, one who meant so much to me from college onward. At SI, the life of this intriguing figure could only be captured by the best of us in two penetrating profiles -- one written by my idol/ mentor/hero, the nonpareil Frank Deford; the other by his younger Princeton acolyte, Alexander Wolff. In capturing Smith journalistically, as he had never been before or since, Frank and Alex surely felt as all of Dean's great rivals have over the years: Rupp the Baron and Wooden the Wizard (as Smith ascended) . . . then Lefty . . . Knight . . . Stormin' Norman Sloan . . . Cremins . . . Gary Williams . . . Holland (Virginia's Terry, who famously named his dog after Dean) . . . and, of course, the curators of the Evil Empire down the road, first Vic Bubas and ultimately, Mike Krzyzewski.
That is, they must have known that the guy they were in against -- if not the finest coach or most principled character or fairest moralist or smartest guy in all the hoop joints across the universe -- was easily the best human being. There have been several GOATS (Greatest Of All Time's) over our period here on earth -- Ali in boxing, Jordan in hoops, Phelps in the water -- but there has never been a GOAT like Dean Smith. Nor will there ever be again.
That's why it was fairly incomprehensible to me when I read that my college schoolmate, Larry Brown, seemed surprised at all the hosannas raised to his coach over the passing days. Larry, now the current coach at SMU, must not get around much anymore. (Rim shot.)
Ironically, my own very favorite tribute came from a guy I regularly sparred with on the college hustings:  Krzyzewski, the esteemed Coach K, who has become a kind of Dean to the Nth Degree, surpassing Smith in victories and championships, if not quite national reverence. It wasn't just what K said about Smith's on-court accomplishments after his longtime rival passed away on Feb. 7 but what he said about him off the court: "We have lost a man who cannot be replaced. He was one of a kind . . . one of basketball's true pillars. . . . His greatest gift was his unique ability to teach what it takes to become a good man. That was easy for him to do because he was a great man himself. . . . His players benefited . . . even more from his ability to help mold men of integrity, honor and purpose."
My God. Really now, how can any of us Tar Heels speak facetiously of Duke's coach as "The Rat," or even much less hate Coach K ever again?
It was another Duke fellow, the former player and current announcer, Mike Gminski, who reiterated what anybody who came in close contact with Smith glowingly remembers as his most amazing trait: The Dean Memory.
Fanfare for an Uncommon Man: Dean Smith is SI's Sportsman of the Year
After Gminski, a bigtime Connecticut high school star in the mid-1970s, spurned Smith for Duke to which he arrived as a 16-year old phenom, Dean wrote him a letter of congratulations and best wishes for his career down the road. After Gminski spent many years in the NBA, when Smith met up with G-Man he would remember "not only the names of my parents, but the names of my grandparents," Mike said. "Of course, he also pointed out my record against him, which was a losing one."
Que Sera. Tragically, on Sunday, Gminski's fiancee passed away -- information first reported on North Carolina basketball's Twitter feed. With the 2015 renewal of college sport's richest rivalry looming Wednesday night, it was just another example of the mutual respect and honor shared by the two neighboring universities in Chapel Hill and Durham.
My own fondest memory of Smith mirrors this. I rarely saw the coach in his later years, as he was sadly robbed of those enormous powers of retention and recall, and could not recognize even the closest of friends and relations. But prior to that, every time he would see me, he would ask after my wife and daughters. By name! I mean, this was at five, sometimes 10-year intervals! I was not a coach or a player or even, really, a friend. Still: "How is Maryanne? How are Sage and Chelsea?"
Does this tell you enough about the man? Does this explain how his passing has left such an enormous void in the lives of all who were fortunate enough to know him? Does this explain how he could be so loved?
Eight days after Dean Smith died, the Chelsea whom he would always ask about gave birth during a snow blizzard in Boston to a baby girl, Harlow Mae.  Turn... turn. May the circle be unbroken. But then Dean probably knew all about that.
And he damn well would have remembered her name. 
Curry Kirkpatrick, UNC Class of 1965, wrote about college basketball for Sports Illustrated from 1965-1992.