Terry Rozier hopes to carry Louisville, and his family, to new heights
After Chris Jones' dismissal, all eyes in Louisville will turn to sophomore guard Terry Rozier. Can he take the Cardinals on a deep NCAA tournament run?
LOUISVILLE, Ky.—To understand Terry Rozier, all you need to do is look at him. His tattoos, which now cover most of his arms, legs and chest, started on his right arm. He's known for a long time that basketball would be his way out, and he wanted to mark its significance on his skin. He asked his mother, Gina Tucker, if he could get his first tattoo when he was 14. She'd surrendered to the ink for the first time when she was 21 (and now has 14 tattoos), so she had no problem with Terry starting so young. She only gave him one rule: Each tattoo must carry a meaning.
So in the summer of 2008, Gina invited her sisters, a few close friends and a tattoo artist named Jason Ingram to her house in Youngstown, Ohio. She often had tattoo parties when someone in the family got a new one, but this was a special occasion—and a special circumstance. Both of her children would be getting their first tattoos. And her daughter, Tre'Dasia Tucker, Terry's half-sister, has cerebral palsy, so it was safer and easier for her to be at home.
On Tre'Dasia, who was 16 at the time, Jason wrote "Pretty Ricky," her father's nickname. He was murdered when she was four years old. On Terry, he drew a basketball with a crown. "I have gotten a couple more since, and I liked it," Tre'Dasia says now, "but you could tell Terry fell in love with it. He was already thinking about the next one."
They have come in quick succession since. He doesn't even know the exact number off tattoos he has. Still, none have gone on his body without a tremendous amount of thought—or without his mother's blessing. The ones that mean the most to him are those for his family.
On his right shoulder, he has a portrait of his father, Terry Sr., who has been in prison since 2005. His sister's name is written on the right side of his chest, and his brother's name, BJ, is over his heart. He has his mother's name and his grandmother's name, Amanda Tucker, written on his right and left forearm, respectively. His most recent addition, on his left shoulder, is a poem that his mother wrote for him when he called her seeking inspiration. She was parked in her car, took out her Samsung Note and wrote:
With all the blood sweat and tears I've overcome my fears
I used to feel guilty but I've worked hard for this here.
My trials and tribulations made me into the person I am today.
My support system overpowers anything a doubter can say.
God is my protector and creator. That's why you can laugh now and cry later.

Terry Rozier reflects on those words often. The 6'1" sophomore guard is in the midst of a breakout season, using more possessions and taking a higher percentage of shots than any other Cardinal. He is scoring 17.4 points, snagging 5.4 rebounds and dishing 2.7 assists a game. After Louisville dismissed starting point guard Chris Jones on Feb. 22, Rozier became even more important to the team. Louisville wasn't deep before Jones' dismissal, but now Rozier, senior wing Wayne Blackshear and junior forward Montrezl Harrell are the team's only proven scorers. With two games left in ACC play (against Notre Dame on Wednesday and Virginia on Saturday), opposing defenses, bracketologists and the Cardinals' rabid fan base will focus almost all of their attention on Rozier, the team's most experienced ballhandler and the point person for Louisville on both ends of the floor. Can he handle the pressure?
That pressure, to carry a team, is nothing compared with what Rozier feels for his family daily. To him, basketball has always been about more than the points, rebounds and assists he's amassed in droves since junior high. It's been about ensuring a future for himself and his family.
"The worst thing I could ever do, after all I've been through, is to end up back where I started," Terry says. "I won't let that happen."
*****
Where he started was Youngstown. In 1994, the year he was born, 54 people were murdered in his hometown, a record until a year later, when 67 more lives were taken. By the time he was eight months old, he was walking; by age two, he was climbing on top of cabinets and the refrigerator; by the time he was five, he found a shotgun under the La-Z Boy in the living room. He knew instinctively not to touch it.
Terry had only a few months with his father. Terry Sr., whose own father was killed when he was two years old, was sentenced to five-to-25 years in prison for aggravated robbery less than a month after Terry's birth. In 2001, he was released, and Terry lived with him and his stepmother, Arjaniece Turnage, briefly. No one knew how to contain Terry Jr.'s energy except for his father. At eight years old, Terry Jr. would play full court five-on-five with his dad and other adults. At night, they'd put on gloves, head out to the driveway, switch on the car's headlights and spar in the spotlight. "That was the most fun summer of my life," Terry Jr. says now.
He has no memory of the last time he saw his father a free man. By 2003, Terry Sr. was behind bars while facing trial for two counts of aggravated robbery, two counts of kidnapping and one of first-degree murder. He pled down to involuntary manslaughter but guilty to all charges and began a 12-year prison sentence in 2005.
But Terry does remember how much his life changed during those two years. He didn't just lose his father, but he was forced to move away from his mother permanently as well. He'd been splitting time between his mother's house and his grandmother's house for two years, but at a bar one night shortly after Terry Sr.'s arrest in '03, Arjaniece and Gina were informed that they were being targeted for retaliation—and so was Terry Jr.
The next day, Gina packed a bag for her son and drove him to his grandmother's house for good. Amanda Tucker already had legal custody of Tre'Dasia. Gina had given birth to her when she was 15, and Amanda grew tired of constantly calling Gina out of class to get her permission for doctors to give Tre'Dasia the necessary medical attention. When Amanda moved to Shaker Heights shortly after Tre'Dasia's father was murdered, she took Tre'Dasia, who was four years old at the time, with her.
Terry initially did everything he could to try to go back to his mother and to Youngstown. Instead of sleeping on the top of their bunk bed, he slept in a big bin, on top of all his clothes, ready to leave, even if he was asleep. He teased his sister. He swore at his grandmother. When his mom got a new boyfriend and he was visiting them, he'd call the man "dad" in an effort to find a father figure and to show that he could fit in any family dynamic that involved his mother. 
"The plan was just to let him come up [to Shaker Heights] because my mom was so worried," Gina says. "I thought Terry would come back, but she kept fighting me on it. And he just ended up staying. I was there every weekend, every other day."
Terry only began to find relief at the Zelma George rec center. Amanda would sell hot dogs and PowerAdes there, and she'd let Terry and Tre'Dasia play for nearly the whole day before hitting McDonald's on the way home. "When I was at the park," Terry says, "I was free." He had resented his grandmother and blamed her for the fact that he couldn't live with his mom. But before that first full year living in Shaker Heights was over, he realized why she had taken him in. They were all visiting Gina in Youngstown when they got news that a relative had been shot in a club, and that the assailants would be targeting Terry and Tre'Dasia next. Fearing a drive-by shooting and with no time to leave, Amanda brought the children to a second-story bedroom and shielded them for the entire night. No shots were fired, but after the ordeal, Terry looked at his grandmother and, for the first time, told her "I love you."
He began to build a better relationship with his sister as well. He'd carry her when she needed help, bring her food from the kitchen or her backpack from her room. And they'd stay up late at night talking about their family. Terry once complained about having to visit his father in jail, and Tre'Dasia stopped him short, saying, "I'd give anything just to be able to see my father again."
In spite of everything, Terry still considers his father the closest person in his life. Once he got used to prison rules—Arjaniece, his stepmom, laughs when she remembers that, on Terry's first visit, she told him he could hold hands with his dad, and he replied right away, "Men don't hold hands!"—he discovered he could talk to Terry Sr. about anything. Sometimes his mother, grandmother and sister were too close to see what was stressing him, but his father had just the right distance to be able to probe those tough topics.
All the hurt he felt, he poured onto the court. He practiced full-contact ... by himself. He fell on purpose when he took shots. He'd watch YouTube videos of Dwyane Wade and Allen Iverson and mimic their style. When he tried out for his seventh grade team at Shaker Heights Middle School, the coach split the kids into two groups at each end of the court and had them play five-on-five. Not only was Terry the only kid to score on his team, his friend Greg Robinson remembers, he was the only one to score on the entire court. Everyone on both sides was watching, in awe.
The first time he saw Through the Fire, a documentary about Brooklyn high school legend Sebastian Telfair deciding between playing at Louisville and turning pro, Terry knew he wanted to be a Cardinal. While attending Shaker Heights High, he started to split time with his mother and his grandmother more, and he learned to control his energy and his emotions. By the time he was a senior, he was averaging 25.6 points per game and had committed to Rick Pitino. But his academics delayed him for a year, and he had to enroll at Hargrave Military Academy. The delay was so difficult for him that he'd often go into Hargrave coach A.W. Hamilton's office just to cry.
But his father had taught him to accept responsibility for his actions, and now it was time for Terry to do so. One day, BJ, who is seven years younger than Terry, told Gina that he needed to do everything just like his big brother—to graduate from Shaker Heights High and then play at Hargrave. She explained to BJ that Terry wasn't there because he wanted to be, but because he had to be. When she told Terry the story, it stuck with him. He'd seen the way that BJ copied him, from his high-tops to his haircuts to the cookie dough ice cream he'd eaten, but he knew then just how much his little brother looked up to him.
Once he got to Louisville in the summer of 2013, he invited BJ down every chance he got. At first, Gina was nervous about them getting in trouble. But when they'd send her Snapchats at midnight, it was from the Yum! Center. They spent almost every moment together in the gym, Terry trying to show BJ that his talent wasn't just God-given. He'd earned it.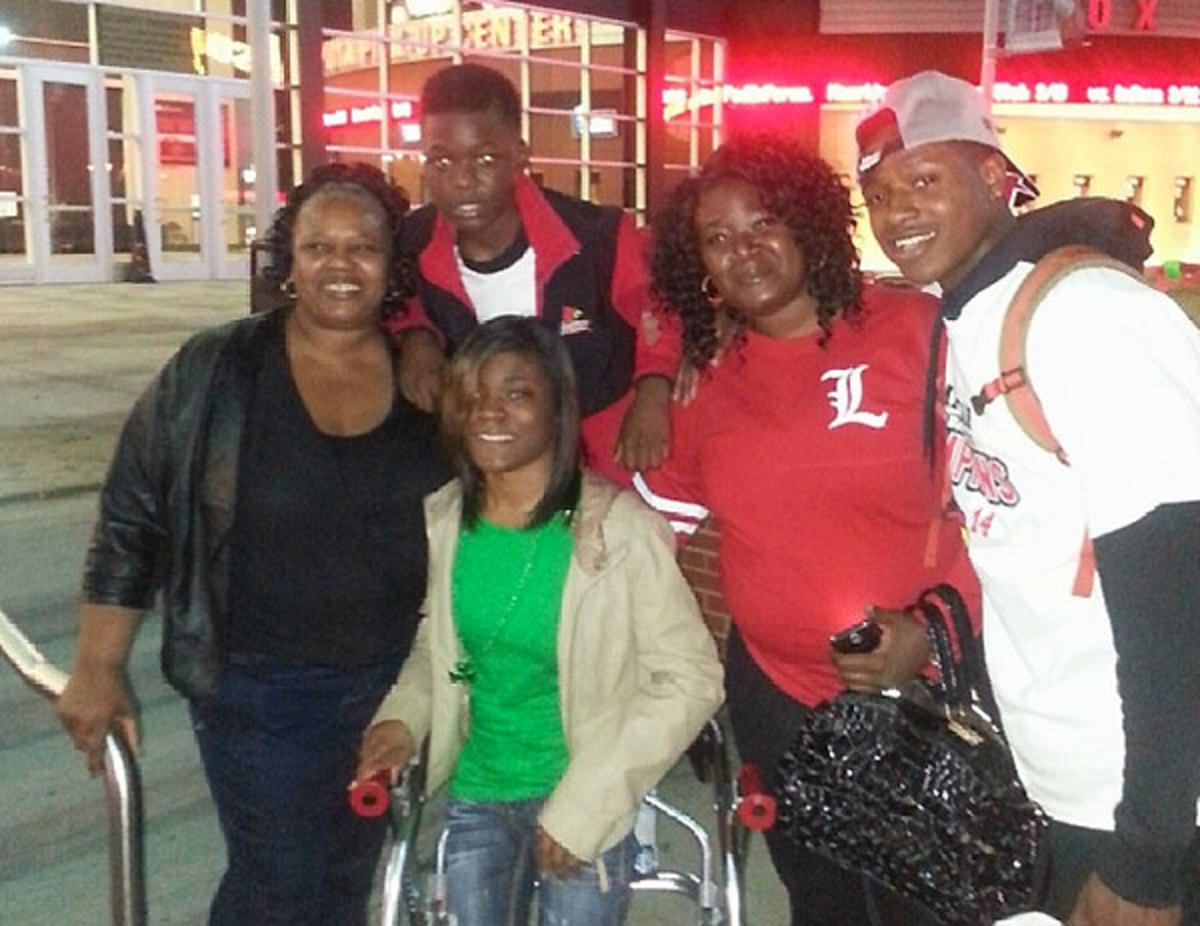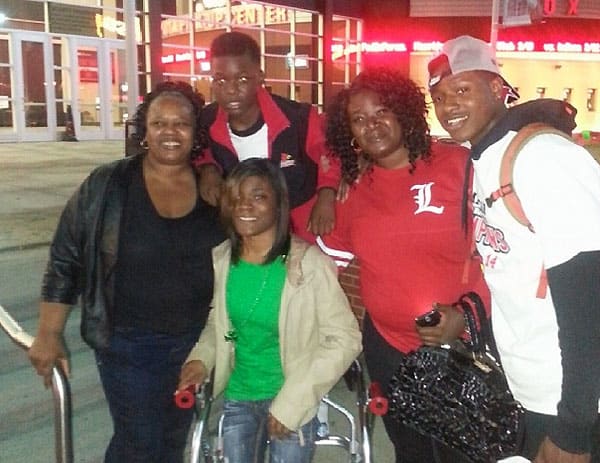 The last time BJ, now 13, was in Louisville, was after the Long Beach State game on Dec. 30. He and Terry, as well as a couple of their cousins and Terry's best friend, Nick, went out to dinner at Applebee's. BJ was goofing off—pouring salt on people and then stealing one of his cousin's money. Terry told him to behave and BJ talked back. They argued and BJ stormed off. After Terry paid the bill, he found BJ and convinced him to come up to the dorm to talk. BJ then began to pour out everything to his older brother.
He lived with their grandmother but didn't feel like Amanda loved him. He didn't feel like he knew his own father, who has been in and out of prison. And worst of all, he was having trouble in school and got suspended from the basketball team at Shaker Heights Middle School. Unlike Terry, he no longer had the hardwood to turn to; but also unlike Terry, he had someone he could talk to.
"Nick always teases me, saying 'Terry's your daddy,' BJ says, "but that just makes me smile. I agree with it. When I am in a tough situation, I think to myself, 'What would Terry do here?'"
"What motivates me more than anything," Terry says, "is making sure I show BJ what kind of man to be."
*****
To understand Terry Rozier, all you need to do is watch him walk out of the KFC Yum! Center after an overtime win over North Carolina at the end of January. He's played 43 minutes and scored 22 points in an incredible, improbable comeback from 18 points down in the second half, at which point kenpom.com gave the Cardinals a roughly five percent chance to win.
After the game, he listens to his coaches, congratulates his teammates, talks to the media, takes a shower and walks back onto the court.
In the stands, his sister is waiting for him. It's not impossible for her to go upstairs on a walker, but it is challenging, and he's lifted her out of games since high school. Gina asks him if he's too tired to do so that night, and he says of course not. He's climbing, and he's not leaving anyone in his family behind. Whether on his arms or in his arms, he'll carry his family with him wherever he goes.