NCAA tournament preview: Picking favorites, sleepers in each region
2015 NCAA tournament preview: Picking favorites, sleepers and X-factors in each region.
East region
State of the No. 1 seed
Flaming hot. Since falling at Georgetown on Jan. 19, the Wildcats have ripped off 15 consecutive wins. That stretch includes seven victories over teams currently ranked in the top 30 of Ken Pomeroy's efficiency rankings and three en route to a Big East tournament title (the Wildcats' first since 1995) that were decided by an average of 18 points. Villanova hasn't advanced past the Round of 32 since 2009, but it's easy to envision the Wildcats making a deep run this year.
Coach Jay Wright's team attacks opponents with a balanced offense that led the Big East in effective field goal percentage, three-point shooting and adjusted offensive efficiency. Senior guard Darrun Hilliard leads Villanova with 14 points per game, but the Wildcats feature five players (Hilliard, junior guard Dylan Ennis, junior center Daniel Ochefu, junior guard Ryan Arcidiacono and sophomore guard Josh Hart) averaging at least 24 minutes per game and ranked among the top 15 in the Big East in offensive rating during conference play, per kenpom.com. Defensively, the Wildcats rank 13th in the country in points allowed per possession (adjusted for opponent) and limited Big East foes to a league-low 46.5 effective field goal percentage. To sum things up: this is a balanced team rounding into form at the perfect time.
• MORE CBB: Villanova looking like a title contender after Big East tourney win
Upset pick: UC Irvine
[daily_cut.college basketball]It was only four years ago that a No. 4 seed Louisville team was upset in the opening round. The Cardinals' opponent that year was Morehead State, which featured a future first-round draft pick in Kenneth Faried. The Anteaters don't feature any players likely to make the NBA, but they do have a center, 7'6'' sophomore Mamadou Ndiaye, who is six inches taller than anyone on Louisville's roster. UC Irvine has gone 5-2 since Ndiaye returned to the lineup after missing 10 games with a foot injury.
Of course, the Anteaters didn't beat any opponents of Louisville's caliber during that stretch, nor did they knock off anyone of note before Big West play, but the Cardinals aren't as formidable they were before guard Chris Jones was dismissed from the team. Louisville could struggle against the Anteaters if it can't effectively deal with Ndiaye's length or guards Jaron Martin and Aaron Wright, both of whom are shooting better than 40% from three-point range this season.
Sleeper team: Northern Iowa
Other than Wichita State, the Panthers didn't face tourney-caliber teams in the Missouri Valley Conference, but they deserve as much respect as any other team placed on the five line. Whereas Northern Iowa shocked many observers by upsetting UNLV and Kansas as a nine seed in the 2010 tournament, it won't be surprising if Ben Jacobson's team advances to the Elite Eight or beyond. Wooden Award finalist Seth Tuttle can score from inside the arc (64.9 two-point shooting percentage) and beyond (42.9), create shot opportunities for his teammates (29.7 assist percentage) and crash the glass (22.9 defensive rebounding percentage).
• Play the Bracket Challenge and win $1 million
The senior forward is the engine driving the Panthers' offense, which ranks eighth in the country in effective field goal percentage and 11th in three-point shooting percentage. Yet Northern Iowa is just as stout on the other end of the floor: it finished 16th nationally in adjusted defensive efficiency, per kenpom. While the Panthers could face a tough matchup with Villanova in the regional semifinal, don't dismiss the possibility of Tuttle and co. upsetting the Wildcats. The last time it faced a one-seed (Kansas) in the NCAAs, Northern Iowa created bracket chaos and Ali Farokhmanesh achieved overnight celebrity.
Player to watch: Justin Anderson, Virginia
Anderson will play in the NCAA tournament, but what should we expect from him? The junior guard played in the Cavaliers' two ACC tournament games after missing the previous seven due to injuries. He suffered a broken finger during a Feb. 7 game against Louisville that forced him to sit out seven games, then missed the season finale against the Cardinals after undergoing an appendectomy. In the two conference tournament games, Anderson missed all six of his field goal attempts and played a combined 26 minutes (his per-game average in that category is 28). 
Virginia posted a 7-1 record without Anderson, but that stretch covered a soft portion of the Cavaliers' conference schedule. Virginia undeniably is a better team when Anderson is at full strength, as he's an excellent three-point shooter and defender, but he may need more time to get his bearings after an extended absence. The Cavaliers probably can win a couple of games regardless of how Anderson plays. The question is whether they need Anderson operating at his peak to compete for a national championship.
Prediction
Virginia eases past Belmont in the opening round and edges Michigan State in the Round of 32. Anderson catches fire in a Sweet 16 win over Oklahoma, and the Cavaliers grind out a close victory over Villanova in the Elite Eight.
#1 Seeds of the Tournament | PointAfter
Midwest region
State of the No. 1 seed
You've probably heard that Kentucky, which has mostly breezed to a 34-0 record, is pretty good. The question going into the tournament is how good? Auburn's Bruce Pearl called this group the best he's ever coached against, and that includes John Calipari's 2008 Memphis squad, which finished as national runner-up. There's chatter that the Wildcats, who allow just 53.7 points per game, might be the best defensive team of all time (they block seven shots a game and hold teams to 35.2% from the field). Per usual, they're stacked with NBA talent. Junior 7-footer Willie Cauley-Stein can defend anyone, freshman Karl-Anthony Towns averages 9.8 points per game in just 20.8 minutes and sophomore Aaron Harrison (team-leading 11.3 scoring average) knows how to come through in the clutch. Last year Harrison hit shots to win or go ahead in three consecutive NCAA tournament games (against Louisville in the Sweet 16, Michigan in the Elite Eight and Wisconsin in the Final Four) on the Wildcats' march to the NCAA final. Calipari can caution outsiders to not get too high on the his team if he wants, but Kentucky is rolling. It's beaten opponents by an average of 21.1 points, and that streak will continue into Indianapolis. 
• MORE CBB: In the NCAA tournament, it's Kentucky vs. Everybody Else
Upset pick
Taking a 12 over a 5 is easy money, and who doesn't love a good story? Buffalo, of the Mid-American Conference, is headed to its first NCAA tournament after beating Central Michigan 89-84 in the MAC conference tournament final for an automatic berth. They're coached by former Duke standout Bobby Hurley, who still holds the NCAA career record for assists. The Bulls are led by 6'7" junior forward Justin Moss (17.7 points, 9.3 rebounds) and 6'1" sophomore guard Shannon Evans (15.4 points,4.7 assists). They won't be intimidated by a Power Five team, either, because they already know what it's like to go up against the best: Buffalo lost at Kentucky 71-52 on Nov. 16, and at Wisconsin 68-56, impressive outings for a mid-major picked to finish fourth in its conference. In the round of 64 Buffalo will meet a West Virginia team that has lost three of its last four and allows opponents to shoot 47% from the field. Take the Bulls.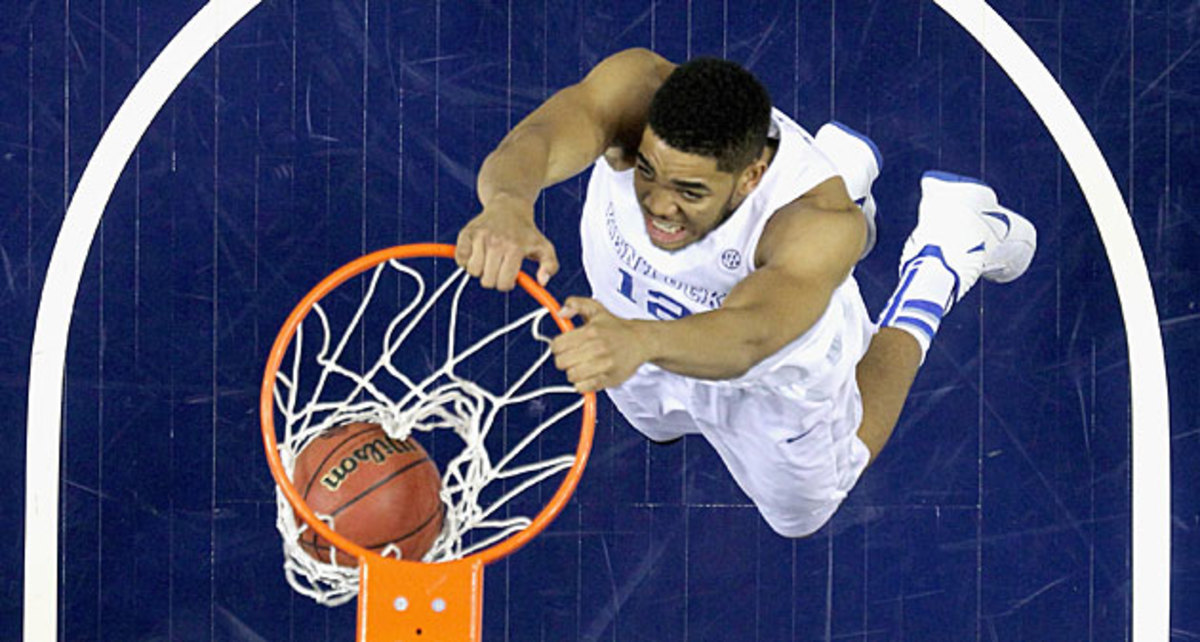 Sleeper team
It feels strange to call Wichita State a sleeper, considering it went to the Final Four in 2013 and entered last year's tournament undefeated, but at a 7-seed, that's exactly what the Shockers are this time around. With four players who average at least nine points per game, Wichita State is balanced offensively. The team is led by junior guard Ron Baker, an All-America candidate who averages 15 points, 4.5 rebounds, 2.5 assists and 1.3 assists. Fred VanVleet (12.7 points, 5.3 assists) is one of the best guards in college basketball. Efficient defensively and offensively, the Shockers rank 15th and 20th, respectively, in those categories according to kenpom.com. You should root for Wichita State to win its opening game if only to watch the Shockers take on Kansas in the round of 32. Those teams haven't met since 1992, partially because KU coach Bill Self says he has no interest in scheduling Wichita State. Looks like the committee took care of it for him.
Player to watch: Jerian Grant, Notre Dame
At 6'5", 204 pounds and possessing a terrific sense of where his teammates are, Grant is one of the top players in the country. The senior guard creates shots for himself (16.8 points on 11.2 field goal attempts per game) and the Irish (averaging 6.6 assists per game) and can explode offensively if necessary (he scored 27 points on just 17 shots in a 79-78 win over Michigan State on Dec. 3). Grant can score from anywhere on the floor and loves big games: He had 24 points and 10 assists in Notre Dame's 90-82 come-from-behind win over North Carolina in the ACC tournament final on Saturday. His play this season has all but erased the memory of last year, when he missed 15 games for an academic suspension. Kentucky looks to be on an inevitable March to the Final Four, but Notre Dame and Grant are an intriguing, albeit undersized, matchup for the Wildcats.
Prediction
Notre Dame-Kentucky could be a good game ... for about 30 minutes. Expect the Wildcats to come out of the Midwest, and play for a national championship on April 6.
Continue for South, West region previews
[pagebreak]
South region
State of the No. 1 seed
A matchup between Duke and Kentucky in the NCAA final would serve as blueblood basketball ecstasy. The storylines would be endless, the ratings at NFL levels and the talent level circa college basketball in the 1980s. Can Duke get there? The Blue Devils won 12 games in a row after throwing wing Rasheed Sulaimon off the team. That streak ended in the ACC semifinals against Notre Dame, but few teams in the country have played as well as Duke for the past five weeks.
The Blue Devils have the requisite backcourt—in skill and onions—with Quinn Cook and Tyus Jones. Cook brings that slap-the-floor senior leadership that the Blue Devils value. Jones has been a calming influence as a freshman, averaging 5.8 assists per game. Center Jahlil Okafor will be one of the first two players taken in the NBA draft, but his 51.1 free-throw percentage is scary in tight games. Could a crafty team come up with a Hack-A-Jah scheme? That question will linger over the Blue Devils throughout the NCAA tournament.
Upset pick: Eastern Washington
No team has a worse recent track record than Georgetown in the early rounds of the NCAA tournament, as the Hoyas have become March's consummate dream enablers. Since reaching the 2007 Final Four, Georgetown has lost to double-digit seeds in each tournament it has made. That roll call of infamy—No. 10 Davidson in 2008, No. 14 Ohio in 2010, No. 11 VCU in 2011, No. 11 N.C. State in 2012 and No. 15 Florida Gulf Coast in 2013—makes the Hoyas as an obvious upset pick. (They can't be overjoyed about traveling 3,000 miles to Portland, either.)
•  MORE CBB: Click to download your printable 2015 bracket
Eastern Washington won at Indiana earlier this year and has the nation's leading scorer in Tyler Harvey (22.9 ppg). This will be a popular upset pick and a prescient one, as Eastern Washington has coalesced since forward Venky Jois has overcome ankle issues that hampered him early in league play. Georgetown hasn't been particularly sharp, including losing five of its final 12 and sleepwalking through parts of games against Creighton and Xavier in the Big East tournament. Don't underestimate pucker power, either. The Hoyas' tortured past will be just as big an opponent.
Sleeper team: Iowa
Look for No. 7 Iowa to make a run in this bracket, potentially setting up a juicy matchup with Iowa State in the Sweet 16. It's hard to have any faith in Gonzaga, as the Bulldogs haven't reached the Sweet 16 since 2009 and don't appear exponentially better than past years. Iowa won six straight to close the regular season before falling to Penn State in the Big Ten tournament. The Hawkeyes are led by All-Big Ten forward Aaron White, and are big and skilled enough to get past Davidson in the  Round of 64 and match up well with Gonzaga in the Round of 32. Look for the Hawkeyes to be the team that ends the Zags' dream again on the first weekend.
Player to watch: Georges Niang, Iowa State
Iowa State's Georges Niang is one of the most versatile and entertaining players in the country. And he's also nearly impossible to guard, as the 6'8" power forward hits 39% of his three-pointers, has a crafty array of post moves with his back to the basket and deft feel for the game that helps Iowa State's up-tempo offense flow. He's averaging 15.5 points per game and coming off a monster Big 12 tournament final, as he dropped 19 on Kansas. He'll also have a healthy bit of motivation, as Niang broke his foot in Iowa State's opening game of the NCAA tournament last year. That certainly contributed to Iowa State's loss to Connecticut in the Sweet 16 at Madison Square Garden last year. A healthy Niang will make a big push this year.
Prediction:
Look for No. 3 Iowa State to escape this bracket with a victory over Duke in the Elite Eight. (Utah could end up as a tough matchup for Duke, too). The Cyclones have won five in a row, including two wins over Oklahoma and another over Kansas. Then watch Iowa State frantically try to prevent coach Fred Hoiberg from going to the NBA.
West region
State of the No. 1 seed
Based on the sight of Frank Kaminsky trying to catch confetti on his tongue like a snowflake after the Big Ten title game, and wearing a GoPro camera strapped to his chest for the championship ceremony and NCAA tournament selection show? We'd venture to say Wisconsin is feeling pretty good. The Badgers proved what they needed to prove to the committee to snatch a No. 1 seed away from Virginia, and now they enter the bracket as the favorite to come out of the region. It is the best group coach Bo Ryan has had, brilliant offensively (No. 1 nationally in efficiency at an absurd 124.7, per kenpom.com) and more-than-adequate defensively, ranking 30th in efficiency. Kaminsky (18.1 points, 8.1 rebounds per game) drives everything. But complementary parts like Nigel Hayes (25 points in the Big Ten title game) and Bronson Koenig (16.3 points per game in the league tournament) are trending upward. The state of point guard Traevon Jackson—out since Jan. 11 with a foot injury—is the huge question. To win a national title, the Badgers might need the veteran guard in at least a viable backup capacity.
Upset pick: BYU
There aren't too many upset picks that leap out from the West region, and this one requires the Cougars surviving a First Four game in Dayton before hauling to Jacksonville for Round of 64 play. But BYU has a potent offense, ranking ninth in efficiency (116.7) heading into the tournament, an attack led by prolific 6'5" shot-maker Tyler Haws (21.9 points per game).
• MORE CBB: In the NCAA tournament, it's Kentucky vs. Everybody Else
Xavier's defense isn't awful, but it isn't asphyxiating, ranking 55th nationally in efficiency. Opponents shoot 48.9% from two-point range against the Musketeers. Xavier's roster, led by true freshman Trevon Bluiett, doesn't boast much experience in the Big Dance; sophomores Myles Davis and Jalen Reynolds have only a First Four loss to N.C. State last year as tournament tests. BYU may be warmed up and catch Xavier a bit rusty and flat-footed.
Sleeper team: Baylor
There is nothing spectacular-looking about Baylor, but to disregard the Bears for their lack of flash is foolish. Maybe the names don't jump off the scoresheet, but this is a balanced, efficient team on both ends of the floor when it is at its best. An offensive nosedive doomed it in the Big 12 semifinals, but Baylor nevertheless remains the best three-point shooting team in the league (37.7% from beyond the arc) and has the nation's 13th most efficient attack, per kenpom.com. It has the No. 33 defense and takes care of the glass at an elite rate, ranking eighth nationally by snatching 55.7% of all available rebounds. It takes care of the little things and has four players averaging double figures. If the long-range shooting fails the Bears, they won't make noise. But if they shoot reasonably well, they are equipped to grind out wins against anyone in the region.
Player to watch: Brice Johnson, North Carolina
If you were looking for a breakthrough season for the 6'9" junior, you might have come away slightly disappointed. Averages of 13.2 points and 7.7 rebounds per game aren't bad, and his 4.4 Win Shares ranked second only to Marcus Paige (5.0) on the Tar Heels, but he was expected to do more this season. Lately, he appears ready to meet those expectations. He posted at least 17 points in four of his last five games, including 22 against Louisville in the ACC tournament opener and 20 against Notre Dame in the tournament final loss. The only blip, in fact, was an efficient 5-of-7 shooting, 13-point, six-rebound night against Virginia, which will drag down the pace and an opponent's overall numbers anyway. Johnson has to be a matchup problem in the post for North Carolina to have upset hopes against Wisconsin and Arizona; he has to make the talented frontcourt players on the other side work, and work hard.
Prediction
There are some teams with sleeper potential in this region—North Carolina, Baylor and VCU come to mind—but this seems destined for a Wisconsin-Arizona rematch from last year's Elite Eight. The Badgers needed overtime to win that one. Expect another tight game with the same result.