East region shakeup, Pac-12 surprise overshadow Kentucky—for a day
A shakeup in the East Regional and the surprising Pac-12 overshadowed, for one day at least, the NCAA tournament's dominant storyline: Kentucky's pursuit of a perfect season.
On the third day of the latest NCAA tournament, a trio of Pac-12 teams advanced to the Sweet 16, a no-look pass spawned a thousand Vines and a nation of college basketball fanatics wrestled with the kind of sports question we only ask in March.
Namely, piccolo or flute?
That was the image that endured Saturday. Not the shoes worn by some Notre Dame players, which The New York Times described as "marinated in puréed Skittles, coated with ectoplasm and then dunked in Citrus Cooler-flavored Gatorade." Not the tears shed by Ron Hunter, the Georgia State coach, after his Panthers, tournament darlings after their Day 1 upset of Baylor, fell to Xavier. No, the picture that lingered afterward was of the Villanova band member, who continued to play her piccolo—or flute—as tears streamed down her face.
Leave the piccolo girl alone, will ya?
The portrait personified another stunner that went against the Wildcats, as they continued an NCAA funk that dates back to 2009, or the last time they advanced past the first weekend. They entered this tournament a No. 1 seed, among the handful of teams thought to be capable of beating Kentucky's undefeated college all-stars. Of the 11.57 million brackets filled out on ESPN, 30.4% had placed Villanova in the Final Four. A full 14.2% had the Wildcats in the title game, including President Barack Obama, now the proud manager of a bracket just as busted as yours.
N.C. State, the eighth seed, downed Villanova, 71-68, to advance to the East Regional semifinals. Those games will take place next week, in Syracuse, N.Y., in what is now the tournament's most open section. It's wide open. Sort of.
If Virginia guard Justin Anderson is fully recovered from his midseason health woes—a broken finger followed by an appendectomy—Virginia, the region's No. 2 seed, becomes the school most likely to advance. But his status, while on an apparent uptick, remains unclear. Anderson did come off the bench in Virginia's first-round win over Belmont, and he did score 15 points, a marked improved from an ACC tournament in which he played 26 minutes in two games and didn't score at all. But his coach, Tony Bennett, has said Anderson is not all the way back yet.
In beating Indiana, Wichita State gets what it's wanted all along: Kansas
That's good for Michigan State, which plays Virginia on Sunday and seems capable of a run even as a No. 7 seed. And that's good for Northern Iowa, a team ranked 11th in the pre-tournament AP top 25. The Panthers received a criminally-low fifth seed from the Selection Committee, but now only fourth-seeded Louisville stands in their way of a Sweet 16 date with N.C. State.
In a tournament where the drama centers on if someone, anyone, can topple Kentucky, the East Regional could provide some needed much-needed second-week intrigue. The Wildcats, by the way, improved to 36-0 on Saturday (the first such start in men's Division I history), after they dispatched Cincinnati, 64-51. The Bearcats smartly turned their shot at Kentucky's NBA roster into a scrum, the pace (slow) and style (chippy) suited for an upset. They made the Wildcats uncomfortable. They kept it close into the second half. They could not, however, match Kentucky's talent. Or size. "They make redwood trees look like elm trees," CBS' Verne Lundquist said on the game broadcast.
JOHNSON: Kentucky smothers Cincinnati to make history
Perhaps, though, Kentucky appeared vulnerable in one respect: its long-distance marksmanship. It made only 4 of 15 3-point attempts on Saturday. Noted sniper Devin Booker missed all five triples he took, and he has yet to make one shot from behind the arc in this tournament. That's where we're at with Kentucky now, searching for any sign of weakness.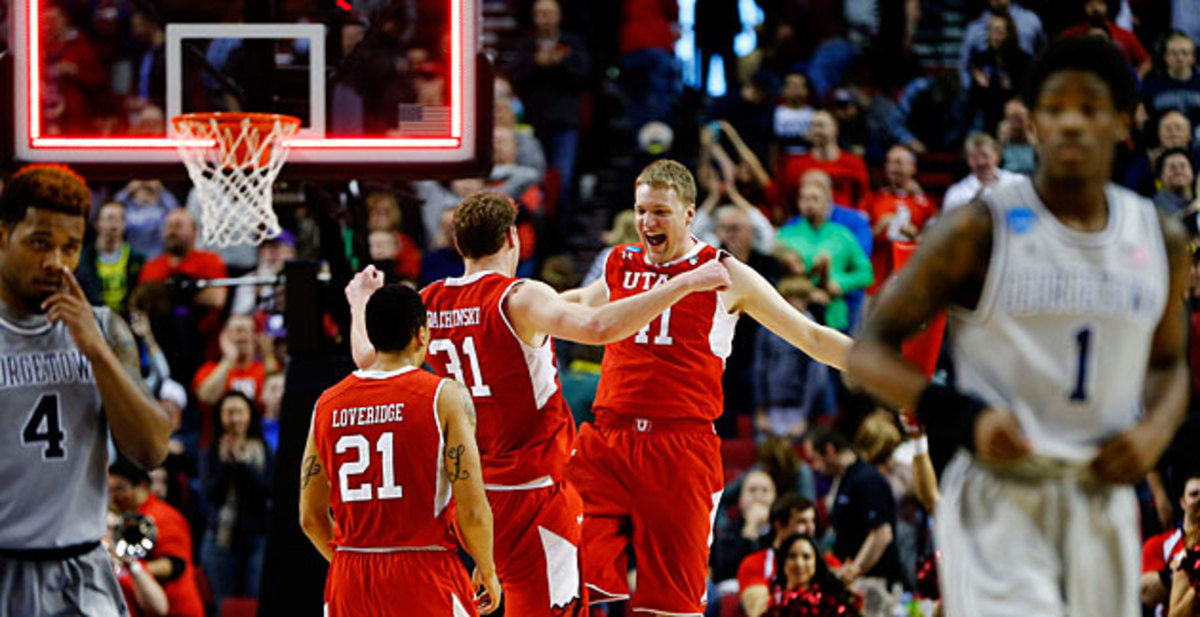 The Pac-12 entered this tournament in opposite fashion. Other than Arizona, the league's regular-season and tournament champion, the conference appeared weak, getting only four teams into the Big Dance. And yet, through three days of competition, the Pac-12 recorded seven victories against zero losses. On Saturday, three of its teams—Arizona, UCLA and Utah—advanced to the Sweet 16. The league's other tourney entrant, Oregon, plays Wisconsin, the No. 1 seed in the West Regional, on Sunday.
In Louisville, a UCLA a team many considered unworthy of an NCAA bid, captured the first game of the day, 92-75, over Alabama-Birmingham. Tony Parker, the Bruins' 6'9" center, scored 28 points and corralled 12 rebounds and even complimented CBS sideline reporter Allie LaForce on her bracelet.
In Portland, Utah held off Georgetown to reach the regional semifinals for the first time since 2005 and become the seventh university to advance that far in each decade since 1950. The Utes will play the winner of Duke and San Diego State in Houston on Friday.
In Saturday's other game in Portland, Arizona bottled up Ohio State's star freshman guard, D'Angelo Russell, who went 3 for 19 but still managed to throw the pass of the tournament so far, a no-look beauty he threaded right between defenders with his gaze fixed on the stands to his left. For Arizona, Gabe York knocked down five 3-pointers off the bench to fuel the 73-58 win.
As far as beat-Kentucky contenders go, Arizona might be its toughest potential opposition. It'll play Xavier next week in Los Angeles, as a possible date with Wisconsin looms in the Elite Eight. The Wildcats (from Arizona) play a defensive style that limits penetration and transition baskets, and their best players (Stanley Johnson and Rondae Hollis-Jefferson) are wings, which should pose matchup issues for UK.
Maybe that's all wishful thinking.
N.C. State players used rollercoaster year as motivation to upset Villanova
Pundits, experts and bracket hopefuls all said that Villanova could beat Kentucky, too. Those Cats (from Pennsylvania) played aggressive, full-court, pressure basketball. They shot well from three-point range (until Saturday's 5-of-16 showing). They defended well (also until Saturday, as the Wolfpack shot 45.3% from the floor). Six years ago, Villanova made the Final Four. Last year, it fell to Connecticut; the year before, North Carolina; the year before that, George Mason; the year before that, St. Mary's. This year, N.C. State.
The Tournament, though, is still the Tournament. It rests for no team, no fraud, no pretender. There's always another no-look pass, another buzzer-beater, another band member crying as she—or he—plays a piccolo. Or flute.
That was evident late Saturday, as Notre Dame and Butler extended the action with an overtime thriller in the nightcap. The Irish, still fighting, held off the Bulldogs, 67-64, as star Jerian Grant sealed victory with a late lay-up, keeping the ACC perfect at 9-0 and sending a third member of that league to the Sweet 16.
No one talked about the Kentucky Wildcats. At least until someone wondered if Notre Dame might beat them.