Publish date:
Elite Eight preview: Arizona vs. Wisconsin, Kentucky vs. Notre Dame
What to watch for in Saturday's Elite Eight games featuring Kentucky against Notre Dame and Wisconsin against Arizona.
Saturday's Elite Eight schedule includes a rematch of last year's classic West Regional final between Wisconsin and Arizona, and the next chapter in Kentucky's quest to be the first team in nearly 40 years to go undefeated for an entire season. Below is a breakdown of both games, with two reasons why each team will win.
6:09 p.m. ET on TBS
West Regional: No. 1 Wisconsin (34-3, 16-2 in Big Ten) vs. No. 2 Arizona (34-3, 16-2 in Pac-12)
Wisconsin will if:
1. Sam Dekker continues his ascendance. Last year, Frank Kaminsky became a nationally known player with his tournament performance, carrying Wisconsin to the Final Four. This year, it's Dekker who has been the Badgers' best player in the postseason. Of course, based on sheer talent, Dekker has always been their best player. The 6'9" junior forward has gone through some growing pains in Madison, but he has also been saving his best for what will likely be his last run in Wisconsin, with the NBA beckoning this summer. He had 17 points on 50 percent shooting in the Round of 32 win over Oregon, and then poured in a career-high 23 points while going 10-for-15 from the floor in Thursday's Sweet 16 triumph against North Carolina. If he plays that well on Saturday, the Badgers will be headed back to the Final Four.
2. Frank Kaminsky shows up for 40 minutes. The Ducks and Tar Heels both took Kaminsky out of the game in the first half. Wisconsin was able to survive, thanks primarily to Dekker and fellow forward Nigel Hayes, and Kaminsky turned in strong performances in the second half of both games, but that might not be the case against Arizona, which has an athletic 7-footer in Kaleb Tarczewski who can check Kaminsky and which ranks third in the nation in adjusted defensive efficiency. Dekker may be carrying the Badgers right now, but this team is still at its best when Kaminsky is creating points, either for himself or his teammates, from the block. If he does that from the opening tip, rather than just the final 20 minutes, it's going to be hard for the Wildcats to avenge their one-point overtime loss to Wisconsin from a year ago.
Arizona will win if:
1. Stanley Johnson takes over. The 6'7", 245-pound freshman forward represents Arizona's greatest advantage in this matchup. Put simply, who on Wisconsin can guard him? Josh Gasser is the team's best on-ball defender and is fresh off shutting down North Carolina star Marcus Paige in the Sweet 16. He is likely to get the most face time with Johnson, but the Badgers' senior gives up two inches and 30 pounds to the Wildcats' freshman. Dekker can match up with Johnson physically, but he's only an option if Wisconsin is going big or Arizona is going small. Johnson is going to be a lottery pick this June for a reason: He's capable of taking a game over. If he does, he'll get his coach Sean Miller to his first Final Four.
2. It keeps Wisconsin in check from behind the arc. As good as the Wildcats are, they can go through serious scoring droughts. It happened against Xavier in the Sweet 16, and it nearly cost the Wildcats a spot in the Elite Eight. They're not a dangerous team from distance, making only 36% on the year, so if they aren't getting easy buckets on the interior, they can have problems keeping up with strong offensive teams. Wisconsin, which averages 125.8 points per 100 possessions, is the nation's best offensive team. It shoots only 35.7% from three-point range but of its seven players who average more than eight minutes per game, all of them—Dekker, Gasser, Hayes, Kaminsky, Duje Dukan, Traevon Jackson and Bronson Koenig—have at least one game this year with three made triples. Arizona will have to be especially careful with Koenig, who has been Wisconsin's best shooter and has three inches on counterpart T.J. McConnell. If the Wildcats can keep Koenig and the rest of the Badgers quiet from distance, they should march on to Indianapolis.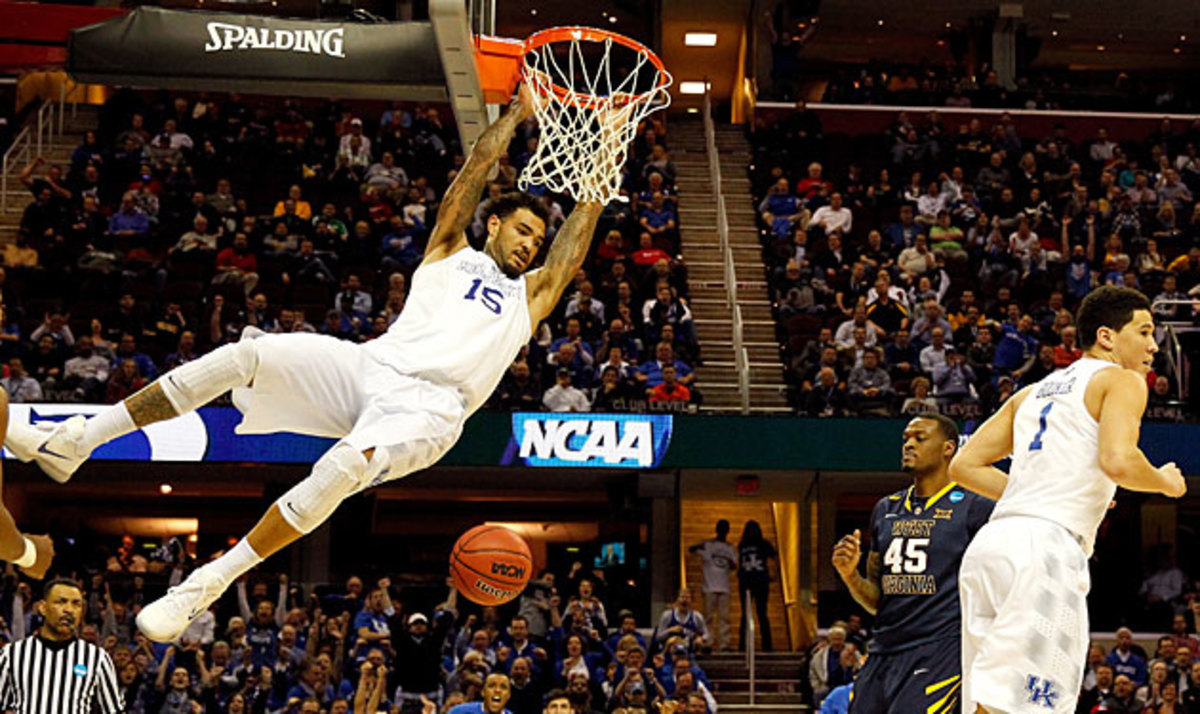 8:49 p.m. ET on TBS
Midwest Region: No. 1 Kentucky (37-0, 18-0 in SEC) vs. No. 3 Notre Dame (32-5, 14-4 in ACC)
Kentucky will win if:
1. It shuts down Notre Dame's shooting. It's clear what the Fighting Irish are going to try to do in this game. They're going to spread the Wildcats out, with four players outside the arc and one in, and try to shoot their way to a historic upset. That's also Notre Dame's only hope. Forward Zach Auguste can only do so much when he's all alone in the middle against Willie Cauley-Stein, Dakari Johnson, Trey Lyles and Karl-Anthony Towns. The Irish have made 39.2% from outside this year while Kentucky has limited opponents to 26.7%, including 17.8% through its first three games in the tournament. If the Wildcats replicate that defensive effort, it's going to be a long night for Notre Dame.
2. It simply plays its game: Kentucky is 37-0 for a reason. The Wildcats beat Kansas by 32, Providence by 20, North Carolina by 14, UCLA by 39 and Louisville by eight. They beat Arkansas twice by a combined 32 points. They embarrassed a good West Virginia team in the Sweet 16 by 39. If they play their best, there are only two or three teams that stand a chance of beating them. Notre Dame, which ranks No. 100 in adjusted defensive efficiency and is badly outsized, is not one of those teams.
Notre Dame will win if:
1. It scorches the nets from distance: The Irish have the third-ranked offense in adjusted efficiency thanks primarily to their ability to shoot the three. Pat Connaughton, Demetrius Jackson, Steve Vasturia and reserve V.J. Beachem all shoot at least 40 percent from distance on a minimum of 101 attempts this year. Connaughton is especially dangerous, hitting on 42.6 percent on his 216 attempts from behind the arc. You need an identity to beat Kentucky. West Virginia's pressing didn't work. Notre Dame's shooting could.
2. Jerian Grant does it all. This goes hand in hand with the first point. Notre Dame is going to have to make 12-to-15 threes to win this game. It's as simple as that. If the Irish are going to get free enough to make that many shots from outside, Grant is going to have to get into the middle of Kentucky's defense and kick the ball out to open shooters. At the same time, Grant is going to have to be a scorer himself, making the Wildcats account for his drives rather than sticking to their men on the perimeter. Finally, he'll have to check one of Kentucky's best perimeter players, as he and Connaughton are really the only players on the Irish that can match up with Andrew Harrison, Aaron Harrison and Devin Booker.