Wisconsin and Kentucky advanced to the Final Four on Saturday, and two more teams will join them on Sunday. The first Elite Eight game of the day pits a pair of teams that met in this spot six years ago and two coaches, in Michigan State's Tom Izzo and Louisville's Rick Pitino, who have combined for 13 Final Fours and three national championships. The second game features Duke and Gonzaga, in which the winningest coach ever, the Blue Devils' Mike Krzyzewski, leads one of the most storied programs in NCAA history against the mid-major poster child that is hoping to finally break through for its first Final Four berth.
2:20 p.m. ET on CBS
East Regional: No. 4 Louisville (27-8, 12-6 in ACC) vs. No. 7 Michigan State (26-11, 12-6 in Big Ten)
Louisville will win if:
1. It stops Travis Trice: The Spartans senior guard clearly isn't ready for his college career to end. He had 23 points in the win over Virginia in the Round of 32 and 24 against Oklahoma in the Sweet 16 on Friday, only the second time this year he's topped 20 in consecutive games. Both senior forward Branden Dawson and junior guard Denzel Valentine have been effective complementary scorers in this tournament, but Trice is the engine making Michigan State go right now. If the Cardinals can shut that engine down, they will avenge a 2009 Elite Eight loss to the Spartans and return to the Final Four for the third time in four years.
2. It makes the Spartans offense uncomfortable: Michigan State does a decent job taking care of the ball, ranking 71st nationally in turnover percentage, but taking the ball away from the opponent has long been a strength of Rick Pitino's defenses, and this year's Cardinals rank 38th in the country in defensive turnover rate. Louisville can struggle to score consistently, so it will need easy transition points to keep its offense flowing. If they can score double-digits on fast-break points, they'll be headed for Indianapolis.
Michigan State will win if:
1. It dominates the glass. The Spartans aren't terribly big, but they do a very good job cleaning up their misses. They're 83rd in the country in offensive rebounding rate and 27th in defensive rebounding rate. It would seem that Louisville, with 6'8" Montrezl Harrell, 6'10" Chinanu Onuaku and 6'10" Mangok Mathiang, would have a significant advantage on the glass in this game, but Louisville is actually a touch worse than the national average in defensive rebounding. For Michigan State, Matt Costello is 76th in offensive rebounding rate, while Branden Dawson and Gavin Schilling are both in the top 120. If the Spartans can get second chances on offense, while preventing them on the other end, they will get Tom Izzo to his seventh Final Four.
2. Trice and Valentine shoot a combined 40 percent from three. Trice and Valentine have taken almost 64% of Michigan State's attempts from three-point range this year and have 65% of the team's makes. They went 6-for-12 in the upset of Virginia and 8-for-20 in the win against Oklahoma. Bryn Forbes adds some additional firepower from distance, but it's Trice and Valentine, both of whom play at least 32 minutes per game, who will have to carry the bulk of the production from outside. If they convert as many triples as they have in either of the last two games, it could be hard for Louisville–which hasn't made more than five three-pointers in any of its six games this month—to keep up.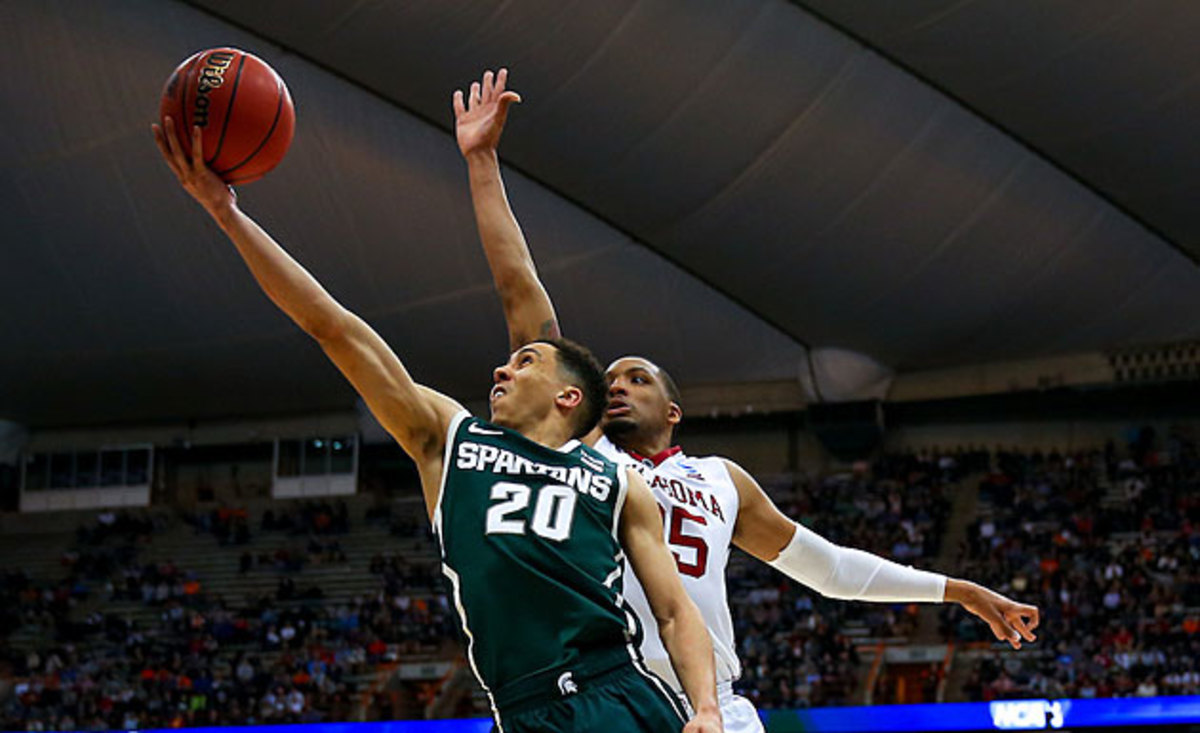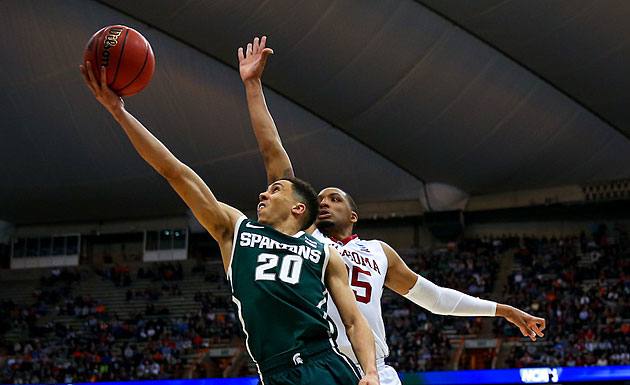 5:05 p.m. ET on CBS
South Region: No. 1 Duke (32-4, 15-3 in ACC) vs. No. 2 Gonzaga (35-2, 17-1 in WCC)
Duke will win if:
1. It forces Gonzaga to defend in the half court. Duke ranks third in adjusted offensive efficiency, one slot ahead of the Bulldogs. It earned that ranking primarily based on its success in the half court. Gonzaga has plenty of size to throw at 6'11" freshman Jahlil Okafor, but slowing down the presumptive No. 1 pick in the upcoming NBA draft will be a tall task, even for the 7'1" Przemek Karnowski and 6'10" Domantas Sabonis. Blue Devils senior guard Quinn Cook justifiably gets the most attention from opposing defenses on the perimeter—he has taken more than twice as many triples as any of his teammates and has made 40.5%—but Justise Winslow is shooting 41.3% from three while Tyus Jones checks in at 37.4%. Coach K's team has scoring options all over the floor, and Gonzaga is going to have a lot of trouble covering all of them.
2. Jahlil Okafor shows why he's on the path to NBA stardom. In Duke's Round of 32 win over San Diego State, Okafor looked like an NBA man among college boys, scoring 26 points on 12-of-16 shooting. But against Utah in the Sweet 16, Okafor had just six points, matching his season-low. If he plays the way he did against the Aztecs, it won't really matter how much size Gonzaga has. But if he gets limited again, the Bulldogs have the talent to capitalize and could pull the upset.
Gonzaga will win if:
1. It can score in transition. You might think that Duke is the team that would want to run up and down the floor in this game given its edge in athleticism, but Gonzaga actually plays at a slightly faster pace. The Bulldogs' average 65.5 possessions, with each lasting 17.5 seconds, compared to 66.1 and 18.0 for the Blue Devils. The more possessions Gonzaga gets, the more shots they can create for Kyle Wiltjer, who presents a unique matchup problem for the Blue Devils. Expect Amile Jefferson and Winslow to spend the most time guarding the Zags' 6'10" sharpshooter. Wiltjer can force Jefferson to guard him at spots on the floor the 6'9" forward typically doesn't have to worry about, and he has four inches on Winslow.
2. They outshoot the Blue Devils. Both of these teams can light up the scoreboard and demoralize their opponents by shooting them out of the gym. While Duke, which ranks 25th nationally by making 38.9% from outside, is merely very good from behind the arc, Gonzaga is elite. The Bulldogs are shooting 40.3% from three-point land this season, good for seventh in the country, and in Wiltjer (46.9%) and Pangos (43.8%) they have the two best perimeter shooters on the floor. If Gonzaga makes its threes on Sunday, it could get to the program's first ever Final Four.