Clemson vs. Oklahoma: Orange Bowl Preview
Can Deshaun Watson keep Clemson undefeated and get the Tigers into the national championship with a win over Oklahoma in the Orange Bowl?
The Orange Bowl should be the more aesthetically pleasing of the two College Football Playoff semifinals, as Clemson (38.5 points per game) and Oklahoma (45.8) bring two of the country's top 20 scoring offenses. Quarterbacks Baker Mayfield and Deshaun Watson are two of the country's most dynamic, as both can gash defenses throwing and running the ball. Expect the game to be fun showcase for wide-open modern football, but winning it will ultimately come down to which team can make a few stops.
Points of interest
1. The battle at the line of scrimmage
Clemson basically had to overhaul its entire offensive line heading into the season. ACC opponents who played the Tigers this year pointed out that Clemson's line is considered mediocre and ranked somewhere in the middle to bottom half of the league. But the Tigers' quick-hit passing game and quarterback run game have been able to compensate for the weaknesses up front.
Bowl Picks: Staff predictions for each game, the College Football Playoff
One of the big keys will be whether Oklahoma's defense can exploit the Tigers' front. The Sooners have a menacing outside linebacker in Eric Striker (16 tackles for loss) and active bodies up front in end Charles Tapper and tackles Charles Walker and Matt Dimon. To slow down Clemson, the Sooners need to flummox Watson with pressure and contain the quarterback run game. The best chance to do that is to overwhelm the Tigers' offensive line.
2. Oklahoma's offense faces its toughest task
Sooners quarterback Baker Mayfield has emerged as one of the best stories in college football this season. He's a swashbuckling, trash-talking overachiever whose arc from little-known walk-on to Heisman candidate was as swift as it was remarkable. Arguably Mayfield's defining moment came leading Oklahoma to a comeback double-overtime victory at Tennessee. The Sooners trailed in that game 17–0 and needed 14 fourth-quarter points to tie the game. One thing lost in that game's magic is how Oklahoma's offense struggled—at least for three quarters—against the best defense the Sooners would face all season. Tennessee's strong defensive front limited battering ram tailback Samaje Perine to 3.4 yards per carry and held Oklahoma's offense without a touchdown until the fourth quarter.
Clemson enters the game with a front seven considered among the best in the ACC. The Tigers are difficult group to move off the ball and develop traction against in the run game. An early key will be how effectively the Sooners can establish their ground game, as they'll need to be balanced to beat Clemson.
3) How much of a factor is last season's meeting?
Last year, Clemson blew Oklahoma off the field 40–6 in the Russell Athletic Bowl. Both sides have dismissed that game because of Oklahoma's coaching turnover (eight of nine different position coaches), a vastly improved secondary and the addition of Mayfield. But it's also worth considering that Watson didn't play that day, as Clemson ragdolled Oklahoma with a backup quarterback Cole Stoudt.
Was Clemson 34 points better than Oklahoma last year? Probably not. But it would be naïve to summarily dismiss that game, especially considering that Clemson's defense has reloaded to be nearly as formidable as the top-ranked unit that shut down the Sooners last year. Oklahoma may be decisively better than its 2014 version, but Clemson has improved in some areas as well.
GALLERY: RELIVE OKLAHOMA'S PATH TO THE PLAYOFF
Oklahoma's path to the College Football Playoff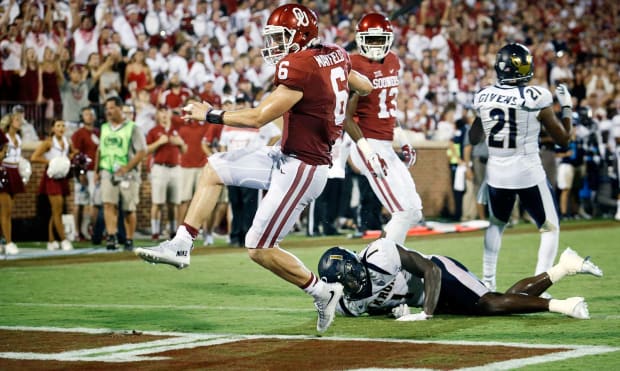 Burning Question: How big of an impact will former Oklahoma defensive coordinator Brent Venables have?
Venables was recruited to Kansas State by Bob Stoops as a player, coached for him there and later served as his defensive coordinator at Oklahoma from 1999 to 2012. While the Sooners have certainly adjusted schemes under new offensive coordinator Lincoln Riley, no one knows how Stoops manages a game better than Venables, Clemson's defensive coordinator for the past four seasons. Could this be an edge for the Tigers? It certainly appeared to be last year.
X-factor: Clemson tight end Jordan Leggett
In the spread-happy Big 12, the Sooners don't face a lot of top-flight tight ends. How they stop Leggett will be a key, as the junior has 34 receptions for 442 yards this season and is considered one of the best at his position in the country.
Statistically speaking
22.5: Clemson defensive end Shaq Lawson led the country in tackles for loss with 22.5 this season. How well the Sooners can contain him will be a key to getting their offense in rhythm and avoiding third-and-long situations.
GALLERY: RELIVE CLEMSON'S PATH TO THE PLAYOFF
Clemson's path to the national championship game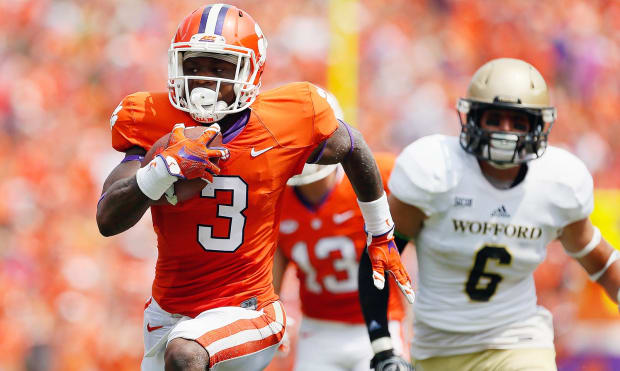 Final analysis
There's some overriding skepticism around just how good the Big 12 really was this season, as the conference had few marquee victories outside its intraleague showdown games. Oklahoma feasted in its final month on backup quarterbacks, as TCU, Baylor and Oklahoma State all played without their starters. Oklahoma's revived defense hasn't faced a quarterback the caliber of Watson, who threw 30 touchdowns this season, ran for 11 more and is perhaps the game's most dangerous player on the zone read.
The pick: Clemson 31, Oklahoma 20