How Pat Summitt inspired a generation of women
Pat Summitt's book taught women—athletes and non-athletes alike—that hard work could accomplish anything.
I read Pat Summitt's book, Reach for the Summit, at 11. By 12, I had memorized parts of it, having read it roughly five times in 18 months. At 13, I was making a bet with my AAU teammate that I'd go play for the legendary coach at Tennessee.
That I wasn't brimming with pure basketball talent (or athleticism) didn't matter to me.
Reach for the Summit is one long pep talk, packed full of anecdotes about others players—and coaches, business people and parents—who weren't good enough by outsiders' standards to accomplish something but refused to be deterred. If you adopted the right attitude and work ethic, Summitt wrote, you could do anything. I believed her. I was among a generation of young women she inspired. Because of Summitt, girls like me knew a career in women's basketball was possible—as a coach, a player, a media member. She inspired students and businesswomen alike. While other women in power talked about glass ceilings they'd hit and closed doors they'd encountered, Summitt added trophies to her shelf and cashed bigger paychecks than many men in her profession. She did most of it quietly, too. It didn't feel like a crusade, but the results were undeniable.
• Summitt's legacy extended well beyond basketball
With news that Summitt has died at age 64, I thought back to my first encounter with her. I met Pat Summitt in July 2006, when I was 19. She was in Portland for a major AAU showcase event; she walked through the gym radiating a warm confidence. It took me 90 minutes to work up the courage to cross the court and introduce myself. When I finally approached, slightly trembling from nerves, I stuck my hand out and told her I'd admired her for so long ... she was so great ... gosh ChamiqueHoldsclaw was fun to watch ... and no, I don't need an autograph. I just wanted to shake her hand. She invited me to sit down and chatted with me about school, my future goals, asked what I thought of players, introduced me to every coach and player who walked by.
I peppered her with questions, too, about her favorite players, her hardest losses and recruiting in a world where suddenly, UConn was on top. With a hint of panic, I wondered aloud if she ever worried the game had passed her by, that now it was going to be all UConn, all the time. That's what people on TV and on message boards were saying, and I hated it because Summitt built women's basketball to what it is, and I didn't want my hero, women's basketball's hero, to be left behind. Do you think there's more parity, and that schools like Stanford and stars like Candice Wiggins were going to take over? She looked me in the eye—not quite the famous Summitt stare, but enough of one to know she meant business—and told me, "Tennessee is not done winning championships. Candice Wiggins is great, you're right about that. But I'm excited about the other Candace. Candace Parker."
Nine months later, I sat on my couch and watched Parker and Summitt hold up the Lady Vols seventh national championship trophy after defeating Rutgers 59–46. I shook my head and marveled again at Summitt's ability to make people believe. The next spring, Tennessee went back-to-back, again with the help of Parker.
Now, at 29, I'm heartbroken Summitt is gone. One of the worst truths about adulthood is learning your icons are mortal, just like you. They make mistakes and bad choices and let you down. Sometimes they get horrible diseases and deteriorate publicly. Such is the case with Summitt. Devastation coursed through the women's basketball community in August 2011, when Summitt courageously announced that she had been diagnosed with early-onset dementia and would be reducing her role at UT. We all knew what it really meant: women's basketball would never be the same.
UConn coach Geno Auriemma is the undisputed king of women's hoops right now, and rightfully so, with his 11 national titles. But Summitt is the reason we pay attention to women's basketball.
I remember in Reach for the Summit that Summitt didn't identify as a feminist, but you'd never have known it by her actions. She fought for coverage and equality and put a product on the floor that demanded our eyes and ears. It's not uncommon now to turn on the TV and see women's basketball or softball or golf or tennis. That's at least partially because of Summitt. One of the greatest rivalries in sports, UConn vs. Tennessee, elevated women's basketball to unprecedented heights. Summitt, who ruled women's hoops when that rivalry started to heat up, did not schedule those games to hang around with her old pal Geno. She knew that series was good for the overall game, and their famously frosty relationship made the matchup better.
"Everything that this game has comes from the people who were willing to coach and invest in it before there were shoe contracts, before there was big salary money, before TV," says Cal's Lindsay Gottlieb, a young head coach who directly benefited from Summitt's work. "My generation and younger don't know anything else but this, but it's our obligation to remember the people who did it when they were making maybe $30,000 [a year]. Pat legitimized the sport."
Classic SI Photos of Pat Summitt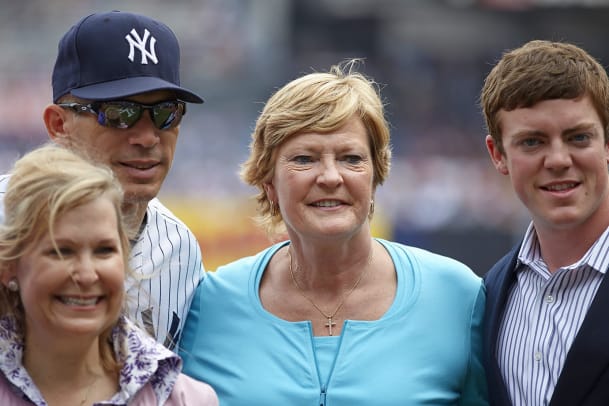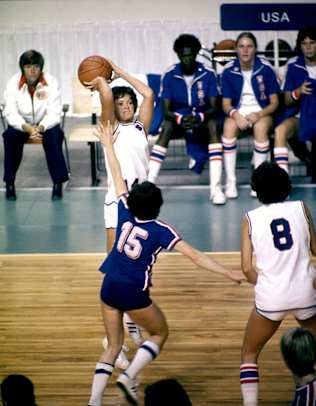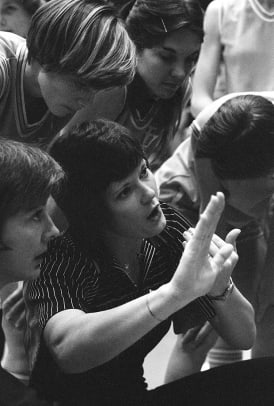 Need proof? Just look at Twitter, where some of the biggest and best athletes and coaches in men's sports are expressing condolences and respect for her even though she worked in a sport some consider lesser than. Summitt, and all her accomplishments and grit, transcended the women's game.
"I've never been in her circle," Gottlieb said, "but it's always been really clear to me that while Pat was so competitive, and so set on getting the best recruits, she was always equally concerned with the state of the game ... I think because of that, everyone has always felt personally connected to her."
In Indianapolis at the Final Four in April, there were whispers that Summitt's health was deteriorating. When news of Summitt's diagnosis first broke, and the rallying cry #WeBackPat took over social media, fans wanted to believe that if anyone could beat this horrible disease, it was the toughest coach in the game. That we all knew the brutal truth, that there's no fighting something without a cure, didn't seem to matter.
• SI Vault: Eye of the Storm: Gary Smith's 1999 profile of Pat Summitt
Maybe that's the point though. Maybe what matters is that Summitt's mere presence made us believe. For all her on-court success, Summitt's greatest accomplishments will always be what she inspired in the thousands of young women (and men) who looked up to and learned from her. She could always make you believe—in the game, in your teammates and mostly, in yourself. And if you didn't, one good stare-down usually did the trick.
It's easy, after a gutting loss, to feel lost. Summitt would not put up with that, not from any of us. So instead of mourning, I'll trade Pat Summitt stories with friends and see if I can find my old Lady Vol shirt. I'll dig up my copy of the Sports Illustrated issue that featured Summitt's withering stare on the cover, Gary Smith's definitive profile on one of the greatest coaches in sports history within it.
And tonight, I'll grab my well-worn copy of Reach for the Summit off my bookshelf. Feels time for another re-read.