FCS Top 25 preview: Less regionalization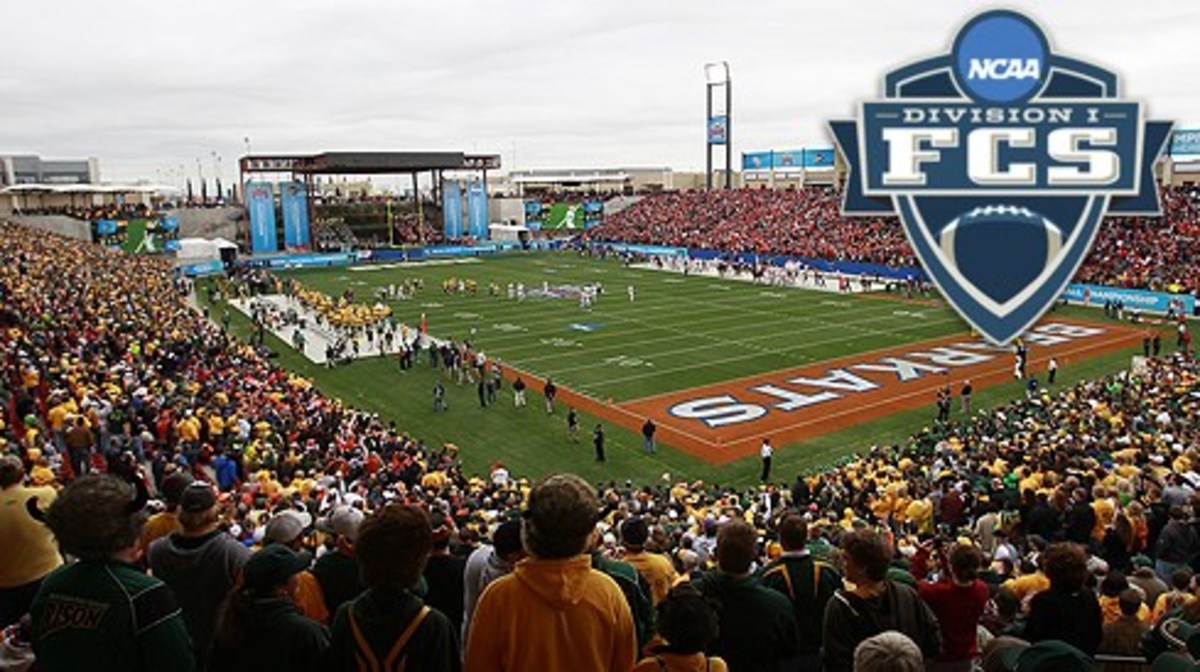 (STATS) - Talk surrounding the FCS playoffs this weekend will center around who's in and who's out of the 24-team field.
When the seeded teams with first-round byes begin play in two weeks, the excitement figures to center around the biggest possible change to the field - fresher matchups rather than the same 'ol, same 'ol.
While the NCAA Division I FCS selection committee will make the pairings regional when possible, beginning this year, conferences with four or more competing teams will be split over both sides of the bracket.
In each of the first three playoffs since they were expanded to 24 in 2013, there has been at least two conferences with four or more qualifiers. This year, the Big Sky, CAA Football, Missouri Valley and Southern conferences are all strong candidates to reach that number.
"Hopefully what it means," Brian Hutchinson, chair of the selection committee, said Wednesday, "is that it's more exciting to our fans that they're not watching the same game they've already seen before, at least something similar to what they've seen before, that they're going to see really good quality opponents, and playing in different places than they've played. If that's what that means and it generates a little bit more excitement about the championship, then I think that's probably a very, very good thing."
The change in policy occurred following conference unrest over last year's field, which included all five qualifiers from the Missouri Valley Football Conference being placed in one half of the bracket through regionalization, which can minimize travel and expenses.
The playoffs consist of 10 conference champions which receive automatic bids and 14 at-large selections. There are eight first-round games on Nov. 26, with the winners advancing to meet the seeded teams in the second round. The championship game will be held Jan. 7 in Frisco, Texas.
Six of last year's eight second-round games had been played during the regular season - three were between teams from the same conference. That is less likely to happen this year.
"I do think it's very possible that we have an opportunity for a little bit less regionalization this year than we've had in previous years," Hutchinson said. "One, because of who the teams are that are vying for the championship and, two, because we have a little more flexibility in our bracketing principles to ensure that we avoid some common seasonal matchups. It's not something we've talked about specifically yet, but in sort of reading the tea leaves, I think that's where we are."
The other big change for the committee has been the release of Top 10 rankings each of the last three weeks, intended to create interest in the playoffs and basically a preview to what teams could earn seeds.
Hutchinson says the margin between the top six ranked teams has been "razor-thin" and is part of the reason that, as all six have continued to win games, Sam Houston State dropped from No. 2 to No. 5 in the second ranking, Jacksonville State dropped from No. 1 to No. 3 in the third and final ranking, and North Dakota State rose from No. 4 to No. 1 over the final two rankings.
"It's not that significant if you know how closely ranked they were in terms of just the way our point system works," Hutchinson said.
Hutchinson, who is the Morehead State athletic director, said the biggest factors when evaluating a team for the field are overall record, results against Division I opponents, record against other conferences that have automatic qualifiers, head-to-head results against other potential qualifiers, common opponents' records and the Simple Rating System, which quantifies the strength of a team's schedule.
---=
FCS CO-GAME OF THE WEEK=
The Matchup: No. 9 North Carolina A&T (9-1, 7-0 MEAC) at No. 24 North Carolina Central (8-2, 7-0)
Kickoff: 2 p.m. ET at O'Kelly-Riddick Stadium (10,000) in Durham, North Carolina
Television: ESPN2
Series: North Carolina A&T leads 49-33-5 (last meeting: North Carolina Central won 21-16 in Greensboro on Nov. 21, 2015)
The Skinny: It's winner-take-all - the outright MEAC championship and Celebration Bowl bid. The losing team can be considered for an at-large bid to the FCS playoffs. N.C. A&T coach Rod Broadway was N.C. Central's coach from 2003-06. The visiting Aggies have won all of their MEAC games by an average of nearly 24 points. All-American RB Tarik Cohen (1,769 all-purpose yards, 18 TDs) has gone over 100 rushing yards in each of his three games against the Eagles, gaining 203 yards and two TDs in a 2014 loss. N.C. Central QB Malcolm Bell, who has thrown for the most yards (2,007) and touchdowns (15) in the MEAC, will attack an Aggies defense that ranks last in pass defense. DEs Antiono Brown (7) and Henry-Ajudua (6.5) rank third and fourth, respectively, in the MEAC in sacks.
Prediction: Hovering over the Aggies during a glorious three-year run are losses to N.C. Central to end the last two regular seasons. N.C. A&T, 28-21.
---=
FCS CO-GAME OF THE WEEK=
The Matchup: No. 11 Central Arkansas (9-1, 8-0 Southland) at No. 1 Sam Houston State (10-0, 8-0)
Kickoff: 3:30 p.m. ET at Bowers Stadium (12,975) in Huntsville, Texas
Television: ESPN3
Series: Tied 5-5 (last meeting: Sam Houston State won 42-13 in Conway, Arkansas, on Nov. 21, 2015)
The Skinny: The Southland Conference championship and outright bid to the FCS playoffs are at stake. The loser is at risk of falling from a first-round bye. UCA, the nation's best at defending the run, has limited opponents to 26 minutes of ball control and is the only FCS team to rank in the national top 10 in total defense (300.7 ypg) and scoring defense (16.8 ppg). Top WRs Jatavious Wilson and Tremon Smith (52 receptions each) also are threats on kickoff and punt returns, respectively. It took until last Saturday's 10th game of the season for Sam Houston to fall behind an opponent. The Bearkats have the No. 2 passing offense in the FCS and QB Jeremiah Briscoe has thrown for 45 TDs (three shy of the Southland single-season record), but their team runs the ball over 46 percent of the time, led by Remus Bulmer and Corey Avery (combined 1,430 yards and 15 TDs).
Prediction: The Bearkats surely won't be playing with the usual early lead, so it's time to answer the challenge. Sam Houston State, 35-28
---=
STATS FCS TOP 25 SCHEDULE=
All Times ET
X-Predicted Winner
Thursday, Nov. 17
Liberty (6-4) at X-No. 16 Coastal Carolina (8-2), 7 p.m. - A Liberty win over an old rival might be enough to solidify an FCS playoff bid, but the Flames will have 2 1/2 days of waiting and wondering if Charleston Southern secures the Big South's automatic bid Saturday.
Friday, Nov. 18
X-No. 3 Eastern Washington (9-1, 7-0 Big Sky) at Portland State (3-7, 2-5), 10:30 p.m. - Are there any records for Cooper Kupp to set this weekend?
Saturday, Nov. 19
Kennesaw State (8-2, 3-1 Big South) at X-No. 14 Charleston Southern (6-3, 3-1), 11:45 a.m. - The winner earns a share of the Big South title with Liberty. Charleston Southern owns the tiebreaker over Liberty for the automatic bid, while Liberty has it over Kennesaw State.
X-No. 25 Saint Francis (7-3, 5-0 NEC) at Wagner (5-5, 3-2), noon - After missing two games, standout safety Lorenzo Jerome of NEC champ Saint Francis is expected to play with a partially torn MCL.
No. 7 Richmond (8-2, 5-2 CAA) at X-William & Mary (4-6, 2-5), noon - The Tribe seniors are very aware Richmond has won five straight games in this heated rivalry, including in the FCS playoffs last year.
X-No. 19 Lehigh (8-2, 5-0 Patriot) at Lafayette (2-8, 1-4), 12:30 p.m. - Hey, neighbor, it's time for the 152nd meeting of college football's most-played rivalry. Lehigh's Dominick Bragalone needs four rushing yards to surpass 1,000 for the season and join two 1,000-yard passers and two 1,000-yard receivers on the team.
Elon (2-8, 1-6 CAA) at X-No. 6 James Madison (9-1, 7-0), 1:30 p.m. - If JMU can win with freshman backup quarterback Cole Johnson, coach Mike Houston may rest starter Bryan Schor (non-throwing shoulder injury) before the playoffs.
VMI (3-7, 1-6 Southern) at X-No. 20 Wofford (7-3, 5-2), 1:30 p.m. - With seven 100-yard games, Wofford senior Lorenzo Long leads the Southern Conference in rushing yards (1,083) and rushing touchdowns (13).
UT Martin (7-4, 6-1 OVC) at X-No. 2 Jacksonville State (9-1, 6-0), 2 p.m. - Gamecocks coach John Grass is trying to go 3-for-3 with unbeaten conference seasons.
Montana State (3-7, 1-6 Big Sky) at X-No. 22 Montana (6-4, 3-4), 2 p.m. - The Griz may have blown an at-large playoff bid with their loss to Northern Colorado. To bolster their resume, they'll try to put up a big score on their rival.
X-No. 15 Youngstown State (7-3, 5-2 Missouri Valley) at Missouri State (4-6, 2-5), 3 p.m. - One win away from their first playoff bid since 2006, the Penguins seek to complete the mission. They've lost three of their four road games.
X-No. 4 North Dakota State (9-1, 6-1 Missouri Valley) at South Dakota (4-6, 3-4), 3 p.m. - Back on the path to hosting home games throughout the playoffs, the Bison seek a small payback for last year's USD upset that's been the biggest surprise of this 80-6 run since 2011.
X-No. 23 Western Illinois (6-4, 3-4 Missouri Valley) at Southern Illinois (3-7, 1-6), 3 p.m. - Leathernecks senior WRs Lance Lenoir and Joey Borsellino have combined for the second-most receptions (448) and receiving yards (6,056) by two players on the same team in FCS history. Kupp and Kendrick Bourne from Eastern Washington are ahead of them (588 and 8,788).
X-No. 17 Grambling State (7-1, 7-0 SWAC) at Texas Southern (4-6, 4-4), 3 p.m. - It doesn't matter if Grambling or Southern (playing 1-9 Mississippi Valley State) lose on Saturday, the winner of their Bayou Classic on Nov. 26 will go to the SWAC Championship Game a week later.
X-No. 13 Villanova (7-3, 5-2 CAA) at Delaware (4-6, 2-5), 3:30 p.m. - Retiring coach Andy Talley says his defense is among the best of his 32 seasons with the Wildcats. It ranks third in the FCS in total defense (268.9 ypg) and scoring defense (15.4 ppg).
X-No. 18 Samford (7-3, 5-2 Southern) at East Tennessee State (4-6, 1-6), 3:30 p.m. - It's about the offense with Samford, but linebacker Shaheed Salmon and defensive ends Ahmad Gooden and Roosevelt Donaldson have combined on an impressive 36 1/2 tackles for loss.
No. 5 The Citadel (10-0) at X-North Carolina (7-3), 3:30 p.m. - A year ago this weekend, The Citadel knocked off South Carolina. Onward, triple option.
X-No. 8 South Dakota State (7-3, 6-1 Missouri Valley) at Northern Iowa (5-5, 4-3), 5 p.m. - The visiting Jackrabbits hope to secure at least a share of their first conference title since winning the old Great West Conference in 2007. UNI senior Karter Schult has pushed his sack total to an FCS-high 16.
No. 12 Chattanooga (8-2) at X-Alabama (10-0), 7 p.m. - Heading into an impossible matchup, Mocs coach Russ Huesman says he's not just disappointed by the loss to Wofford last Saturday, he's been disappointed over the last four weeks.
Northern Colorado (6-4, 4-3 Big Sky) at X-No. 21 Cal Poly (6-4, 4-3), 9:05 p.m. - All the bubble teams will be glued to scoring updates from this final game of the FCS weekend. Cal Poly should be in the field of 24 with a win. Northern Colorado - not so much.
Idle: No. 10 North Dakota (9-2, 8-0 Big Sky)