The House That Built Sam Darnold
USC's star quarterback ambushed college football with nine straight wins and an unflappable cool a year ago. Now he's set up to be the top pick in next year's NFL draft—if anyone can get him out of SoCal.
All that's left is the white antique stove in the kitchen, where Sam Darnold builds tuna rolls from baggies of fresh-caught bluefin. Twenty-four years ago, the house was one story and the ceiling was streaked dark yellow. The backyard was dotted with patches of dead grass, and the garage was filled with motorcycle frames hastily left behind. Neighbors assumed the place was a crystal-meth lab, and that's what they told the young couple who pedaled up on mountain bikes in the winter of 1993, their weekend ride through Capistrano Beach halted by the sight of a FOR SALE sign. "This is a dump," Mike Darnold told his fiancée, Chris Hammer, which meant it was perfect.
Mike was a medical gas plumber in Orange County who serviced hospitals throughout Southern California. Chris was an aspiring P.E. teacher in San Clemente who waited tables at Corky's. They couldn't afford to be picky. They walked gingerly up dilapidated steps to the roof of the garage, which a boy was using as his personal roller blade park. Mike gazed west, over Interstate 5 a block and a half away, through palm trees that framed the coastline like goalposts. He could see, just barely, a sliver of the Pacific Ocean. "We can do this," he told Chris.
Instead of a wedding at the Marriott in Dana Point, they threw a modest reception at Chris's family home in Long Beach followed by a two-night honeymoon at the Blue Lantern Inn, using the money they saved for a down payment. Mike scrubbed every inch of the ceiling, trashed every stitch of the carpet. He chopped down overgrown fruit trees, ripped out doors, tossed blinds and shelves. He painted walls and laid tile. In May 1994, Chris gave birth to their first child, a girl named Franki, and three years later, a doughy redheaded boy named Sam. Through elementary school, the siblings shared a tiny first-floor bedroom until Mike designed a second story with peekaboo views all the way to Catalina Island. Growing up, Franki used to pause a tear-jerking Home Depot commercial at the scene in which two newlyweds brush their teeth with bottled water. "That was you," she'd say, and her dad would tell the story all over again about the drug den that became a dream house.
Mike and Chris raised their kids in the water two miles away—"The beach," Chris says, "is everything"—but when Sam started swimming lessons at three, his mom noticed that he kept paddling in circles. Such was the preternatural strength of his right arm.
Sam learned to throw not at a skills camp but at a surf break. He'd charge down the steep wooden stairs at the San Clemente cliffs to Lasuens Beach, known as Lost Winds because it's easier to pronounce. Anyone who rode the Metrolink from Los Angeles to San Diego over the past decade might have spotted Sam along the shore: slathered in sunscreen to protect his alabaster skin, waves up to his waist, hurling footballs over five-foot swells. Friends fought to find the pigskin in the whitewash, scoring a point for each recovery. The group would bodysurf until dark and then grab dinner at Pedro's Tacos, one of a hundred low-slung storefronts on San Clemente's vintage main drag, where all the patrons seemed to recognize the ringleader. Back then, Sam Darnold was the perennial champion of the Triton Toss, a distance-plus-accuracy throwing competition held at halftime of a high school game. Today he is the USC quarterback and the Rose Bowl king, the Heisman Trophy favorite and quite possibly the No. 1 pick in the NFL draft.
"Don't go be a big shot," his grandfather used to say, and coming from Dick Hammer those words carried weight. Strangers knew Dick as a USC basketball star (1951 to '54), Olympic volleyball player (1964) and part-time actor who graced billboards as the Marlboro Man. But friends knew him as a firefighter and special-ed teacher at Nightingale Elementary School in Long Beach, jobs that suited him because he could pull people from cars and lift children from wheelchairs. His home was open to visitors, but only if they first picked up 10 pieces of trash at El Dorado Park across the street.
Dick was the one Mike and Chris called in late 1993—"I can give you a blowout of a wedding," he said, "or help with this down payment"—and after he died six years later, relatives wondered if he also bequeathed his physical gifts to his precocious grandson. Sam played basketball with his black Lab in the backyard, mud football at Sunset Park, Wiffle ball in Nick Crankshaw's cul-de-sac. Franki was a volleyball star, and when she entered a mixed doubles tournament in Hermosa Beach one summer, she brought Sam because she couldn't find another partner. "He's just learning," she informed their opponent before the match. His opening serve was the first of many aces. "They thought I was hustling them," Franki says. "I had to tell them, 'I'm sorry, my brother is a weirdo.' "
Among blue-chip quarterbacks, Sam was extraordinary for other reasons. As a sophomore at San Clemente High, he played linebacker and wide receiver, and he was as unfamiliar with recruiting rankings as with hieroglyphics. When he was invited to join a 7-on-7 club team, he called it "fake football," and when dads from a private school approached him about transferring at a basketball game, he told them, "I play with my buddies." Not until his junior year did he have a personal quarterback coach, Bob Bosanko, who charged him only $50 a session. Sam mulled scholarship offers from Duke, Northwestern and Utah, amusing to anybody back home. "I never even went up to Laguna," he says about a coastal town not even 20 miles north. In fairness, when Franki played volleyball at Rhode Island, Sam did take a cross-country flight to visit her, reporting that the landscape reminded him of the set of a horror movie. "If there were a University of San Clemente," Franki says, "that's where he'd have gone."
He settled for another USC, but unlike every other recent Trojans quarterback, he declined to enroll early and skip the second semester of his senior year of high school. Sure, he had to compete with another five-star passer in his class, but he'd already lost one hoops season, by breaking his hand in a brawl with a locker after a last-minute collapse. A sweet-shooting wing with range to 25 feet, he couldn't stand to sacrifice another season. "This is different," said USC head coach Clay Helton, then the offensive coordinator, when Sam called to share his plan. "This is cool."
On a sun-soaked afternoon in late July at Heritage Hall, Sam Darnold is wearing his San Clemente High basketball shirt and riding a homemade skateboard carved by San Clemente High student Trey Russell. Trey's older brother is USC receiver Jake Russell, Sam's roommate, fraternity brother and best friend. Today, though, someone has come between them, and his name is Tito. Technically, Jake is not to blame for Tito's presence. Linebacker Cameron Smith, who shares the off-campus duplex with Sam, Jake and tight end Tyler Petite, decided they needed to have a kitten. When Smith went to a local shelter and adopted the kitty, black with a white face and white paws, Sam was at the Manning Passing Academy in Louisiana. He returned to Los Angeles and discovered the new roomie purring on his bed. "Sam told me he was allergic," Smith says. "But I think he really believed the cat would be a distraction, so we took it back."
Think what poor Tito will miss this fall: a Heisman Trophy campaign for Sam, a Butkus Award drive for Smith, the Sept. 16 game against Texas—the first meeting with the Longhorns since they beat the Trojans for the 2006 national championship. "I was super bummed," says Sam, who was eight when Vince Young crossed the pylon at the Rose Bowl. "Super" is his adjective of choice. His parents are "super chill," his mom is "super emotional" and Petite's family is "super nice" for letting the roommates use their beach house in the South Bay to barbecue and play spike-ball.
Life in the duplex can also be "super hectic," with Smith finding photoshopped pictures on Instagram of Darnold in a 49ers jersey, a sign of draft hype to come. "That would be pretty cool," says Smith, a Niners fan. It was less than two years ago that Smith wanted nothing to do with Darnold. The surfer kid (who doesn't actually surf) arrived in the summer of 2015, trailed by a notorious Twitter account rife with arrogant posts about NFL aspirations and vulgar cracks about SC women. "This," Smith thought, "is a terrible person." A couple of weeks into fall camp, the Trojans were eating in the players' lounge when Darnold lamented the proliferation of social media fakes. "Wait," Smith piped up, "your account isn't real?" Darnold, who scrawled a list of life goals in ninth grade that included "Be remembered as the nice one," was mortified.
Why Is USC Getting a Free Pass Into the College Football Playoff? #DearAndy
Few college quarterbacks get mistaken for middle linebackers, but strangers occasionally see Darnold and Smith engaged in one of their standard debates—"Who wins a fight between a lion and a grizzly bear?"—and ask if they're twins. Darnold hasn't blitzed anybody since his sophomore year at San Clemente, when he replaced an injured QB and lofted a game-tying 40-yard fade down the sideline. But he stands 6' 4", 225 pounds, and teammates appreciate that he neither looks nor acts like a test-tube signal-caller. Southern California produced two far more prominent passers in the year Darnold graduated from high school: Josh Rosen, who went to UCLA, and Ricky Town, who signed with USC. It is unusual for highly rated quarterbacks to choose the same college, but Darnold was either unfamiliar with protocol or undaunted by it. He followed Town to Troy.
"Best kid plays, right?" he asked Helton, who assured him that snaps would not be predetermined by private coaches or recruiting stars. By the time Darnold finished his first camp, Town was in the process of transferring to Arkansas, and Trojans safety Su'a Cravens, now a member of the Redskins, was offering encouragement rarely afforded a scout-teamer. "Dude, you keep it up," Cravens told Darnold during practice. "You'll be all right." The freshman called home to parrot the exchange.
Darnold redshirted in 2015 and expected to sit behind junior Max Browne in '16. That spring he took a class called Sports, Business, Media, taught by professor Jeff Fellenzer, who invited agent Scott Boras to speak. The class runs from 6 to 9:30 p.m. on Wednesdays, and when it ended, about 75 students lined up to meet Boras. Darnold was last. A sports nut who devours Colin Cowherd's radio show and Joe Rogan's podcast, Darnold could have quizzed the hardball agent on arbitration-eligible Dodgers, but what he wanted was advice. Introducing himself as "a backup quarterback," he asked how Boras would advise a client stuck on the bench.
"Backup?" Boras remembers saying. "You may be unproven. You may be untested. But your status is never permanent. You're no backup, and you can't label yourself that way." Boras does not represent football players, but he understands athletes, and for the next 45 minutes he sat with Darnold inside Annenberg Auditorium, explaining the importance of thinking, preparing and identifying as a starter. When they parted, near midnight, Boras left Darnold with a prediction: "Your time is coming."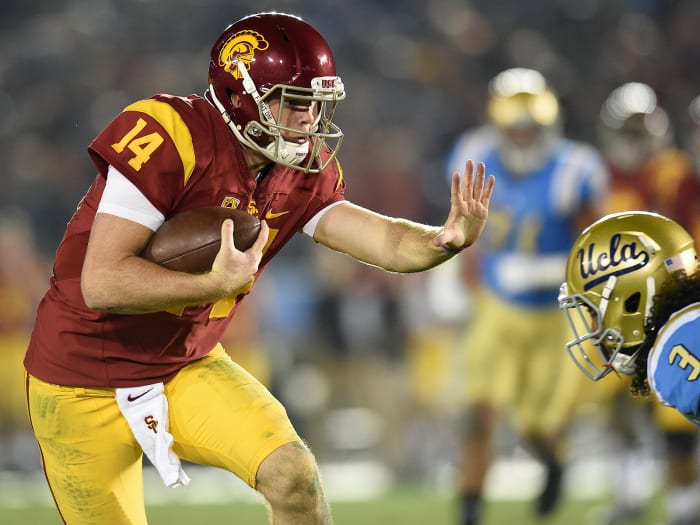 The only college game Sam Darnold lost was his first one, late last September at Utah, and afterward he called the guy whose jersey he used to wear. "Don't do anything crazy," Matt Leinart said. "Be yourself." Darnold is not prone to panic. He feels most relaxed outside the refuge of the pocket, relying on what he calls his peripherals, firing to a flash of cardinal from an assortment of arm angles. Coaches speculate that winters on the basketball court sharpened his vision and summers on the baseball diamond varied his delivery. Darnold disdains the specialization of youth sports. The son of a volleyball player at Long Beach City College and an offensive lineman at Redlands, he fashions himself a natural athlete, not a born quarterback. He just happened to wind up under center. And while he welcomes the significance of the position, he dismisses the stress surrounding it.
"You look at USC QBs before him, you see guys who were dead serious, every drive of the utmost importance," says Browne, now at Pitt. "Sam's out there flinging the ball around like he's back in recess at elementary school, playing catch with his friends."
Browne and Darnold competed furiously for the Trojans' starting job, yet when Browne bought a Razor scooter with oversized tires to get around campus, Darnold called Walmart and ordered another for himself. He defuses awkward situations with disarming gestures. His high school basketball coach, Marc Popovich, used to call timeout before late-game free throws so he could tell the shooter a cheesy joke. (Sample: "What do you call a doctor who flunked out of med school? A dentist.") In Sam's senior season, teammate Scott Herrod was fouled late in a game against Tustin, but Popovich was out of timeouts. He couldn't tell his joke. Sam walked over to Herrod. "Don't worry," he said, "only the season on the line." Herrod stopped laughing in time to sink the free throws.
Darnold wonders, now that he is a redshirt sophomore, if he must expand his laid-back leadership repertoire to include sweeping speeches and dramatic chair-tosses. He hopes not. He is reading a book called Extreme Ownership, written by a pair of Navy SEALs who led a unit in Iraq. "You hear about all these huge CEOs who are the first guys to blame somebody else," Darnold says. "If you start taking ownership and taking blame, that's how you get people on your side. You have to give them a reason why. I can't tell a receiver, Hey, you ran the wrong route! I've got to be like, Dude, if you don't run the right route, then you're not going to catch the ball and you're not going to score. And I need to be able to trust you." Asked what tome he might crack next, Darnold demurs. "I don't want to broaden myself too much."
He spends free time with private quarterback guru Jordan Palmer, tightening a throwing motion that resembles Clayton Kershaw as much as Aaron Rodgers. "When you're teaching a Little Leaguer how to pitch, you tell him to set the ball on the table behind him, so he gets a bigger arc," Bosanko says. "That's not ideal for a quarterback. You want to be more compact or your release can become too slow. But Sam gets away with stuff that isn't necessarily mechanically sound. It's because he is a freak, but also because he never developed all these robotic habits when he was eight, so he doesn't think too much about his arm slot and his delivery. He just anticipates where a guy will be and puts it there. That's a quality you can't teach. That's feel."
The first time Helton watched Sam play in person, as a senior at San Clemente, the coach expected the recruit to be nervous. It was Sam's first game in nearly a year, after breaking his foot early in his junior season, an injury that prevented him from flooding college coaches with tape. He knew Helton was in the stands, eyeing him. Sam started 13 for 13 with five touchdowns, shedding linebackers like ankle-slapping surf. "Imagine," Helton says, "if he ever really focused on this sport?"
Brent Pry witnessed the result on Jan. 2. Pry is the defensive coordinator at Penn State, which was pureed by Darnold in the Rose Bowl for five touchdowns, 52 points and 453 yards. "I really felt like we didn't see it coming," Pry says. "We watched so much film and we knew he was athletic, but it wasn't the same as being out there on the field with him. When that kid got going it was like, Who the hell is this? Rushing four is not enough for a guy like that. He just kind of jimmy-jammed through and kept the play alive and found a seam."
Penn State only rushed three with 1:27 left, leading by a touchdown, and USC receiver Deontay Burnett broke off his flat route. Super chill, Darnold waited out Burnett, who regrouped and dashed to the post. Darnold found him at the goal line, over two Nittany Lions and in front of a third. "That spiral," Darnold says, "felt like it was in slow motion." He celebrated with a 70-mile drive south down I-5, to the beige two-story traditional with the black Toyota Highlander in front, DARNMOM on the license plate. Don't go be a big shot. He walked in the front door at 11 p.m., his parents on the couch, replay on the TV. "Don't you dare wash this," he cooed, flipping Darn Mom a grass-stained jersey.
Darnold's high school coach, Jaime Ortiz, sent him a text message that night: "Your life has forever changed." The next day, he was mobbed at a Buffalo Wild Wings and at a Concordia University volleyball match. He confined himself to the house for most of the remainder of winter break. Not that staying home—and munching bluefin caught by Sean Donnelly, a San Clemente quarterback turned fisherman—is any punishment. "I don't come back as much as I used to, and hopefully one day I won't need it," Darnold says. "But for now I still do." His mother remains a P.E. teacher at Shorecliffs Middle School. His father oversees the plumbing at UC Irvine Medical Center and Children's Hospital of Orange County, occasionally working successive shifts from 10 p.m. to 4 a.m., then 5 a.m. to 1 p.m. As property values in SoCal beach communities continue to spike, Sam begs his parents not to sell.
"People always ask, 'When your brother makes it, will he buy them a house?' " Franki says. "And I tell them, 'No, but he'll probably buy their house.' "