How the Graduate Transfer Rule Brought College Football Into Its Own Kind of Free Agency
The grad-transfer rule was created to give athletes academic options, but it's brought an NFL-flavored twist to college football: player movement that looks a lot like free agency. Not all of the sport's leaders are fans of the trend.
Last Jan. 2, as USC and Penn State faced off in one of the best games in Rose Bowl history, the quarterback who had started the Trojans' first three games of the 2016 season watched from his parents' couch in Sammamish, Wash. He was cheering for USC, by then his former team, for two distinct reasons: He wanted his old buddies to win—and Penn State was about to become one of his biggest rivals. Not three weeks before USC's 52–49 comeback victory, Max Browne announced that he would play for Pittsburgh in 2017.
Browne had graduated from USC in the fall of 2015 and had already begun working toward his M.B.A. He had ridden the bench for three seasons, one as a redshirt, before winning the starting job in the spring and summer of 2016. But after a 1–2 start in which he completed 63.2% of his passes and threw two interceptions, Browne lost his job to freshman Sam Darnold. Browne appeared sporadically afterward, but with four games left in the season, he decided he wanted a fresh start.
With the help of his older brother, Mitch, who had played quarterback at Claremont McKenna College, Browne listed nearly every FBS program on a whiteboard and then erased the ones that had no pressing need at quarterback. Eventually the brothers whittled the list to five schools. Pitt stood out thanks to its recent success with QB Nathan Peterman. Like Browne, Peterman had graduated from his original school, Tennessee, which meant he was immediately eligible to play when he left Knoxville after the 2014 season. (According to NCAA rules, nongraduate transfers must sit out a year. In addition virtually all conferences dictate that in-conference transfers sit and also lose a year of eligibility.) Over the next two seasons at Pitt, Peterman completed 61.1% of his passes for 5,142 yards, 45 touchdowns and 15 interceptions, and last spring the Bills made him a fifth-round draft pick. Like Browne, Peterman had ridden the bench at his first stop—he attempted 43 passes over two years with the Vols—yet he'd blossomed under more favorable circumstances.
Browne reached out to Pitt and was invited for a visit. Several phone calls later he was a Panther, and he's expected to lead Pitt against Youngstown State on Sept. 2. Browne is one of dozens of graduate transfers who will play this fall at new schools without sitting out a single game. Some moved on because they lost their jobs. Others took chances to play at bigger-name programs in hope of boosting their NFL draft stock. Another group followed old coaches to new schools. Few, though, will find themselves in new territory for the reasons the NCAA intended when it began permitting graduate transfers to be immediately eligible 11 years ago.
Over the past decade and a half, the number of graduate students playing college football has soared. An increasing number of players come to college with advanced-placement credits, redshirt and take summer school classes. As a result, many earn diplomas before their eligibility expires. This allows players to earn graduate degrees while still playing—or, looked at another way, they're forced into grad school if they want to keep playing football. From 2007 to '14, the percentage of graduate students competing in NCAA football almost doubled, going from 2.0% of the total (384 players) to 3.8% (803).
The NCAA got involved in graduate transfers in April 2006, when it ruled that a college athlete who'd graduated but had remaining eligibility could transfer without sitting out a season in order to pursue a graduate degree his or her school did not offer or to attend a school that provided a better academic opportunity. The rule was designed to enhance a player's academic options, but its language is muddled. These students enroll as postgraduate students without transferring a single credit.
The NCAA's intentions seemed pure. Imagine Joe C. Football-Player, a physics major at Missouri with a slim shot at the NFL. He decides that if he can't play football, he wants to pursue a master's in mechanical engineering, which Mizzou doesn't offer. So he applies to programs around the country. He's accepted at, say, Purdue, and since he has already graduated, he's free to set off for Indiana and start work on his graduate degree. But Purdue also has a football team, and Joe still has a year of eligibility remaining. Normally he'd have to sit out a year to play football at another school, but as this is an academic decision, the grad-transfer rule allows him to play immediately. Likewise, if Joe went to Alabama to play football but gets into the M.B.A. program at Northwestern or Stanford, he can take that academic opportunity without sitting for a year.
With Rugby and Robots, College Football's Top Teams Are Battling for the Perfect Tackle
Until 2011, when an NC State quarterback named Russell Wilson hopped to Wisconsin to play out his final year of eligibility, the grad-transfer rule existed on the periphery of men's revenue sports, and it largely worked the way it was intended. The future Seahawks quarterback was one of just 17 football players who used the graduate-transfer provision that season. (That same year 53 track athletes competed as grad transfers.) Since Wilson, though, the practice has exploded, culminating in 117 graduate transfers playing Division I football in 2016. That's a 588% increase in six seasons. In the face of that onslaught, the NCAA has allowed the practice to drift from its original intentions. No longer does a player need to enroll in a graduate program his prior school failed to offer; that's how Browne could transfer from USC's M.B.A. program to Pitt's without a hitch.
"In most cases, these aren't academic decisions," Penn State coach James Franklin says. "I think that's the challenge. We put things in place, but they really morph over time into being something that they're not. I don't think it's working in a way that it was intended."
According to the NCAA, of the graduate transfers who played football in 2013 and '14, 55% failed to complete their graduate study, compared with 56% in men's basketball, 42% in baseball and 16% in women's volleyball. The correlation is obvious: The higher the revenue and prominence of the sport, the lower the graduate-school completion rate, suggesting that many players are switching schools for athletic, not academic, opportunities.
These factors have combined to make graduate transfers a hot topic among college football's decision makers. Critics of how it's evolved include Kentucky's Mark Stoops and Alabama's Nick Saban. "I'm not for having free agency in our conference," Saban said of the provision in May. Others, like Pitt's Pat Narduzzi, see benefits if it's done with the intent of giving a player a chance, be it in school or football. In his three seasons at Pitt he has had two high-profile quarterbacks, but they reached out to the Panthers, not the other way around. "It can go too far, where people are recruiting grad transfers now," he says. "People have a recruiting office where that's their sole duty; they have three guys that are focused on, O.K, who are the possible transfers around the country, even I-AA."
South Florida Has the Talent (and the Schedule) to Run the Table
Some supporters, like Purdue's first-year coach Jeff Brohm, also use the same wording as Saban. In July, Brohm, who brought in five graduate transfers this spring, referred to his newcomers as "so-called free agents," stating it more as a fact than a criticism. Lovie Smith, who moved from the NFL to Illinois in 2016 and elected to be judicious with graduate transfers in his rebuild, takes no issue with that wording. "We talk about the college athlete getting his degree, right?" Smith asks rhetorically. "There should be some benefits, right? This is a graduate guy. He's gone to college, done everything he's supposed to do, and he's graduated. Why shouldn't he have a couple of options?"
That spectrum of opinions hints at the question that lies at the heart of the debate: Should the standard rules apply to all college football players, or should earning a degree give a player free rein to play at any school that will have him?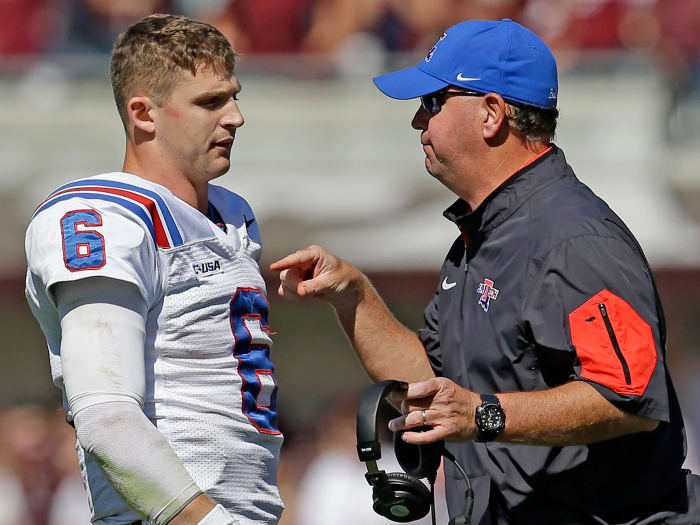 When Skip Holtz took over as Louisiana Tech's coach in 2013, he inherited a roster with two quarterbacks on scholarship. That fall he started freshman Ryan Higgins, who threw six touchdowns to go along with 13 interceptions as the team went 4–8. After the season, Higgins''s backup, Scotty Young, quit football. Holtz was stuck. He wanted to let Higgins learn from the sideline, but now that wasn't an option. Enter Cody Sokol, who had lost a quarterback battle with Jake Rudock at Iowa. Sokol had graduated and was in the market for a transfer.
Sokol got connected with Tech through one of its assistants, entered a graduate psychology program, and in 2014 he led the Bulldogs to a 9–5 season. (Rudock, meanwhile, would lose the Hawkeyes' job to C.J. Beathard in '14 and leave for Michigan as a graduate transfer, completing a head-spinning series of transactions that provides fodder for critics.) The next year, Holtz learned through mutual friends that Florida quarterback Jeff Driskel was looking to follow the same path Sokol had. In '15, Driskel joined the M.B.A. program at Louisiana Tech and led Holtz's team to a 9–4 record. Finally, in '16, Higgins got his job back, and he too led the Bulldogs to nine wins. "It's not something that I got into and said, Oh, let's go this route [forever]," Holtz says. "It was based more on need and the situation that we walked into. If we do what we're supposed to do, recruit the freshmen and develop them, then [grad transfers] are only for injuries or emergency situations."
Holtz simplified his offense under Sokol and Driskel, especially at the beginnings of their respective seasons. Brohm says he feels better if he can get a grad transfer in for the summer session; those reps can give a transfer a nice head start. Rutgers coach Chris Ash, who's bringing in Louisville grad-transfer quarterback Kyle Bolin this fall, is realistic, though, about the progress a team can make in molding a player in a few short months. "If you can get a great player, you take him, and that's your system," he says. "Everyone wants to say, Here's my system. Well, your system is what your players can do, and if you get a great player, you've got to fit your system around what he can do."
Penn State Has the Horses to Back Up the Hype Entering Its Big Ten Title Defense
That's especially true in the case of quarterbacks, who tend to dominate the graduate-transfer conversation because losing the starting job at your original school can be a death sentence in terms of reps. Even among players at other positions, the most common reason for switching uniforms is the same: to play more and get a better shot at the NFL. Still, instances of such elevation are rare; of the 397 graduate transfers who played FBS football from 2012 through '16, only 16 (4.0%) were drafted.
When Narduzzi discusses grad transfers, he distinguishes between the "innocent" and "not-so-innocent" cases. He raises an eyebrow when a major program lands a guy from a tiny one. How else, he wonders, does a Top 25 team find a player from, say, Rhode Island or The Citadel? Even if the school were aware of the player, why would that kid think he could make it at a large State U or that he'd even be welcome if someone didn't reach out and signal some interest? In other words, such cases often imply scouting and recruiting grad transfers, which is not about players seeking better opportunities but coaches doing so. Intraconference moves are particularly fraught because they're so strongly discouraged and sometimes outright banned for standard transfers, and Narduzzi believes it should be forbidden for graduates. More innocent are the cases where someone—a coach, a friend, a player on a team's current roster—has a connection to a player who's looking for a school. Peterman connected with Pitt through former OC Jim Chaney, who'd recruited the quarterback at Tennessee.
It's a fine distinction and still a step removed from the original intent of the rule, but more problematic is that Narduzzi's view suggests a world in which coaches follow the spirit of the law. Brohm more accurately captures the realpolitik of the situation. He says the Boilermakers have an app to track players seeking a grad transfer, but Robert Sampson, his team's director of internal relations, corrects him: They just use Twitter.
Graduate transfers by men's sport, 2011-16
| | | | | | | |
| --- | --- | --- | --- | --- | --- | --- |
|   | 2011 | 2012 | 2013 | 2014 | 2015 | 2016 |
| Football | 17 | 42 | 60 | 70 | 108 | 117 |
| Basketball | 15 | 25 | 39 | 55 | 68 | 87 |
| Track & Field | 23 | 31 | 41 | 37 | 40 | 38 |
| All other men's sports | 25 | 25 | 30 | 43 | 33 | 50 |
In 2003, the NCAA implemented the Division-I Academic Progress Rate, known as APR. It measures eligibility and retention rates and rewards schools with academically successful athletes. As a result, coaches are more aggressive in urging players to enroll in summer school and remain on track to graduate in four years. "It's a double-edged sword for college coaches now," Narduzzi says. "If they're smart kids—they don't have to be geniuses—they can get their degree in three-and-a-half or four years. Now you're almost [emphasizing academics] to the point where you could lose a guy. I'm going to get a kid through school, coach him, teach him well, and then all of a sudden he's going to transfer to Clemson?"
In 2011 the SEC banned graduate transfers after Ole Miss sought to add former Oregon quarterback Jeremiah Masoli, who'd pleaded guilty to second-degree burglary charges while with the Ducks. The conference worried that the provision was being abused to help players move on from trouble. In 2014 it amended its policy to accept grad transfers under certain conditions: if the player remained academically eligible as an undergrad, had no significant discipline issues and earned all possible APR points.
At that time, the SEC even began punishing schools whose graduate transfers didn't enroll in nine hours of graduate coursework in their first semester of study and earn all possible APR points during the semesters they were enrolled. In 2015, Florida was banned from accepting grad transfers for three years after Anthony Harrell and Mason Halter didn't meet those criteria. But this spring Notre Dame quarterback Malik Zaire, who lost his job after breaking his leg in '15, expressed interest in the Gators. School and player flirted until June, when the SEC voted to reduce Florida's penalty from three years to one. Zaire enrolled immediately.
The loosening of sanctions has caused some to envision worst-case scenarios. Worried fans envision players coming to their school, developing into stars, then decamping for perennial contenders such as Alabama and Clemson. Coaches imagine having to continue recruiting players even after they're in the program, worrying when they're too harsh that a star might graduate and bolt to a rival.
When Will the Heisman Go to Anyone Other Than a QB or an Alabama RB? #DearAndy
At the same time, though, there are only so many scholarships Saban can offer. To expect mass exodus is hyperbolic, and as Smith said, players should receive some reward with their diplomas. They're told to go to class, to graduate on time, all the while devoting dozens of hours each week to football—sometimes without even seeing any game action. "I think it's important that those young men who graduate in four years and do what they're supposed to do have an opportunity to get on the field," Holtz says.
Does the NCAA agree? It would seem so. Certainly, the rule and the way it's being enforced have made the game better, distributing talent across a wider range of schools and letting capable players who are stymied on one team find a place to play. In a system that offers players few advantages, it seems fair to grant such a privilege to those who have achieved the stated goal of going to college—earning a degree. In that way it's the rare rule that benefits the student and the athlete.